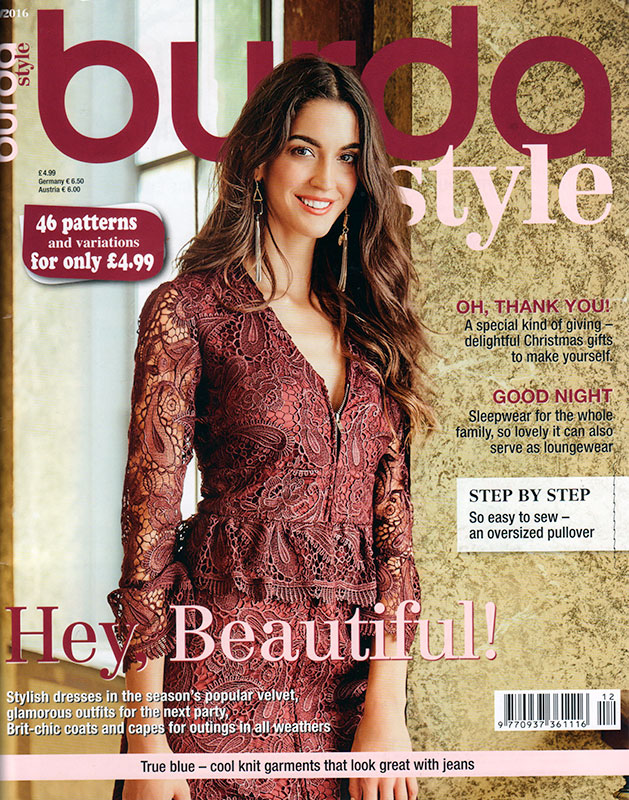 I know it's a cliché, but my god, where did the year go? I mean, I know I basically lost the first three months of the year but still. Overall, it's been a fantastic year of Burda magazines, in my opinion, and I'm pleased to report that there's no letup for the final issue of 2016. I've ended up picking a lot out of this one so grab a mug of something hot and settle on in…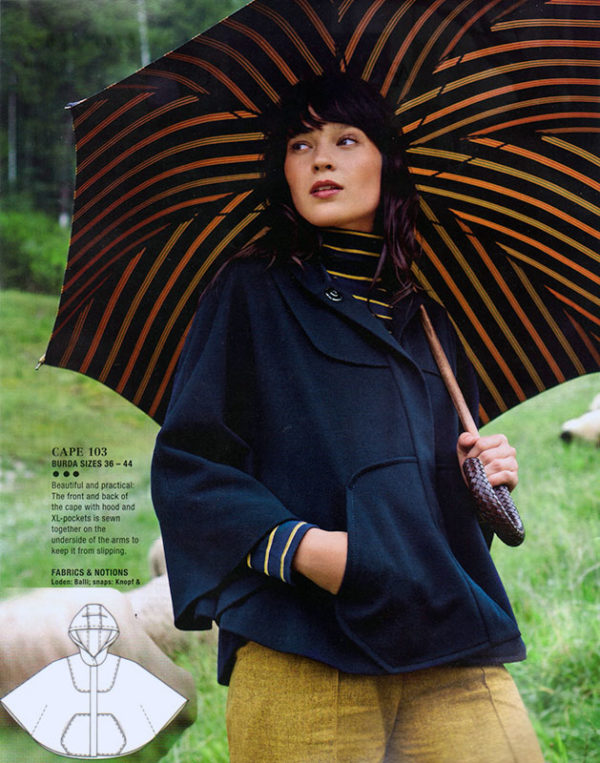 First up – a hooded cape! No points for guessing I'd like this one, considering I've literally just finished sewing up a Burda hooded cape! The construction on this one is pretty different to the 2010 pattern I used, though – the hood is only two pattern pieces instead of three, there's an extra topstitched yoke facing, plus patch pockets, too. But the main difference is that while mine had the front slit openings, these use topstitching to create a sleeve channel, using the hem as your hand opening. There's a longer version with welt pockets in this issue, too!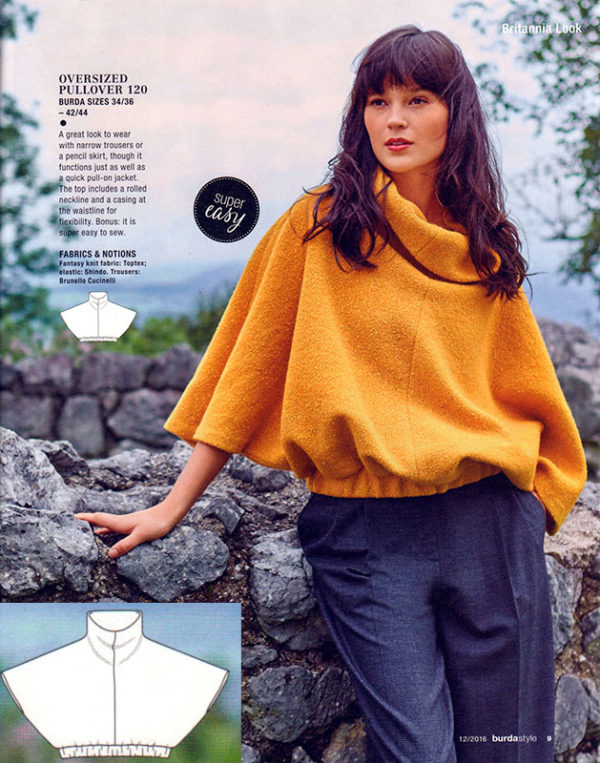 Along similar silhouette lines is this cape-like jumper/pullover/sweater/whatever. It could be that I'm swayed by the yellow colour (looks down at the yellow sweatshirt she's currently wearing…), but I really like this! It's got a big, comfy cowl collar, big batwing sleeves, and a fitted waist, and I'd totally wear this with jeans or leggings!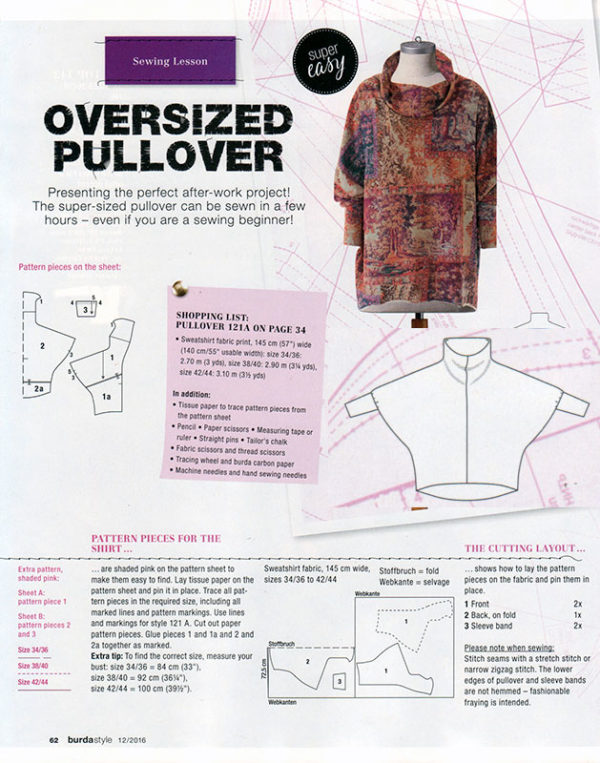 This is the variation on the above topper, which adds some sleeve bands to make it more like a batwing jumper than a casual cape. It's a really easy sew regardless, but Burda have also given it the coloured illustrated instructions for this issue.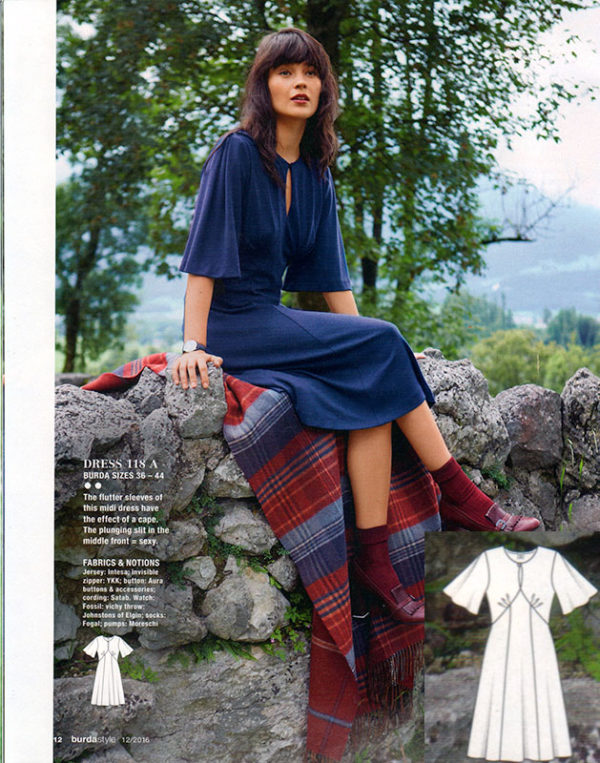 If you're really into 1970s fashion, Burda have a special issue out right now featuring updated versions of 1970s patterns from their archive. It was difficult to hunt down line drawings of what's actually included in that issue, but this Russian blogger has them up. For me, however, the 70s are my absolute least favourite fashion decade, so I'll be skipping the special issue. I recognise that this dress, with its wide bell sleeves, longer hem, and peephole neckline, is thoroughly 70s-influenced, but I really like it anyway. It doesn't hurt that it's designed for jerseys and reminds me of my 30th birthday dress (which I still wear often), either!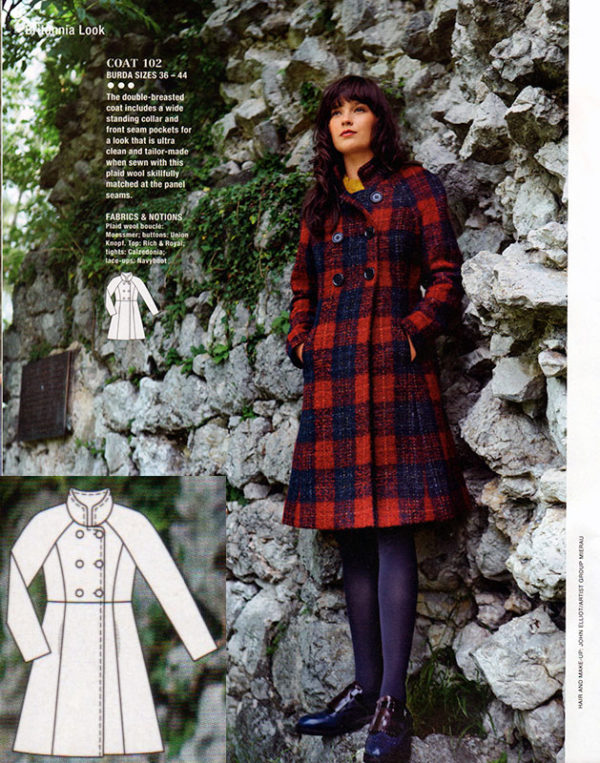 And to round out the "Cool Britannia" feature, it's a really nicely proportioned double-breasted coat. Double-breasted jackets and coats can be quite tricky to get right, but the length and silhouette of this one seems to be spot on.
And how happy was I to see there was a Brit-themed feature at all again!?! I mean, my favourite Burda issue of all time (over ten years ago, omg!) had the cover "First rate Brit Chic", after all!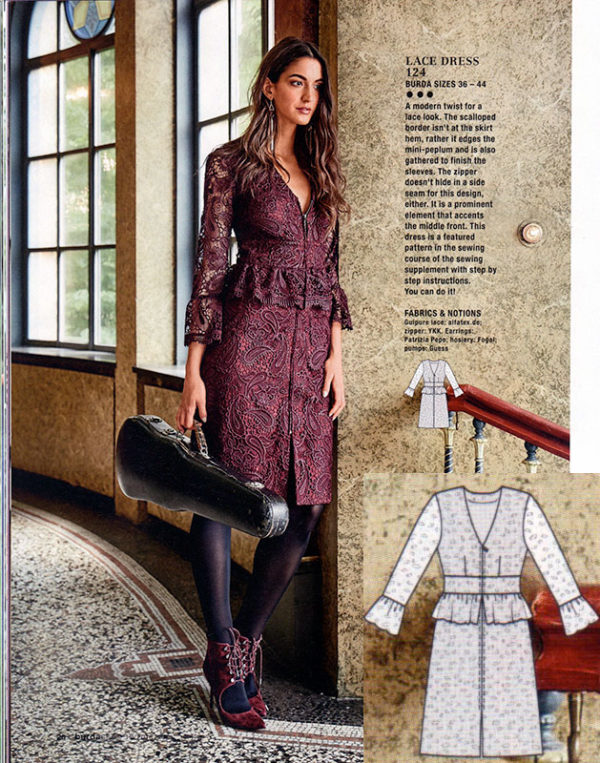 Next up is the lace dress from the cover, which I really like for all of its differences to the usual lace dresses (the ones I've made included!). As pointed out in the text, they've used the lace edging as a sort of peplum here instead of at the hem, and I also really like that it features a centre front zipper opening, which make it feel a bit more modern, too.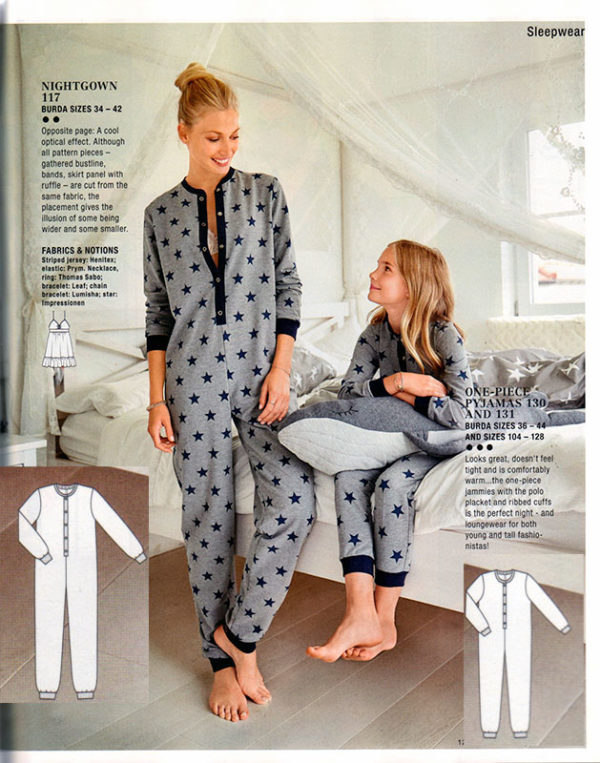 Burda traditionally include some patterns for gifts in their December issues, and this year is no different! There are a fair amount of PJ patterns included, but I thought these adult-and-kid matching onesies were super cute. And I saw that Fabrics Galore have a bunch of star-print cotton jerseys in stock right now if you wanted to make something similar for yourself…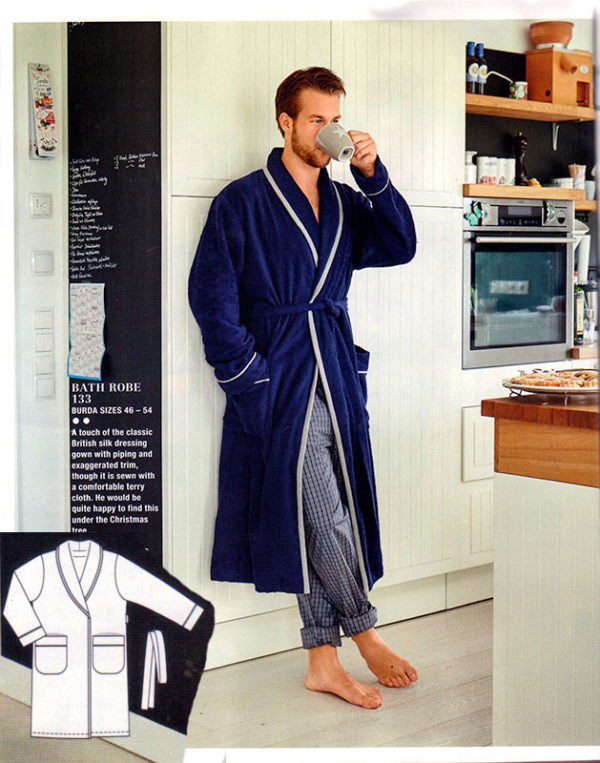 Burda haven't forgotten the men in your life, no – there's a comfy dressing gown (bath robe) pattern included for the blokes, too.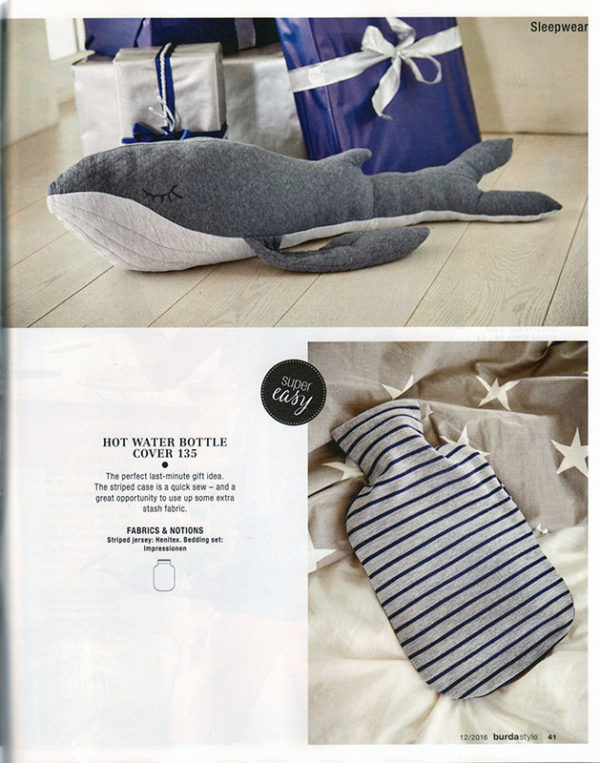 They always throw in a few crafty patterns, too, like this stuffed whale (whyever not??), and a hot water bottle cover pattern, too. Fun fact: I'd never seen a hot water bottle before in my life until I moved to the UK, but they're really popular here (and presumably in Germany, too).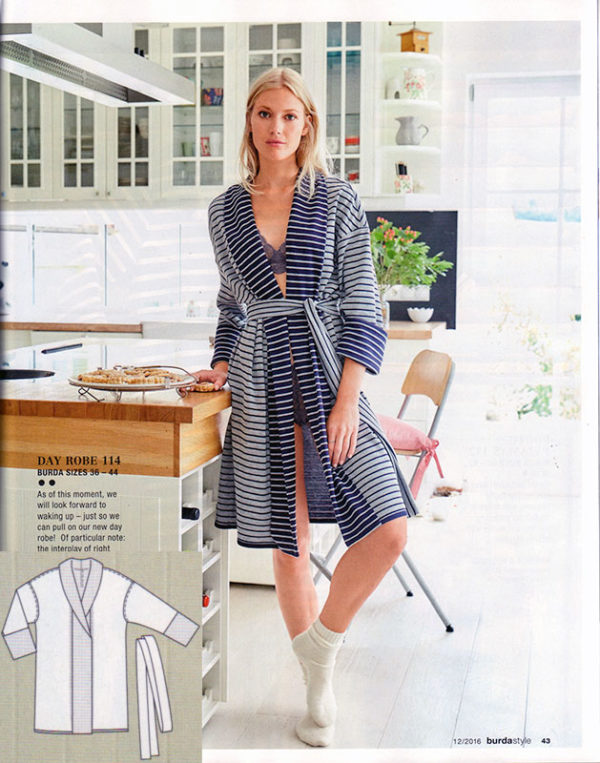 This ladies dressing gown (bath robe) pattern is quite simple, but I really like how they used the different coordinating stripes here!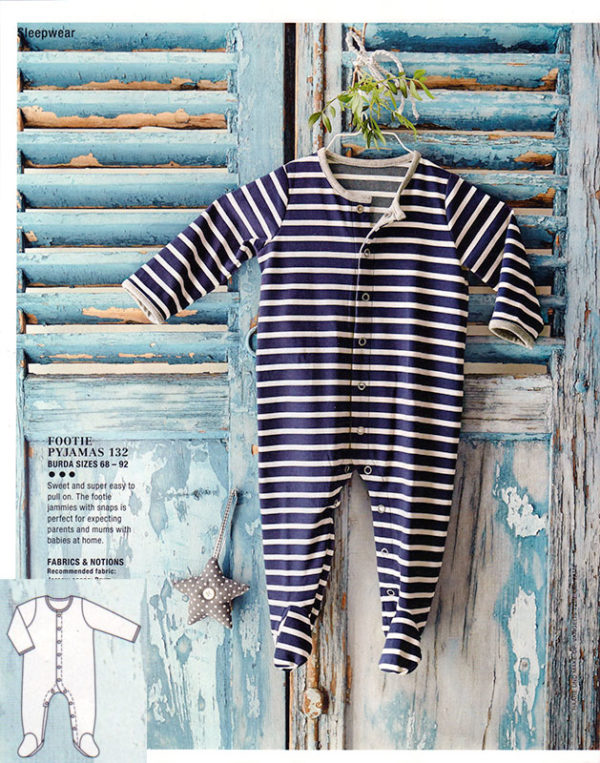 I guess they couldn't book a baby model for just one outfit, but your little ones can have matching PJs, too (though they get little feet on theirs!). Burda have printed various onsie (babygrow) patterns over the years, but they don't usually have attached feet, so this one's a bit different in that regard.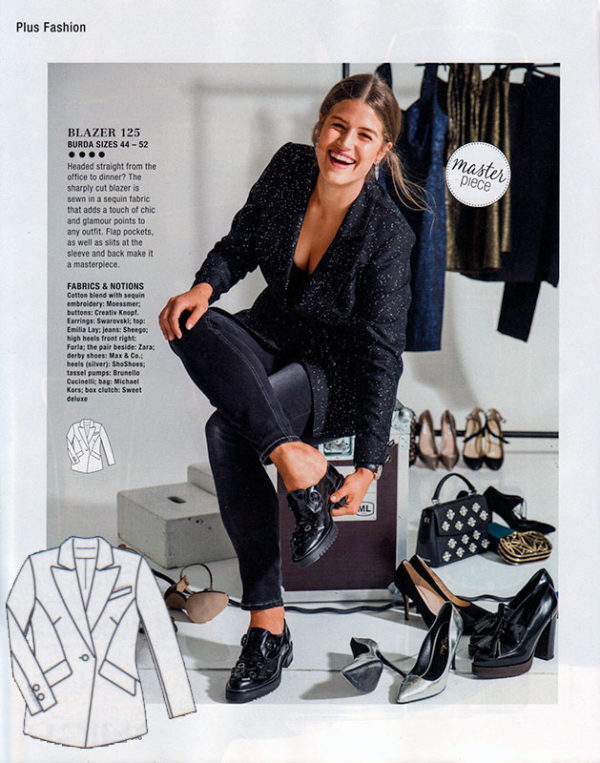 On to the Plus section, where this blazer/jacket pattern really caught my eye with its interesting front seaming! I think Burda are totally right with their "masterpiece" tag on this one!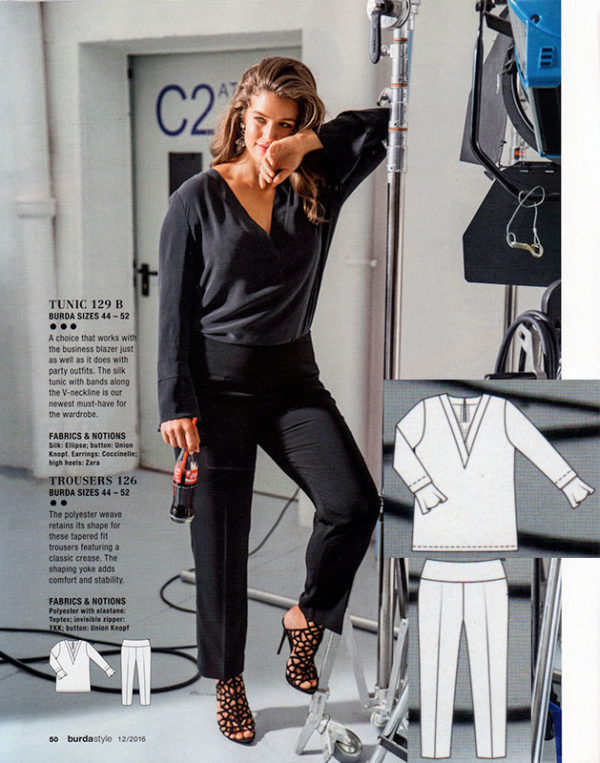 There were a few dresses in this feature, too, but I was more drawn to the separates (obviously!), so this silk blouse and trouser set really stood out to me!
There's also a big knitting section in this issue with patterns for ladies and mens jumpers (sweaters) as well as a gilet and some triangular scarves, but I don't knit so my eyes just skimmed over those…
I haven't actually started gift sewing yet this year, as I'm really busy as the moment and not sure how much I'll have time to do (cue frantic sewing on the 23rd…), but I think there are some great gift options here, though it would've been nice to have the PJs and robes available in Plus sizes, too.