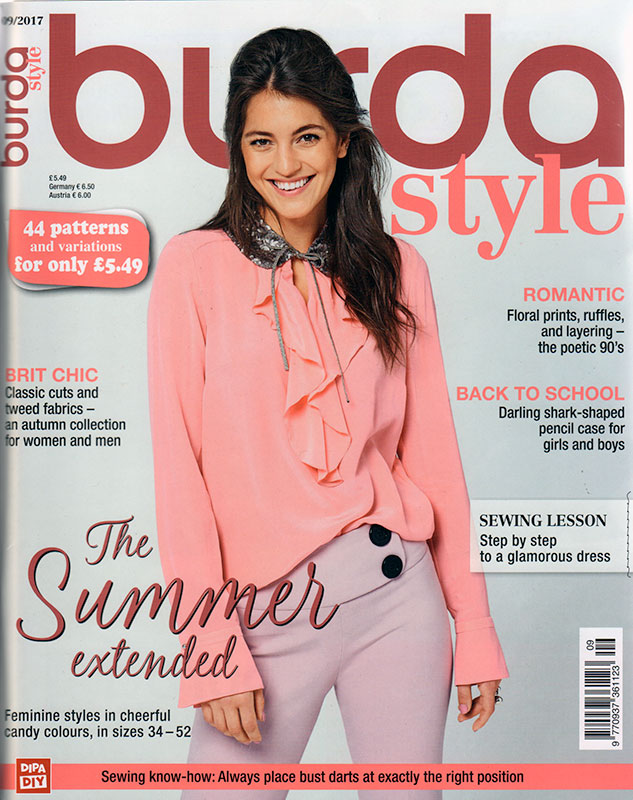 I'll be honest with you – I wasn't expecting to review this issue. I've subscribed to Burda for years now (and bought sporadically before that), but I've been increasingly been disgusted by their wasting an entire issue on dirndl dresses every September, which are a waste of my money, tbh. So when I got a notice that my subscription was ending with July's issue, I thought "a-ha! I'll outsmart you this year, Burda! I'll buy August on the newsstand, skip your awful Dirndlpalooza issue, then re-subscribe with October!"
So I bought August (which was the best issue of the issue so far IMHO!), and then I tip-toed to the newsstand on my lunch hour last week to look through September… and no dirndls! Hurrah! A regular issue for September for the first time in at least five years! (Seriously though, if you want to sew your own dirndl, more power to you, there are loads on Burda's site to help you with that.) I'll still probably buy October from my newsstand just in case, but I think we might've escaped with much more usable patterns this year, hurrah!
So moving on to your regularly scheduled review…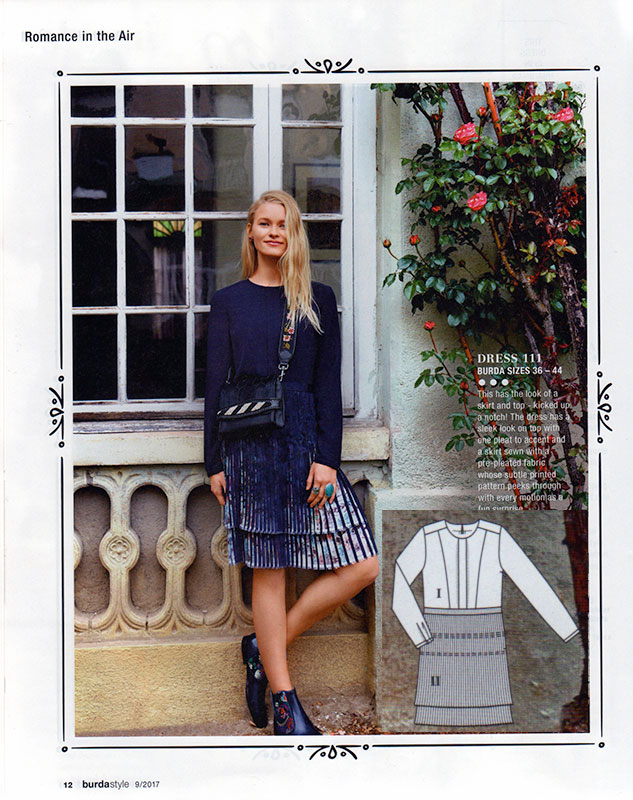 I like this dress more in the tech drawing than I do in real life but omg that pleated fabric is just everything!! I had a look at alfatex.de to see how expensive that pleated fabric would be to buy, but they only seem to have the regular blue crepe listed. Boo.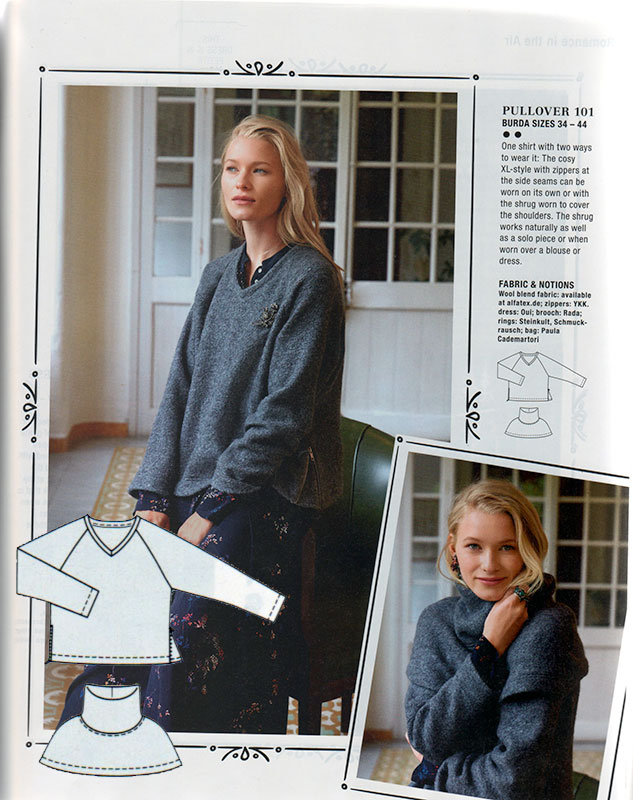 Burda have been trying to sell us on the concept of the additional sweater shrug for a while now, and I'm just not buying it. But the oversized, v-neck sweater is nice enough, and I quite like the detail of the zippers at the side hems, too.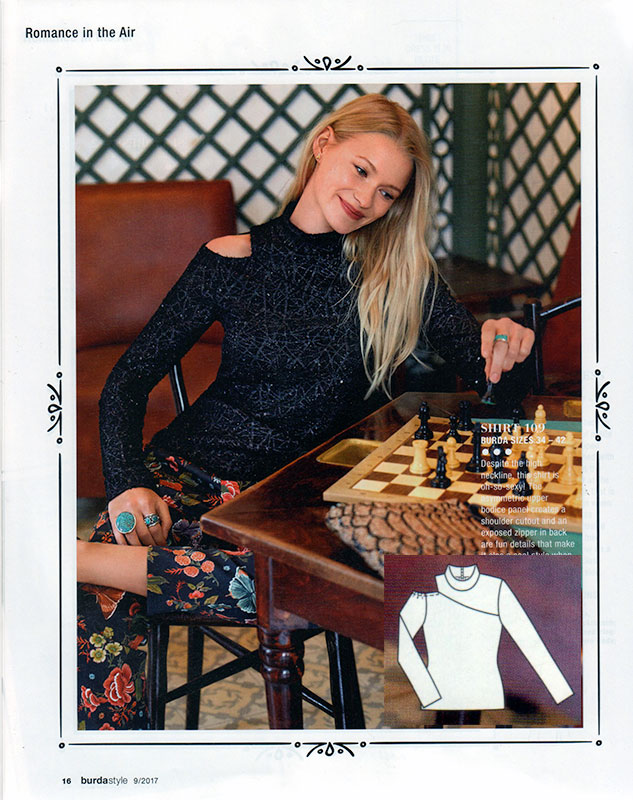 The cold shoulder trend is officially dead and buried (no matter what the American pattern companies are trying to tell you) so at least this top (and its dress version) is a new twist on it. I'd usually be all over an asymmetric knit top but that shoulder detail doesn't really do much for me. But points for trying, and at least it's an imaginative design!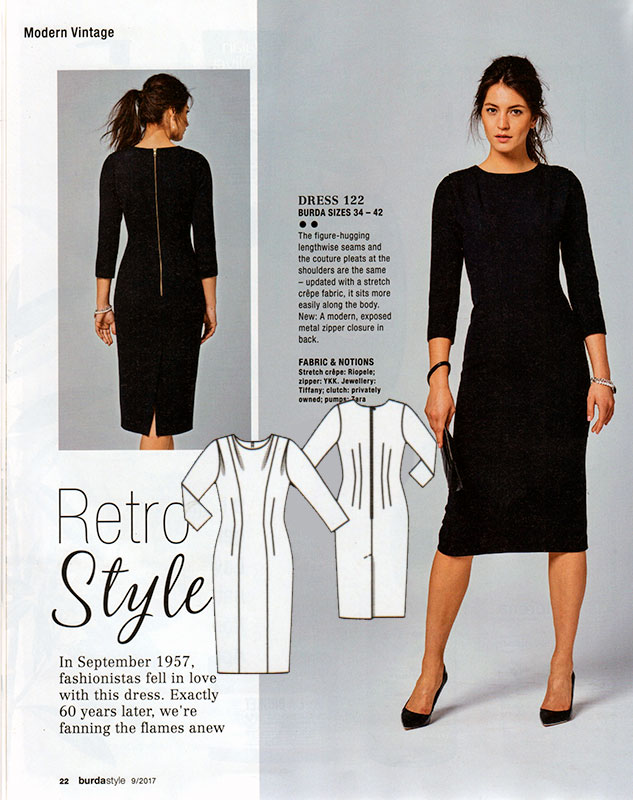 We haven't seen a reprinted vintage pattern for quite a few issues but this sheath dress from 1957 is just so elegant! It's got pleats at the shoulders, princess seams and fish-eye darts, so that's a whole lotta places to get the fit just right. It's a shame they've remade it in such a dark fabric, but the original 50s photo is also in the magazine and shows the details a little better.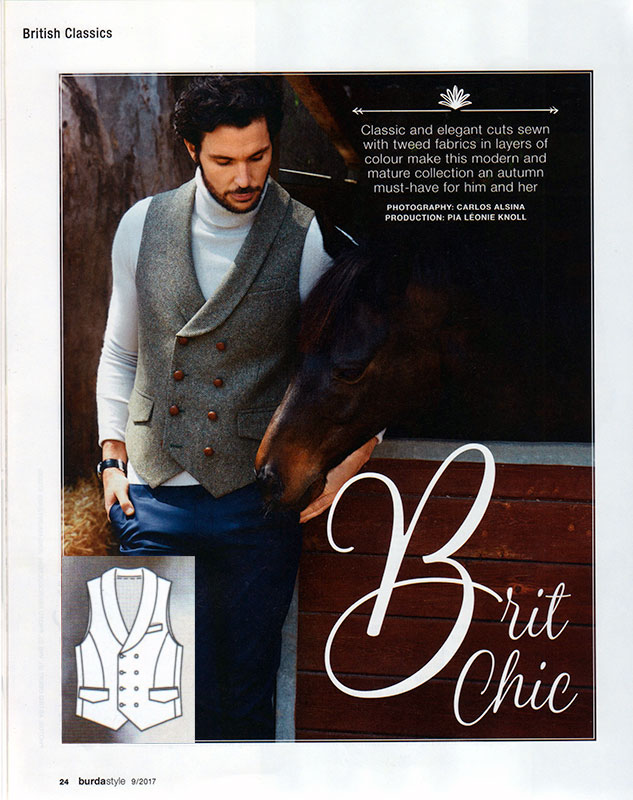 Just when you least expect it – a men's pattern out of nowhere! It's quite a classic waistcoat pattern – not something J would ever wear so I'm unlikely to ever make it, but it looks nice enough if your man tends towards the more traditional look.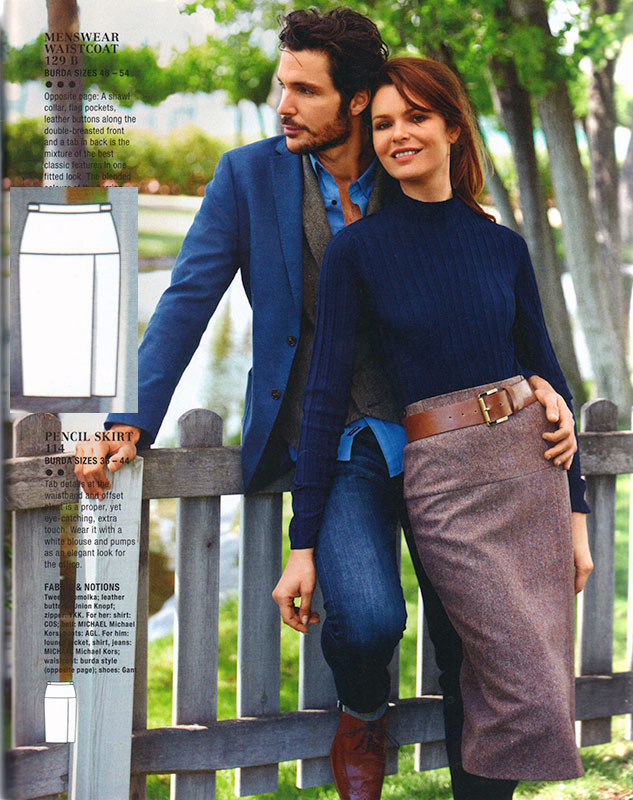 I like that this pencil skirt looks quite simple on first appearances, but has some elegantly well-executed twists. There's tabs at the waistband, a nice, deep hip yoke, and an off-centre pleat to give walking room rather than the basic centre-back kick pleat.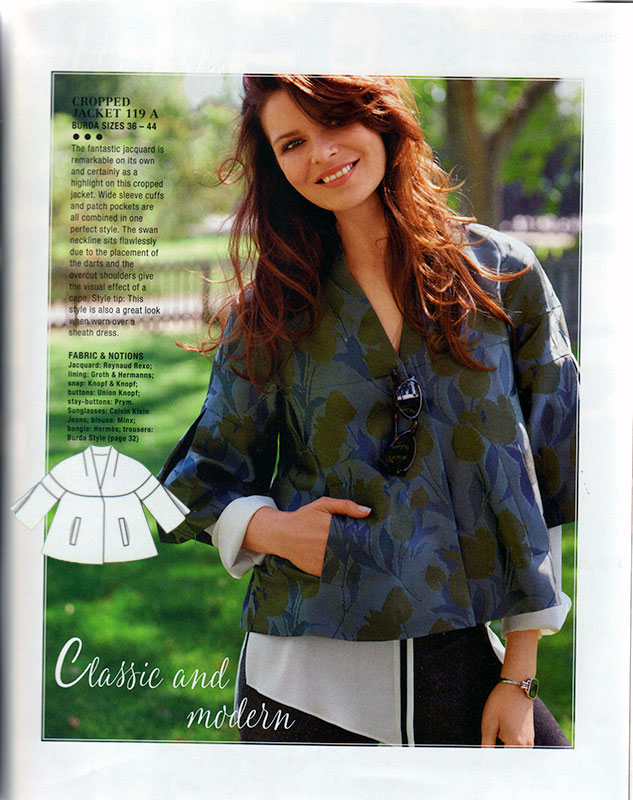 And in terms of toppers to pair with a slim, midi length pencil skirt, this swing coat would be ideal! I love a good shawl collar anyway (I'm not sure what the "swan collar" Burda mentions is all about?), but to add on those interesting banded and pleated sleeves and a wide hem makes this a really attractive little Fall coat. And there's also a little belt at the back to bring in some of that volume if you'd prefer, too.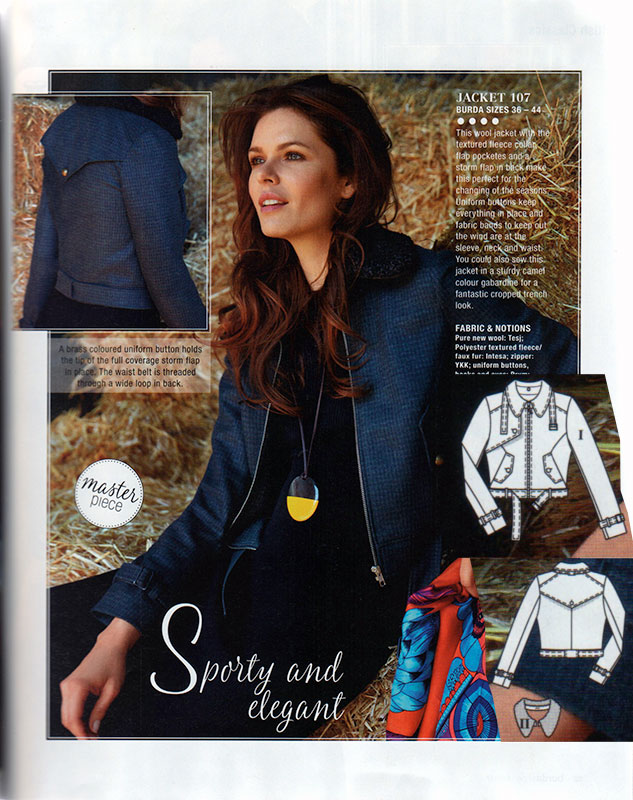 I love everything about this short coat. Depending on the fabric, it could be a great cropped trench jacket, a motorcycle jacket, or another great transitional Fall jacket, too.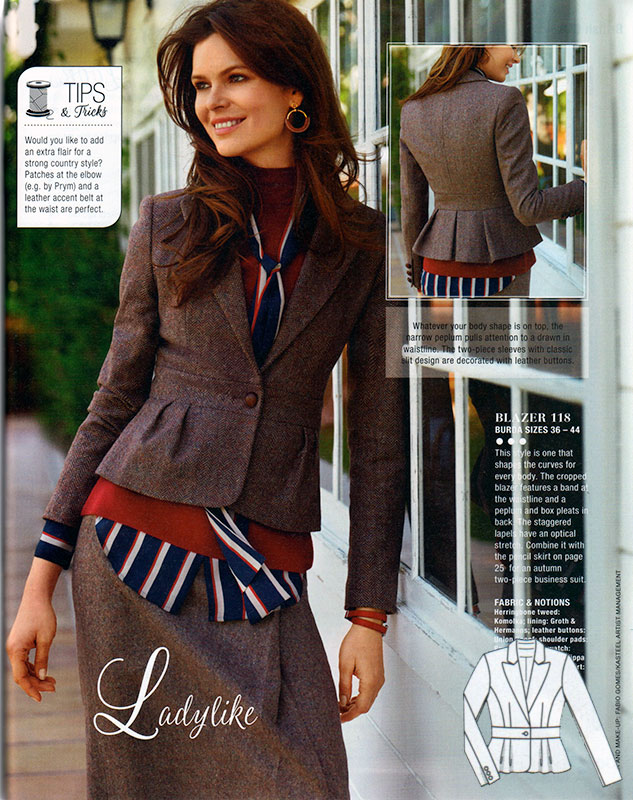 I love that Burda took a classic blazer and made the fit even more flattering to the female figure with the addition of a waistband and a pleated peplum. You could totally pair this with a pencil skirt or fitted trousers and have a fantastic suit for the office.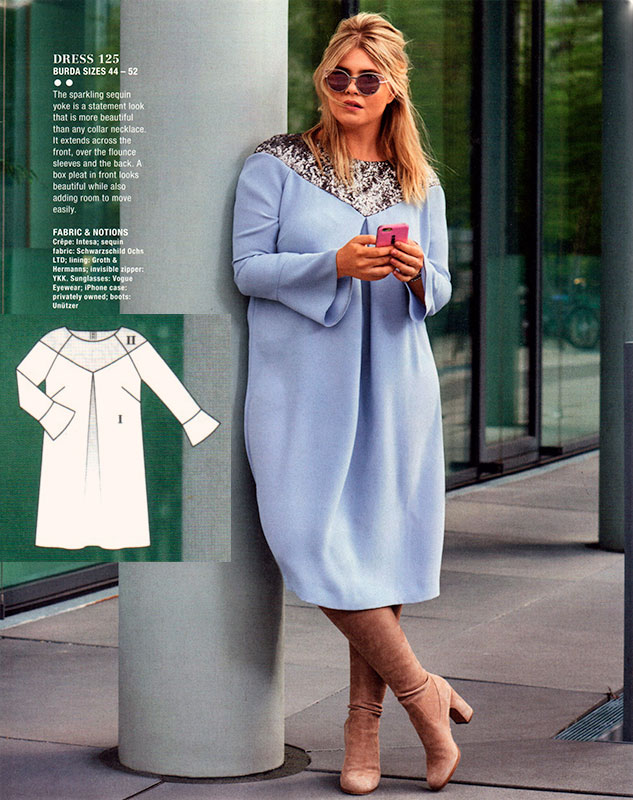 Oh dear. It could be the influence of the KLF reforming, but all I could think when I saw this Plus dress was "All bound for Mu Mu Land"!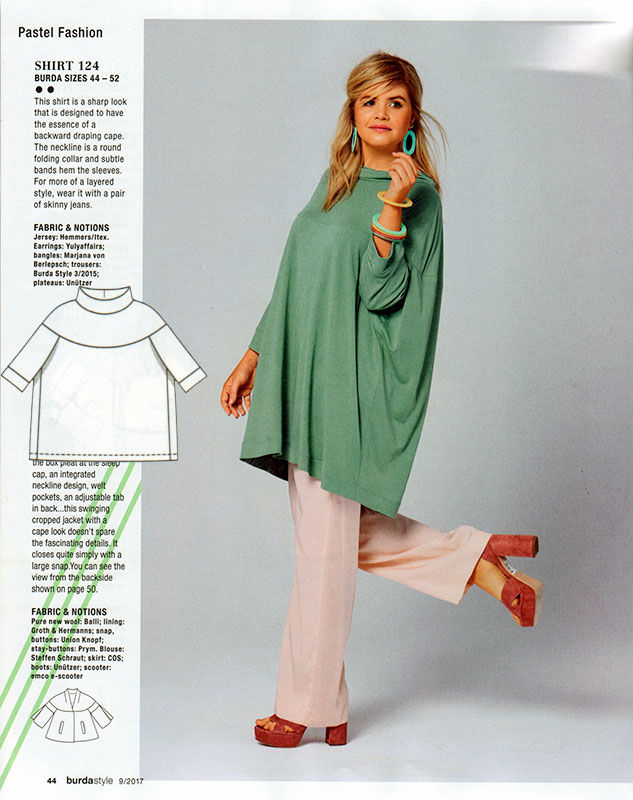 And it just keeps getting worse. What is this awful, shapeless sack?? Plus-sized women deserve better.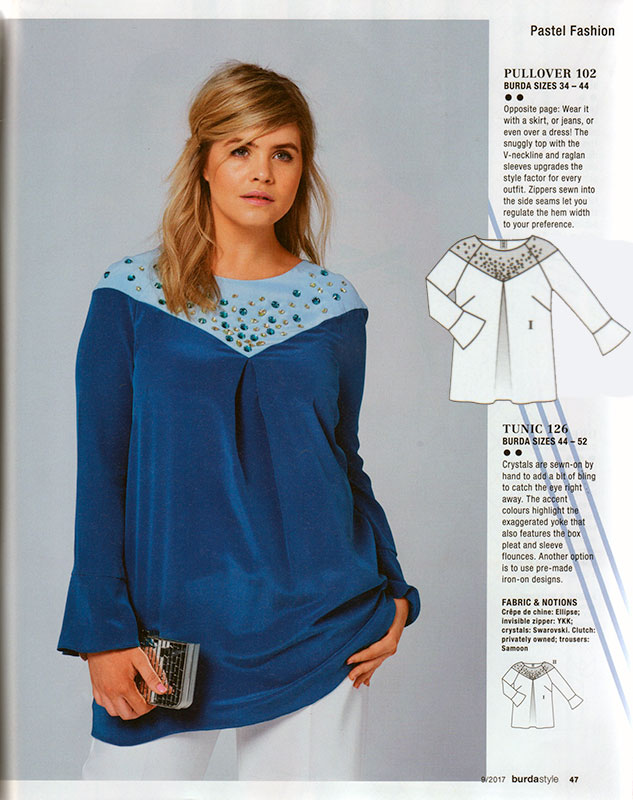 Someone thought "You know what this shapeless tunic needs? BEDAZZLING!" The model's face says it all, really.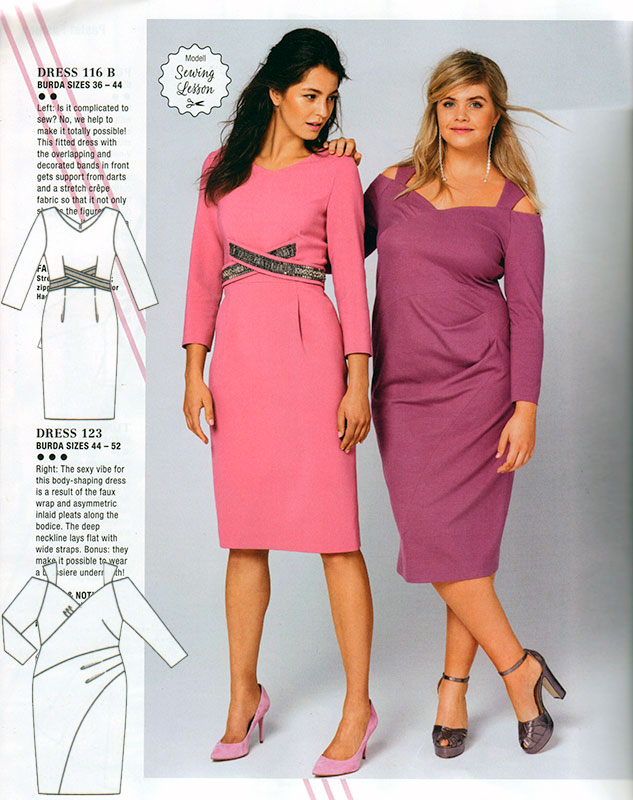 The dress on the left is for the standard size range and has the illustrated instructions for this issue. I'm not sure about the pepto-pink fabric or the trim they've used here, but I quite like the crossover bands at the waist for a bit of design interest.
The dress on the right is for Plus sizes, and if I just looked at the tech drawing, I'd be all over it – the design idea is great! But the dress on the model… ugh. I'm not sure if it just fits her really badly (that pleated seam cutting right over her bust, no no no) or whether it points to larger design problems.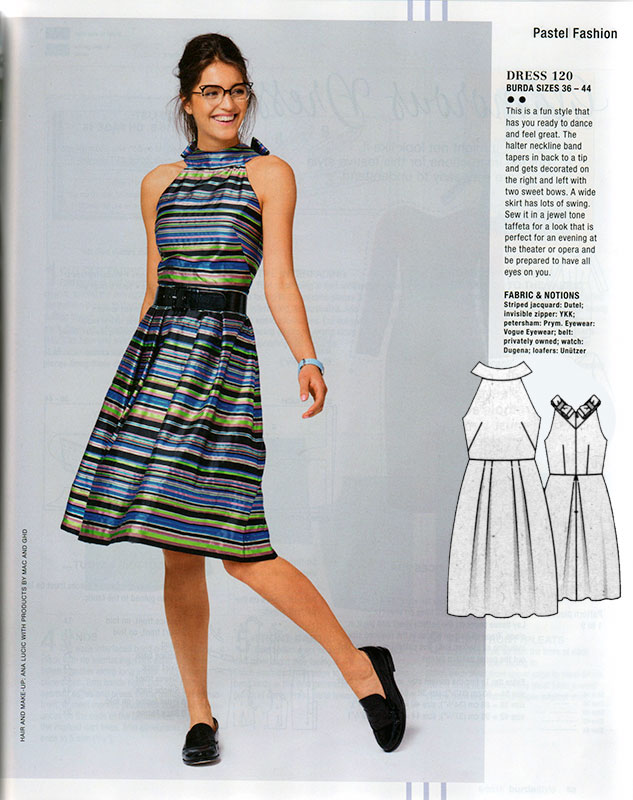 This dress doesn't seem to fit with the others in this feature (maybe it's a delayed pattern from an earlier month?) but I'm all about the halter neckline right now, and it'd be easy enough to leave off the "sweet bows" from the back neckline for a more mature look.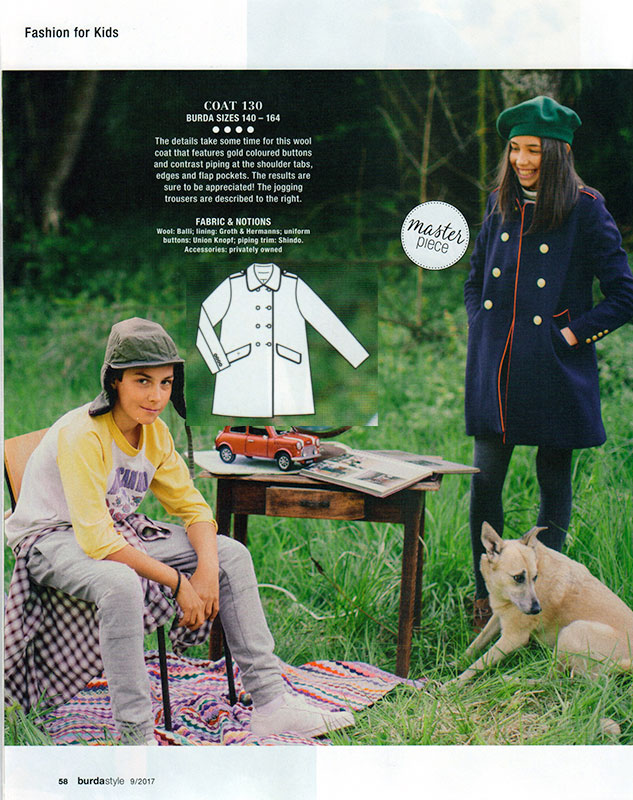 Finally, the children's section this month is for tween sizes, which only come around fairly rarely. This coat looks really nice and classic – something that could change its look dramatically based on fabric choice.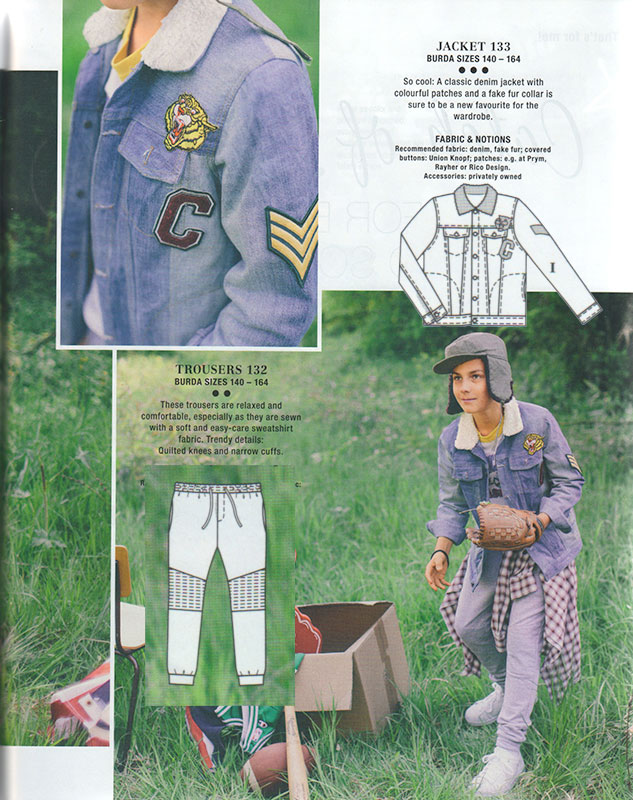 And there are two patterns for tween boys (or tomgirls!)! This jean jacket would be a total labour of love, but the pleated-knee joggers would be a fairly quick make if you've got any older boys to sew for.
So there we have it – not quite the dizzying heights of August's issue, but still loads to get excited about (as long as you're not in the Plus size range, ugh) and way way better than the usual September issue. THANK YOU Burda!!