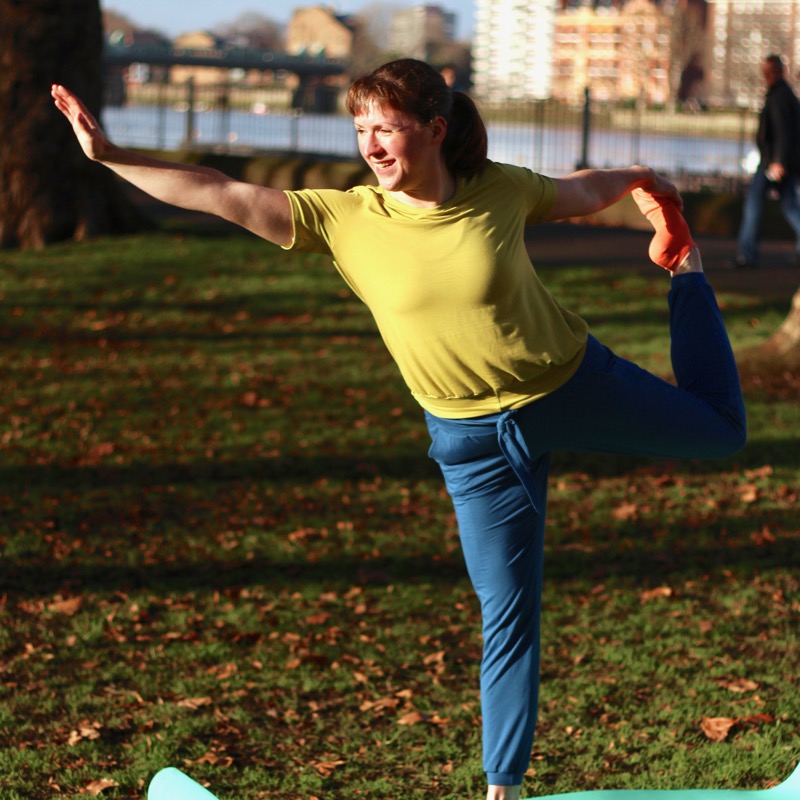 Last week you got to meet our latest athlete model and Knot-Maste Yoga Set covergirl, Kate, and hear all about how practising yoga after being diagnosed with a chronic illness absolutely transformed her life (if you missed it, go back and read it now, seriously…).
The samples Kate wore for her photoshoot show only half the options available in this extremely versatile sewing pattern, though, so today I'm going to share with you the other options, modelled by yours truly.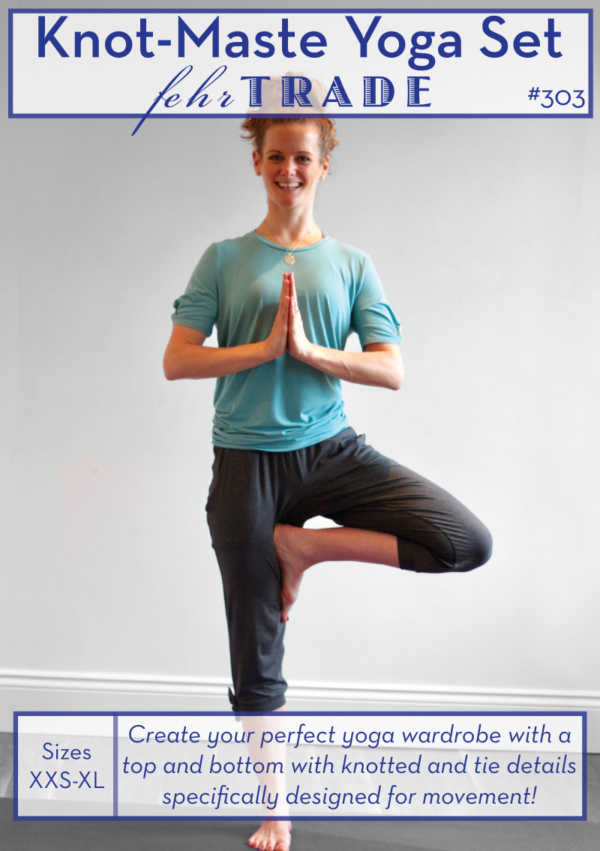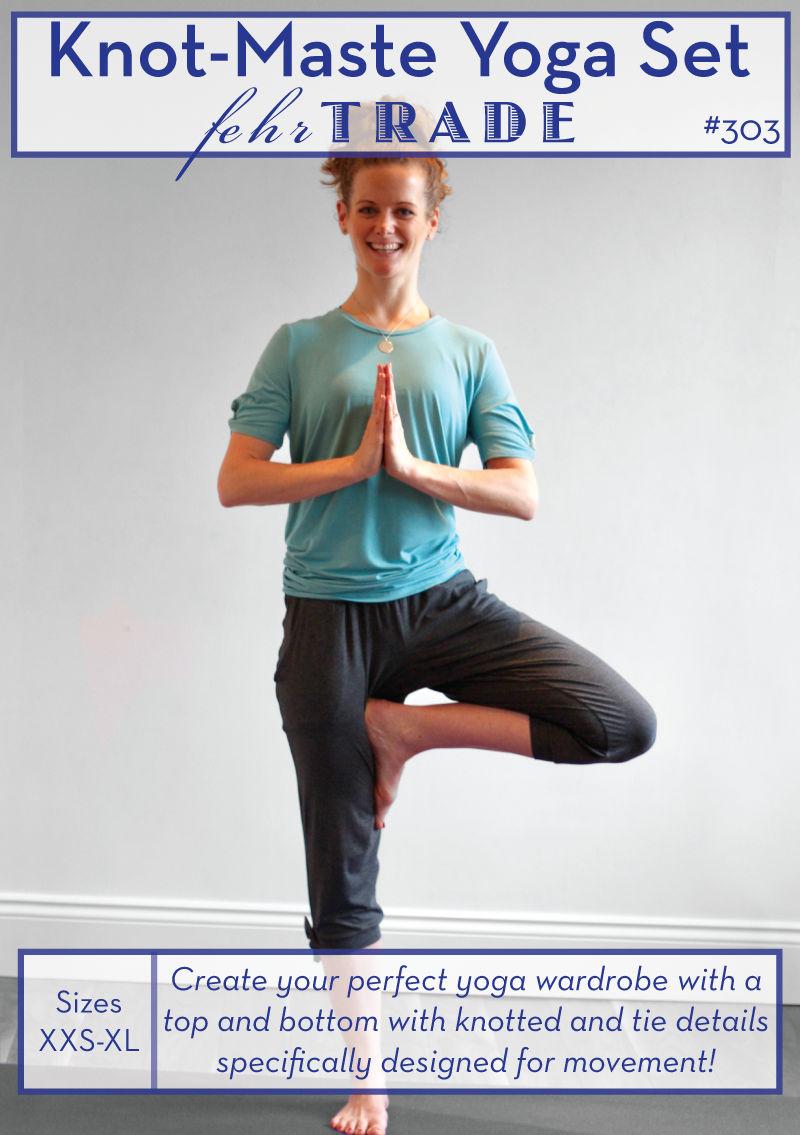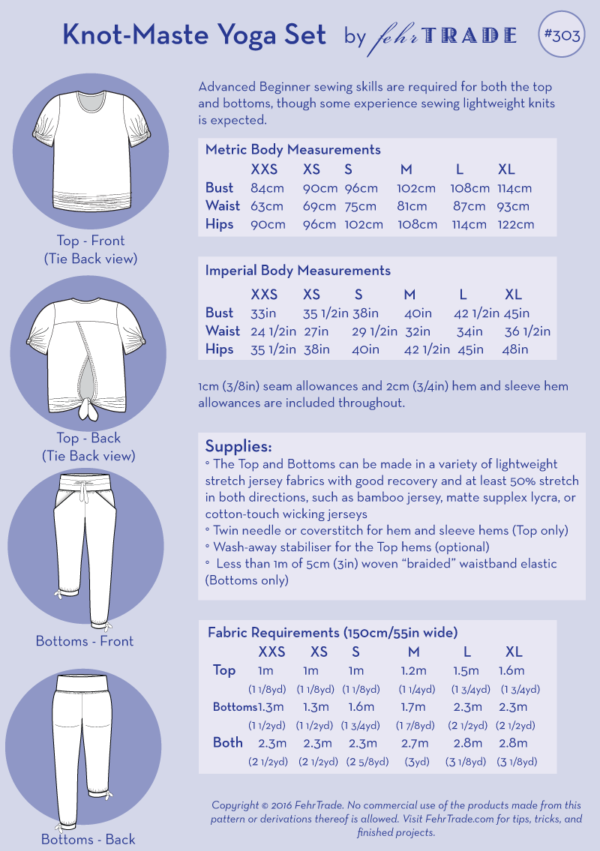 (Hint: You can see the tech drawings for ALL the different views in the Shop listing!)
Now, I'm going to start off by apologising to the yoga masters out there – I am not a yoga master, nor have I ever claimed to be. I'm the sterotypical runner who can bang out hours on the trail, hit the track for mile repeats, but can't touch her toes to save her life! Pretty much all my muscles are tight despite regular stretching and massages, which made this photoshoot and total laugh – yes, why not go to a park to publicly embarrass yourself by failing on the most remedial yoga moves, eh? 😂 (I'm joking – it takes a lot to embarrass me!)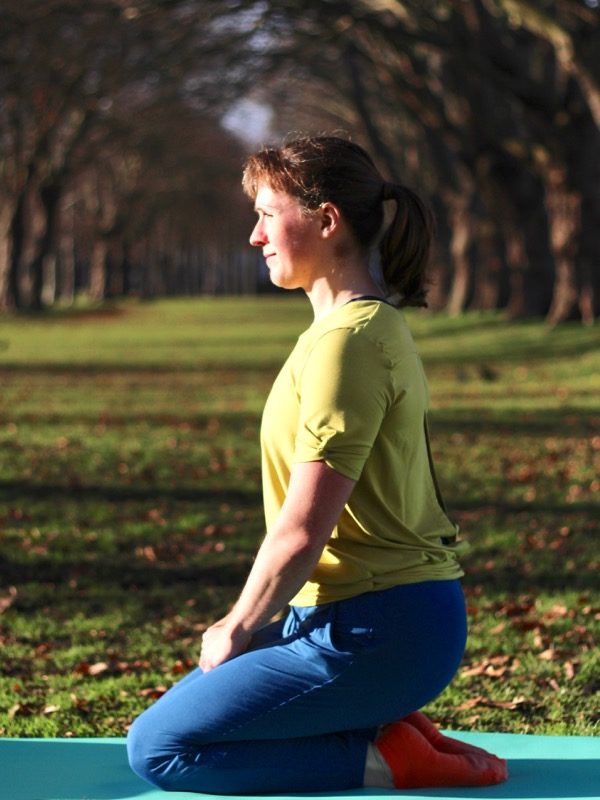 Anyway, with my "I'm not really a yoga person, I just play one in these photos" part out of the way, let's talk about the different pattern options! For the top part of the set, you can choose to either have long hems with an open back hem to tie for exercise and leave open for pre- and post-workout (which Kate modelled). Or you can choose to have a hip-length top with a band featuring twists at the side seams and a semi-open back (which I'm modelling here).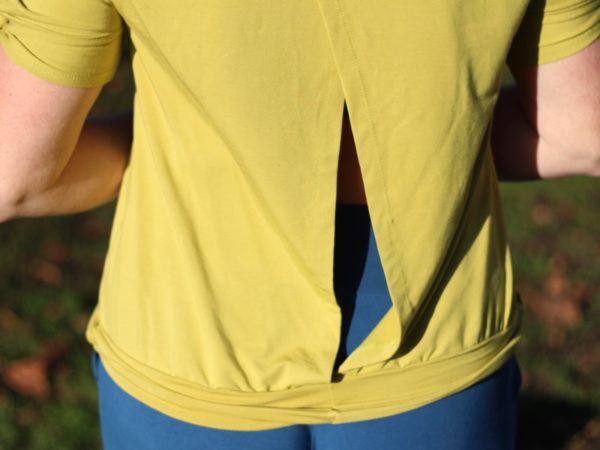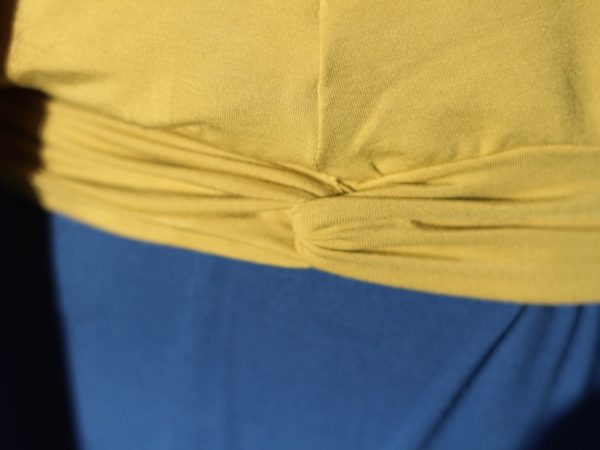 Some people have asked whether the back knot would be uncomfortable when you're lying down – in my experience (wearing it for my core exercises), it's actually not been a problem as the knot is quite squishy, but if you'd rather avoid it entirely, the hem band view is just for you!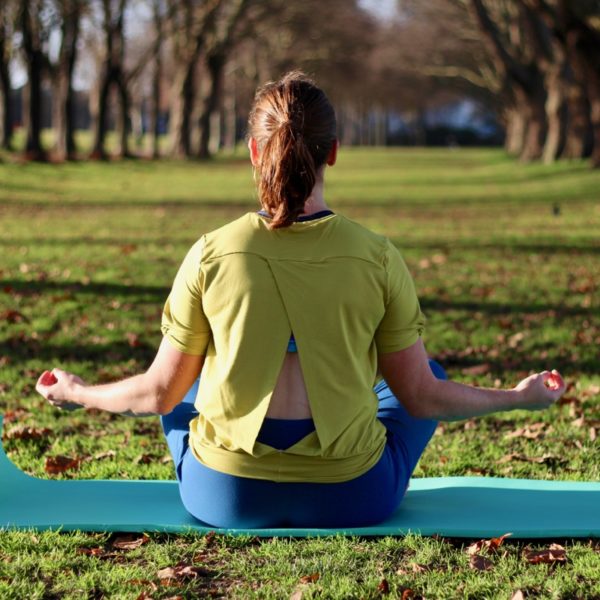 For the bottoms of the set, first you get to choose the length – capri or full-length (modelled by Kate and myself here, respectively). Then you get to decide whether you'd like plain bands at the hem, or whether you'd prefer bands with ties at the side. Even though I'm wearing the plain band version here, I surprised myself by how much I love those little ties!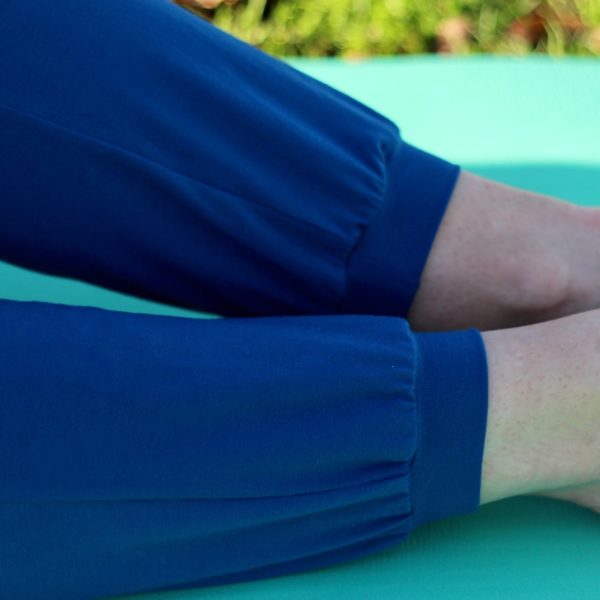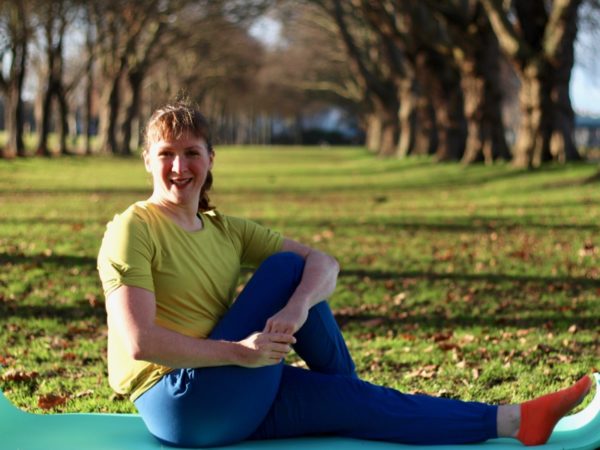 You can also choose to have a little tied half-belt at the waistband of the bottoms, too, which is held in at the side seams and is purely decorative.
The waistband itself contains wide elastic hidden inside and topstitched to the facing so it absolutely stays in place and doesn't bunch up like elastic casings. It's super comfortable, and the waistband height means you've got a bit of wiggle room to use different widths of elastic if you've got some already on hand.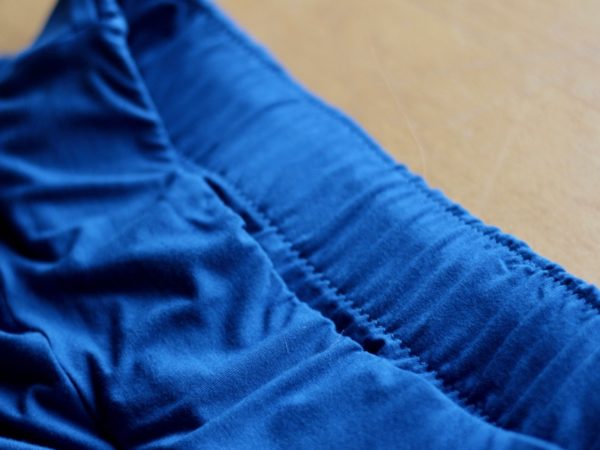 The Knot-Maste bottoms also feature a crotch gusset to improve the range of motion needed for many of the yoga poses. Unlike many crotch gusset patterns, this one is easily inserted using just your overlocker (serger) if you've got one! It always annoyed me in other patterns when you'd have to do one side on the sewing machine then the other on the overlocker, with an end result that just looked (and felt) messy. So I made sure this one was as easy to sew as it is functional!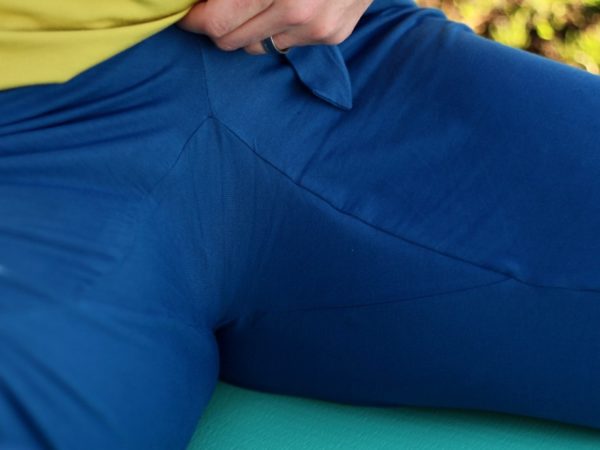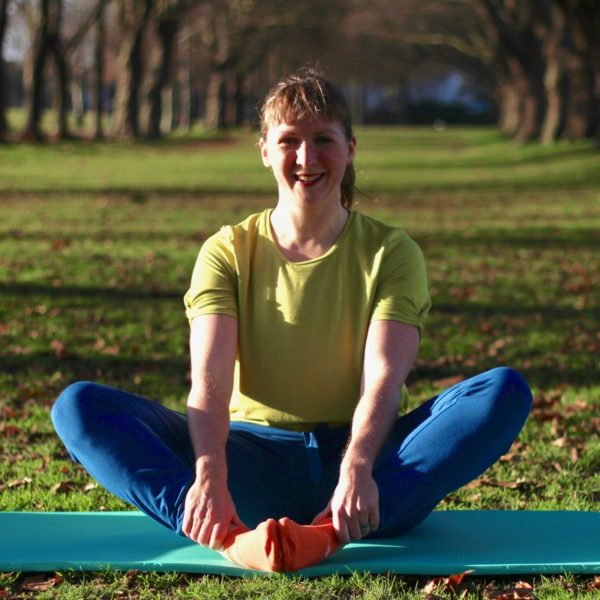 I got really lucky when we went to take these photos in one of our local parks – it was not only a gorgeous, sunny day, but it was also blissfully warm for December. When I was going through these photos, I was reminded by my photo app that we had taken the original photos for the PB Jam Leggings pattern on the exact same day in 2013! And I remember that December day was warm enough to strip down to a sports bra for a few minutes, too!
But one particular advantage of taking photos in the park – park doggies! I couldn't help but laugh when this little guy came up to me while I was (seriously!) doing a Downward Dog!! What are the chances, eh?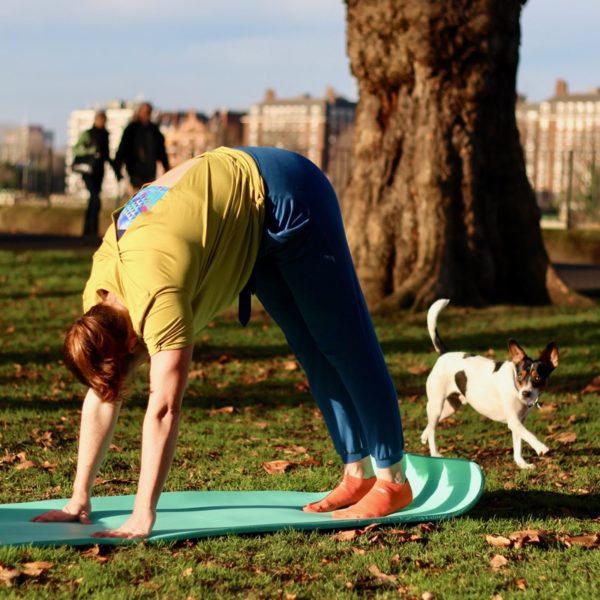 Melissa is wearing the Hem-Band version of the Knot-Maste Yoga Set top in bamboo jersey from Ray-Stitch in "Chartreuse". Her Knot-Maste Yoga Set bottoms are in the full length with hem bands and waistband tie, made in "Night blue" bamboo jersey from Ray-Stitch. Melissa wears size S.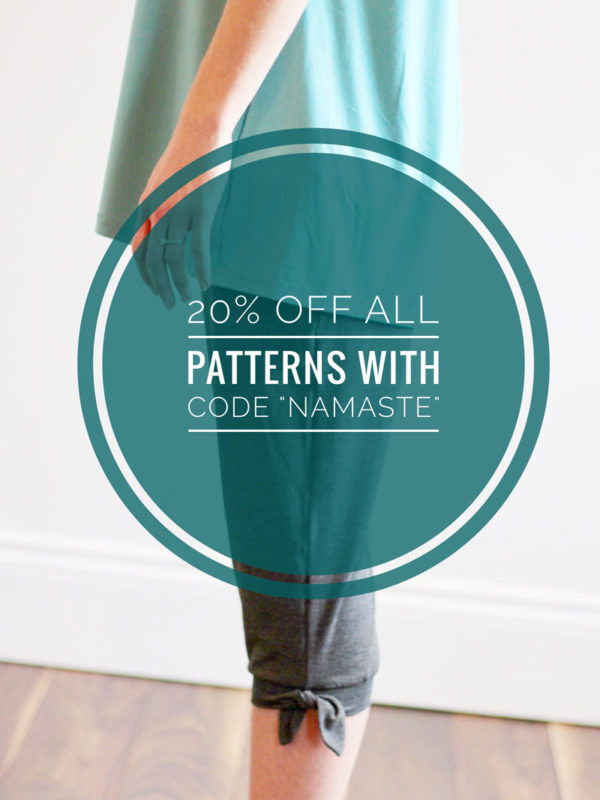 Remember, you can save 20% off all FehrTrade Patterns til 26 December 2016 when you use code "NAMASTE" at checkout! Paypal users – note that the discount code box comes very late in the checkout process…
[shopify embed_type="product" shop="fehr-trade.myshopify.com" product_handle="knot-maste-yoga-set" show="all"]