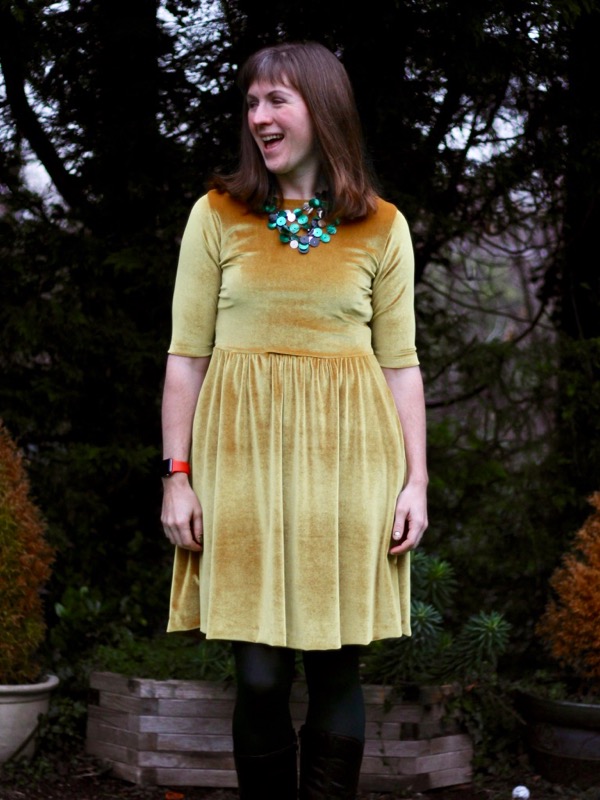 I started as new office job back in May (I'm a product manager in the music/tech space when I'm not designing sewing patterns or writing books!) and since this company is significantly bigger than all the previous offices I've worked for in the past, I've spent the last few months getting excited about the prospect of the first big office Christmas party of my life. And of course, with that comes What To Wear.
Velvet is massively on trend this year, and having discovered with the velvet tee I'd made James back in September that Tia Knight's 4-way stretch velvets are utterly divine (and a steal at £6 a metre!), I thought I'd somehow incorporate velvet into my party dress plans. At first I thought I'd combine the leftovers from James's tee with some matte sequin remnants in my stash, but with both being napped fabrics there was no way I could make it work, even with my Fabric Tetris skills!
So I went to Plan B, which was to make a dress entirely in Tia Knight's 4-way stretch velvet in the mustard colourway. People, I am totally in love with this fabric – the colour is a rich, golden, buttery yellow, it feels incredible on, and has great stretch and recovery, too. And since it's a knit, it's pretty forgiving to sew so long as you've got a walking foot and/or just use your overlocker (serger)!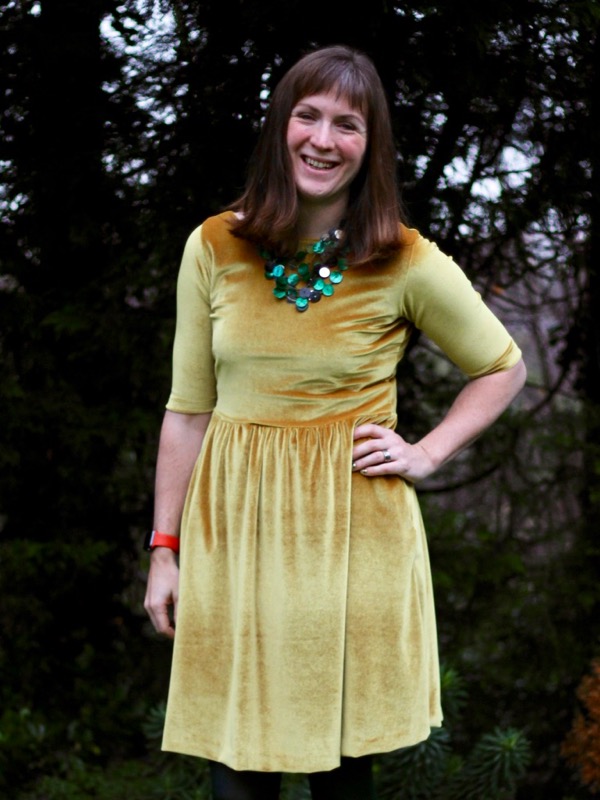 I'd bought Colette's Moneta dress pattern with some leftover Seamwork points a while back since everybody and their mother seems to have made it, I felt like it was a good, solid bet in the short time frame left to me (made even shorter after British Airways cancelled our flights back from James's birthday trip to Berlin, giving us two extra nights there but two fewer sewing nights at home to work on it!).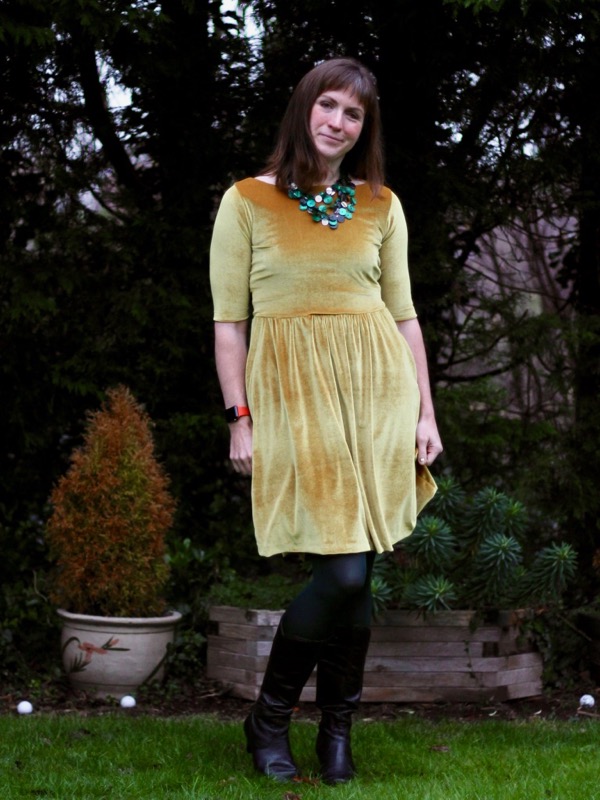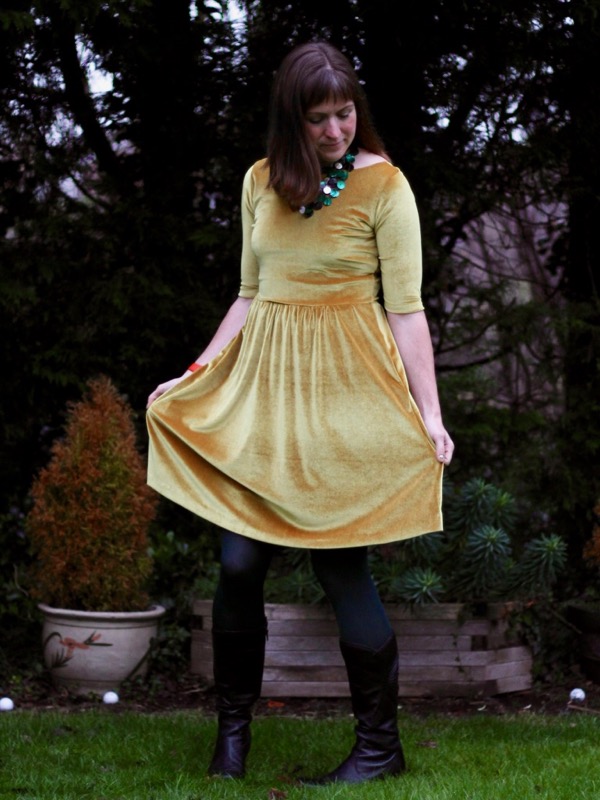 Overall, I like this pattern and I think it lives up to its popularity but a few things annoyed me about it:
a) The measurements are only in imperial (no metric). For an established brand this just feels really amateur – please don't make me use online converters to choose a size and then guess at my fabric amounts!
b) The Copy Shop prints aren't compatible with A0 printers (the ISO printing standard across the globe, excluding America). This meant that I spent about 30 minutes shuffling pattern pieces around in Adobe Illustrator to get something I could send to my printer. Colette aren't the only ones to do this – Named also do some crazy, non-standard Copy Shop formatting, but it still annoys me and I wish they'd just supply A0 and be done with it since A0 also works with the common 36″ wide printers in the States.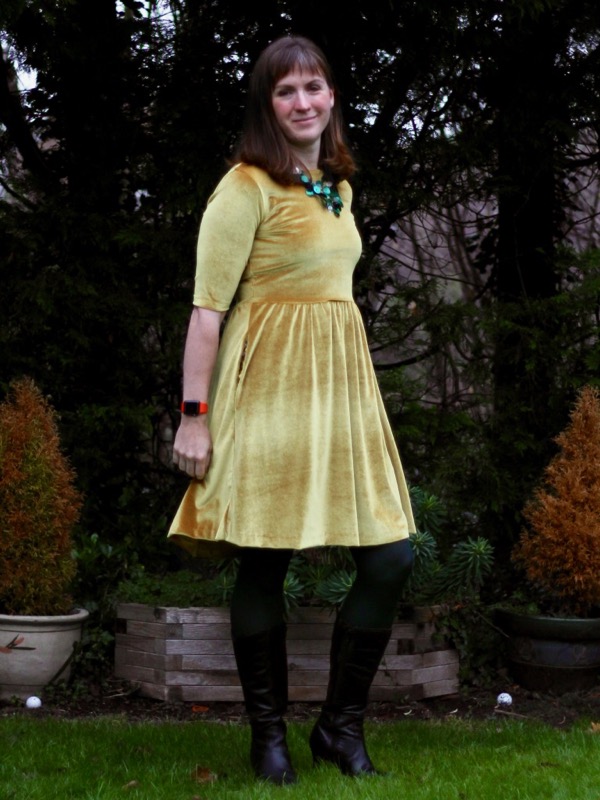 c) Why is there not long sleeved option? It seems odd to have sleeveless, short sleeved, and elbow-length, but no long-sleeved option. I mean, I can lengthen it, but it's just… weird.
d) (Ok, I really do like this pattern, but I'm on a roll now) One of the views is lined, but the others have you turn and topstitch the curved necklines, which is just asking for trouble IMHO. I opted to line mine with a beige nylon tricot that's been in my stash for ages to have a clean neckline finish. I did this by sewing the shoulder and side seams on both the velvet and the lining, then sewing them together at the neckline, understitching the seam allowances to the lining, then basting the layers together at the armscye and waist and treating as one.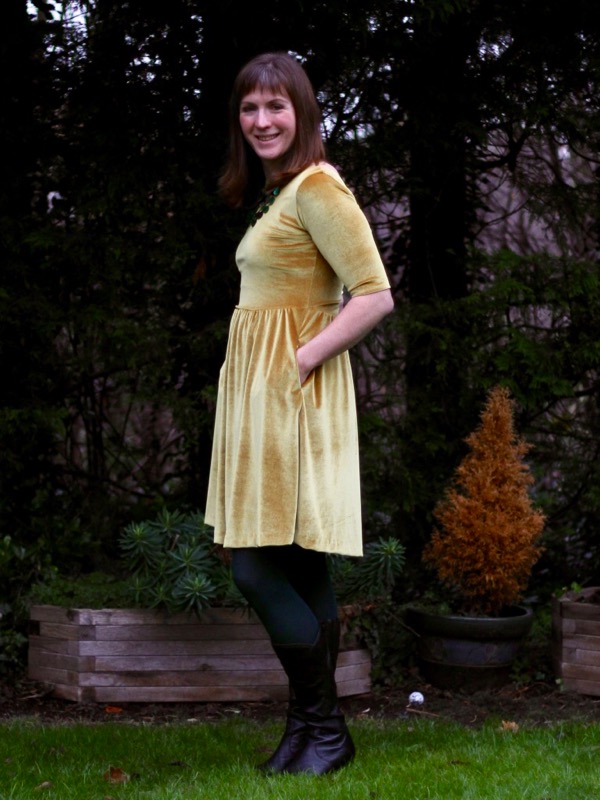 d) I'm fairly short-waisted (I usually have to raise the waist by an inch on most patterns), but this one's even shorter on me – on my next one I'm actually going to lengthen the bodice to get that waist seam to hit at the waist! I don't think I've ever had to lower the waist on a pattern before in my life…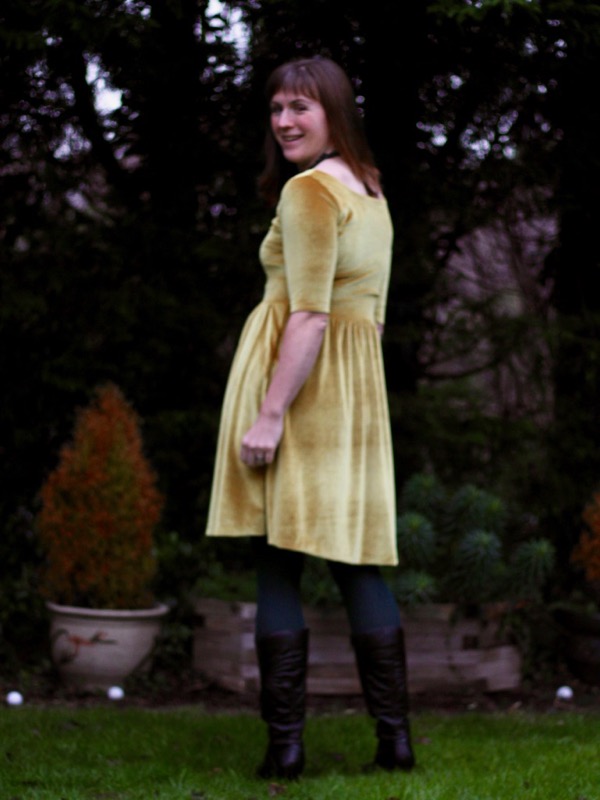 An unexpected joy of this pattern, however, is that elegant boat neck. The pattern describes it as "a gently curved, wide neckline", so I wasn't expecting it, but it is very nice, especially as it dips lower at the back than in does at the front even.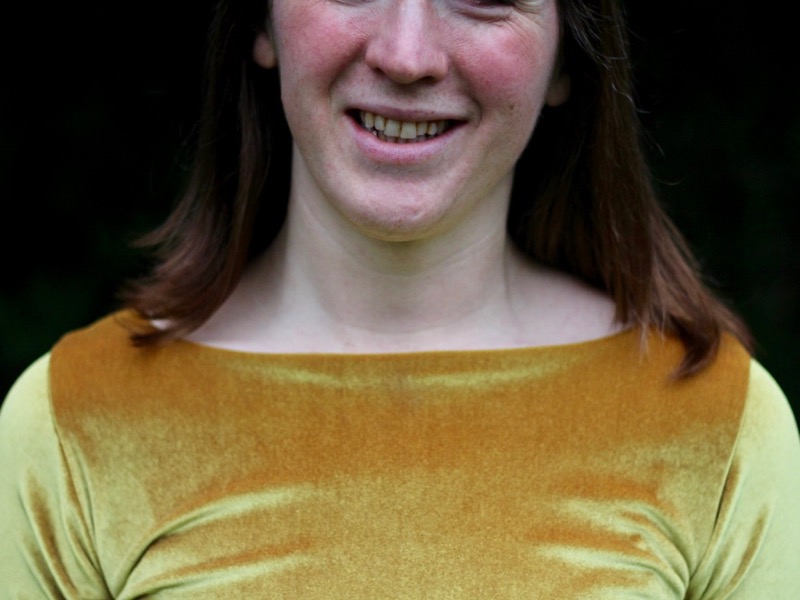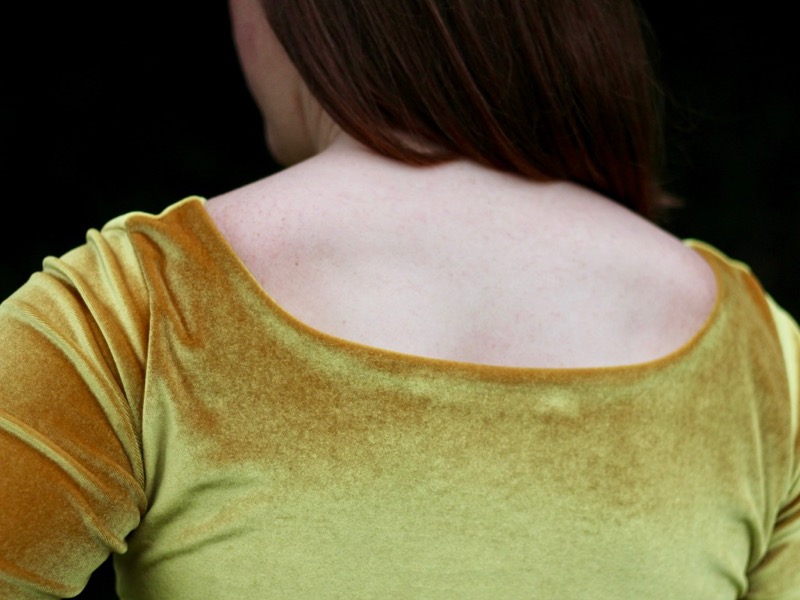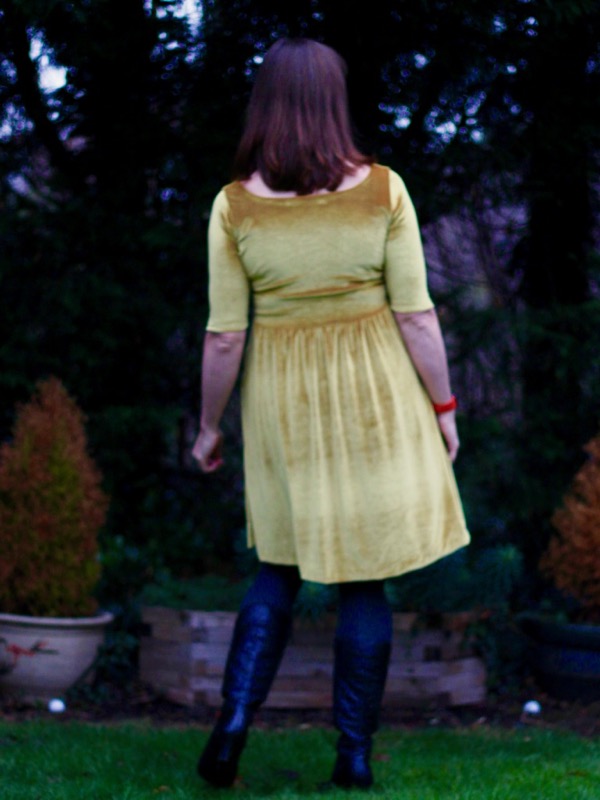 The instructions for this dress have you sew stretched clear elastic to the skirt, then attach this to the bodice to create the gathers. This is a perfectly valid way to approach this seam, but I personally cannot stand working with clear elastic, so I threw this out the window and went the traditional gathering stitch route instead. Though in order to get the notches to line up you end up having more concentrated gathers near the centre front and back than at the sides, but it's a nice look anyway so I went with it.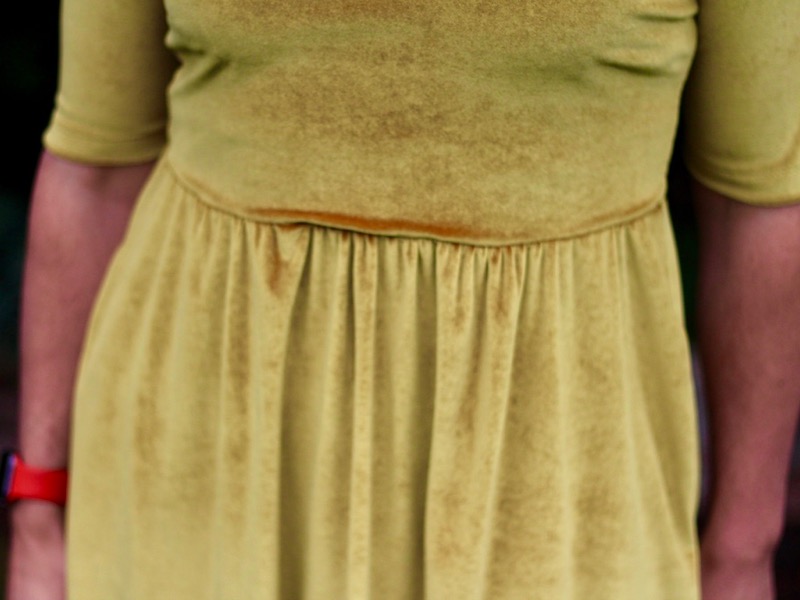 When cutting out the pockets I remembered that I still had some yellow floral silk satin in my stash leftover from this blouse I made 5 years ago (sadly, not really "me" so I never wore it despite the gorgeous fabric), which was a perfect match for the yellow velvet. I learned from making so many coats over the years that silk pockets are an indulgence that pay you back every time you slip your hands into them, so I jumped at the chance to have them here, too.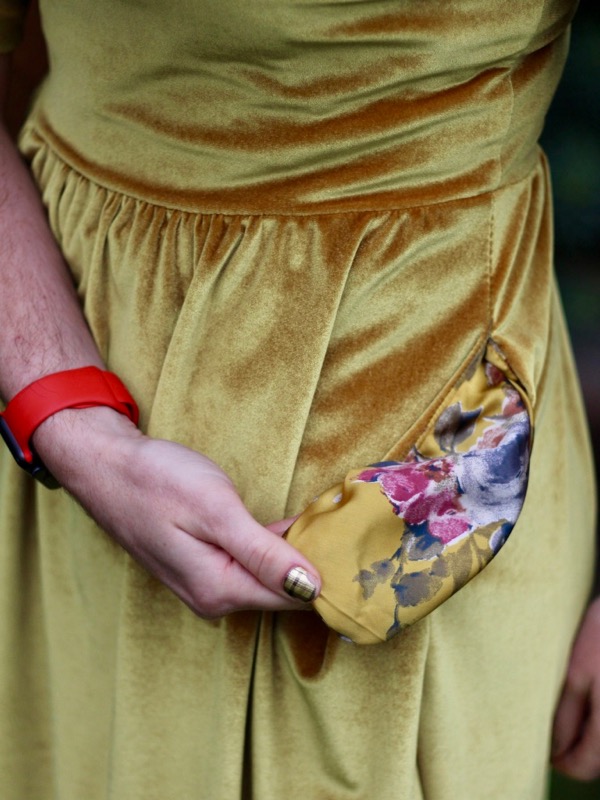 I've never found pockets on full skirts to be very secure, however (I'd certainly not put my phone in there for dancing at a party!), so back when I thought I'd have more time I'd planned to make these zippered pockets, but that went out the window when I still had most of the dress yet to sew on the morning of the party!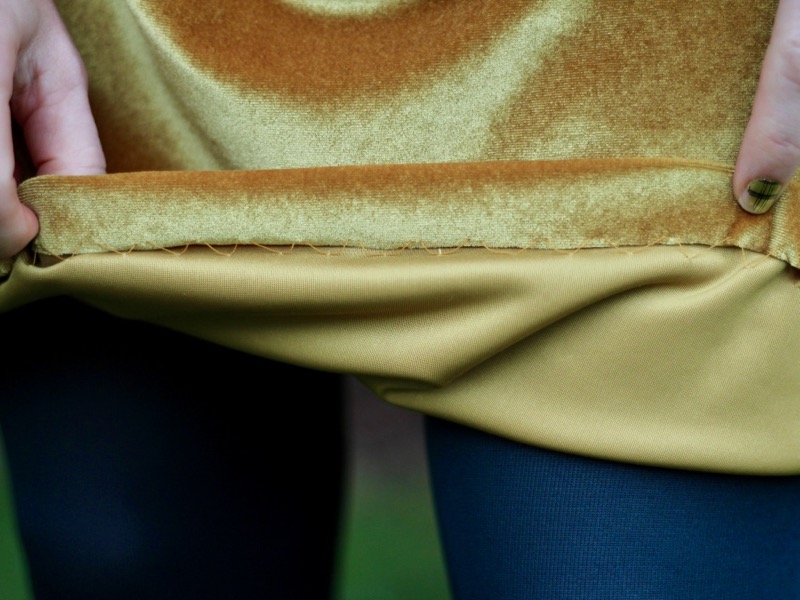 If you've been reading this blog for long enough, then you already know how much I hate hemming by hand, but I couldn't bear to put a topstitched hem on a dress like this (though I had no qualms whatsoever about doing so on the sleeve hems!), so I sat down and stitched it by hand, making sure to build in enough ease to allow it to stretch with the fabric. It's a much nicer look, IMHO, and I'm glad I took the time.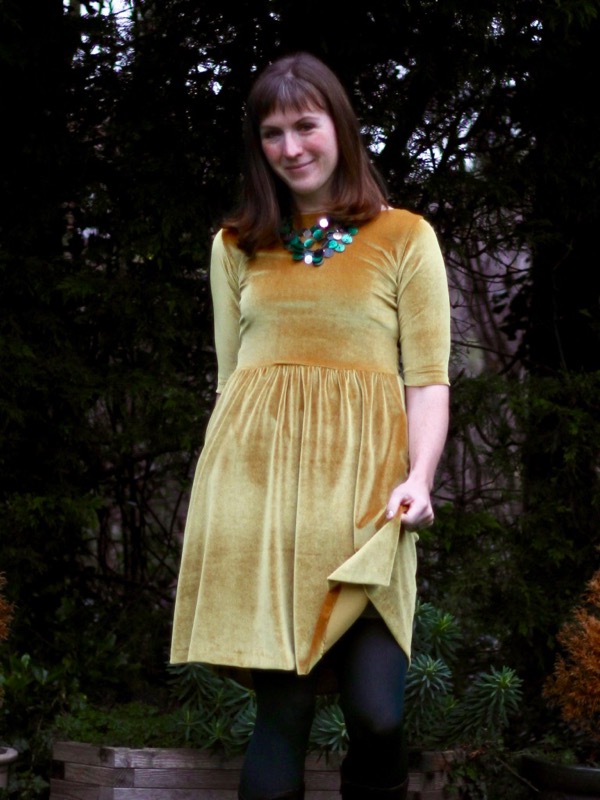 Overall, I don't think the fit is anywhere near as good as if I'd just reverse-engineered it from my own personal block, but in the interests of time and of trying out a pattern that's been so wildly popular, I still think it was a sound decision. While I had some annoyances with the pattern, I absolutely love wearing the finished dress. I got TONS of compliments at my office party (and lots of stroking of my sleeves!), I felt great dancing in it until 1am, and it's the perfect mix of comfortable AND dressy, so it looks like you've totally made an effort while you feel like you're wearing pyjamas!