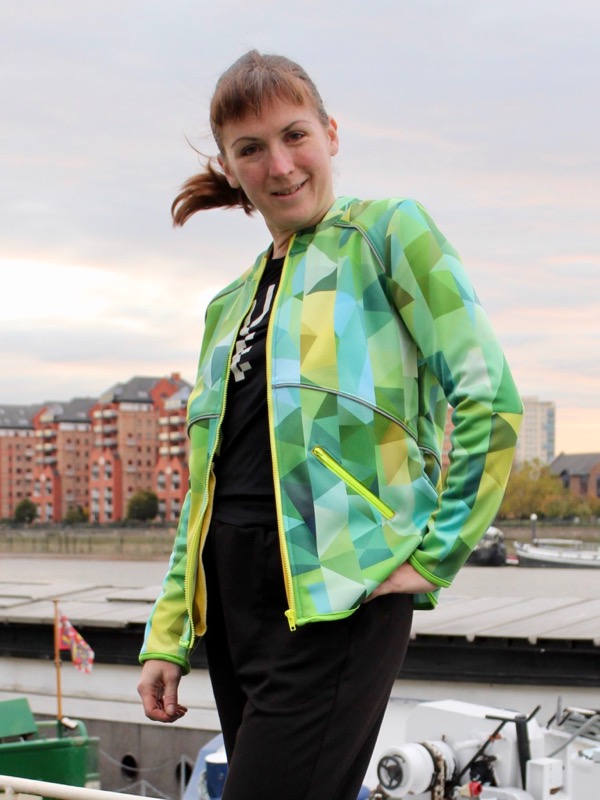 So you might be thinking "Wait – haven't I seen this jacket before?" and if you follow me on Instagram then you'd be right. Or if you follow this blog on RSS or by email, then you may also be right, as I'd taken these photos last fall but wanted to save the post until the book came out, and then accidentally made my draft post live when I added some tags to it (I do love WordPress but it is WAY too easy to do that – on my old blog platform it was almost impossible to set something live accidentally!).
But in either of those circumstances, you didn't really get to see or hear very much about this jacket, but I am SO happy with it and bursting to share!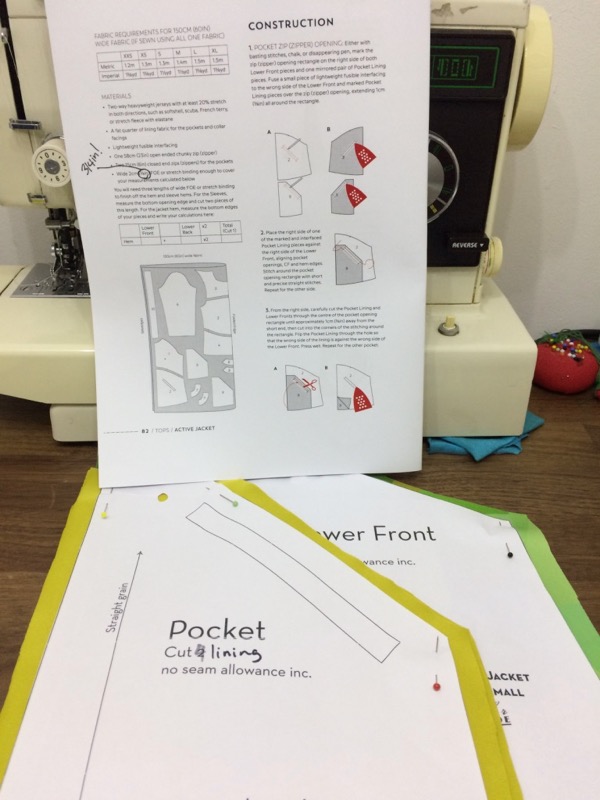 I actually sewed up this jacket during the very last editing round, so I basically followed my own instructions from the book, making sure everything still made sense, or if I saw any mistakes.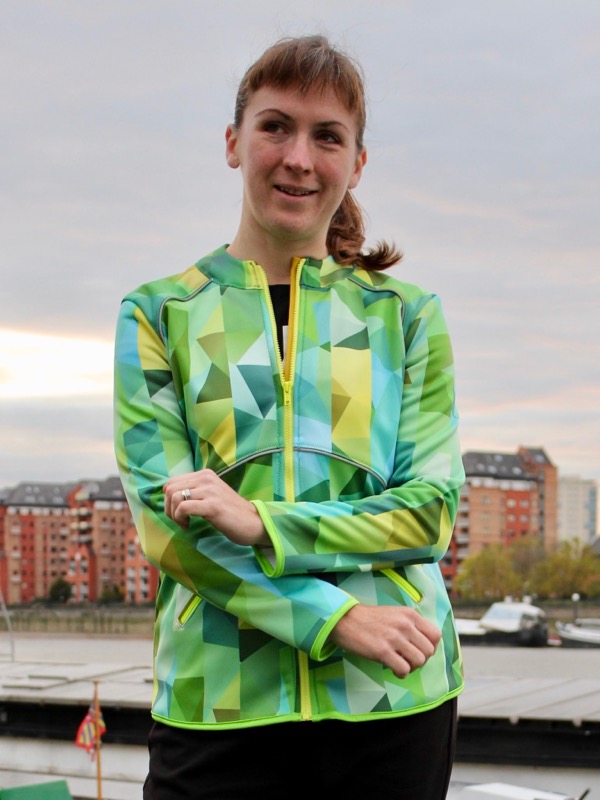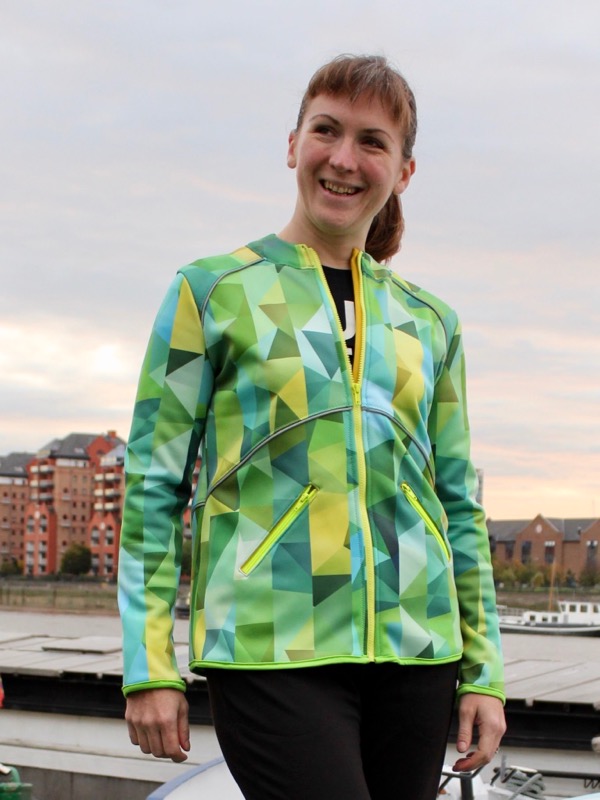 I made this up in a custom digitally-printed softshell from Contrado, which they kindly supplied by in my choice of design (one I put together myself in a few minutes on Illustrator). You know how much I love greens and turquoises and yellows, so I thought this would be a great option for me to wear on my cycle commutes in transitional weather. The softshell is fleece-backed but the face is smooth and densely woven, so it stops the wind pretty effectively! The only thing to look out for here is that there's very little crosswise stretch in this softshell, so you may want to add extra wearing ease to the sleeves, upper back, and shoulders.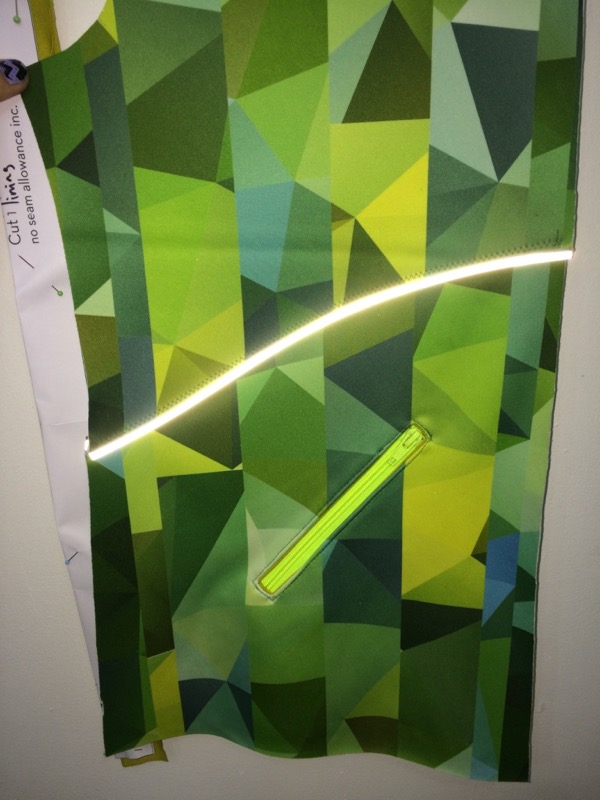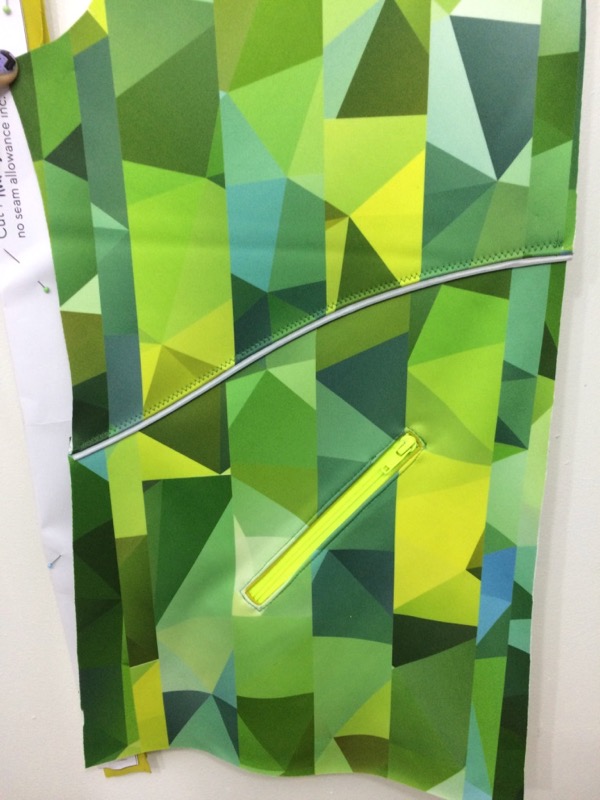 While the sample in the book is colourblocked, I really wanted to show with this version that you could use one fabric for the whole jacket but instead focus on the seamlines, so I used reflective piping in all the body seams of this! I used a triple-zigzag stitch to topstitch the seam allowances flat afterwards, but since this very well may be worn in the rain, I had to think about each seam and topstitch the side which would be closest to the sky when worn so the rain flows downwards instead of getting caught in the seams and leaking through!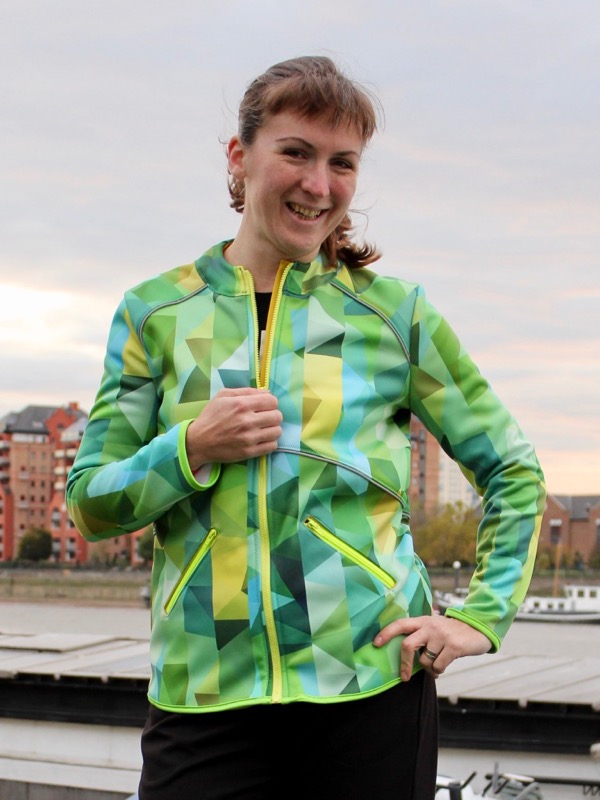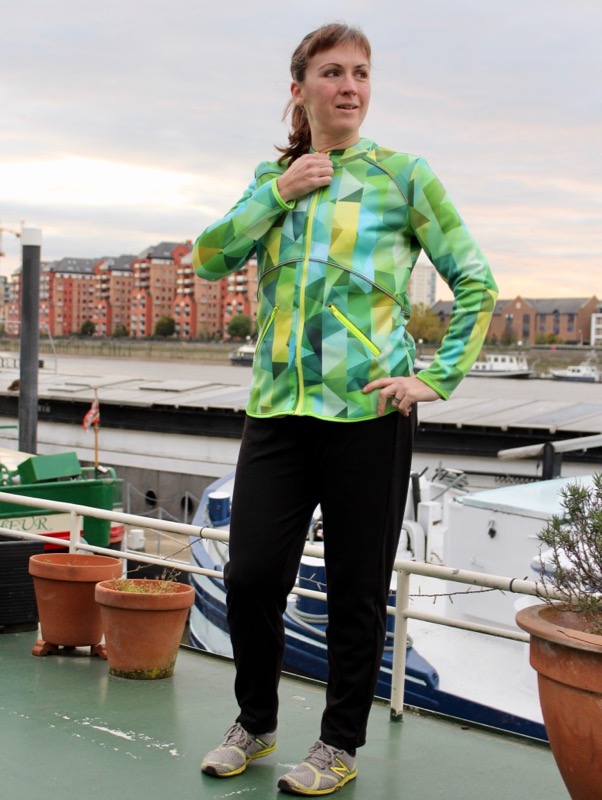 Otherwise I followed the instructions in the book, though if I made a piped (or contrast flatlocked!) version again, I'd change order of construction so I could make the piping continuous. In other words, instead of constructing the fronts, then the backs and joining at the sides, I'd join the lower fronts and backs together, the middle fronts and backs together, pipe the seam between them, then do the same to join to the yoke (and set the sleeve in the round). That way you don't get a lumpy piping join at the side seams.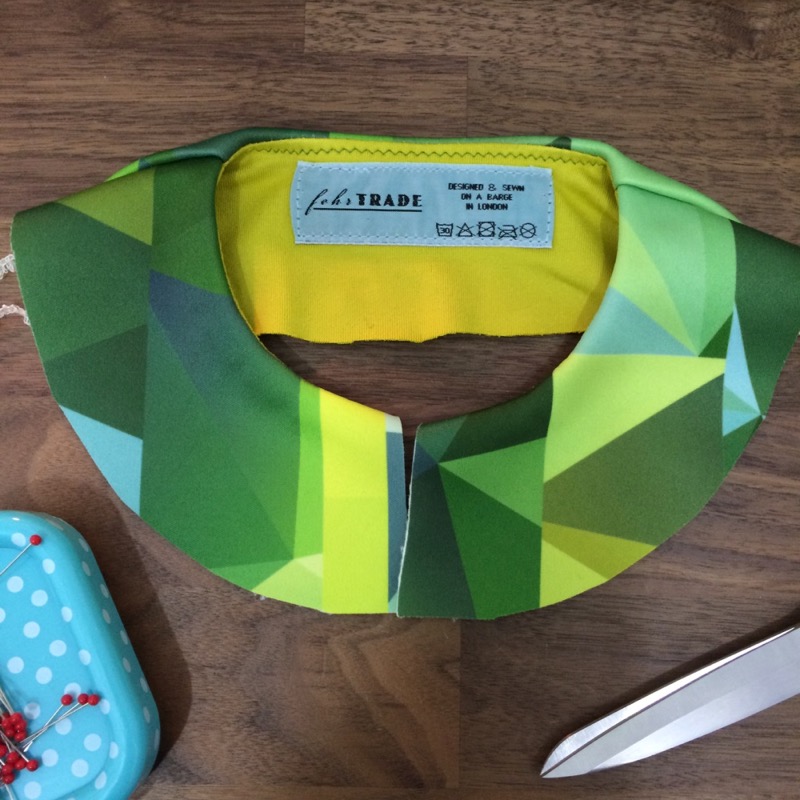 Since the softshell fabric is quite thick, I knew I wanted to use a thinner fabric for the collar facings, zipper shield, and pocket linings, and it turned out that the citron supplex in my stash leftover from these Steeplechase Leggings (still one of my favourite pairs and in active rotation, too!) matched really nicely. But as this fabric was super stretchy, I knew it might be a problem when I tried to attach it to the stable softshell, so I fused some lightweight knit interfacing to the back of the collar facings, zipper shield, and pocket zipper area to prevent it stretching out and creating ugly tucks.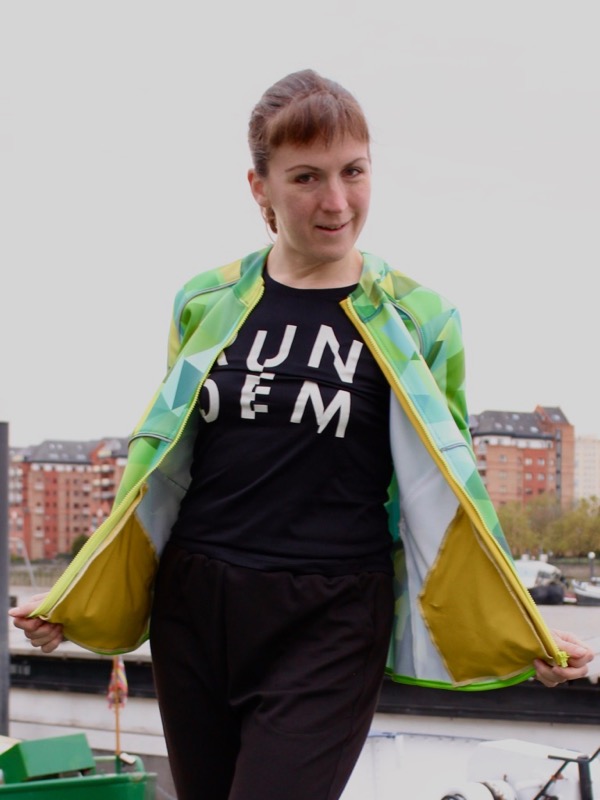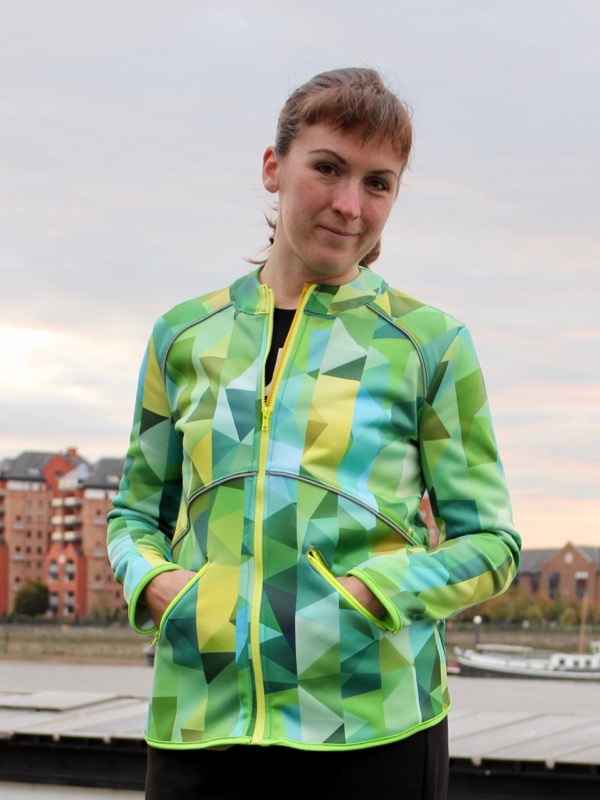 There's nothing I love more on my activewear jackets than secure, zippered pockets, so I knew I wouldn't be taking any shortcuts on the zippered welt pockets here! They're really straightforward to sew but sometimes finding matching zippers for the pockets and the front opening can be a bit of a challenge. I was really lucky with these though, as Pennine Outdoor had exactly the shades I needed! The pocket bags go right down to the hem of the jacket, too, so there's plenty of room for my phone, keys, office access card, and tissues to be held securely while I ride.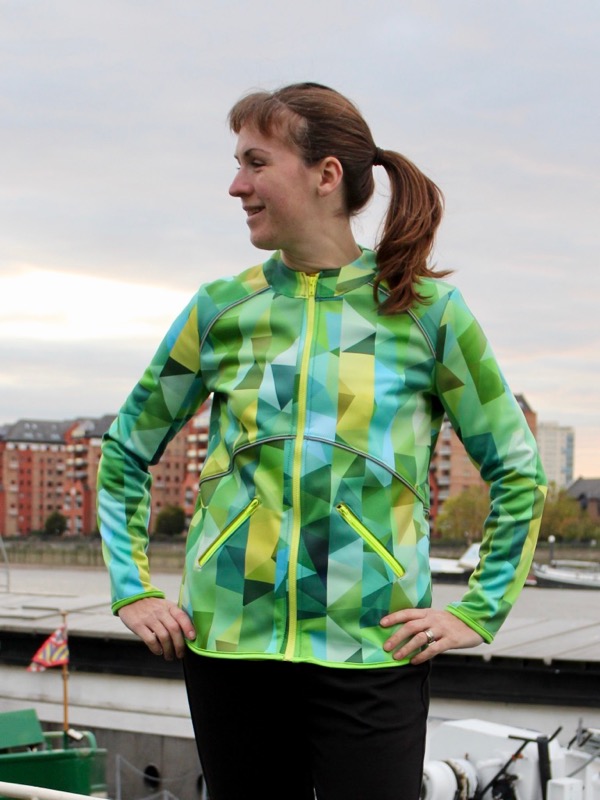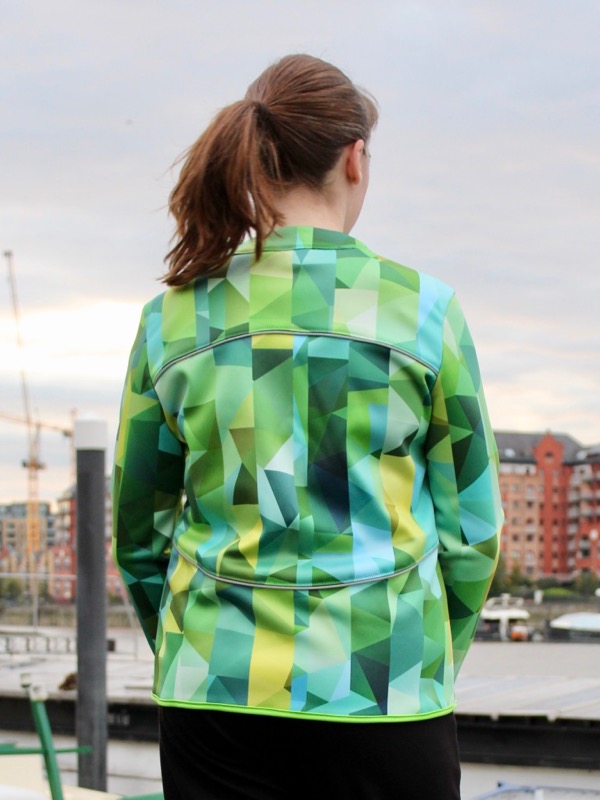 I finished the hem and sleeve hems with fluorescent green stretch binding from Minerva Crafts. I use this on quite a few projects in the book and it's just fabulous for finishing off hems when you don't want a bulky fold-over traditional hem. I wrote more about how to use it in this post, and it's definitely worth buying a few colours to have on hand!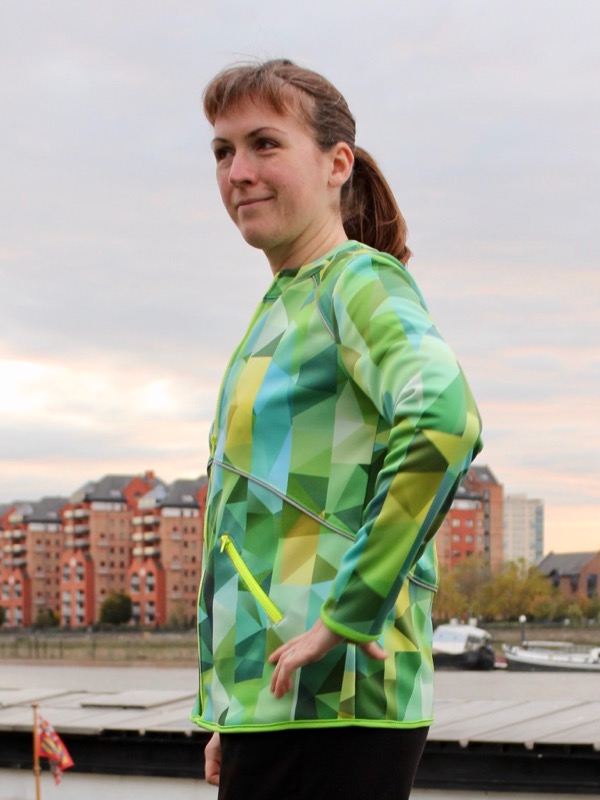 If you've never sewn with softshell before, then you're in for a treat! There has been an absolute explosion of sellers offering it here in the UK, and since it's a really stable stretch woven, it's pretty easy to handle, too, if you follow my tips for sewing with softshell that I shared last year!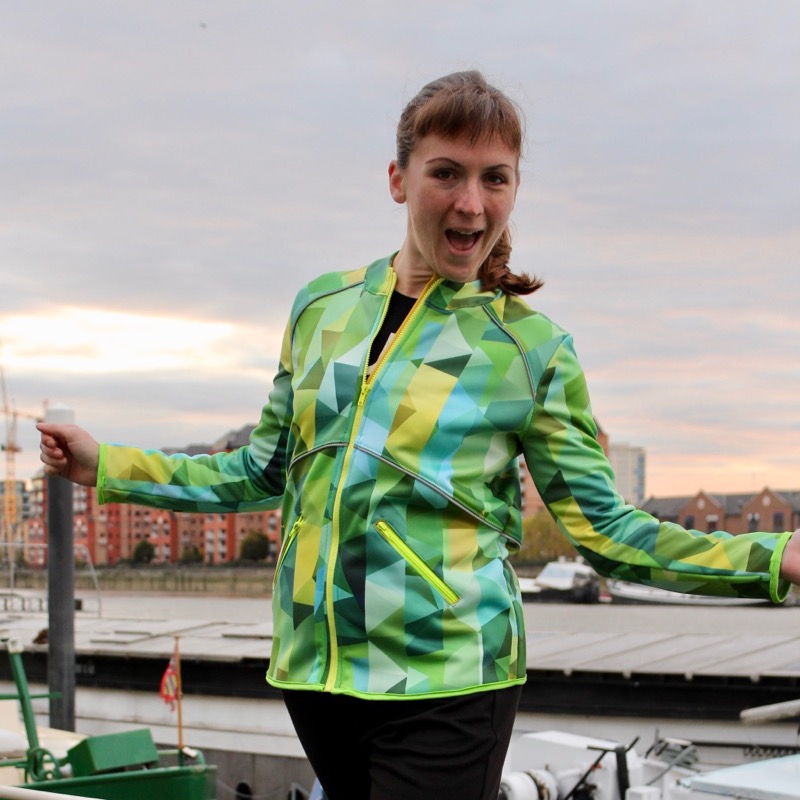 I wanted to also take a moment and just say a massive THANK YOU to all of you who've gotten in touch to say how much you love the book and how much you're learning from it! I knew when I was writing it that I was making the book I wish I'd had when I started my activewear journey, so it's lovely to know it's what you wanted, too!
Even if you bought your copy somewhere else, if you could take a minute to rate or review "Sew Your Own Activewear" on Amazon (US, UK, or your local store!), it would really, really help me though. Reviews and ratings convince so many more people to buy the book, but also help with rankings and possible future translations and really do make a difference!