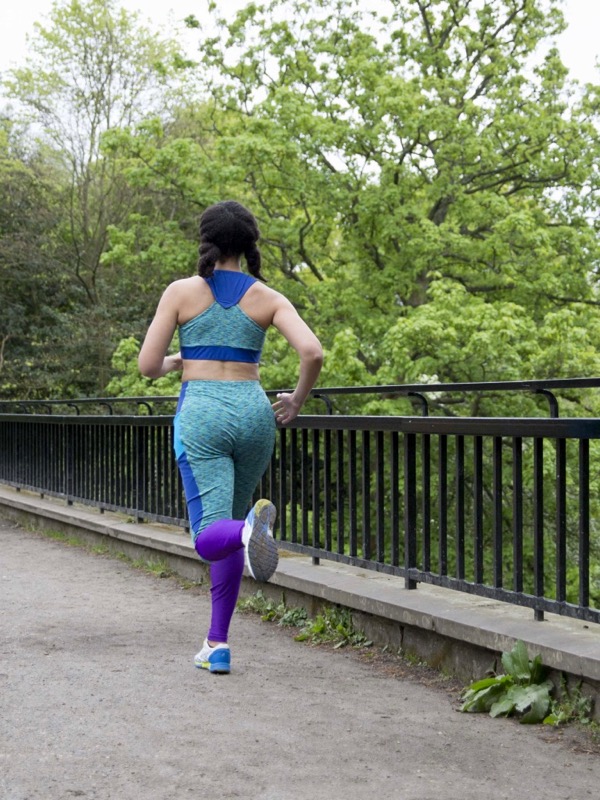 I've been waiting for weeks to share this particular design from my "Sew Your Own Activewear" book with you, and now seems as good as any! This week I'll be talking about one of my favourite designs in the book, the Active Leggings! These started as a bit of a design progression from my super-popular Duathlon Shorts pattern, but as much as they may look similar, under the hood there are plenty of differences going on! For starters, the Active Leggings have much wider pockets (as phones have grown SO much bigger since I released the Duathlons in 2014) that are constructed differently, too, and feature a full-length leg that's got lower leg visual interest.
They're not a 100% like-for-like replacement, as the Duathlons were designed for cycling and running (hence the name) and the Active Leggings are for more general exercise, but I've made a bunch of these for myself over the past year and they've featured highly in my running, cycling, AND Pilates workouts. Plus, not only are the pockets bigger, but you get twice as many of them, too – you get FOUR big pockets to stash your stuff while you're out and about!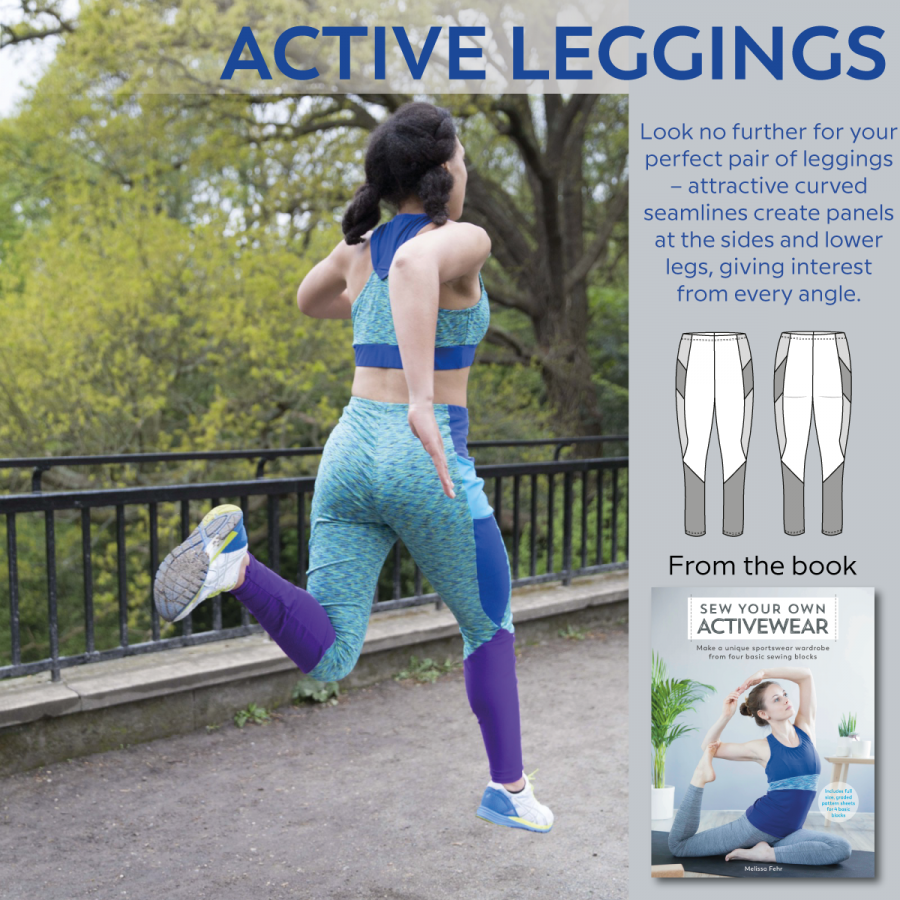 In the book I describe the Active Leggings as:
"Look no further for your perfect pair of leggings – attractive curved seamlines create panels at the sides and lower legs, giving interest from every angle. Furthermore, the side panels conceal two hidden pockets on each side for easy access on the go. The small panels give lots of opportunities to use up fabric scraps and create coordinating sets with any of your activewear tops. You can even choose to turn these into capris or shorts by just altering the length."
Our athlete model, Sanchia, must've squatted for like 20 minutes during our photoshoot in Hampstead Heath, and then these shots didn't make the final cut in the end! But seriously – what a squat champion! 💪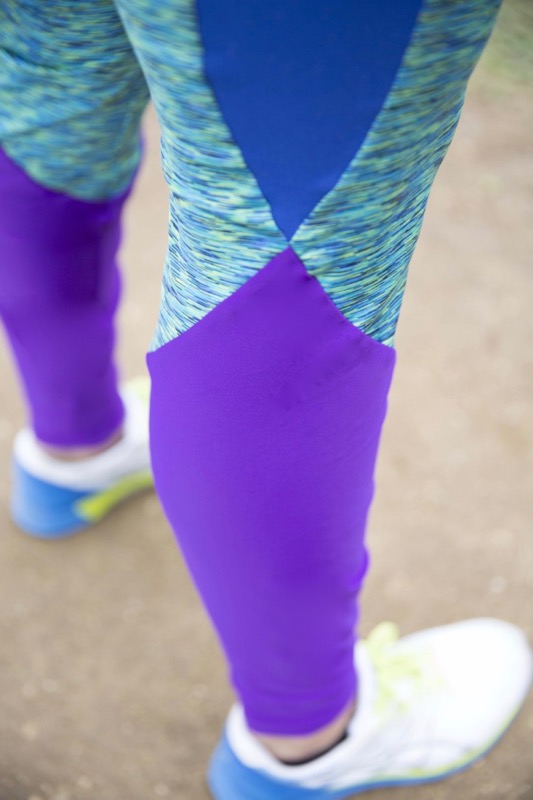 When you make the Active Leggings, you'll learn how to introduce a side panel into a curved seam, calculate lengths and widths to make the folded pockets as well as change them to suit whatever you plan on carrying. You can also leave off the pockets entirely to just have a solid side panel if you choose, too.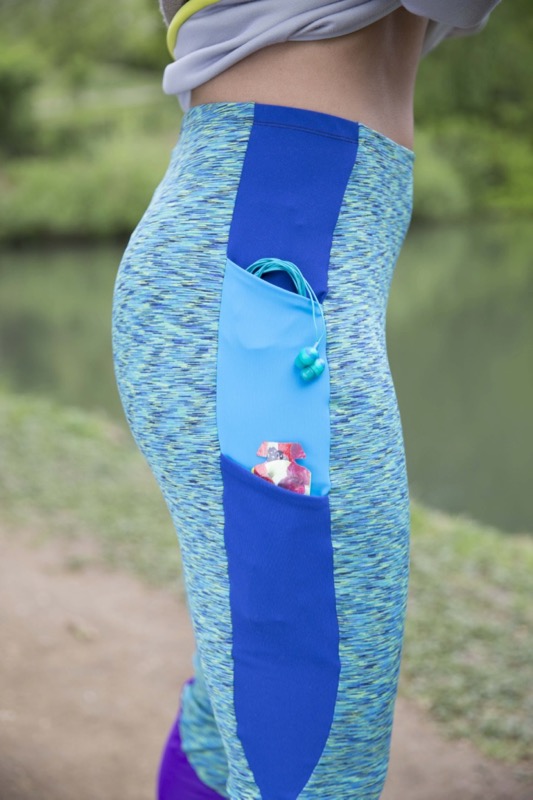 Plus, you'll also learn how to combine the lower leg pieces into one single wraparound piece, and crucially, how to sew this effectively, too!
When I was in the early stages of designing these leggings, I knew there must be an easy way to sew the pieces together that wouldn't involve any sharp pivoting (not easy to do on a serger/overlocker), but my brain wouldn't quite let me see how.
So I brought out an old trick and I made a quick paper model, and almost immediately I could see how to construct the leggings in two basic steps! With a bit of basting, it's easy to get a really impressive seam intersection at the knee.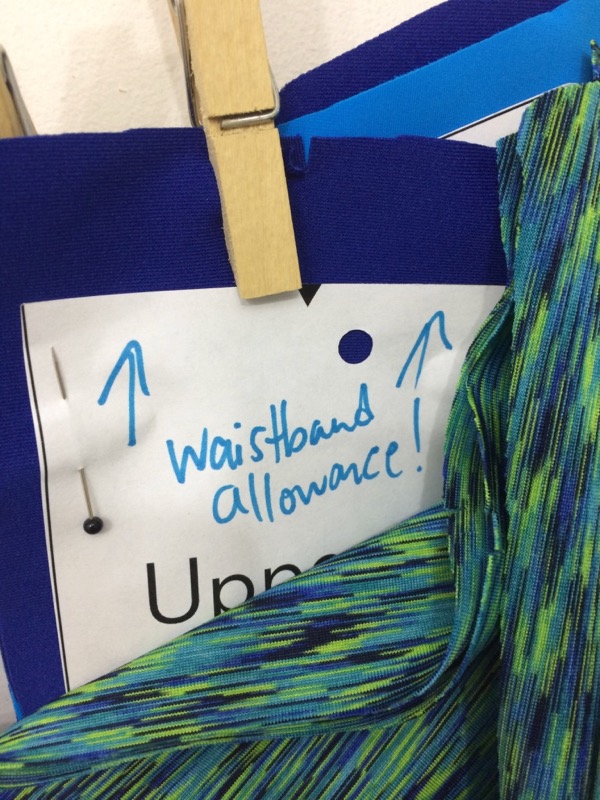 Surely everyone writes notes to themselves on pattern pieces, right?? 😂
I used a lot of the same fabrics for the Crop Top again in the Active Leggings Sanchia is wearing in the book because I knew they'd be worn together and I wanted to show how they'd work as a set.
The heathered supplex in shades of green and blue I found at my local fabric store, Fabrics Galore, but it's since sold out (it's that good!). However, I can heartily recommend the two heathered activewear fabrics Guthrie Ghani (UK) currently have in stock, or any of the Aussie stockists of the Eclipse space-dyed supplex as alternatives. The royal blue supplex used on the side pocket panels is from Tia Knight (UK), and the solid purple and aqua matt nylon lycras are from Funki Fabrics (UK).
The Active Leggings also pair really nicely with just about all of the top designs in the book, so you can easily make your own workout outfit just be reusing some fabrics as accents in both pieces. I've got quite a few different versions to share with you later this week, along with a tutorial on how to make these for men, so stay tuned and please do remember to tag any of your own versions with #SewYourOwnActivewear too!
PS: For those of you in the States, I'm pleased to announce that the Nook version of the book has also now been released (along with the Kindle edition). These digital versions are available to buy now and come with a link in the text to download the pdf patterns on a device hooked up to a printer. All the blocks are layered pdfs (ie: you can just print the size you need) and come in Print at Home (A4 and US Letter compatible) and Copy Shop (A0 and 36in wide compatible) versions.