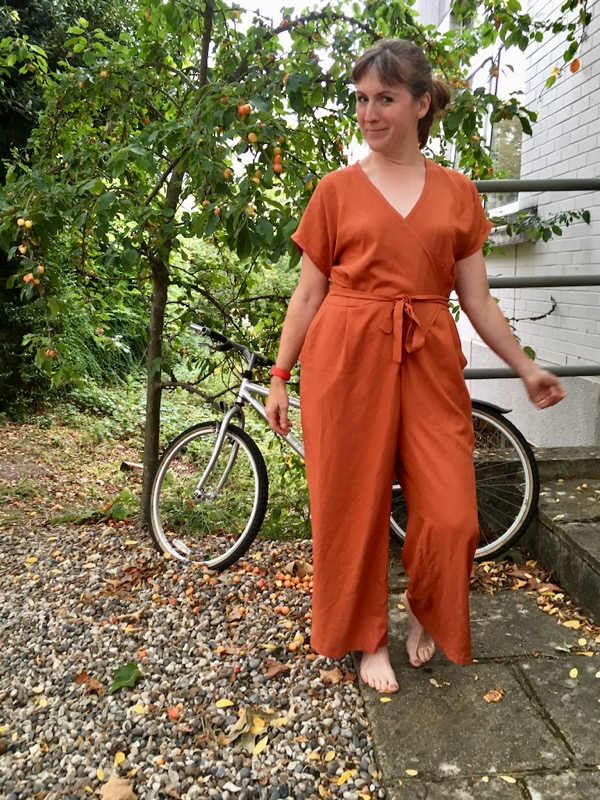 I was not expecting to like or wear the Paper Theory Zadie Jumpsuit as much as I have. I had no idea that, when I made it earlier this summer, I would find myself reaching for it multiple times a week and it becoming a firm favourite in my office rotation.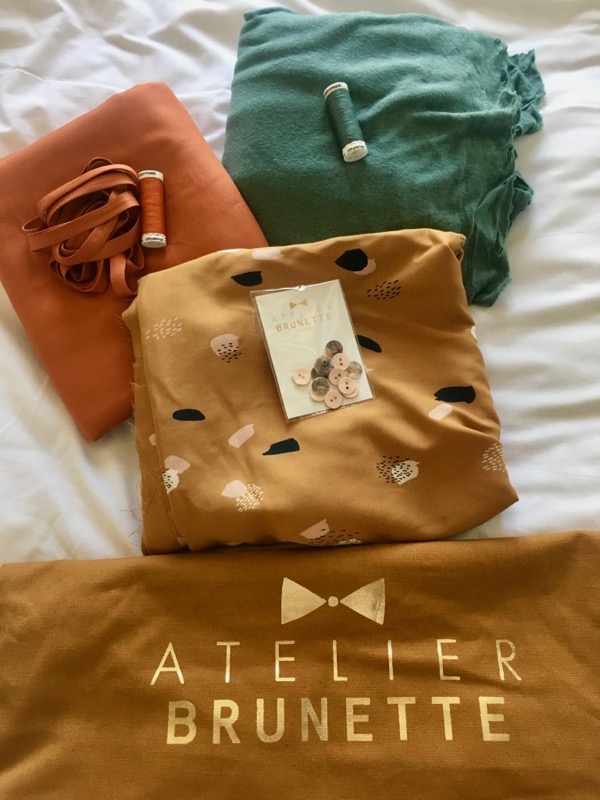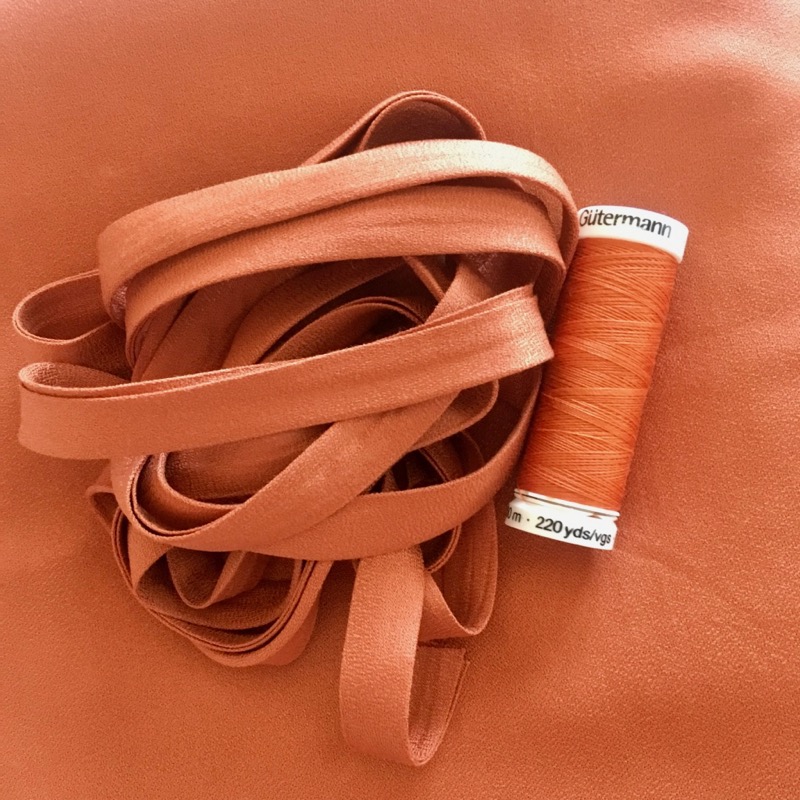 But yet I knew as early as June that I'd be making another version, because I bought this burnt orange viscose/rayon crepe when we were at the Atelier Brunette shop in Paris. They have so many beautiful and high quality fabrics all in my own favourite colour palette, but this brick-orange colour immediately stood out to me and I knew I had to have it. The quality of their viscose crepes are fantastic – lightweight yet opaque, wonderful to wear and wonderful to sew, too. Because I knew I'd be making this jumpsuit from it, (and because I'm lazy – or smart!) I bought the matching binding they also sell to save myself some time.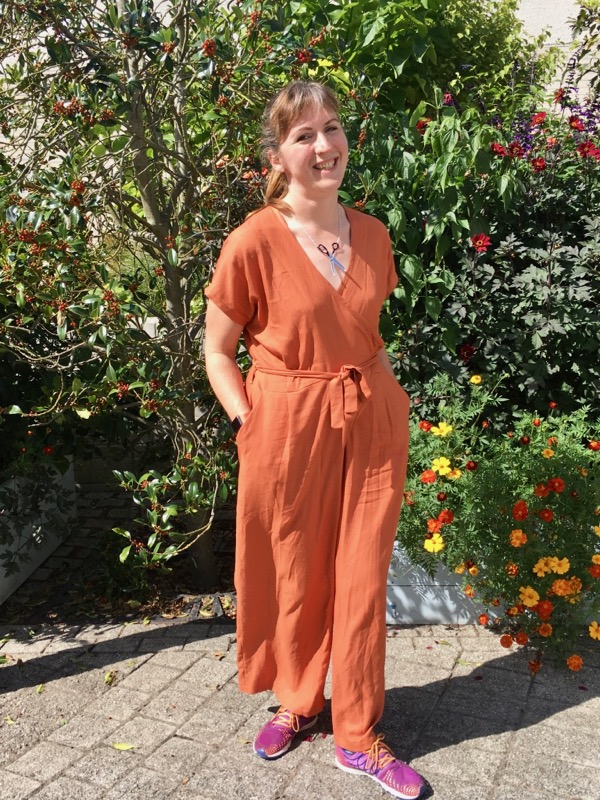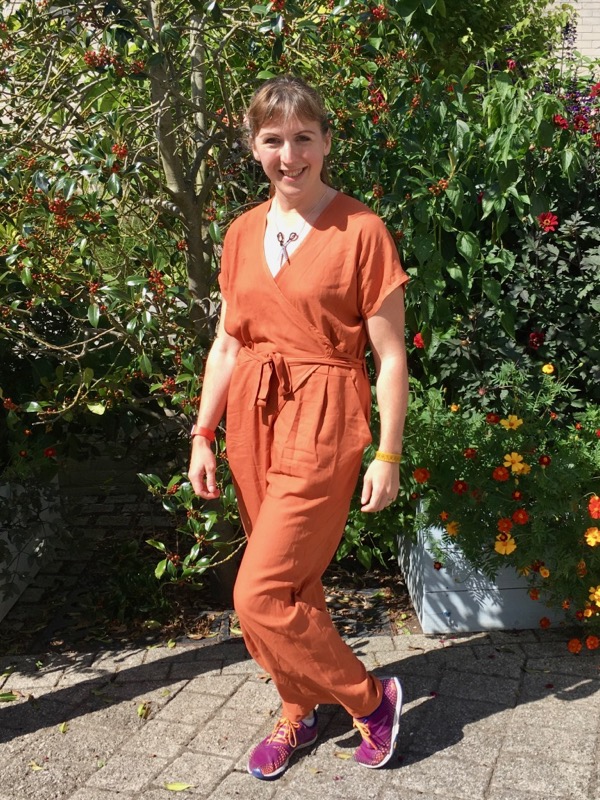 I lost my sew-jo a bit after I made the RideLondon cycling gear, but with the Sewing Weekender fast approaching, I needed a project that a) I could sew on my bare-bones basic travel sewing machine and b) was simple or familiar enough that I could sew it amongst lots of chat and distractions. So this seemed like the natural choice, and I cut out my fabric the day before I left. Barely 24 hours later I was wearing it out to our pub dinner!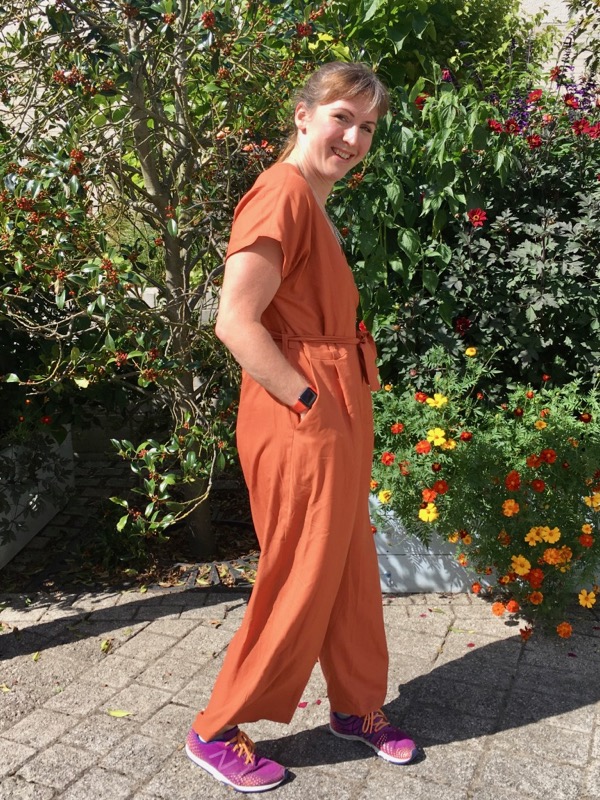 I used the same alterations as on my previous version of this (short version: I raised the waist, shortened the crotch depth and lengthened the legs) except that on the previous version I noticed the crotch was ever so slightly too short when I sat sometimes, so I gave myself a smidge more room on this version. Previously I'd shortened the crotch by 6.5cm, and with this one I made it only 4.5cm shorter and now I think it's perfect.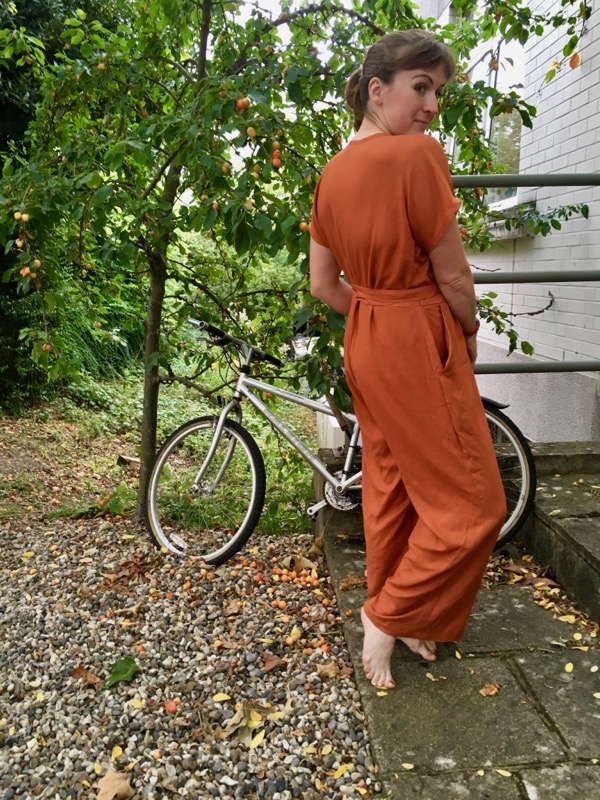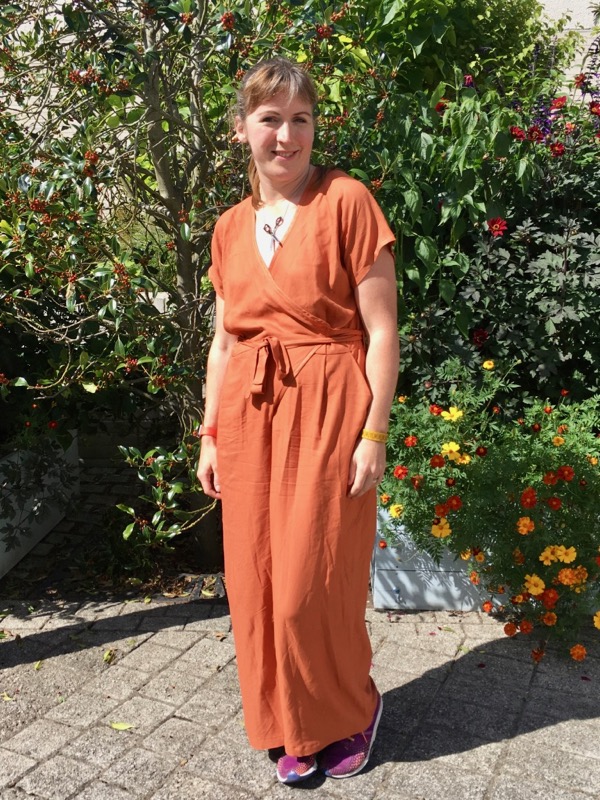 Forgive the shoes – I only packed my sneakers for the weekend and didn't think to bring something that would coordinate better with a jumpsuit I hadn't sewn yet!
I had a few inches of binding leftover when I was done with the neckline so I took an idea from Beth's jumpsuit and turned these into two belt loops at the side seams to better hold the belt in place right at the waist seam. Thanks for the idea, Beth!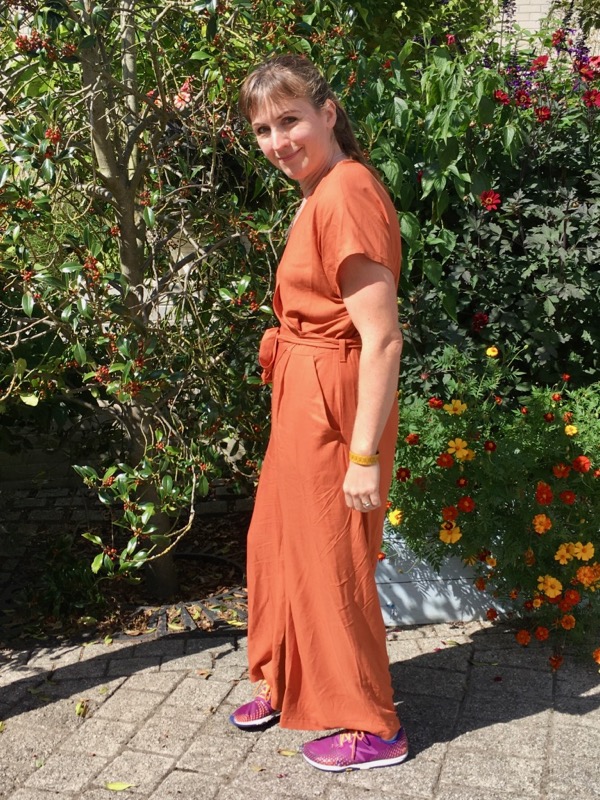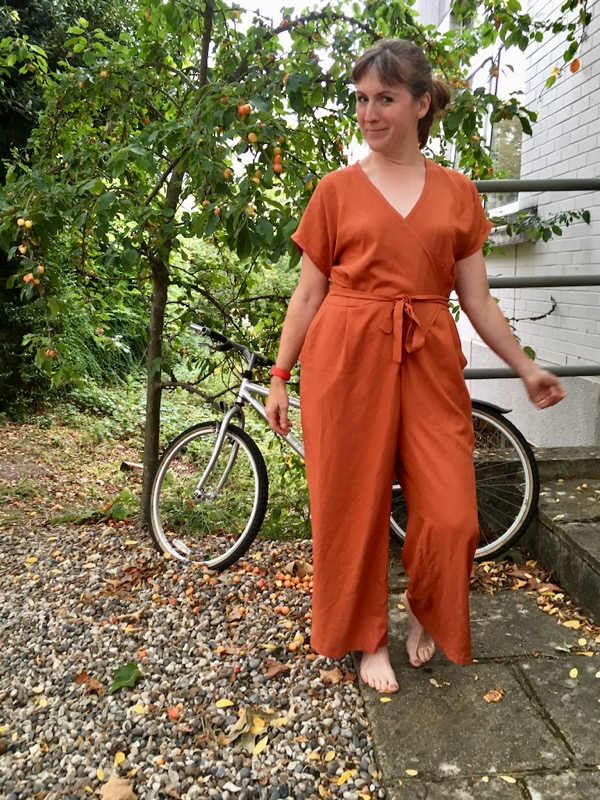 I sewed this in a single day while at the Sewing Weekender and even finished it in time to grab a photo with Tara, the designer of Paper Theory, after her talk.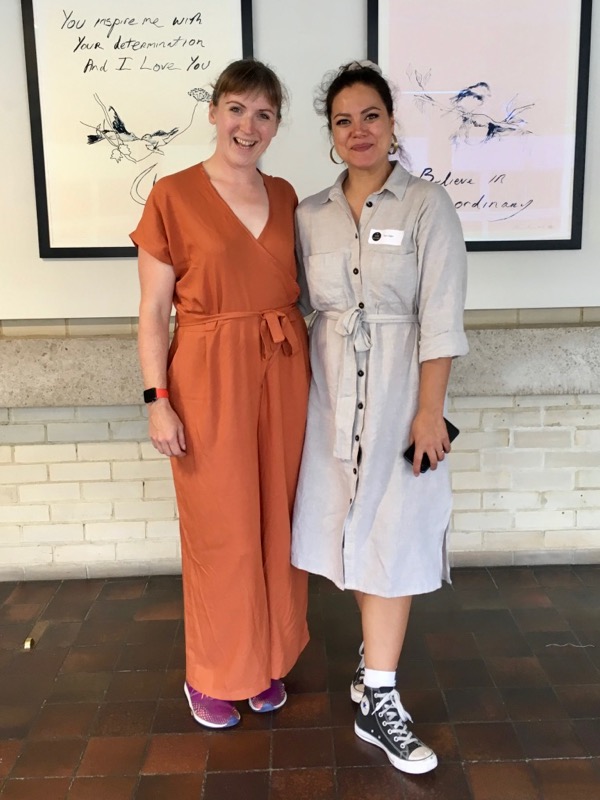 This was a super popular pattern at the Weekender, with at least ten different versions being worn and sewn, and we even managed to get a photo of a few of us wearing ours at the end of the event, too.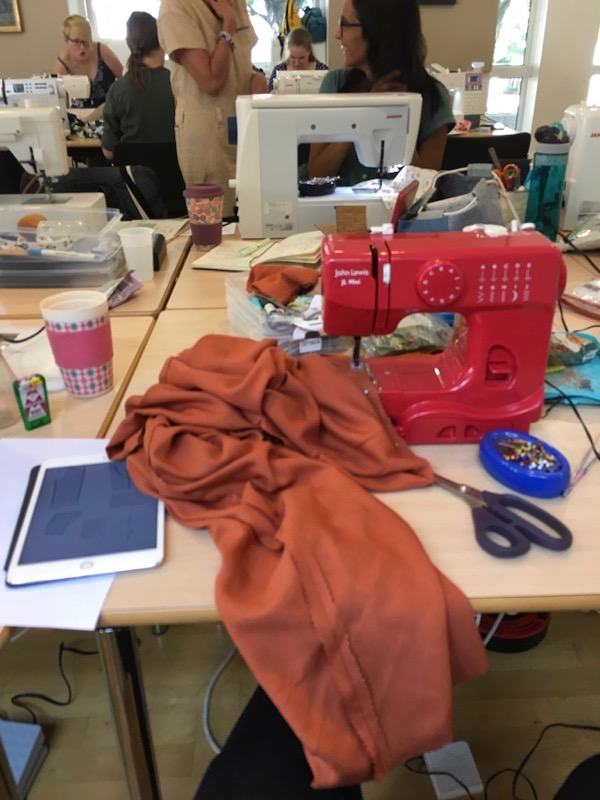 The little red sewing machine I bought before going into hospital ten years ago is still going strong, too! It's a perfect little travel machine since it's lightweight and fits in my carry-on suitcase nicely, too. The only shame is that John Lewis recently stopped selling them!!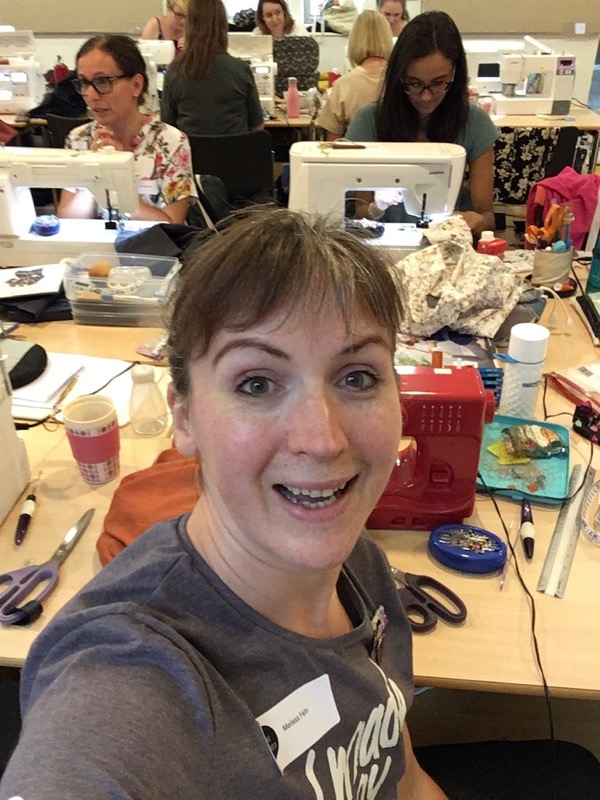 This was my fourth year attending and every year I'm just blown away by how wonderful it is to spend so much dedicated time to sewing with like-minded women! I'm so happy to have been fortunate enough to be a sponsor this year, too, after attending twice as a regular punter and once as a speaker.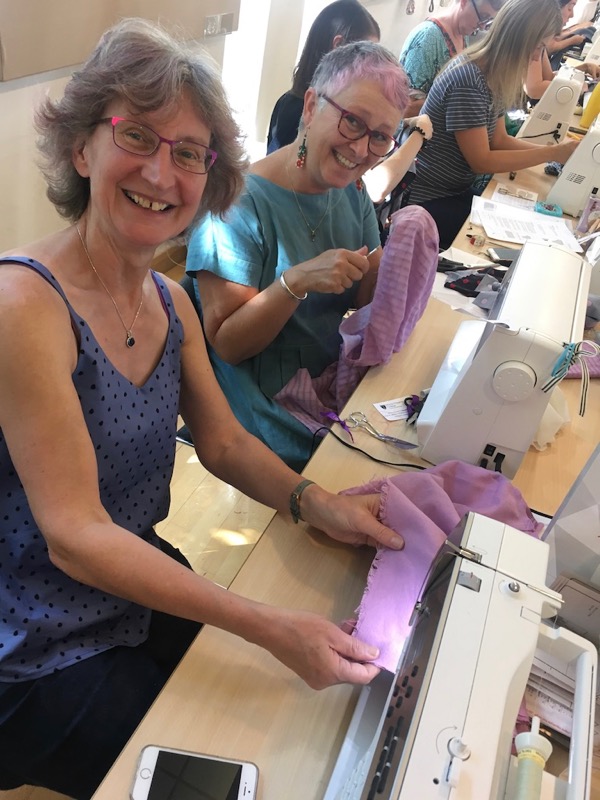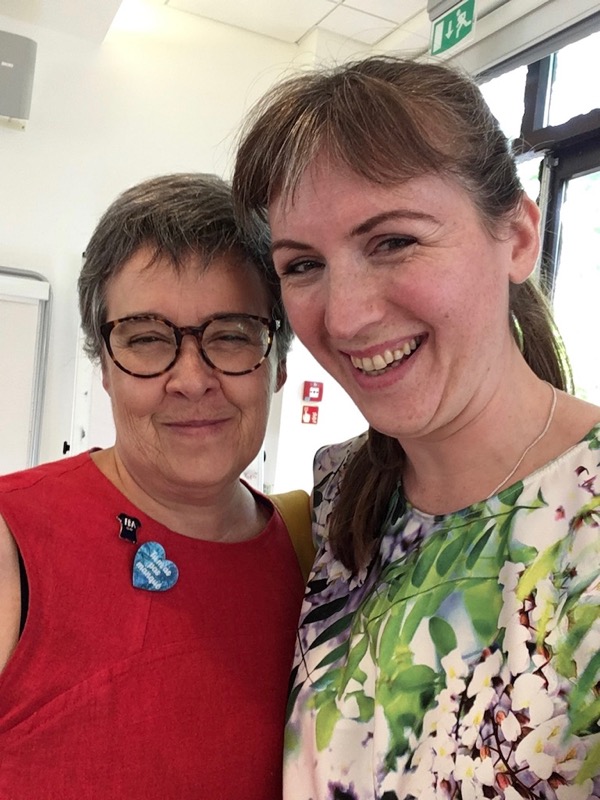 Just as with the World Transplant Games last weekend, my favourite part of this event wasn't the sewing, or the finished jumpsuit, or even the talks or the epic swap table, but the opportunity to spend time with so many interesting, intelligent, creative, and wonderful women. And I managed to convince quite a few jumpsuit-skeptics to sew this pattern, too, bwahahah!