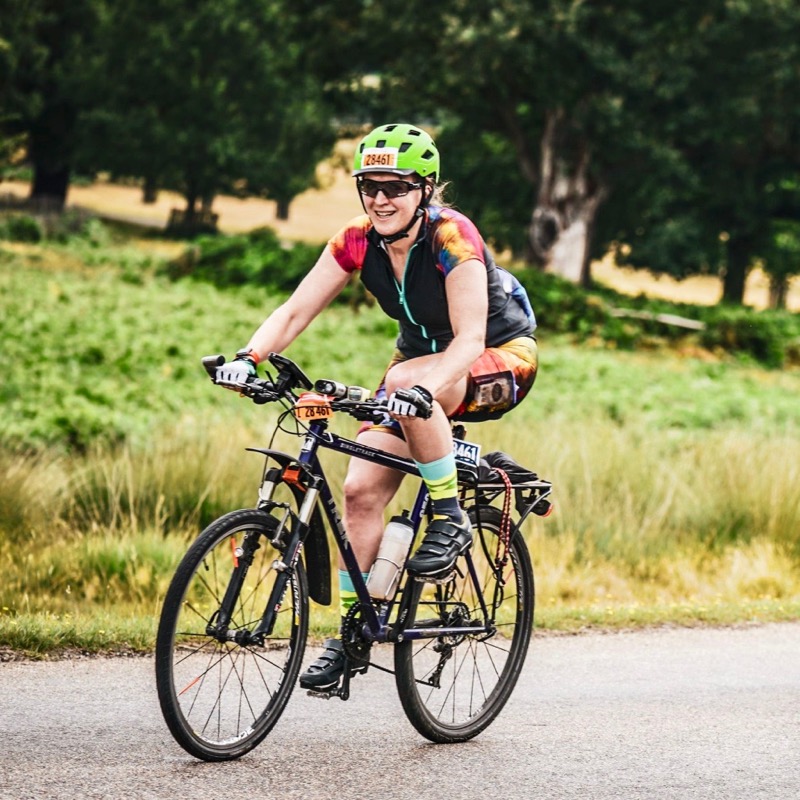 Strap in, because this is an epic post for three finished garments and a 100 mile cycle ride!
When I bought the recycled sunburst print activewear fabric from Sew Dynamic back in May, I knew I wanted to make an outfit for RideLondon 100 using it. It's a brilliant activewear fabric made from recycled plastic bottles that's got great stretch and recovery, totally opaque when stretched, and with a really vibrant colour pop. But the digitally printed colour bursts run down the length of the fabric – not quite a border print as they're placed about a third of the width in, but certainly something that I'd need to really pay attention to when cutting out my fabric.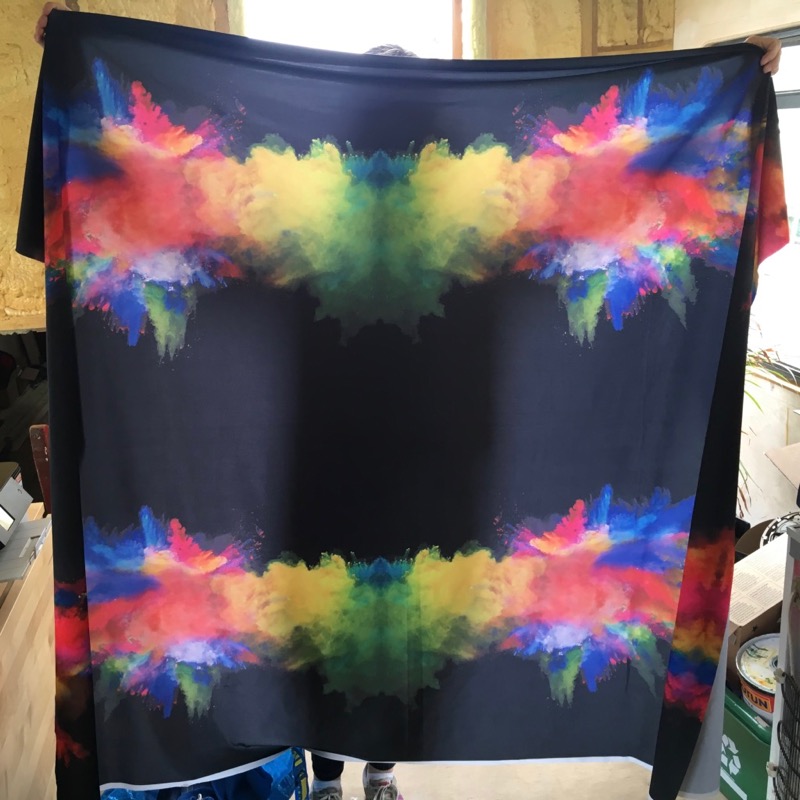 Specifically, I thought about the areas of interest in cycling garments. For the most part, you don't see much of the front of a jersey, and the interest goes on the back. But for the shorts and leggings, you only really see a small strip above the bum on the back, with most of the visible portion being on the sides of the legs. So I went with the premise that I'd try to use the colour sections on these main areas of interest, and if I had any fabric left I'd make a matching sports bra, too.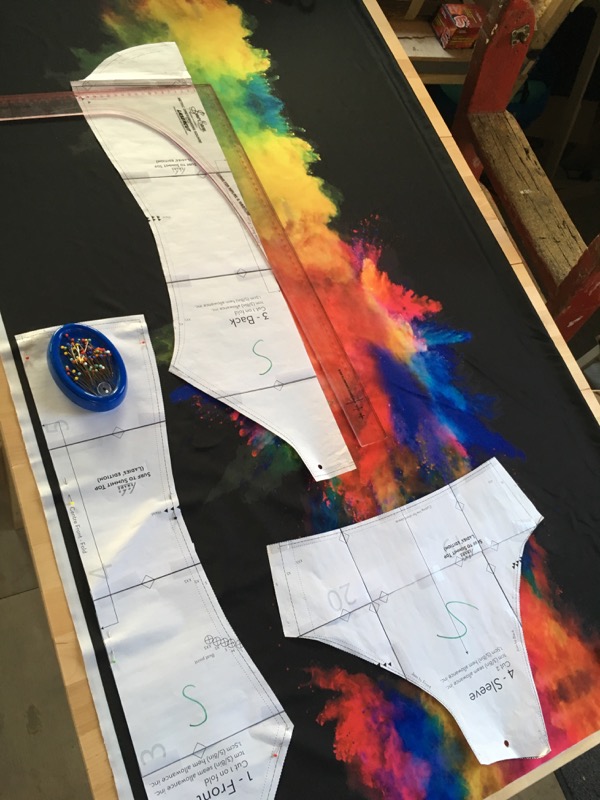 I started with a Surf to Summit Top since I already had the pattern printed and ready. I made a standard size S with the short sleeves and dipped hem, but I opted to angle the openings of the outer two back pockets to make them a little easier to get into while in motion. The only other change I made was to use a full front zipper rather than just a half zipper as in the pattern.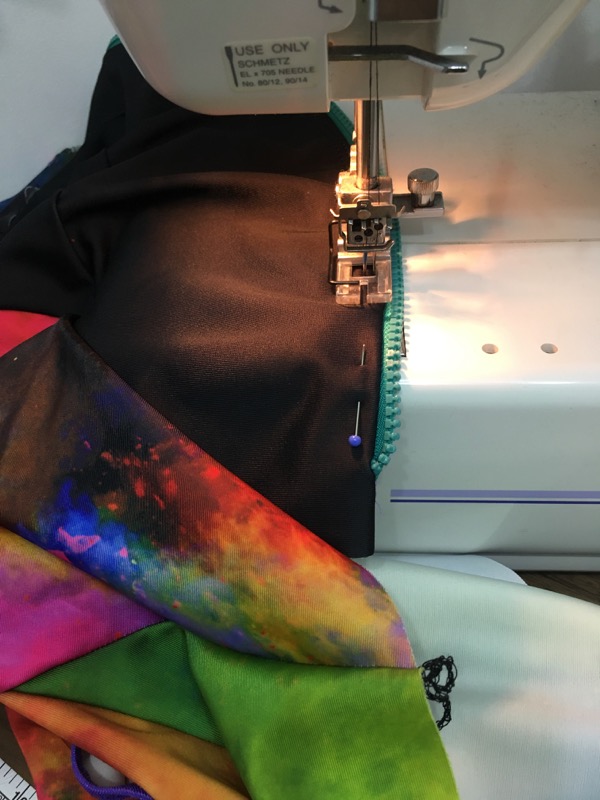 The full CF zipper meant I needed to change the order a little bit and introduce a zipper shield, but thankfully I had a nice chunky teal zipper in my stash of the right size. I was also able to put into practice a tip I saw in the latest Threads magazine (which features yours truly later on in the issue!) and coverstitched the zipper in place for the first time ever.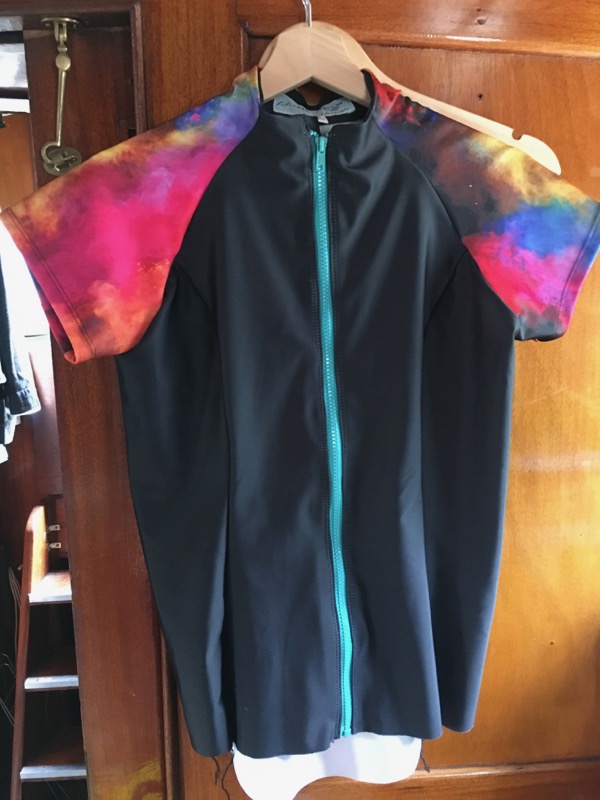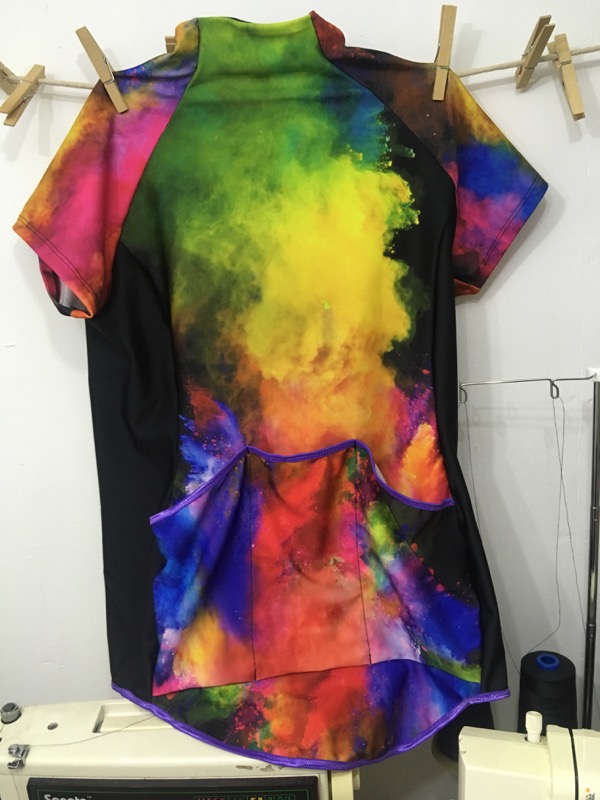 I placed the rainbow colour burst portions along the Back (& Back Pocket) and the Sleeves, then mostly used the black portions of the fabric for the Sides and Front. So it's really business in the front and party in the back!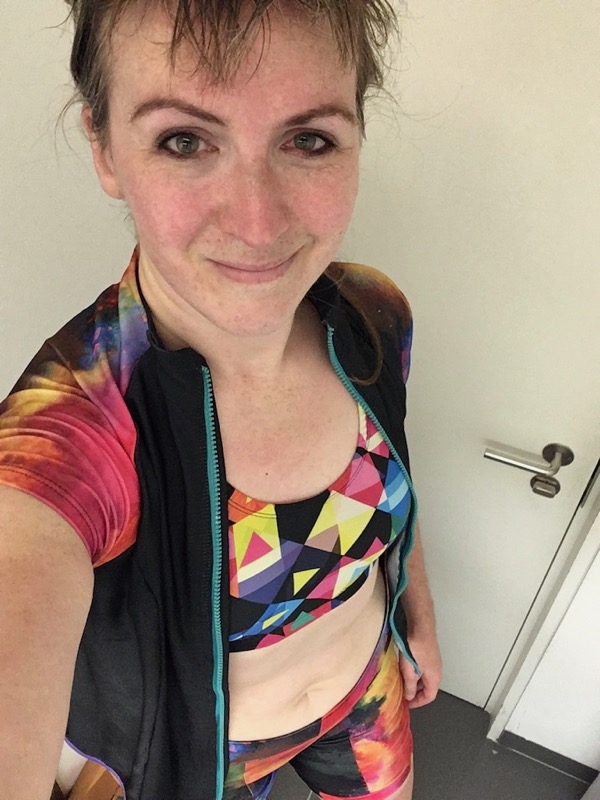 The shorts are actually a new pattern I'm developing, so I kept the cutting and sewing of these quite late until I'd gotten all my ride-test tweaks out of the way, but once I'd sent the pattern to be graded, I was home free to cut these out, too. Luckily I had enough in the 2yds I'd bought to be able to place the colour bursts on the outer legs and fronts of the legs, keeping the back and inner thighs mostly black.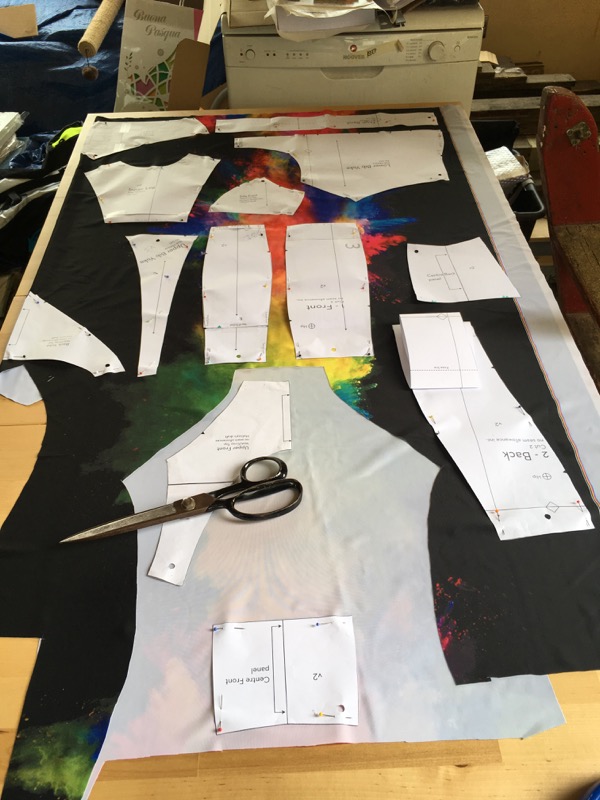 I'm keeping the details pretty vague here intentionally, because it's still going to be a few months before the pattern is ready to go on sale, and if I give too much away now, you'll all be bored by the time it comes out! But I can say that, while I was definitely inspired watching the Tour de France this year while I worked on this pattern (Alaphilippe! omg.), there's plenty to love about this pattern even if you don't cycle.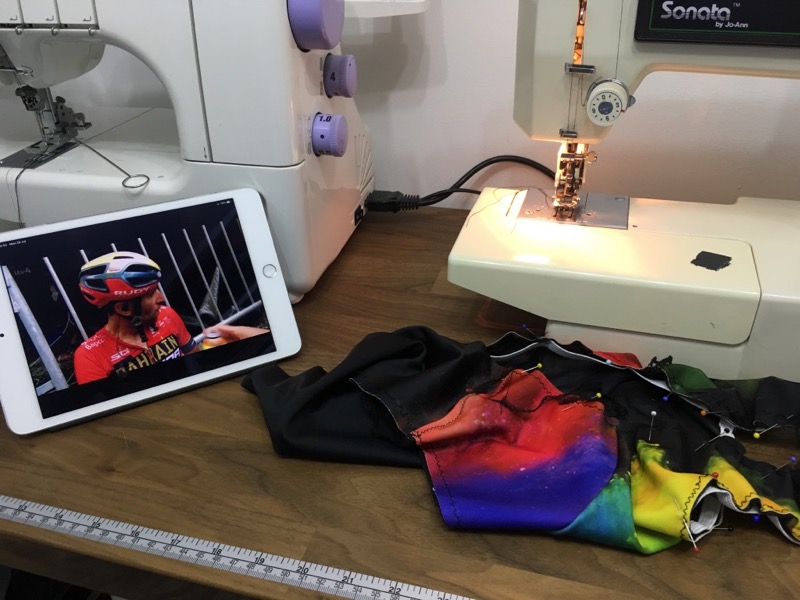 I used mesh for an expanding cargo pockets on the sides, and I love how the black breaks up the rainbow colours somewhat, and that I was able to use the same purple FOE here that I used on the jersey's pockets and hem.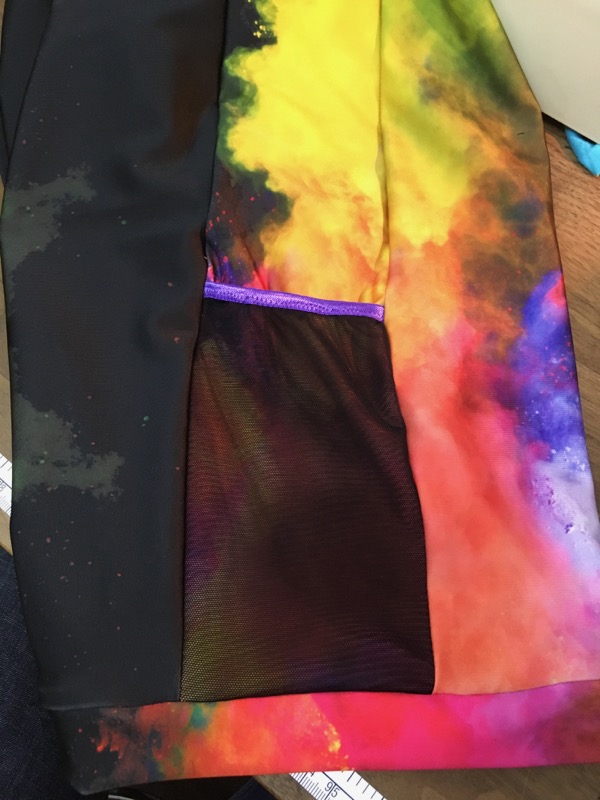 I swear I regret it every time I bother to get my coverstitch binding attachment out, but I ended up with a passable result here.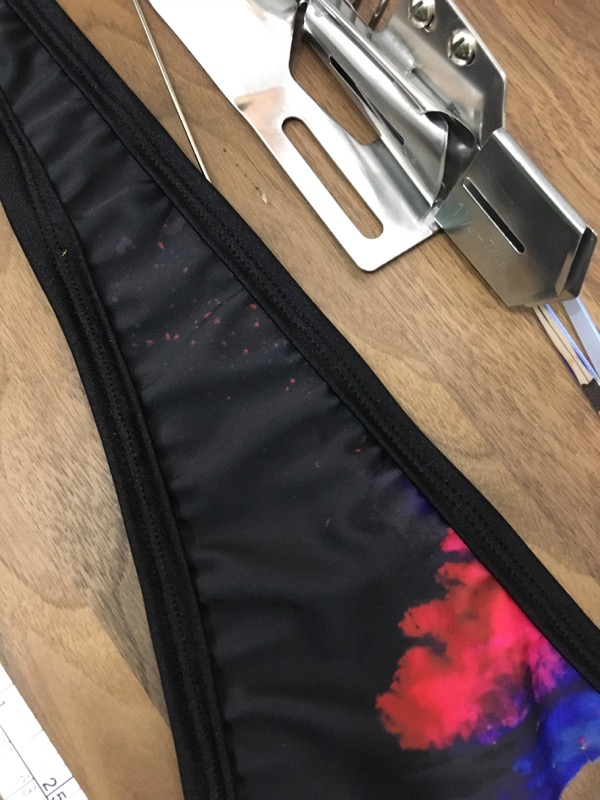 The last piece of the puzzle was to dig a chamois pad out of my stash (noting it was the last female one, eep!) and baste it in place ready for a commuting ride to double check the placement before satin stitching the edges down. If you've never sewn a chamois into shorts before, it's really straightforward, and I've got instructions included in both my Duathlon Shorts pattern and in the Cycling Shorts section of my book.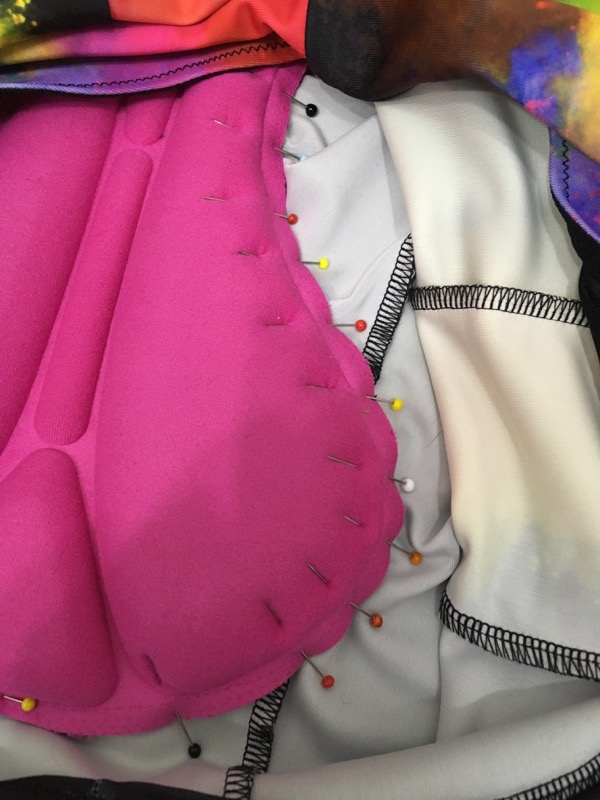 I was so careful with my cutting layout and pattern placement that I was not only able to squeeze in a Crop Top from my book out of the remaining fabric, but also do some fun print placement!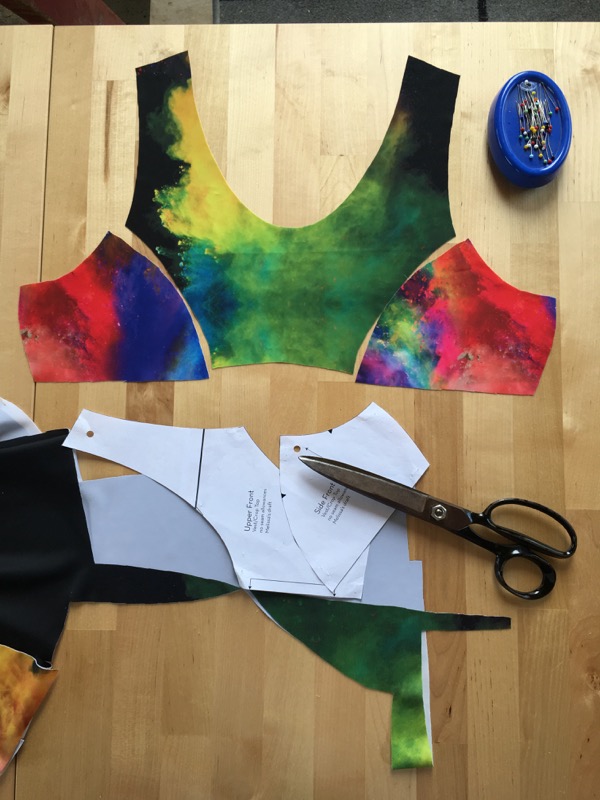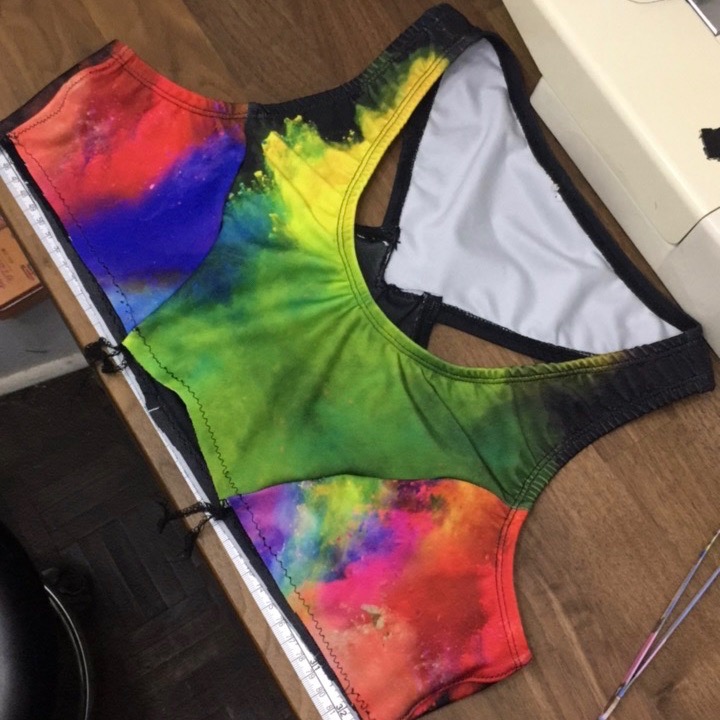 Now, for the Crop Top I knew that the only portion that would potentially be exposed during the race was the front if I opened my zipper for ventilation, so I cut the front and side fronts using the rainbow bursts, and cut the back entirely from black portions. I wanted the bra to be as comfortable as possible, so I opted to use exposed elastic for the underbust instead of a fabric & elastic band. The coloured Prym elastics are super soft and stretchy, and I knew this would be less likely to cause irritation on a very long ride that fabric gathered a bit over regular elastic.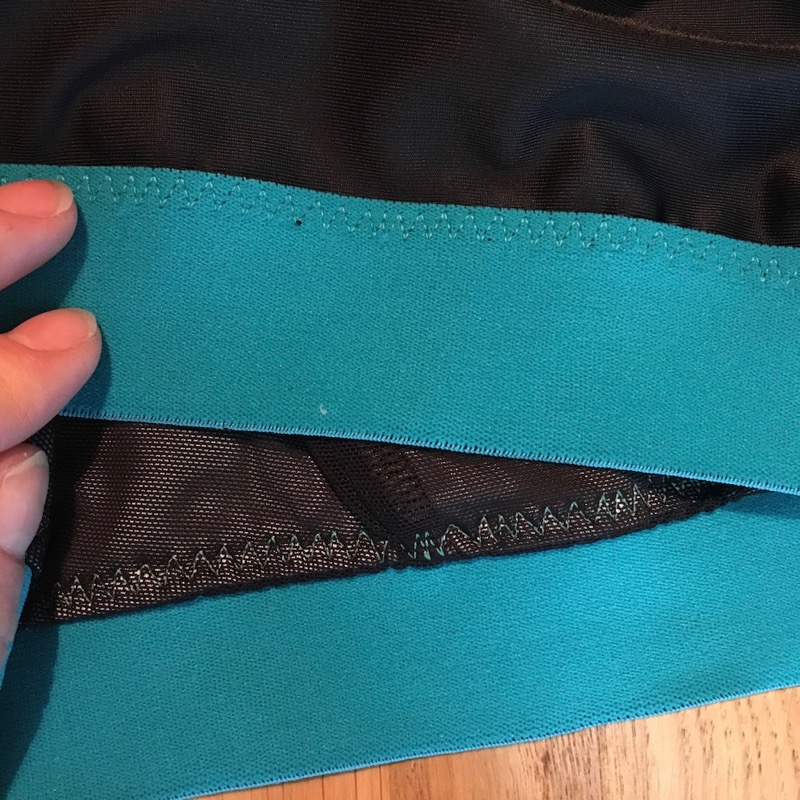 This exposed elastic was actually really easy to achieve, and if you've got my book then you've already got the instructions, too – I just used the exposed elastic waistband instructions from the Split Shorts! I love that you end up with a finish that's got no exposed edges inside, either, which means that the mesh lining is super neat and no chance of irritating under the bust, too.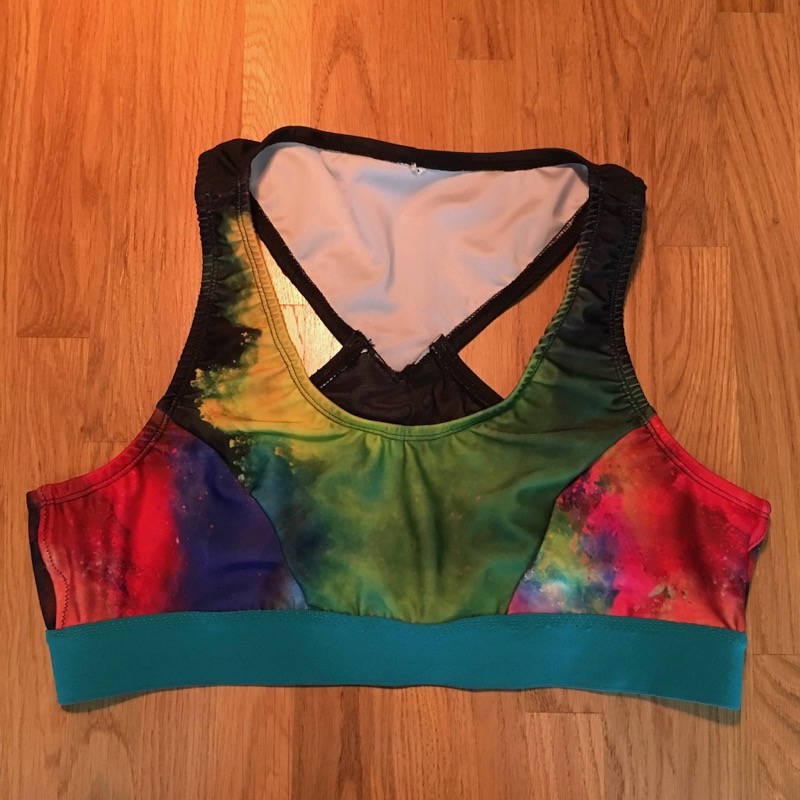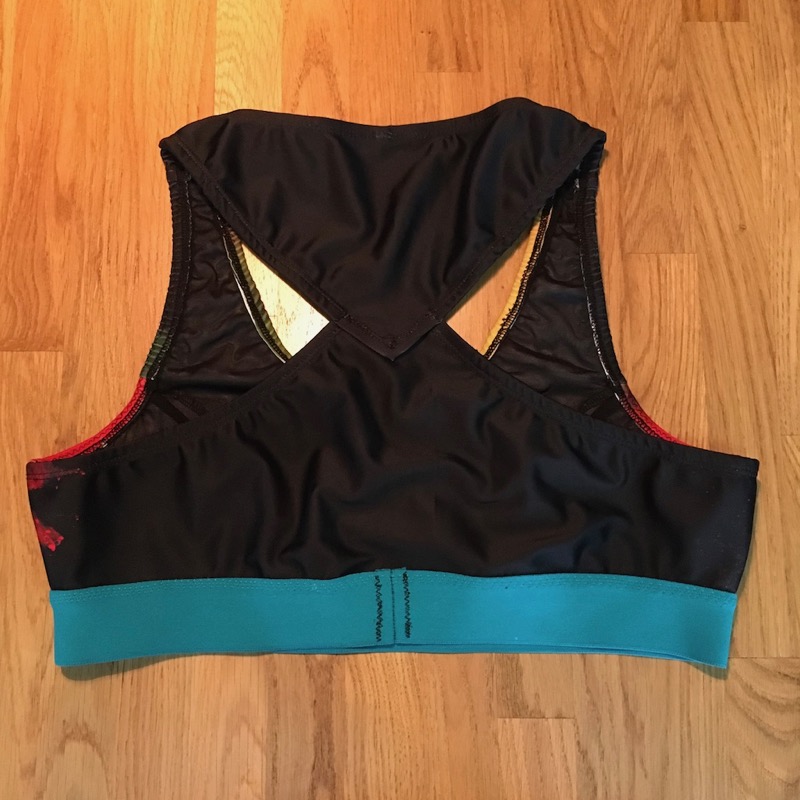 So I finished my three piece outfit with a few days to spare, but of course I ended up with a stonking head cold the day before the race, arggggh!! It was actually touch and go as to whether I'd do the race at all, but I prepped with the assumption I'd ride it easy, but if I got to the start line feeling terrible after my hour-long ride to get there, that I'd DNS.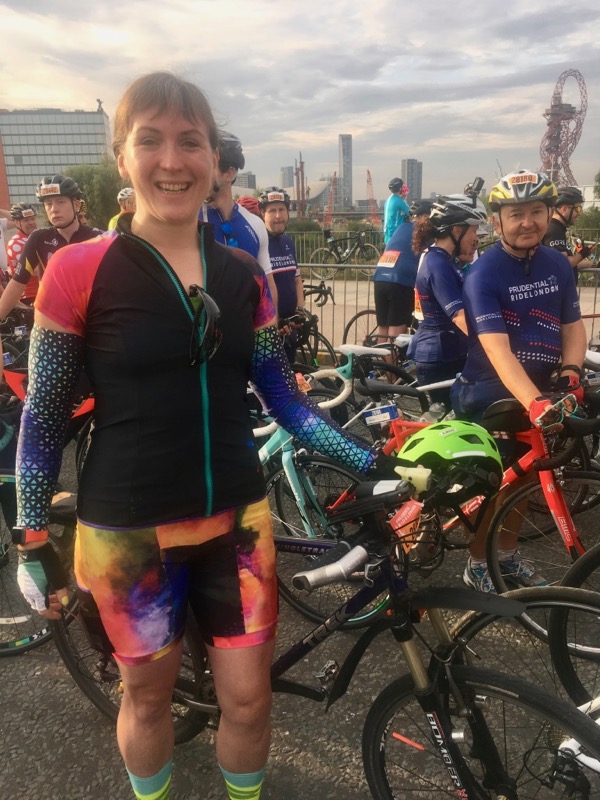 Not only was I feeling okay (and rather smug) in my me-made kit, but I also got to wear my arm sleeves that I made a few weeks ago to keep off the chill for my pre-dawn ride across London and standing around in the start pen! I did a poll on social media as to whether folks would prefer a tutorial or a free pattern for these and it was really tight, but free pattern edged it out, so I'll be getting that out as soon as I can.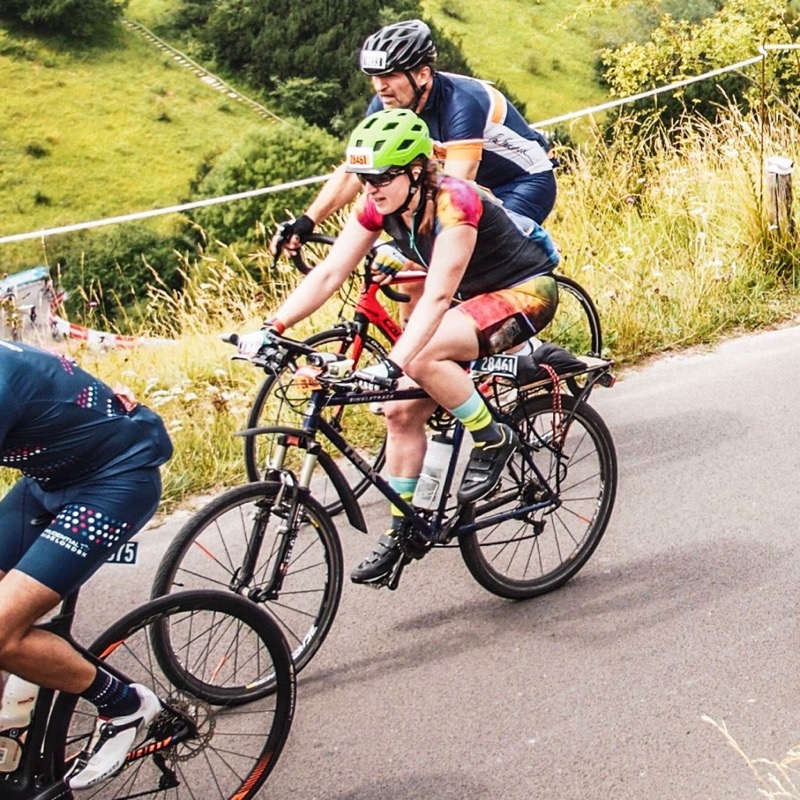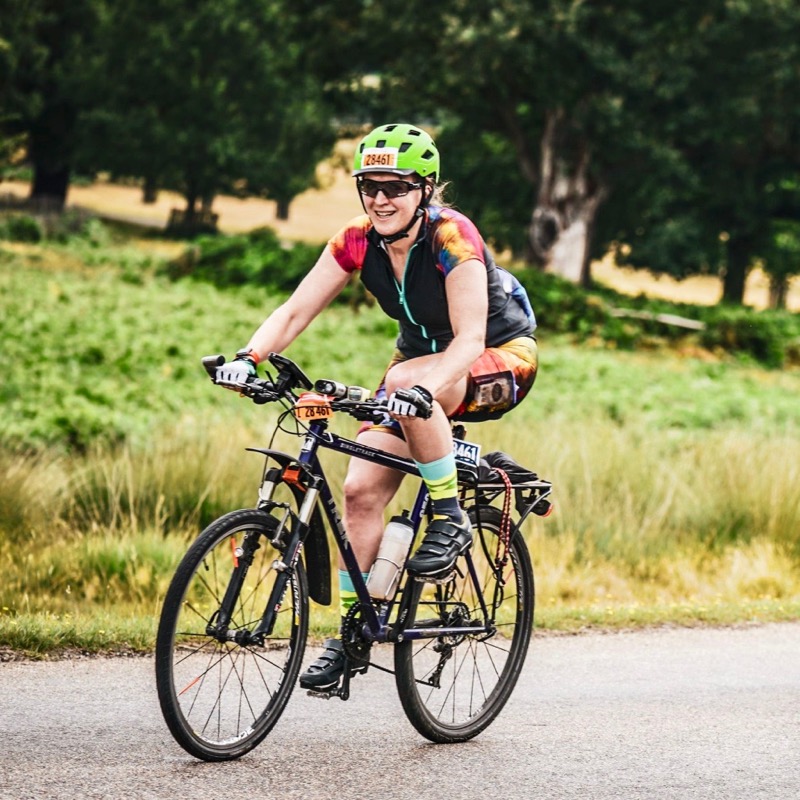 I've posted a full race report on my running blog if you'd like to hear how my day went, or if you're interested in entering the ballot for yourself for next year, but might be put off by being surrounded my MAMIL bros all day (I almost was, but it was absolutely fine thanks to some tips from friends!)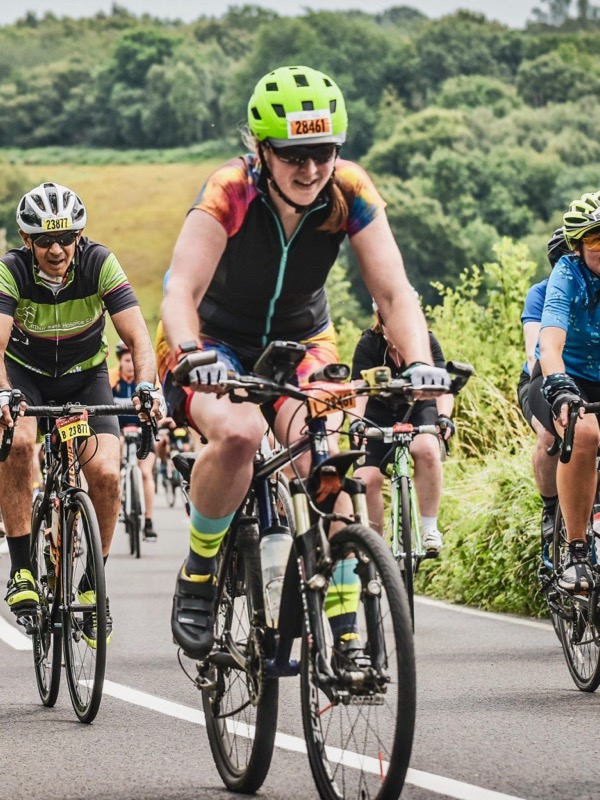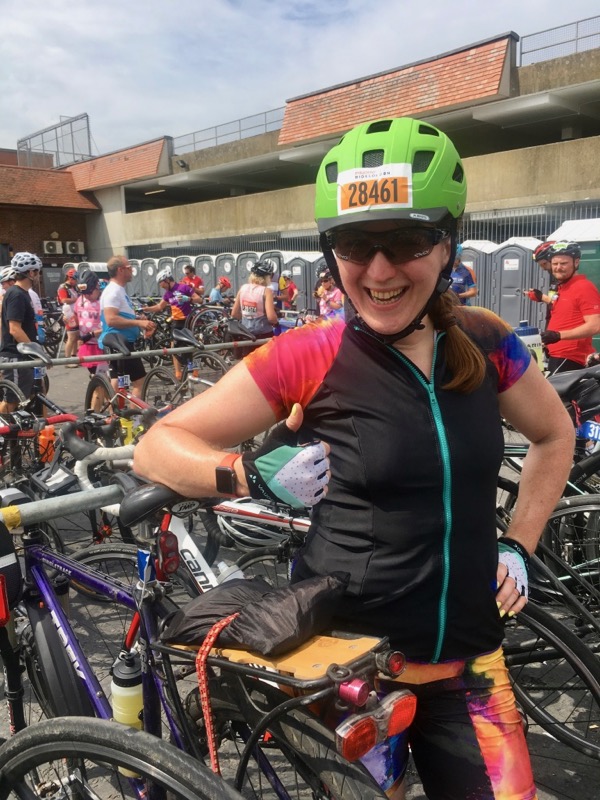 You can totally see my tissues in my mesh leg pocket, pfff!
I had a really enjoyable day, even though I was in the saddle for over 7 hours (even longer if you count my ride to the start and to home again), and I really only had the smallest amount of irritation from my saddle. Just like London marathon earlier this year, I was walking absolutely fine the next day and friends were marvelling whether I'd actually even done it!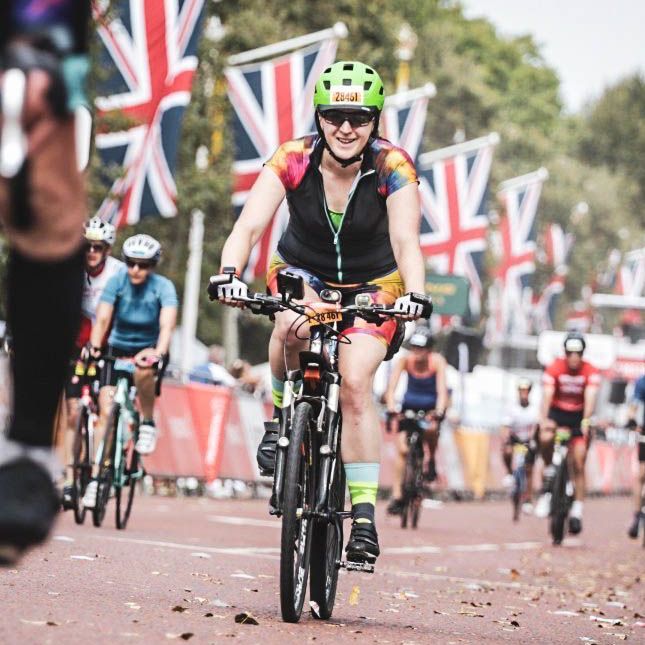 I'm really pleased and proud, both of how this set came together, but also that my 2yds meant 36 plastic bottles were saved from landfill, and that I actually rode 100 miles in one day. And with a head cold!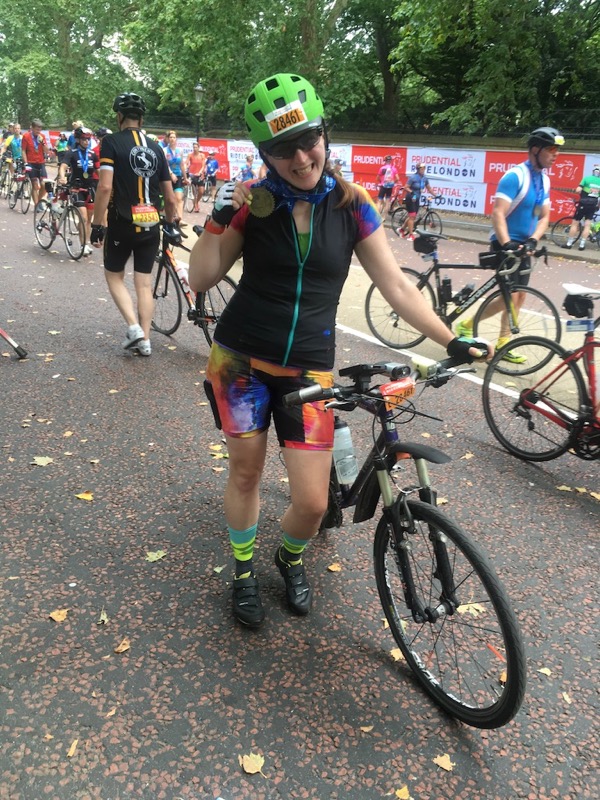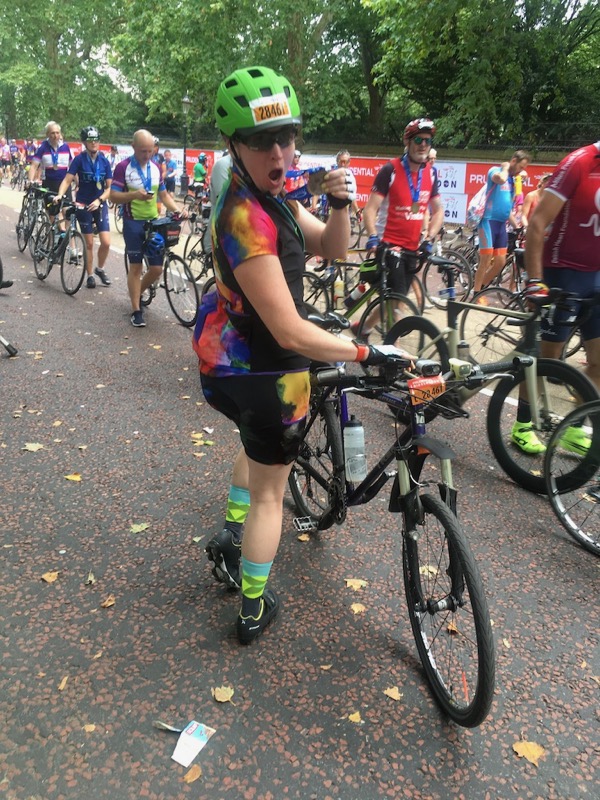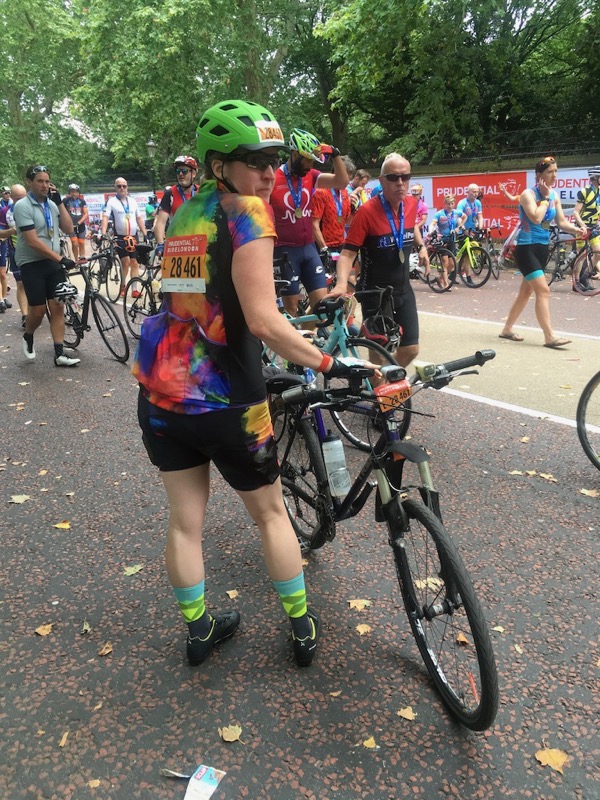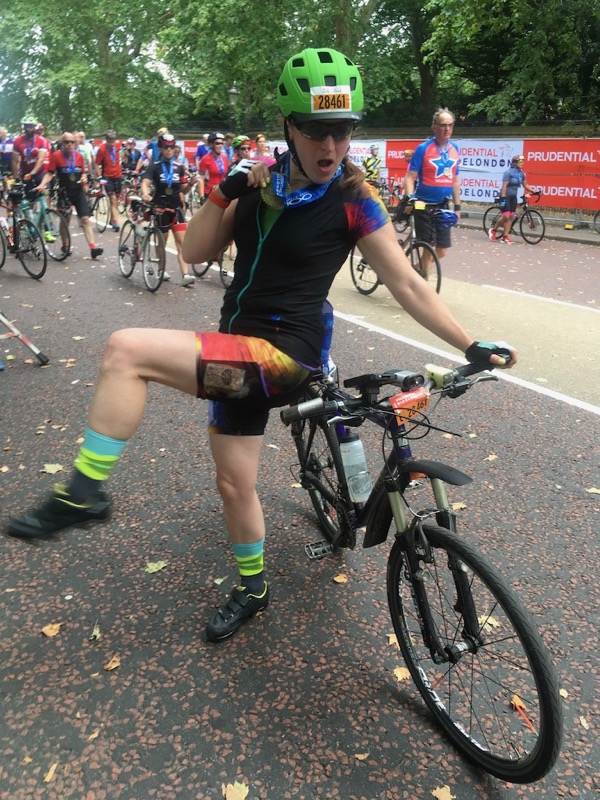 Who's excited for the new pattern(s) then?? Where are my cycling sisters at?