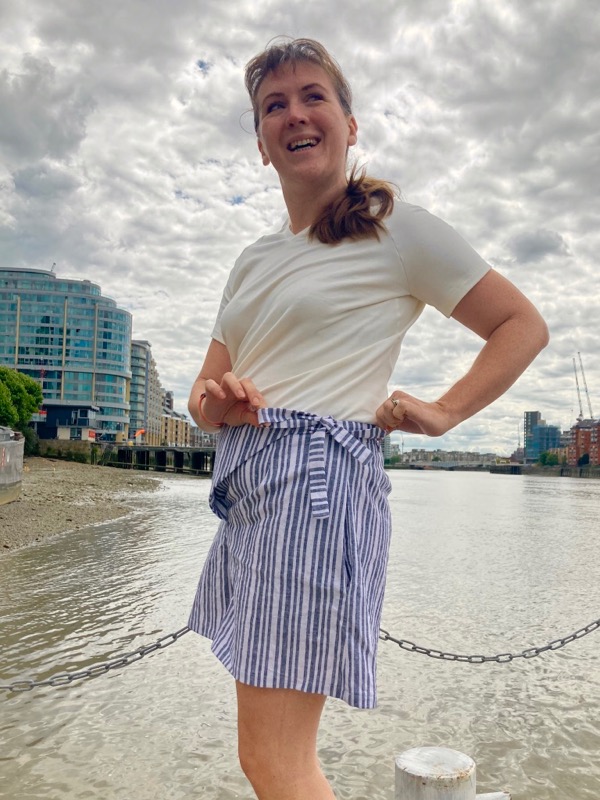 "More shorts?!" I hear you say! (Especially if you've also been experiencing our English summer) As I said in my posts on the mustard wool shorts and the linen denim Pietra shorts, my work at home lifestyle change is demanding more warm weather clothing since the boat is not climate controlled like my office. So I've been having fun trying out different shorts patterns that I may have overlooked the first time around!
This time I wanted to try out the Named Patterns Astrid Wrap Shorts (which also comes with an option for wide-legged trousers, which I can guarantee you I will never make!). But shortly after I purchased it, Named announced that they were retiring a bunch of their older patterns, including this one and the Harriet jacket I adore and wear ALL the time every winter. I managed to finish sewing these shorts the day before they removed this pattern from sale (yes, even the pdf, which makes no sense to me whatsoever as it literally costs them nothing to retain it!) and shared it on my socials, but it wasn't enough time for me to do the photoshoot and get this post together, sorry!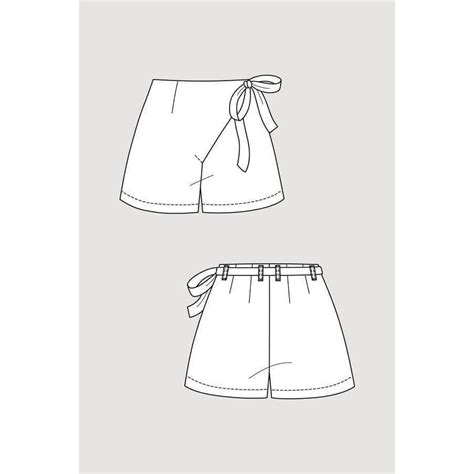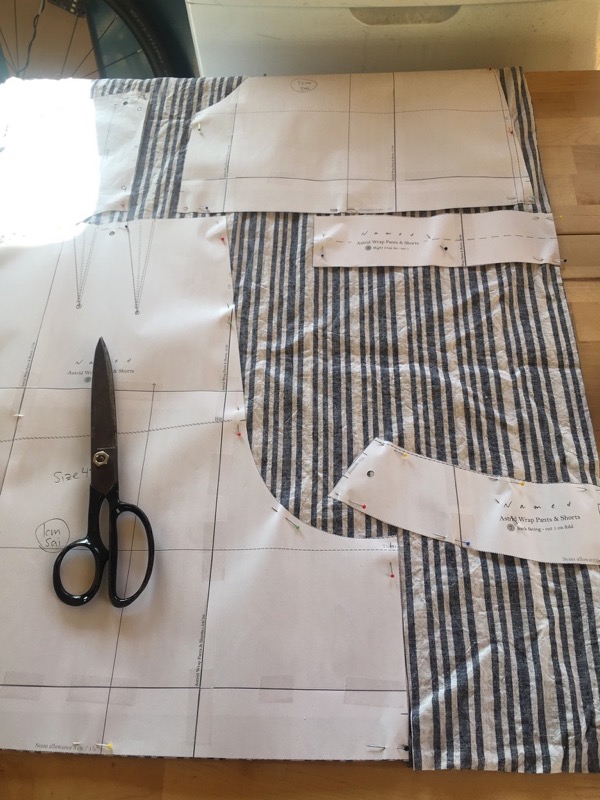 I bought a 1.48m remnant of some striped cotton/linen from Lamazi Fabrics that is SO "Greek holiday in a fabric" especially for this pattern, and now I can hardly imagine them in another fabric, it's just so damned perfect! The fabric was prone to fraying a bit so I overlocked the edges of all the pieces before sewing so they'll stand up to repeated wears and washings.
Every pattern I've sewn from Named has been beautifully drafted, and this is no exception. Everything matches up, the shorts have extra flare at the hem than the trouser versions, and they've even thought about the details – right down to specifying which side should be wrapped on top so that the ties are shorter on that side to make an even bow.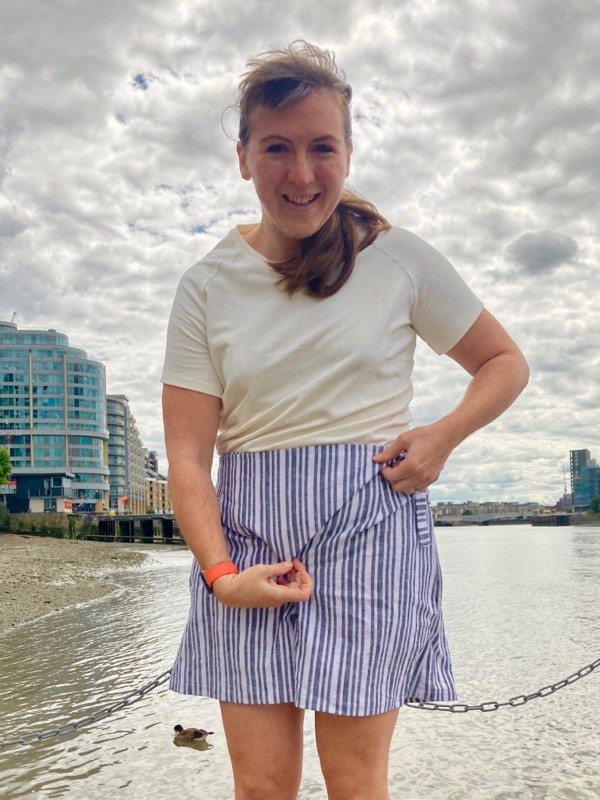 I also really like that the fronts are faced right down to the crotch for more support. I realised I ran out of white interfacing just before I started sewing this (though I have tons of black from Fashion Sewing Supply, my go-to for high quality interfacing) so I had to order more. I didn't want to wait weeks for international post so I tried out MacCulloch & Wallis's interfacing and omg it's so lush. I think I might even prefer it to FSS – it's easier to fuse and so freaking soft! And local!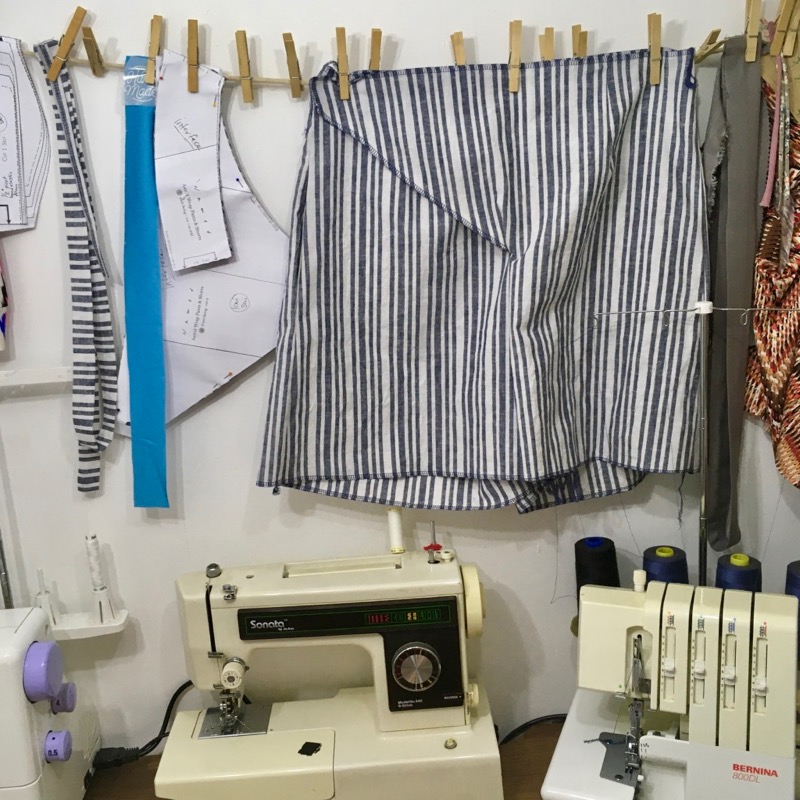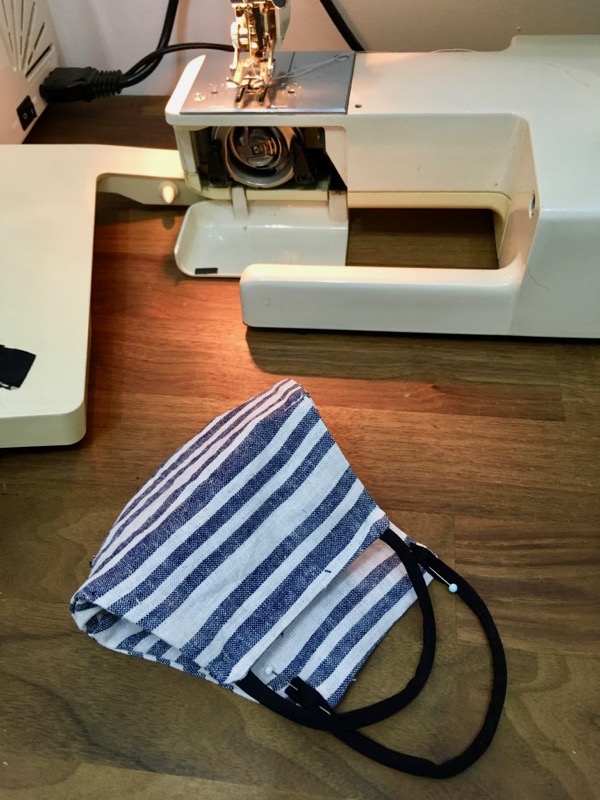 While I waited for interfacing to arrive, I sewed as much of the shorts as I could but then I diverged a bit and made a matching mask from the offcuts. Because if you haven't made a mask to match your outfit, have you even really been sewing during lockdown?? Plus, any chance I can get to remind you all to WEAR A MASK, you'd better believe I'm going to take it.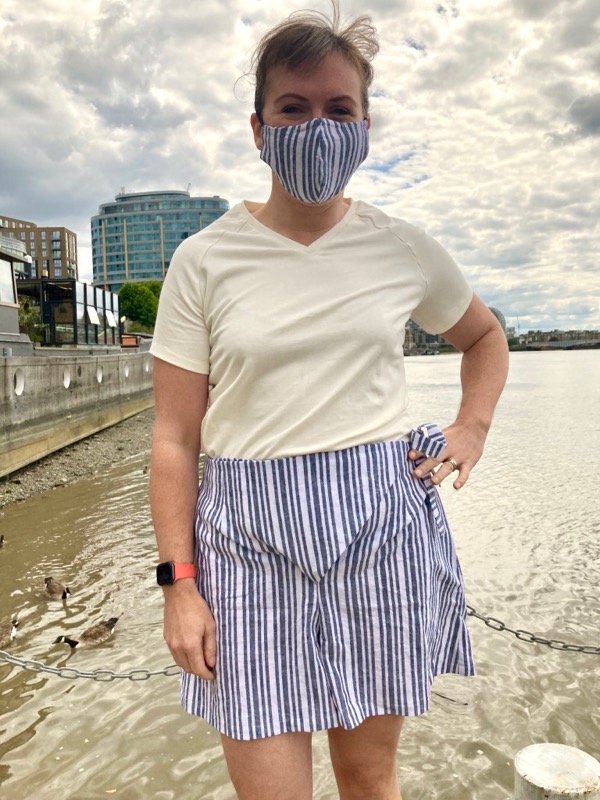 Another detail I love is the belt loops, too, which keep the ties nicely in place around the back. Not all wrap patterns have this, and it makes everything stay put so much better than without.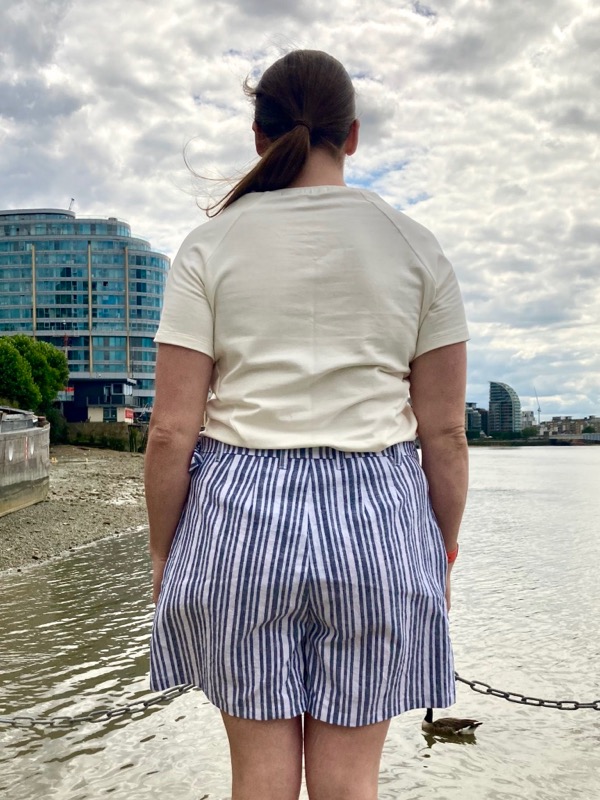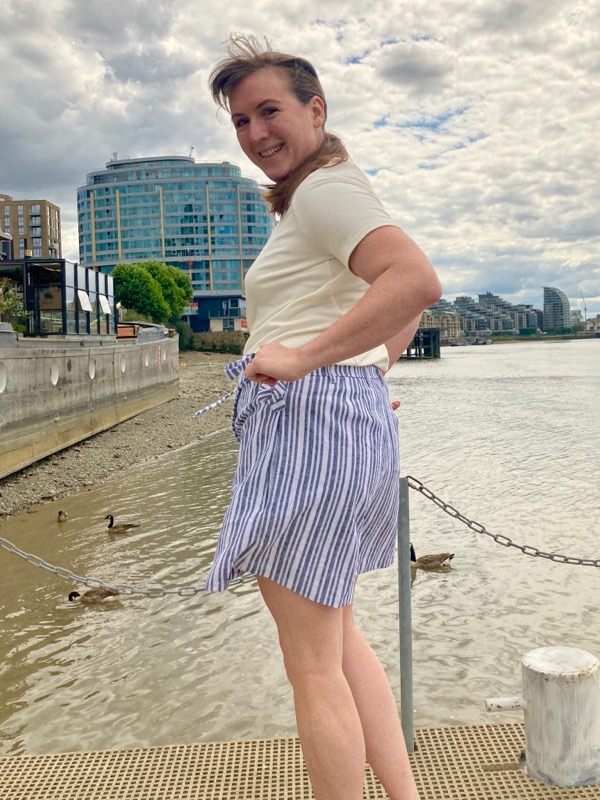 I added in-seam pockets again because, what is up with shorts that don't have pockets?? They were significantly easier to add here than in the mustard wool shorts because there wasn't a side invisible zip to content with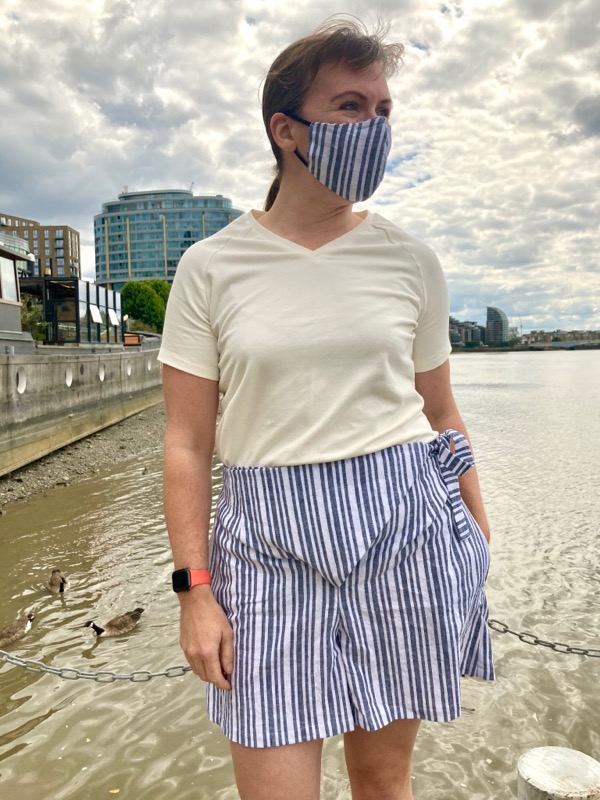 This is such a fabulous style for someone with fluctuating weight as you can adjust the ties accordingly (it seems like no matter how much I'm pounding out the miles on the treadmill and turbo, I'm still gaining weight in lockdown because my overall activity levels have dropped significantly arghghg).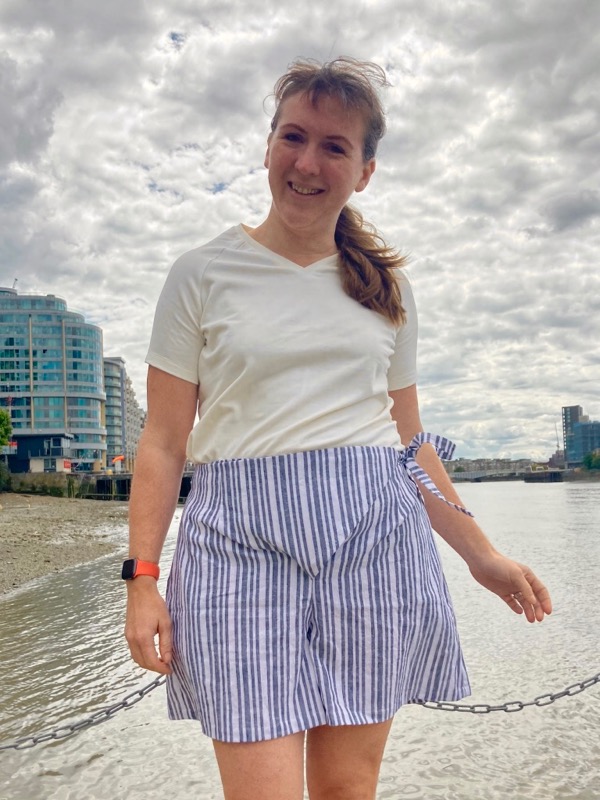 It's also great for beginners wanting to try shorts but scared off by invisible or front-fly zips as there's no zippers, buttons, or anything here – just the ties! So it makes it even more unfortunate that Named discontinued this pattern, (I have seen a handful of results pop up for the printed pattern if you dig around a bit and are quick though!).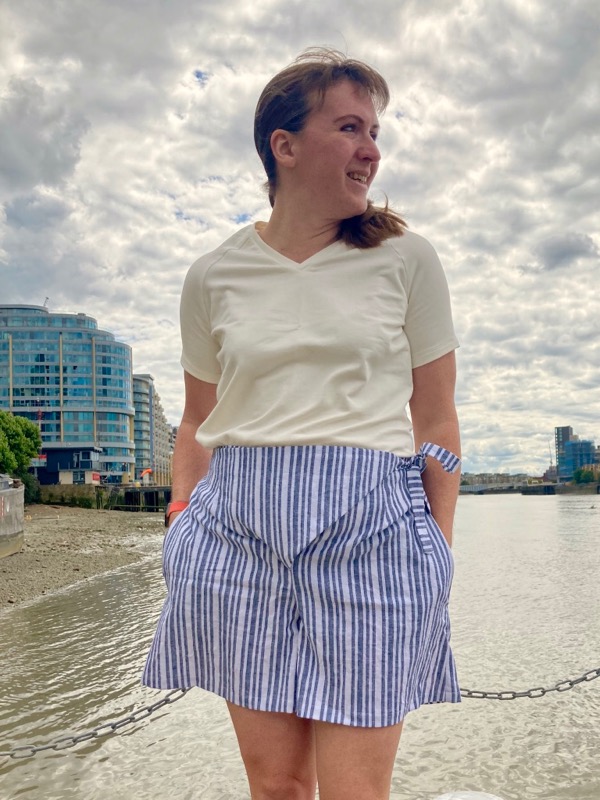 The shirt I'm wearing here is also new, but made a few months ago and kept waiting for a good garment to pair with for a photoshoot. I've been wanting a basic white tee in my wardrobe for a while, so I bought this fabric from Truro Fabrics, in person on the last weekend before lockdown in March. It's a lightweight brushed-back jersey that is super soft, but in hindsight, picks up every little bit of lint and cat hair!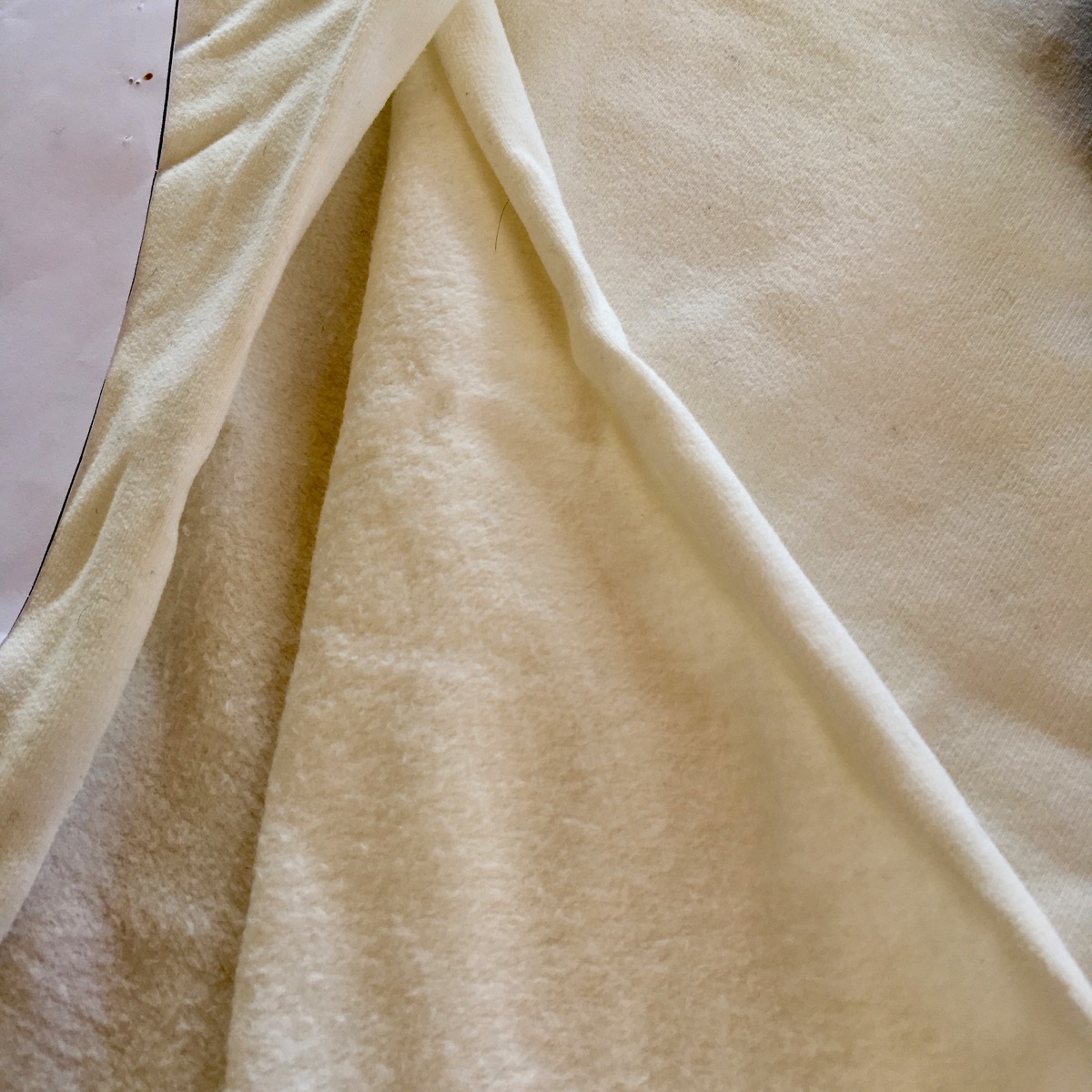 For the pattern I used the Raglan Tee from my "Sew Your Own Activewear" book which I've made a bunch of times! It's such a great wardrobe staple along with the basic blocks in the book.
I couldn't resist adding a fun emoji on the inside from my huge stack of iron-on vinyl cut on my Silhouette machine! And how neat and easy is that V neckband? I use the same technique here as I do in my VNA Top instructions and it make it so easy!