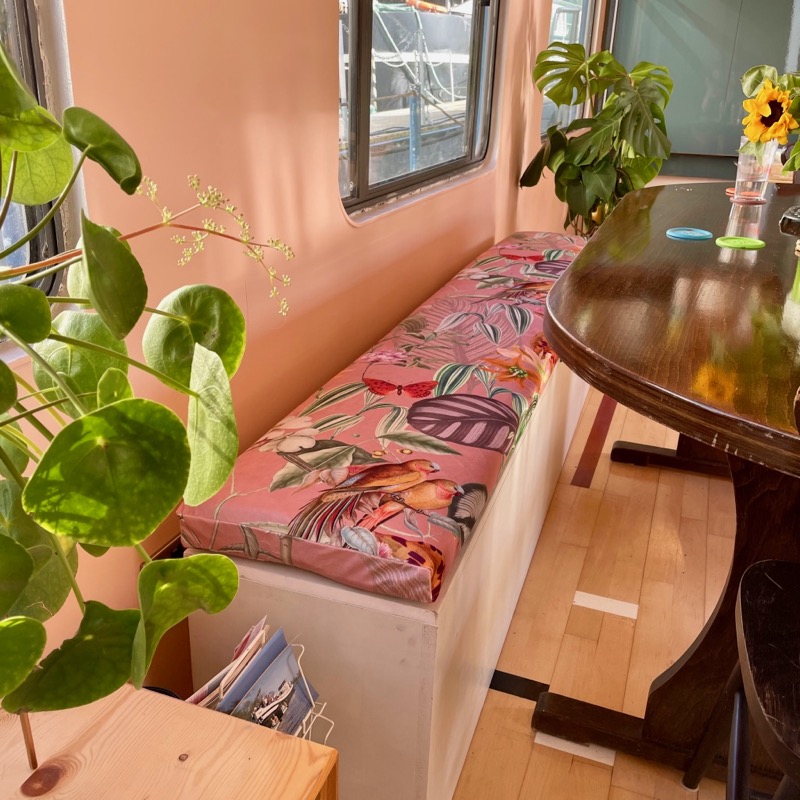 It was probably inevitable that I'd be sewing more home dec projects – after all, I'm pretty sure it's a natural next step after finishing renovation work, and we've just had nearly our whole boat rebuilt! This time around we wanted cushions for two very specific benches that we inherited…
Actually, we inherited a set of three storage boxes/benches from my longtime running coach, Barbara. When she had a studio in Shoreditch she had them built for the space, but after she closed the studio to go freelance they were taking up a ridiculous amount of space in her flat but she really wanted to see them rehomed together. So I said we'd have them for the boat, and two even ended up in our temporary flat while we were in drydock three years ago, but they've been in our storage unit ever since.
One is quite small, maybe a foot and a half wide, and that one is now near the front door in the Saloon, storing woollens inside and acting as a plant stand & drop zone for keys and masks. The next one is 1.2m long, has a hinged top, and lives in our corridor, storing guest bed linens for the time being. And the third one is a whopping 2m long (it barely fit in our estate car!), also has a hinged top, and is storing all of our life jackets and nautical flags. We thought it would be great for extra seating for our Saloon dining table, so we've placed it against the window to also give Nishi a place to sit and peer out the big windows (which will be getting wooden blinds when we get around to installing them).
So in order to become comfortable seating, I first needed to buy some foam for the tops of the benches, and once again I turned to Foam Factory (whom we've used in the past for our wheelhouse cushions and footstool too) for the custom tops. I went with the 5cm deep high density foam with the extra net topper, as we learned before that a few extra quid means a LOT in terms of comfort. The custom foam is never cheap (these came to about £60) but it's high quality stuff and means I don't have to cut anything down, piece it together, or deal with storing offcuts of foam so it's worth it for me.
For the medium bench down in the corridor, we wanted a fabric to coordinate with the deep blue walls to turn it into a little reading nook. We both loved this blue botanical print upholstery fabric from Fabrics Galore so I did a few calculations, bought a few metres of continuous zipper from Pennine Outdoor, and sewed it together in an afternoon.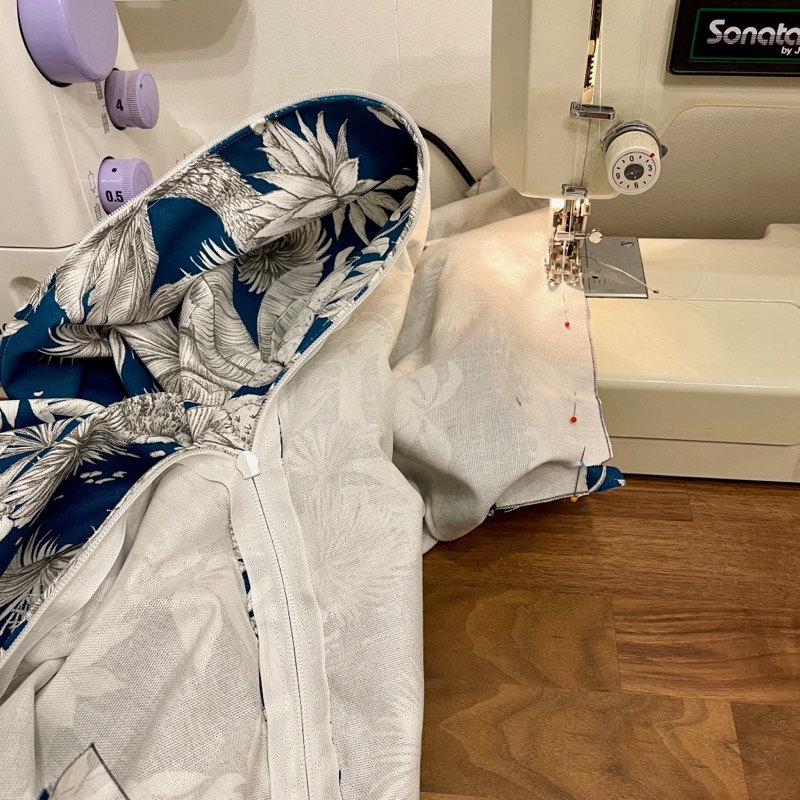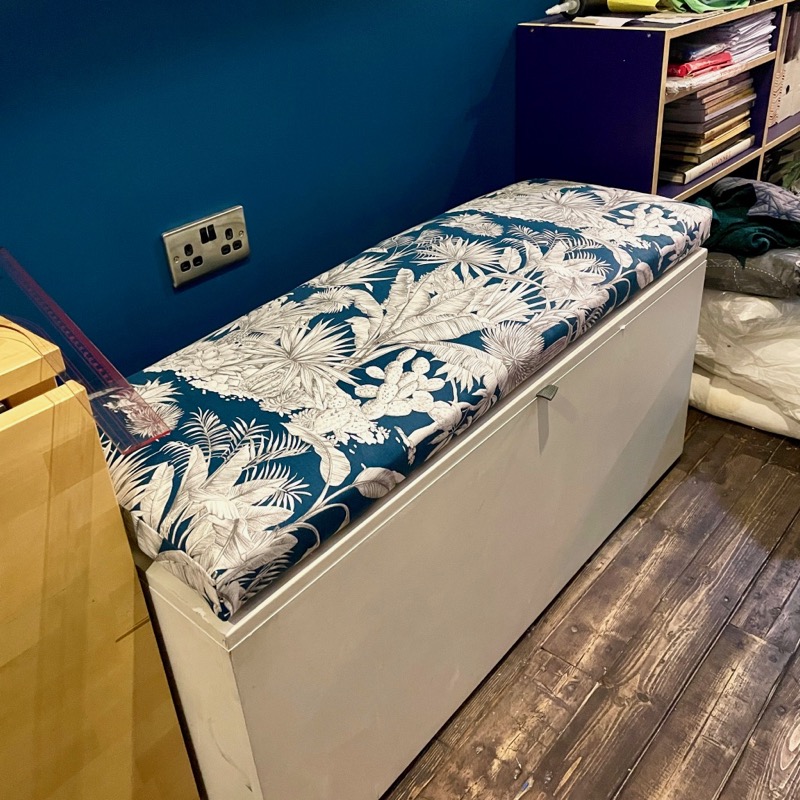 I've never used continuous zippers before, but after watching a few YouTube videos, I learned the trick is to make the ends a little uneven to make it easier to thread the pull on (ie: make the second side you're threading in shorter!), and tbh I don't know why I haven't used them before. Since both of these covers were over a metre long, it's the only way I could get zippers long enough!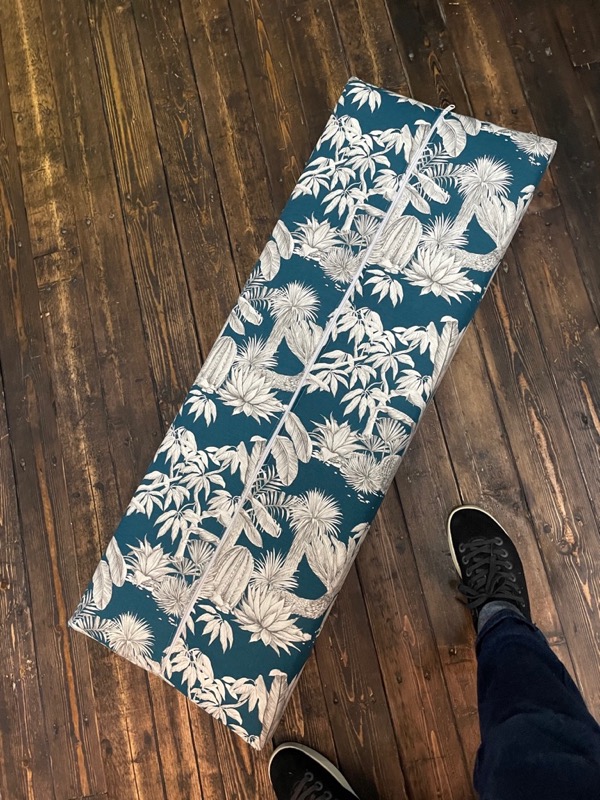 For the longer bench we wanted a fabric that would coordinate well with the pale pink walls and walnut wood we've got in the Saloon and when we saw this tropical upholstery velvet from Textile Express we pretty much stopped looking then and there! Sewing this cover was even trickier since it's 2 metres long so there was a LOT of fabric bunching up on my machine arm when sewing the zipper and the long seam!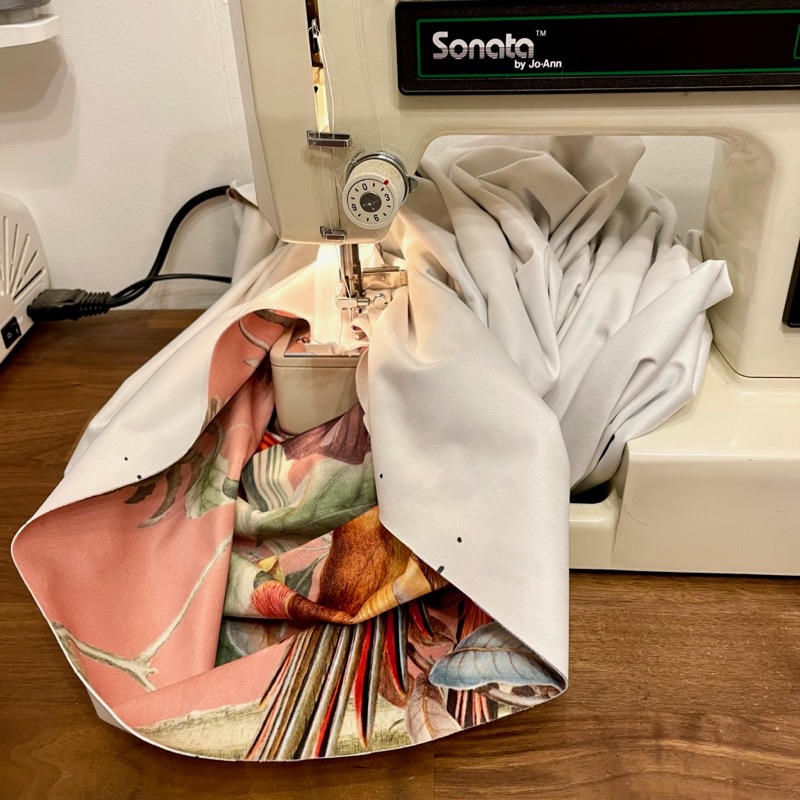 But thankfully both this and the blue upholstery fabric weren't covered in the sticky goo that plagued my sofa slipcovers a few years ago (I'm still traumatised!), so were relatively stress-free to work with, apart from a little bit of unravelling and fluffing.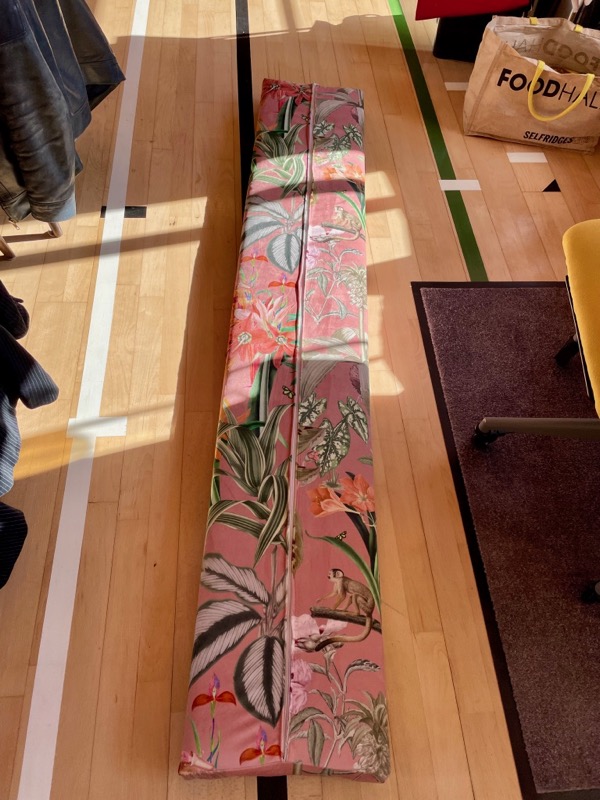 I think I finally cracked the fit of covers and getting sharp corners – for a better fit, I basically sewed this for a slightly thinner cushion than its actual measurement so the end result looks taut. For the sharp corners, I took the time to actually mark a dot on both sides at the exact corner. I snipped the inset corner side, and then made sure I matched up the dots EXACTLY. And all of my corners look pristine!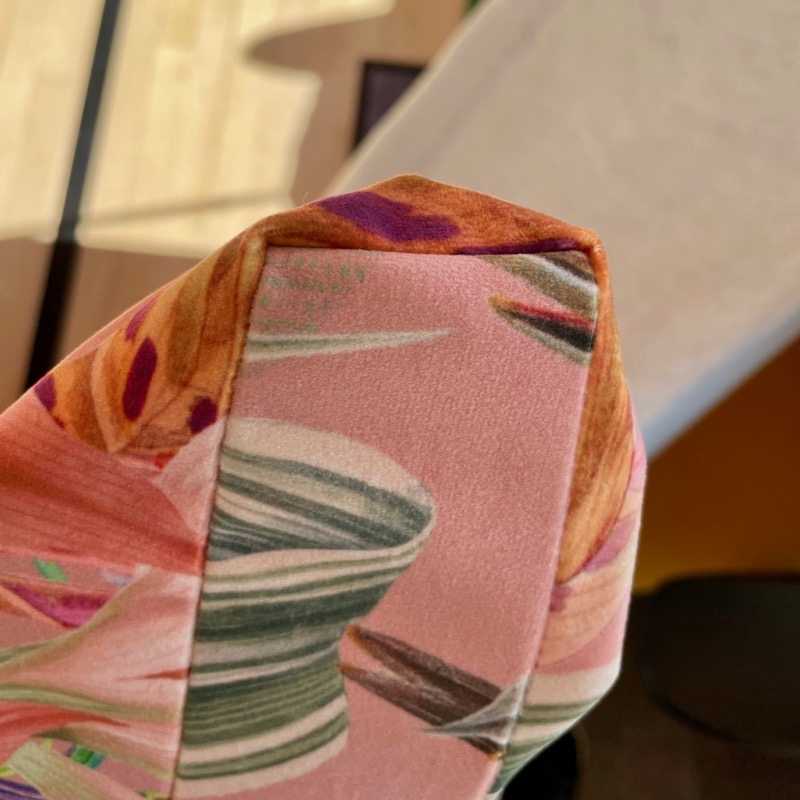 And you can't argue with the end result! (We haven't installed our blinds yet…)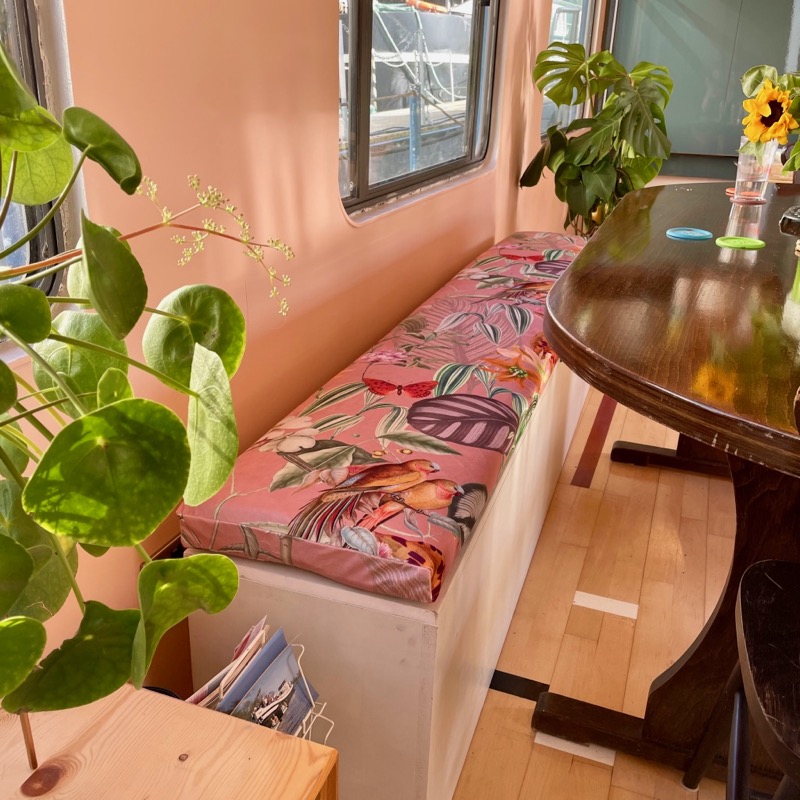 I've got some long strips of fabric left on both which I'll turn into pillow covers, but I've only sewn one so far (as well as using some of the leftover zipper, too) since we were having the in-laws over for a Sunday roast and I wanted a pillow to lean back against while I ate!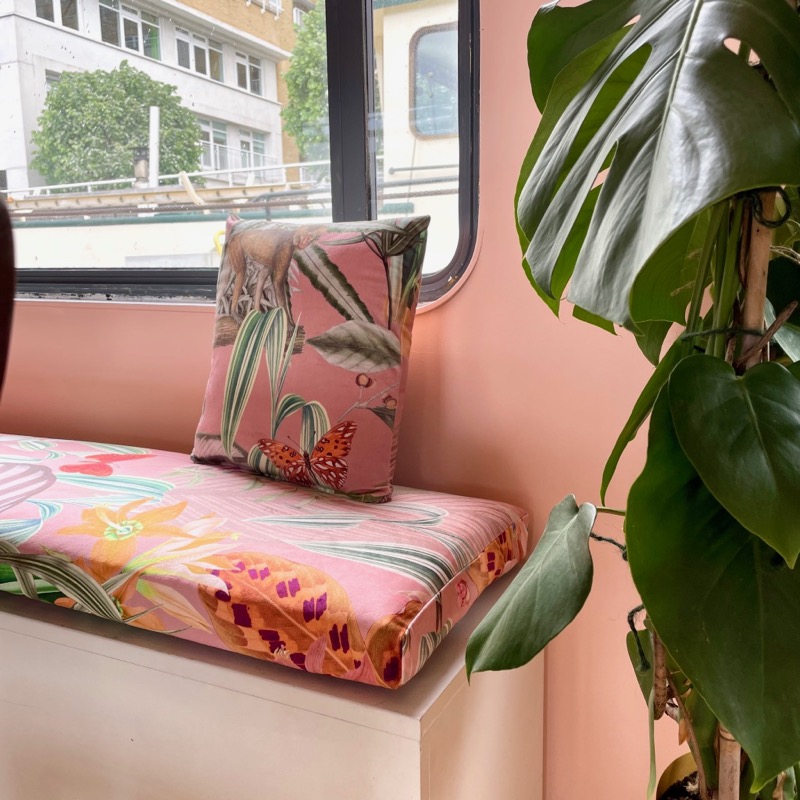 Because of the placement of the print, I love that the birds ended up on the front of the cushion cover, but the monkeys ended up on the front of the cushion!
Between the cushions and the high quality upholstery fabrics, this wasn't a cheap project but it's bringing up closer to the "millionaire's yacht" look!