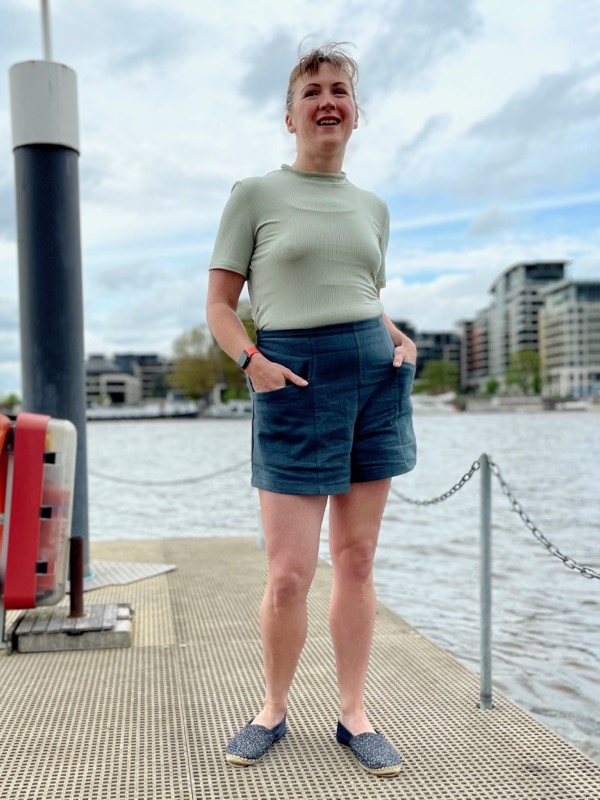 I'm sorry guys, it's my fault! I turned the weather to freezing, non-stop rain by sewing a pair of shorts. 😭 (insert jokes about English "summers" here)
But I was inspired by some recent fabric shopping at both Textile Express and Lamazi Fabrics and I really wanted to make this set as soon as possible – and hoped the weather would rise to the challenge, but it did not. In any case, the garments have thankfully turned out better than I'd hoped, and I know I'll get a lot of wear out of both as soon as it warms up and dried out.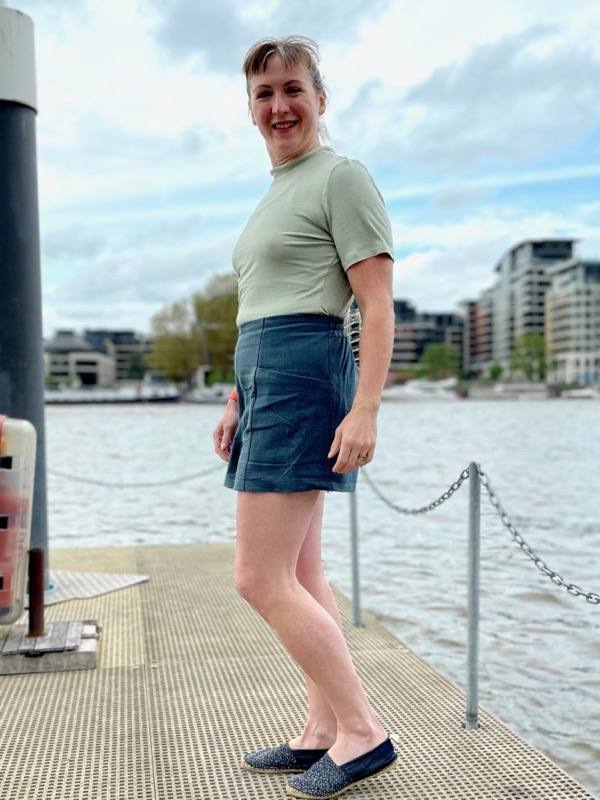 The shorts came first – I love the linen denim pair of Pietra Shorts I made this time last year, and pretty much wore them non stop last summer. I wanted something equally versatile and hardwearing, so I bought some of this ramie fabric in the "denim" shade. You might recall that ramie is a cousin of linen made from nettle fibres, and I sewed some of it a while back to make this yellow blouse. The ramie from Textile Express has a slight texture to it which I think will make it even more hard-wearing than standard linen. In my opinion, it's pretty much the perfect bottom-weight fabric, and that it's also highly sustainable is a wonderful bonus.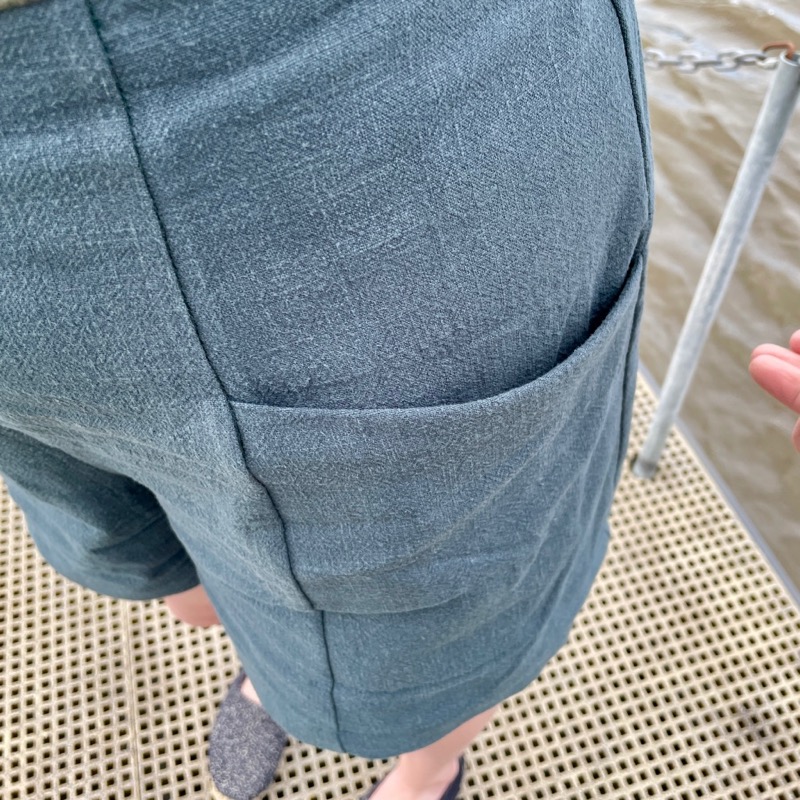 There's not much more I can say about the Pietra Pants/Shorts pattern that I haven't already said – I've made it something like 4 or 5 times, I wear them all the time, and they're easy and straightforward to sew. They're super comfortable, and the big pockets are perfect for running around the boat as I never feel nervous that things will fall out as I clamber up ladders and decks.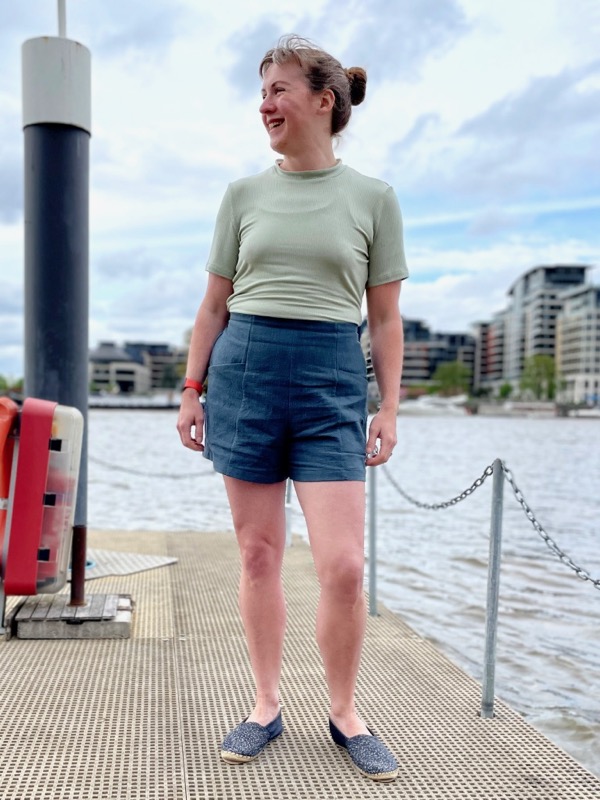 For the top I started out thinking I would make a sleeveless Ruska top with the curved, high collar and curvy cut – essentially similar to the striped long sleeved rib knit top I made this winter, but sleeveless and using the actual collar pattern piece instead of the modified rectangular one I used there to not make the stripes look weird.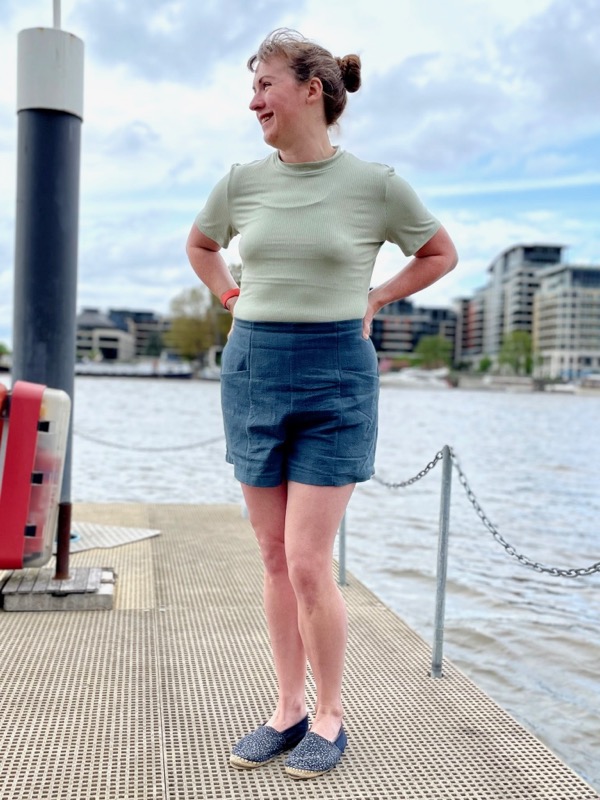 But as I was cutting out the fabric, I realised that I could miraculously squeeze some short sleeves in to the 1m of the mint Meet MILK Tencel rib knit I'd bought, even though it was quite narrow. I always feel like I'll get more wear out of a short sleeved top than sleeveless since there's a wider range of months where it'd be comfortable, so I changed my plans and used the short sleeve pattern piece (the same sleeve I used on my birthday knot dress).
Again, like the Pietra, I've made quite a few variations of this Ruska pattern over the years and feel like this pattern alone makes buying the first Named book, "Breaking the Pattern", worth buying. I'm excited to have just bought their second book and hope I'll find as much to love and sew in it as the first!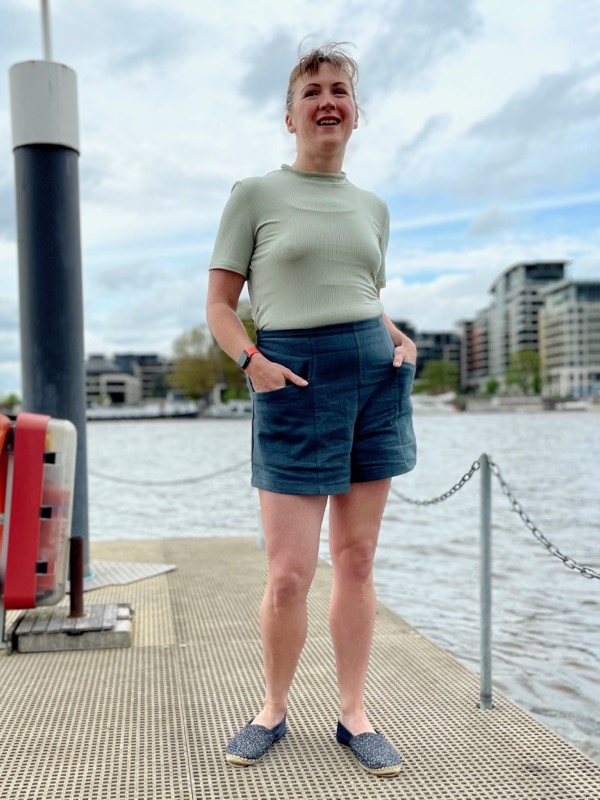 The rib knit is so soft and silky, but quite lightweight and drapey, too. It feels incredible to wear, but does show every little lump and bump underneath (like the lightweight Axis tank I was wearing as a bra while at home, oops!). It also didn't stand up very well to being a taller collar, despite using the walking foot and overlocker's differential feed to keep it from stretching out. It's just a bit… floppy so I kinda wished I'd applied some lightweight stretch interfacing first.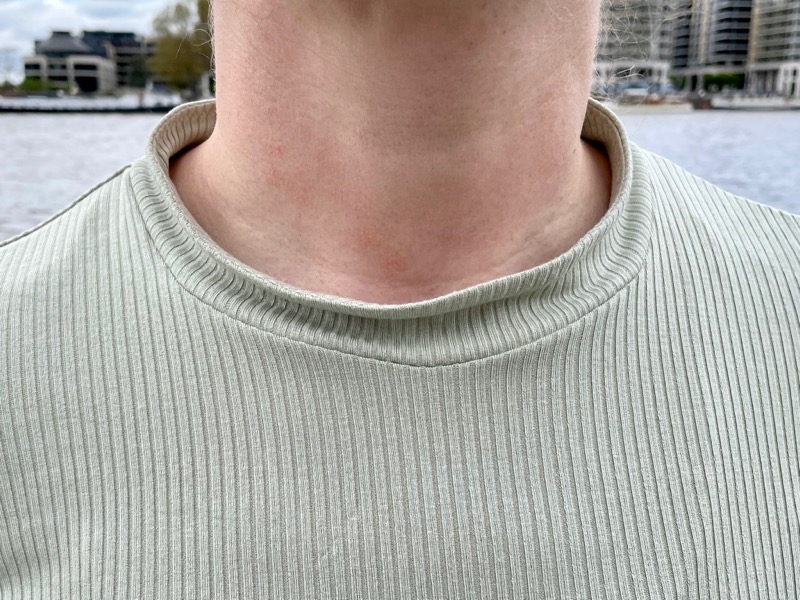 In any case, I'm thrilled to have two very wearable pieces for the warmer months that will go with many other items in my existing wardrobe and were made with high quality, sustainable fabrics. I've got no shortage of clothes, so sometimes I struggle with justifying making any more, but because I enjoy the process so much I still want to continue. At least by fabric shopping consciously and deliberately and buying sustainable fabrics whenever possible, it feels like I'm not doing quite as much harm. After all, the most sustainable clothes are already in our wardrobes, so if we all make and wear the pieces we love, there's less to be shipped around the world or sent to landfills. And both of these are patterns and fabrics that I know I will love for a long time.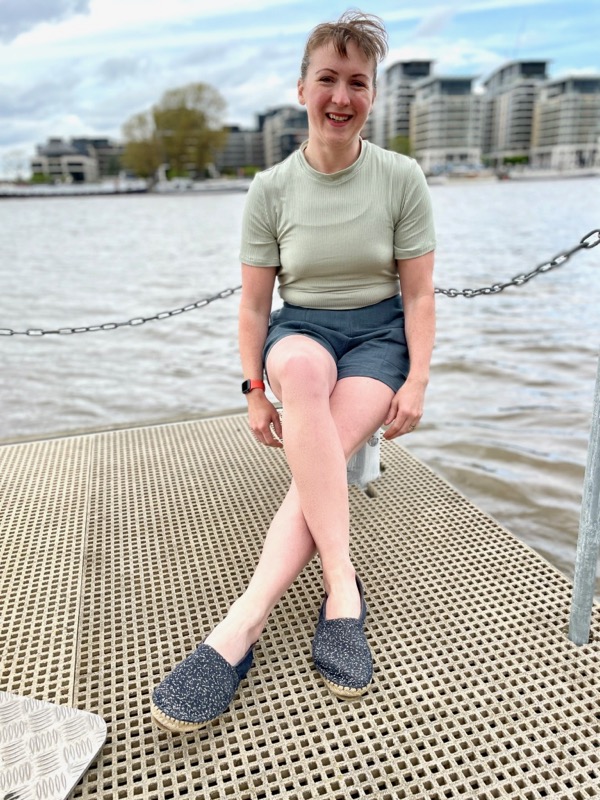 Oh, and who noticed I'm also wearing me-made shoes??