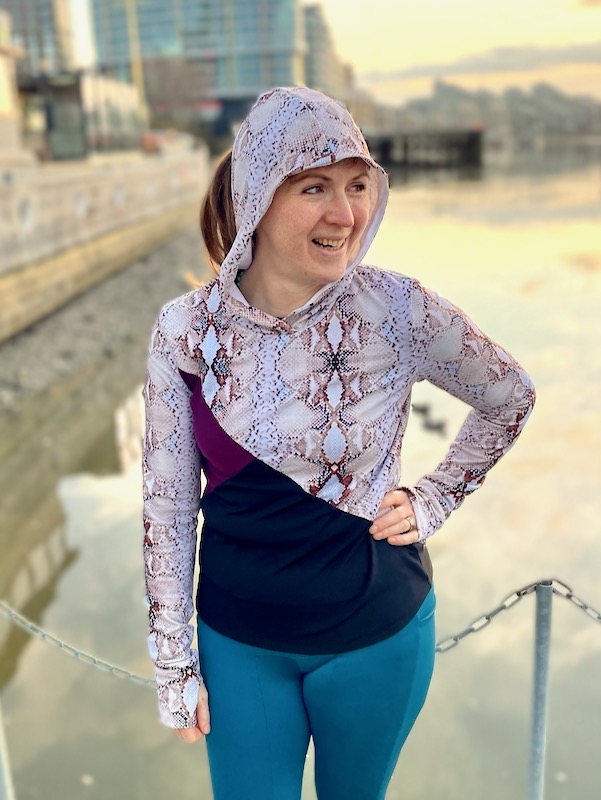 What better way to kickstart January than with activewear, amirite?? Especially if it's a pattern you've sewn a thousand times before, in a fabric you love, and made entirely with stash fabrics. Bonus points if it's also essentially a clone of a garment you already own so you're pretty much guaranteed of success!
In the years since launching our Tessellate Tee pattern, I found myself wearing the turquoise, yellow, and claret hoodie sample (featured on the pattern cover) for nearly all of my coldest runs – I can't even tell you how many early morning run commutes this came along on! The key here was that I made it in Funkifabrics' "thermo" fabric which is essentially fleece-lined lycra. It's stretchy with great recovery, and has a smooth exterior, but the interior is fluffy and fleecy like the inside of a sweatshirt, which makes it really warm. I often paired this hoodie with a pair of Steeplechase Leggings I'd also made in black thermo, and the combo is one I'd wear on my coldest and wettest runs or cycle commutes.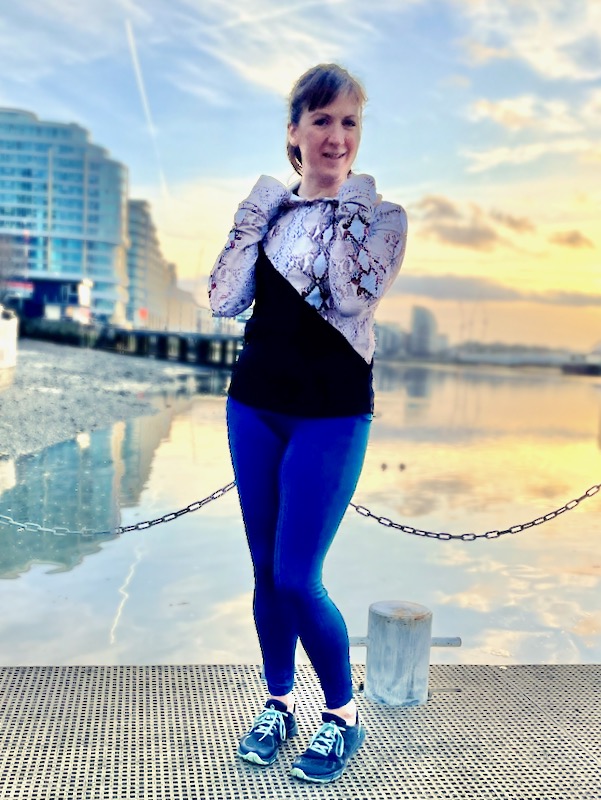 (Seen here worn with our teal Rouleur Leggings sample)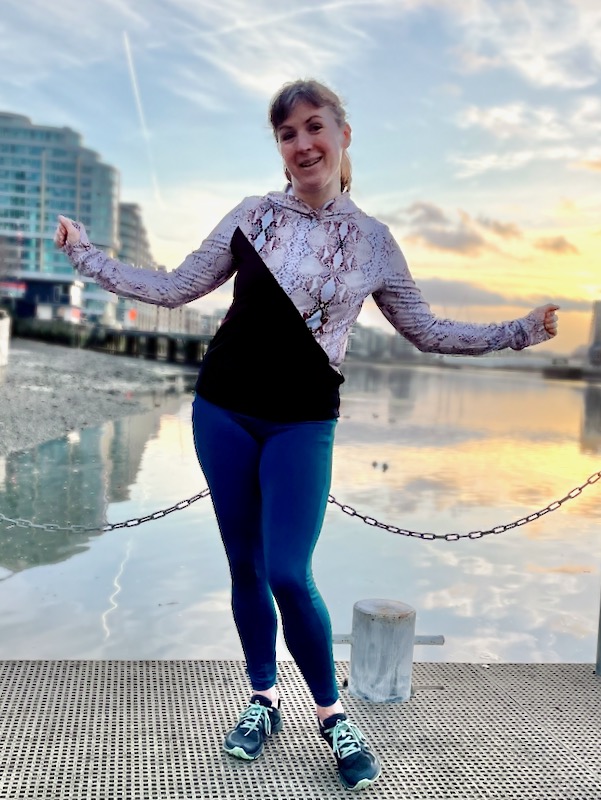 In fact, the only real downside to thermo was that it was only available in a few solid colours. That is, until Funkifabrics released it as a print base fabric a little over a year ago, meaning that you can choose any one of their thousands of prints on a thermo base! So they sent me a metre of snake-print on the new thermo print base to try out since they knew I was a fan of the solid colours and the print base is slightly different (though not enough to make much difference in my eyes). I didn't get around to sewing it up last winter but I knew I needed another thermo hoodie in my life…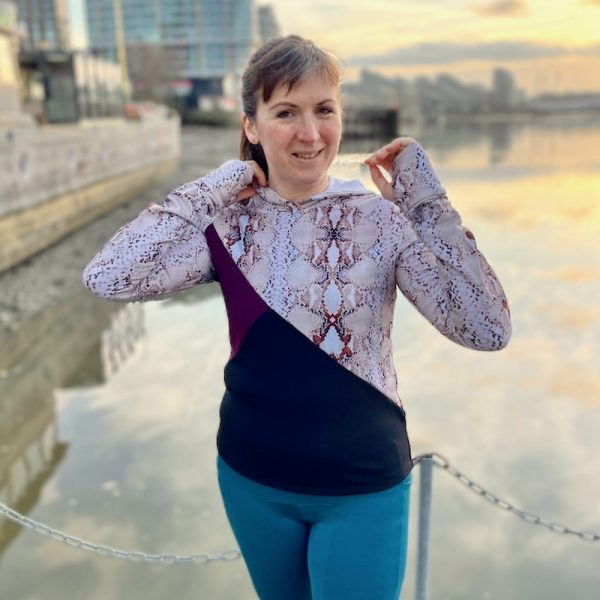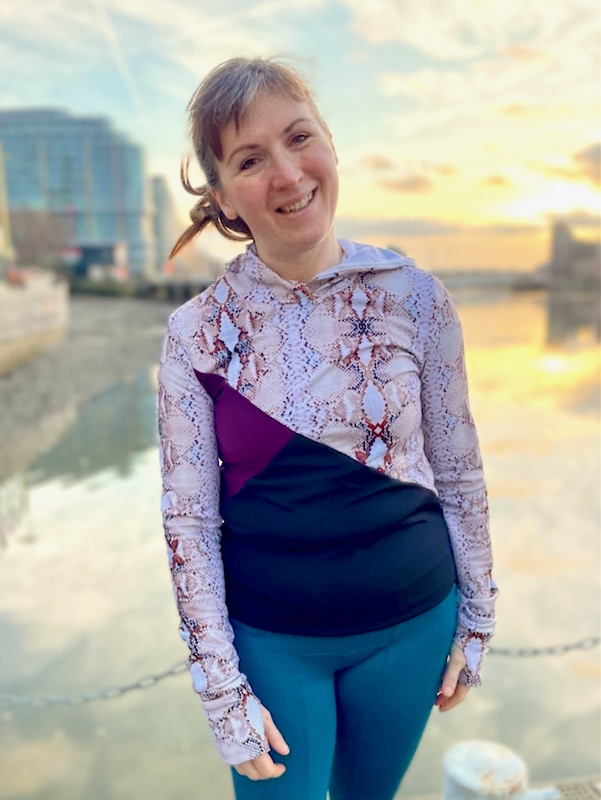 I had a few thermo scraps leftover from the aforementioned Tessellate Hoodie and Steeplechase Leggings, so I played around with the colours and the black and claret scraps paired best with the snake-print. I won't lie, it was a bit of a tight squeeze fitting all the pieces into 1m of print and some really small scraps, but I made it work!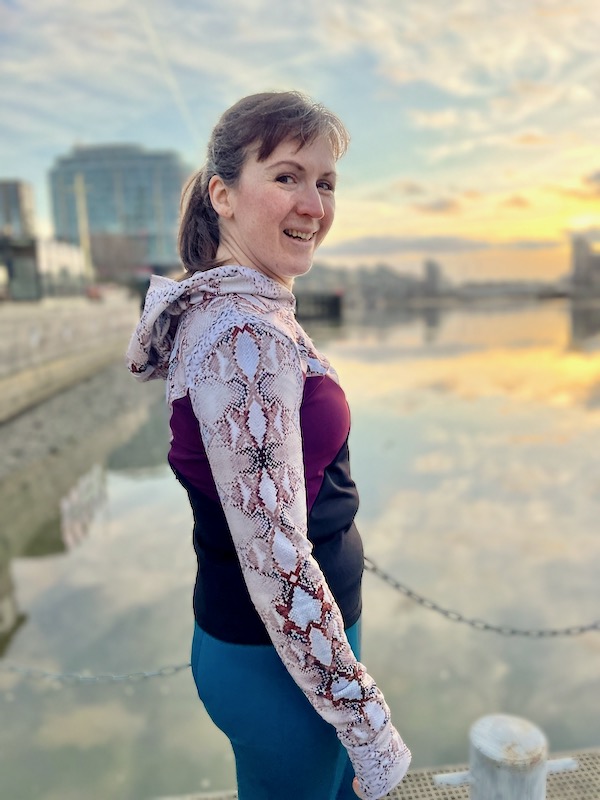 I'm also really chuffed at being able to cut the sleeves with the dominant print running down each arm!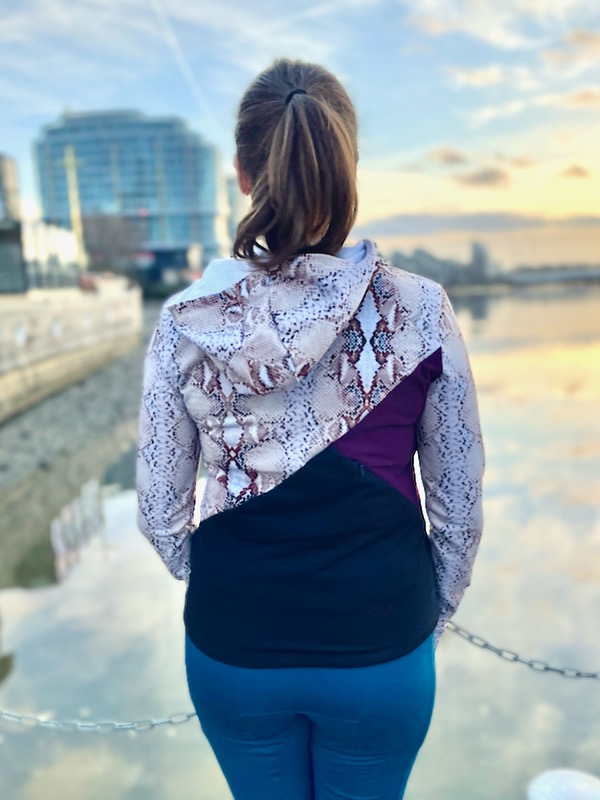 From the start, I knew I wanted all three optional extras on my hoodie – the invisible back pocket, thumb cuffs, and the hood with the ponytail hole! I found a thin activewear fabric in my stash that was perfect for the pocket lining, and I even had the right length zipper already, too, so this whole project was essentially free!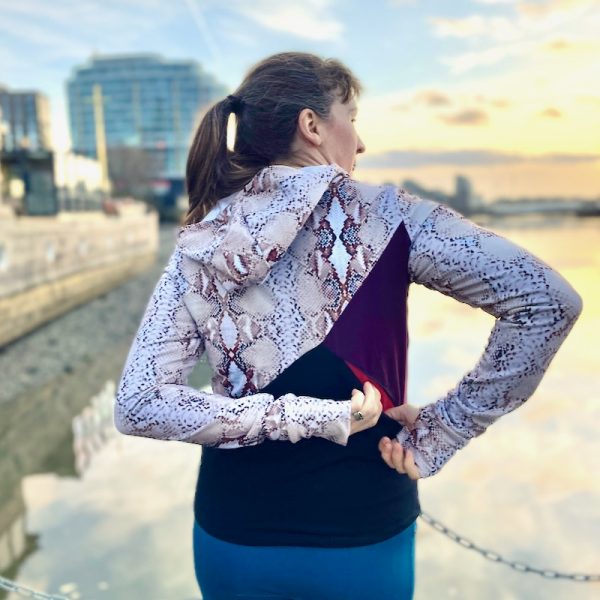 When I designed the hood on this pattern, I wanted to provide an anchor point both to allow free movement of my ponytail (which would often shift around and pull a hood off my head) but also to help keep the hood in place while I ran. So with my ponytail threaded through the hole, I can run into a headwind without it actually falling off and still keeping my head warm! If you've got short hair, the instructions describe how to eliminate the hole, too, so you've got a more traditional hood.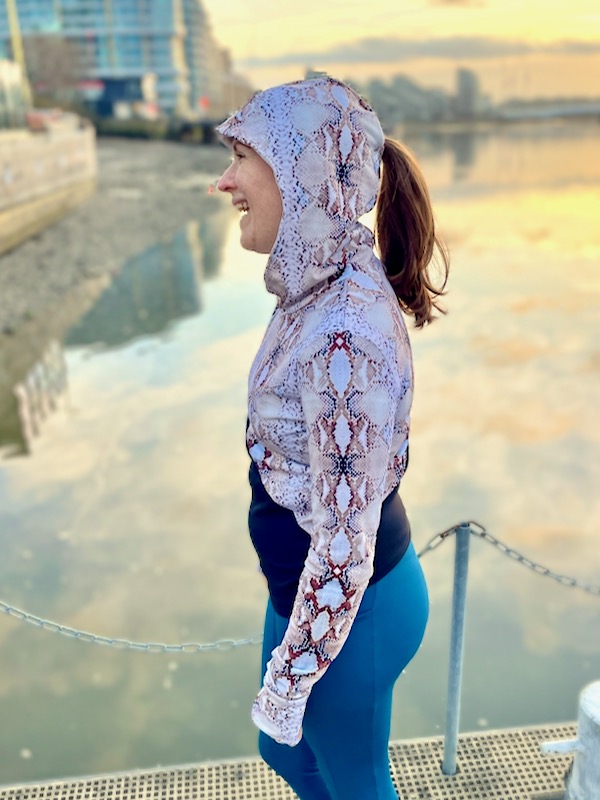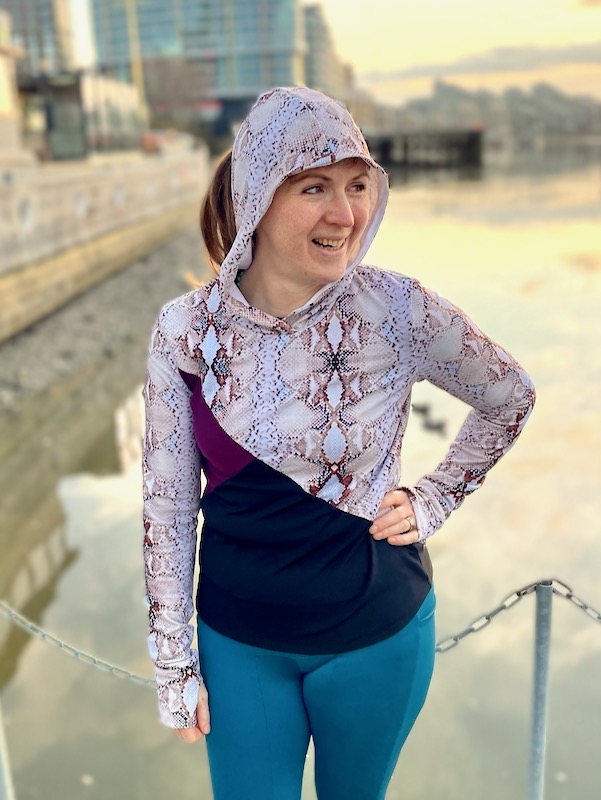 I doubt I need to explain the appeal of thumb cuffs since they're pretty universally loved (so much so that I also included these thumb cuffs in "Sew Your Own Activewear" in the Winter Base Layer design), but these are special because they're sewn entirely on the machine, so no fiddly "closing up a hole with hand sewing" which I've seen on a lot of other patterns…
When combined with the deliberately-longer sleeves, it means you have enough length to cycle with gloves underneath the cuffs, keeping everything in place without any cold wrists where the gloves and sleeve hem traditionally meet…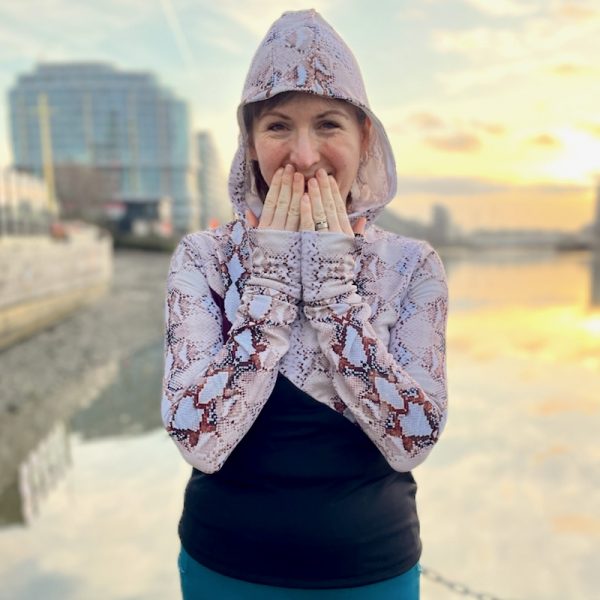 And of course, because I can't resist a good opportunity to add some reflective elements, I added a little "Handmade" reflective iron-on motif that I'd cut on my Silhouette machine ages ago. I hate wasting iron-on vinyl so whenever I cut a big design, I always put smaller motifs around the edges and then just pull them out of a drawer whenever needed.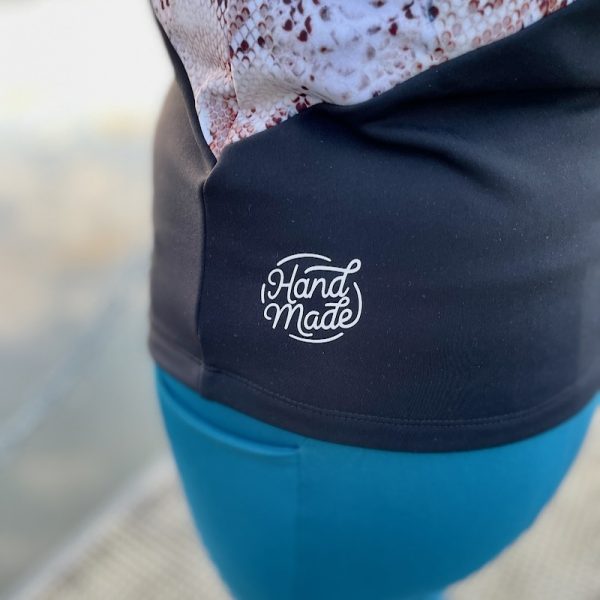 I must admit, before sewing this up, I really didn't think I was a "snake print person" or that I ever would be. But now I see all sorts of patterns in here instead – it looks like mosaic tiling sometimes, or geometric designs others, and I've really warmed to it. Which is good for such a warm hoodie!
The snake-print thermo fabric was provided free by Funkifabrics without any obligation, and all views are my own.