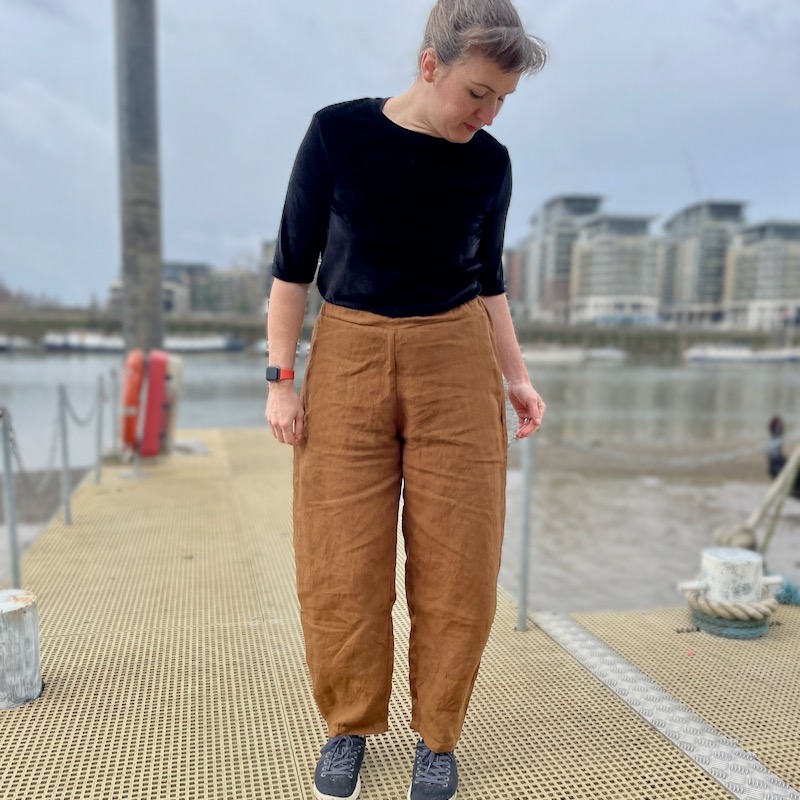 I've seen a lot of great versions of StyleArc's "Bob" trouser pattern over the past few years, so I finally caved and bought it on a whim during a sale last year. They're a pretty basic elastic-waist woven trouser apart from a rather bulbous outer leg shape.
The question is – would this shape of trouser actually work for me?
And to be honest, I'm still not sure I have the answer…
I had 1.5m of Raystitch's European Washed Linen in the "Muscovado" colourway which I'd bought with a gift certificate last year, and I figured this was a great way to test out the pattern. I know I could sew a muslin first, but I know by now that sewing muslins really dims my enthusiasm for any project, so I tend to just compare a new pattern to an existing one I like and adjust from there.
With Bob, it was clear that this was a very cropped leg length. Short lengths and wide legs absolutely do not work for my body at all, no matter how much I've tried over the years! So I compared the leg length to my (also lengthened) Pietra trouser pattern, and added a whopping 9cm (3.5 inches) to Bob's front and back leg, blending in at the side and inseams. I've got longer legs than most, but I usually only have to lengthen trousers by 2-3cm!
The rise also looked really high, but compared favourably to the Pietra so I left it as-is. As it turned out, I was right to be skeptical, as I later had to cut off the front waistband and raise the CF seam by 4cm (1.5in), tapering to nothing at the side seams, because the front crotch was hanging really low.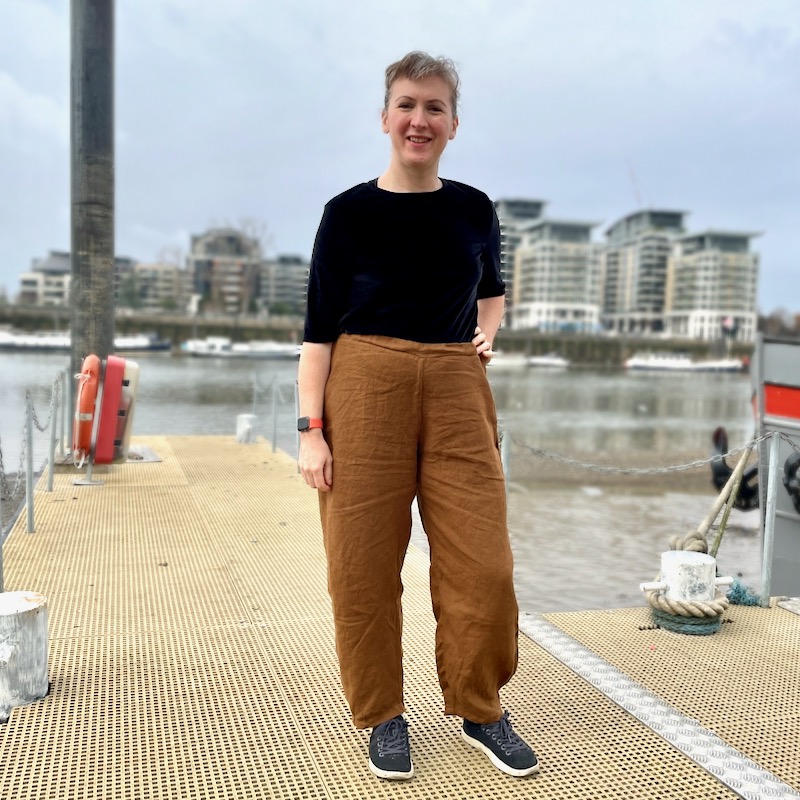 The pattern calls for 4cm (1.5in) wide elastic in the waistband, but I know from my Papercut linen trousers that wide elastic just ends up bunching up and rolling on itself and I end up regretting it! So I used my favoured 2cm (3/4in) elastic instead as this is much more comfortable for me. When I stitched it to the inside of the waistband fabric, I deliberately matched the quarter mark of my elastic to the side seams, which are shifted forward on this pattern. This means that I get a flatter front, with the majority of the excess bunching at the back, where I need it more.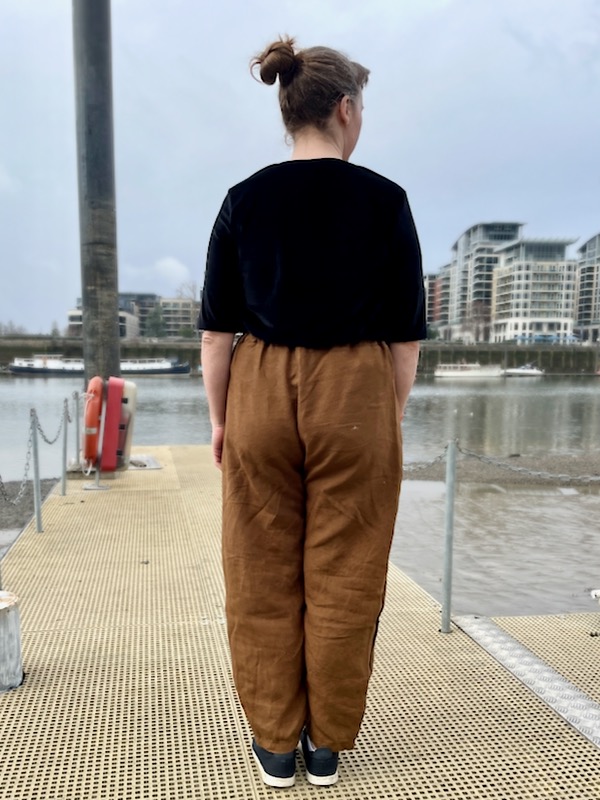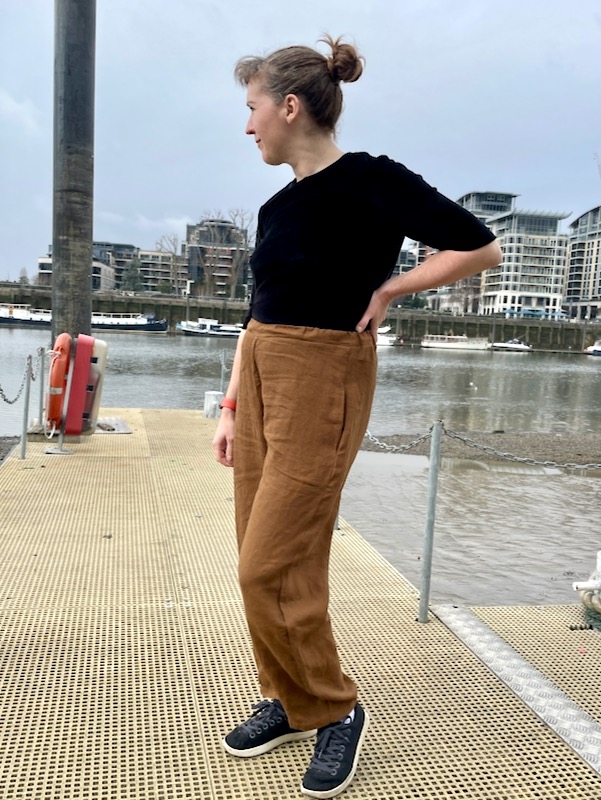 When I first tried these on, I was surprised and alarmed at how big they feel. Like, not just along the outer leg, but overall they feel about 3 sizes too big, even though I'd made my usual Style Arc size 14 (which in other patterns of theirs, fits well with minimal ease).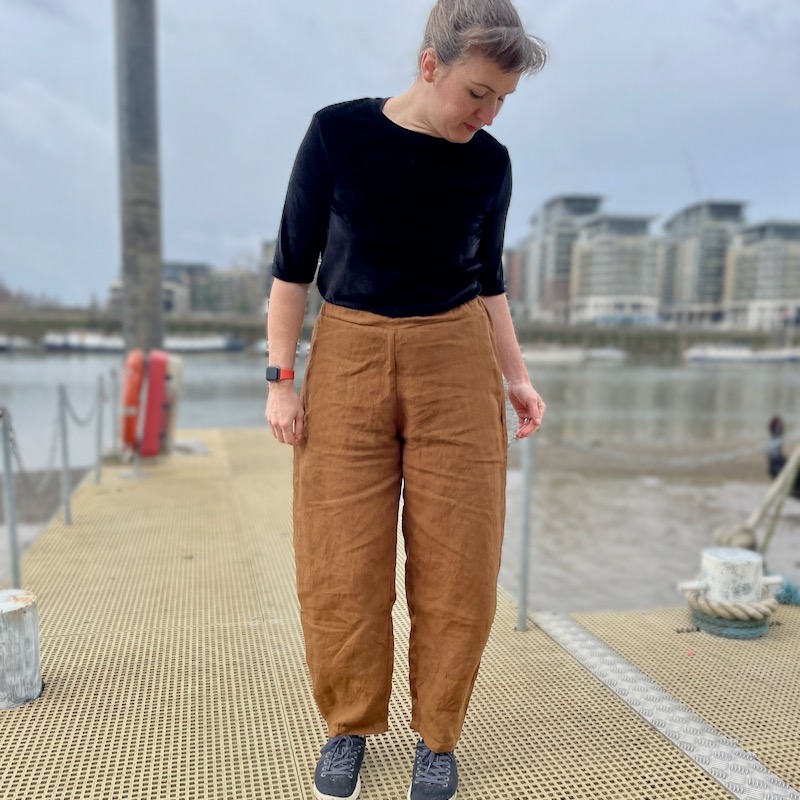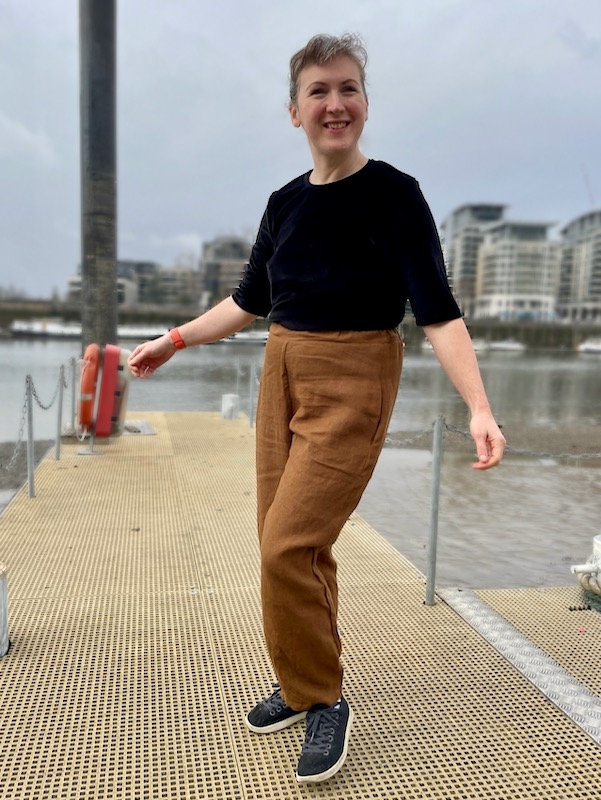 The unusual shape will no doubt take some getting used to, but I'm not sure I like how thick these trousers make my waist look. I tucked in my top for these photos so you could see the trousers better, but in real life, I'm definitely wearing my tops untucked!
I'm still not sure whether I like these or not, but they're comfortable and very wearable, with nice, deep pockets, so I figure I'll continue to wear them around the boat to WFH and I can make up my mind over the next few months!