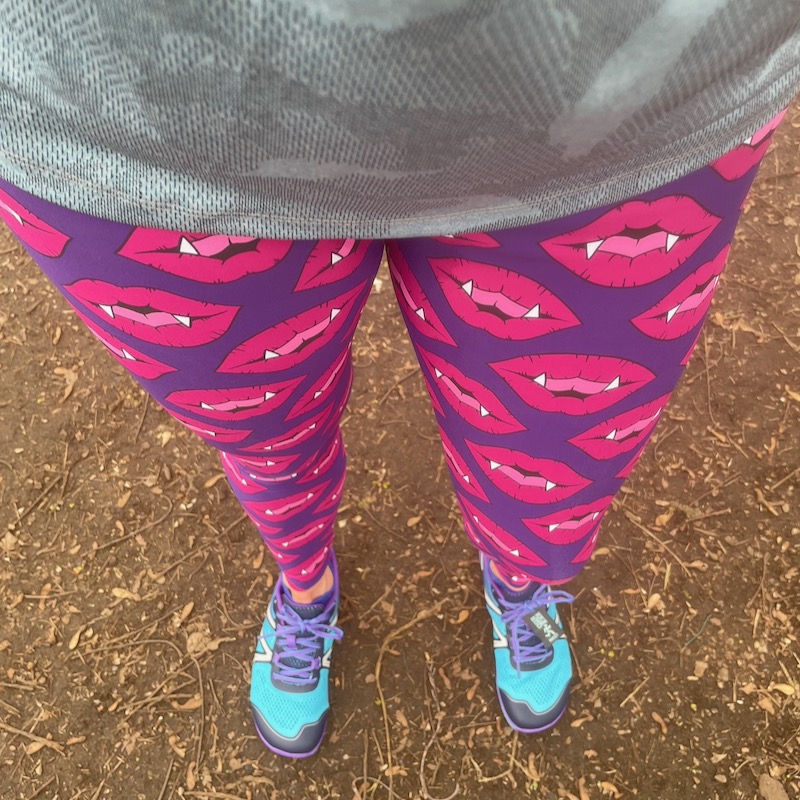 I've been sewing with Funkifabrics' activewear fabrics for a nearly a decade now, and I'm a huge fan of their custom-printed fabrics. I nearly always pay my own way, even when it's for pattern samples, so it's lovely when they offer to let me try a new base fabric. The last time this happened was back in 2021 for the lightweight Spider, which I loooooved! So I was delighted when they asked if I'd like to try out their new Olympus base fabric in a print of my choosing.
As I am now (still!) firmly in the throes of my reignited vampire obsession, I went with their "Bite Me" print, with 150% scaling, and different shades of pinks and purples using their Colour Me service.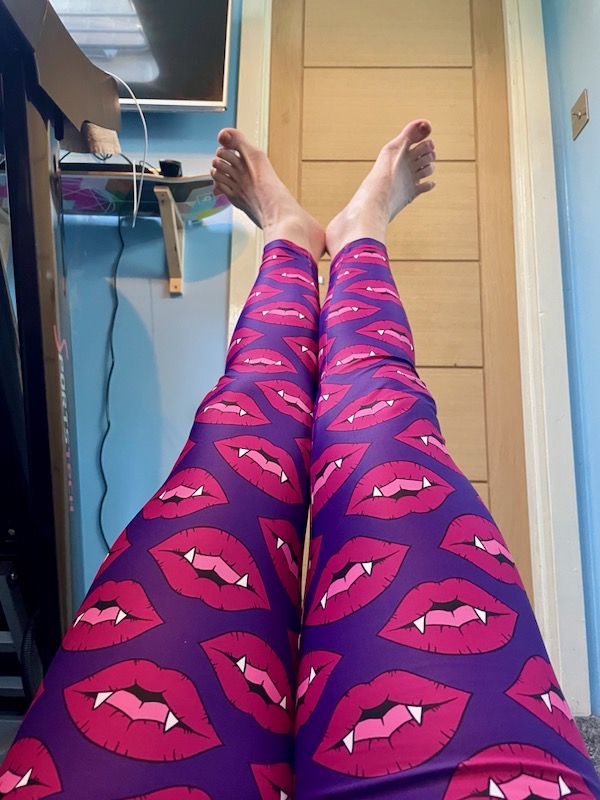 I intended to make a pair of running leggings with the 1.5m I requested, but after cutting, I realised I'd have enough leftover to squeeze out some shorts, too! With a print this bold, I wanted to use a pattern that would let it be the star, so I chose our Tenacity Leggings pattern. This pattern doesn't have any outer leg seams that might break up the print, and I was not in the mood to fuss about with print matching – though I did get one accidentally!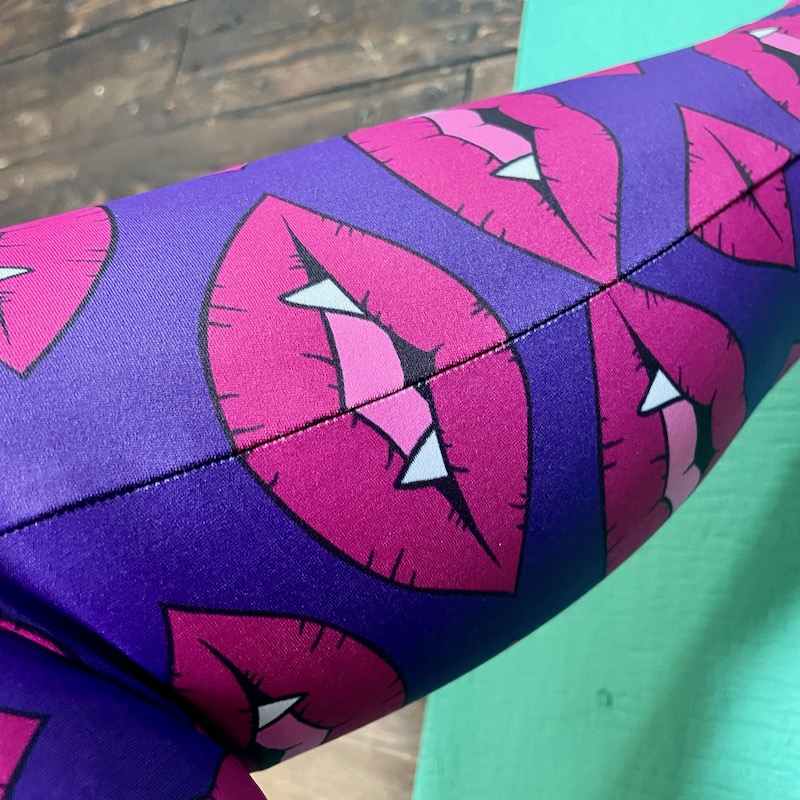 Even though this has a wide waistband, you can really use whatever elastic inside that you're most comfortable with, and for me, that's 2cm (3/4in). I used the optional hidden back pocket, lined in a dark brown mesh from my stash, but it wasn't a good enough colour match to want to add the entire mesh pocket, too.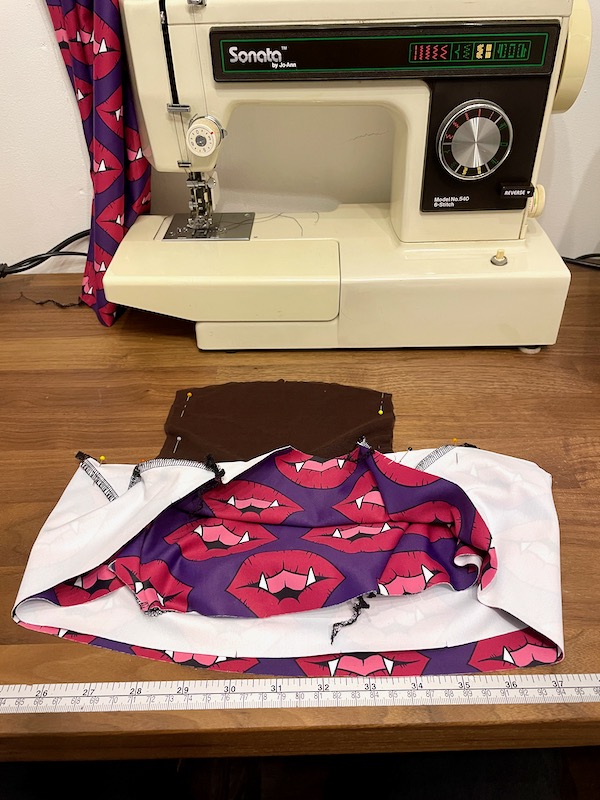 I ended up wearing these SO much in the past few weeks – on cycling trips up to the Apple Store to get my laptop screen replaced, in Pilates class, to stretch, out to run with Run Dem Crew, and out on long weekend runs, too. Let me tell you, it's been years since I've had a pair of leggings generate this much attention! I get stopped and complimented every time I wear these, it's crazy! Also, it's a great excuse to spread the word about the "Interview with the Vampire" tv show that got zero press in the UK…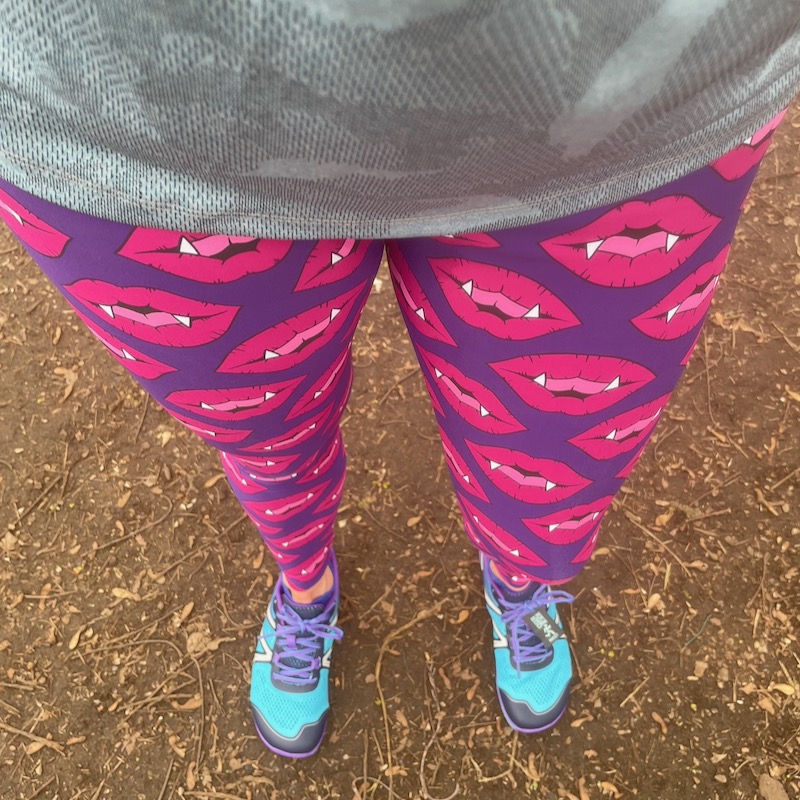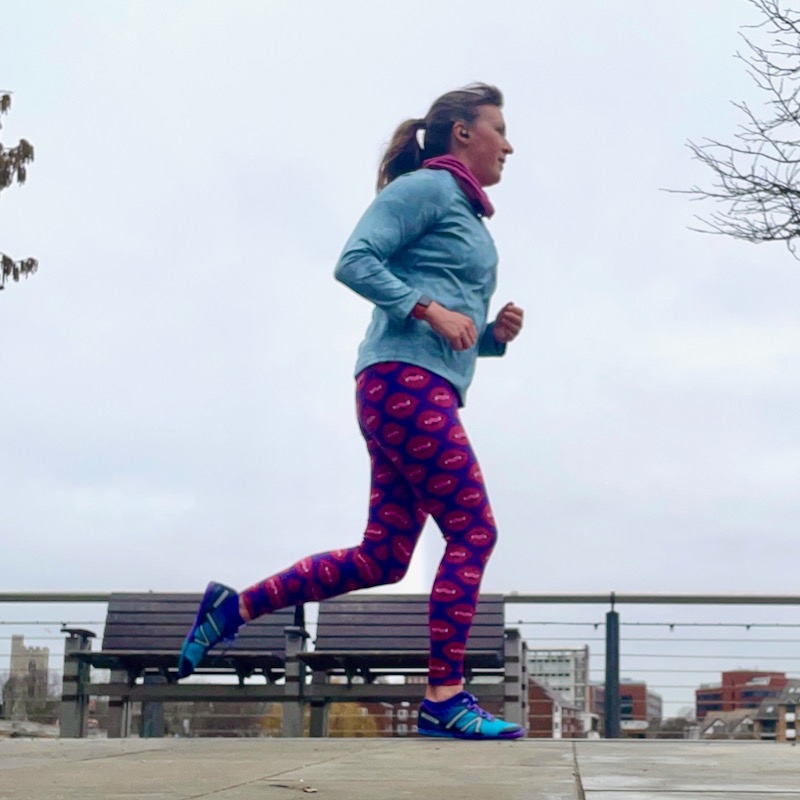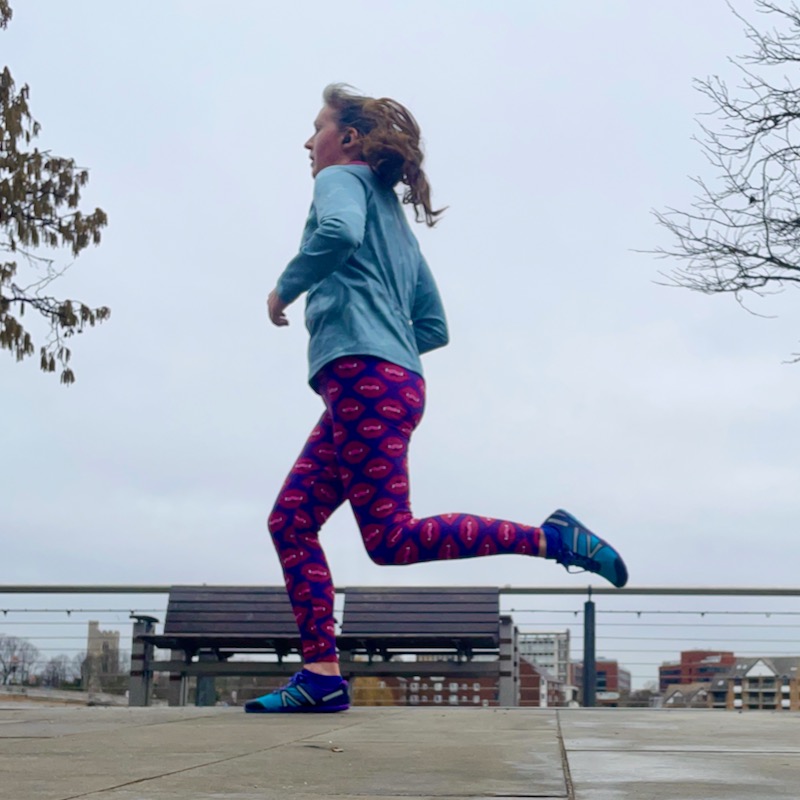 Almost immediately, I cut into the remaining fabric, which was juuuuust enough to cut out a front and back of our Duathlon Shorts pattern. I then had a good rummage in my scraps drawer, and, failing to find any good purple or pinks, settled on black and petrol fabrics for the side panels and pockets.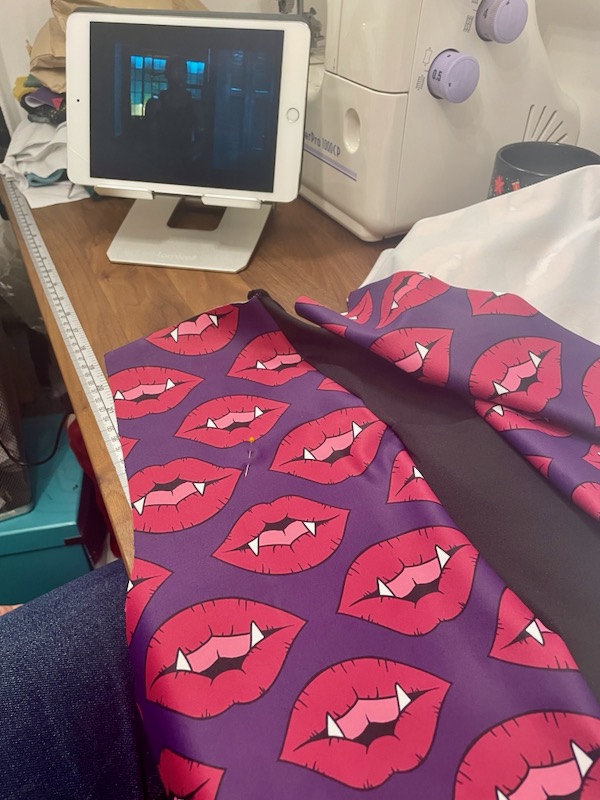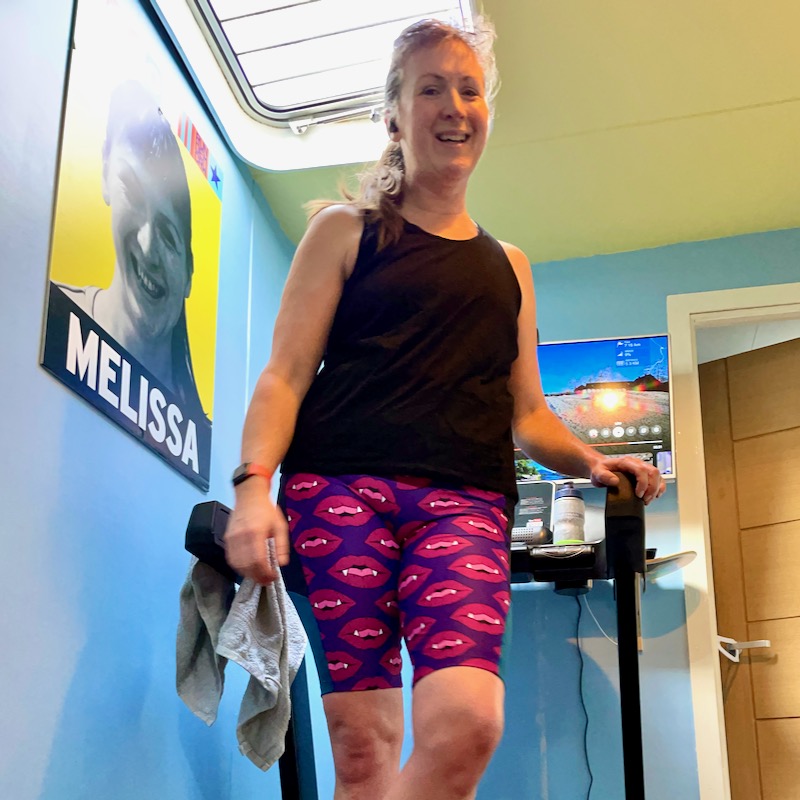 These were a great way to use up the leftover fabric and also meant that I could wear this print all year round, whether that's for indoor treadmill or warmer weather workouts!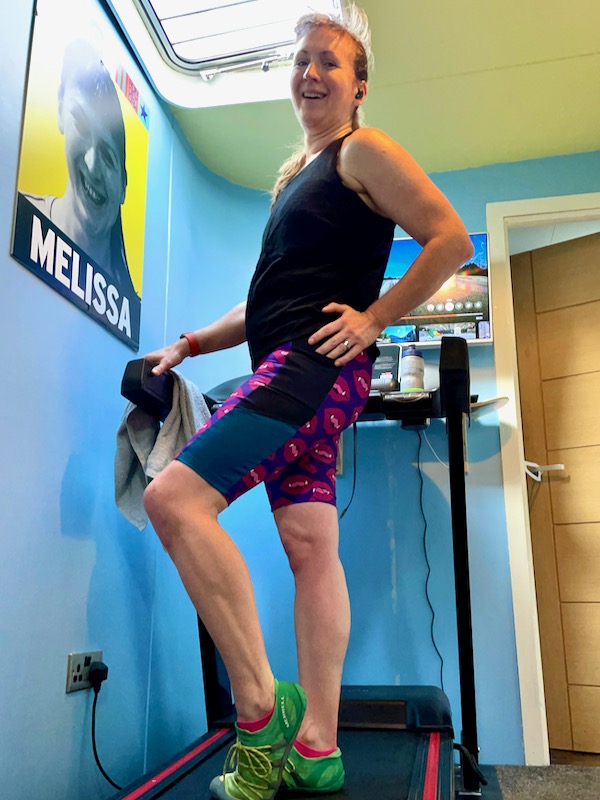 The Olympus base fabric felt very similar to Funkifabrics' existing Titan base fabric, so I requested the data sheet for both so I could compare. I wasn't too far off, but the Olympus is a little bit heavier weight – 295 g/m2 as compared to Titan's 250 g/m2, and with a higher spandex % as a result. The data sheet doesn't say whether it's wicking or UV resistant like the Titan but it's felt really nice throughout my workouts and not overly cloying like I can find some non-wicking fabrics to be. Olympus doesn't look to be an option on their retail site just yet so I'm not sure if it'll be available soon or whether it'll just be for wholesale orders.
This fabric was a great excuse for me to kickstart my activewear sewing again so I'm in a bit of a lingerie kick while I work on the next pattern, so I owe Funkifabrics a big thank you for the opportunity to try out something new!
Disclaimer: Funkifabrics sent me this fabric free of charge, with no obligation to post or write about it. All opinions are my own.