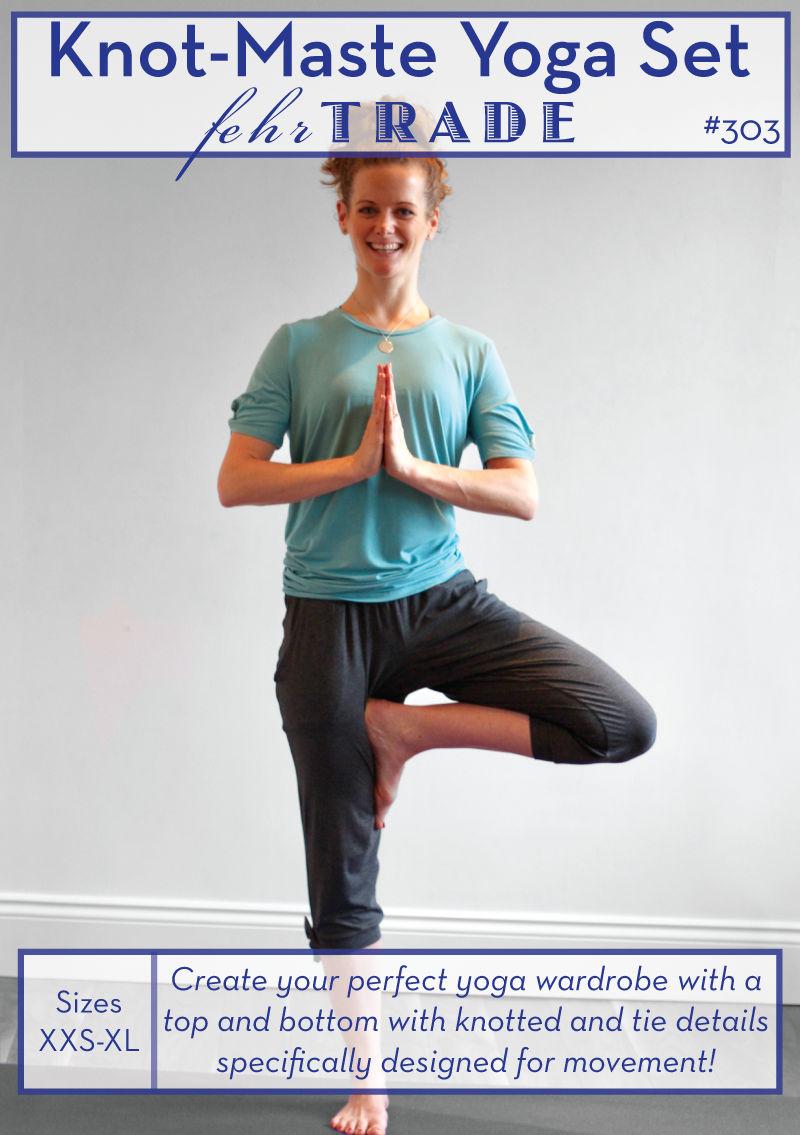 Please welcome our latest sewing pattern and our first designed specifically for yoga and pilates – the Knot-Maste Yoga Set!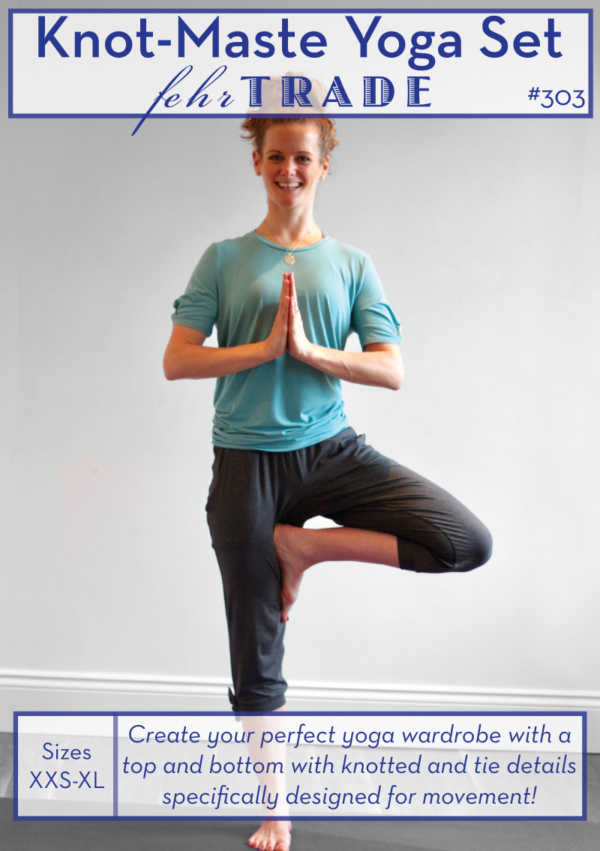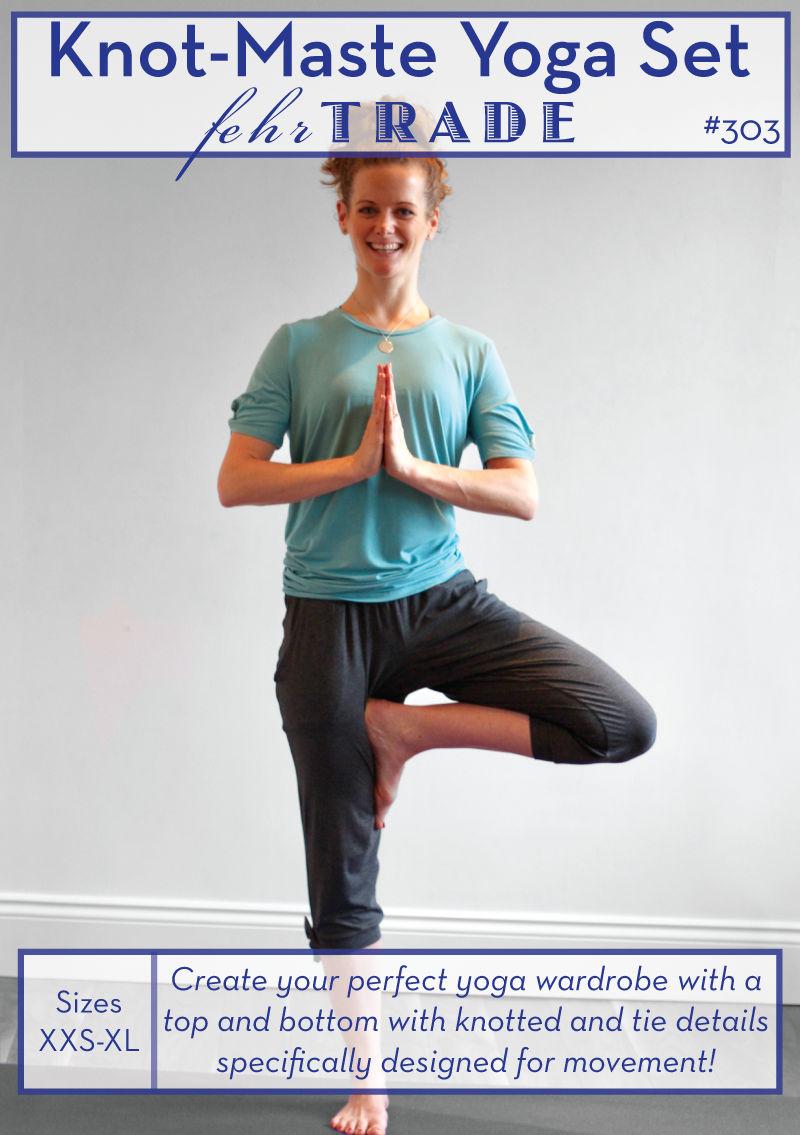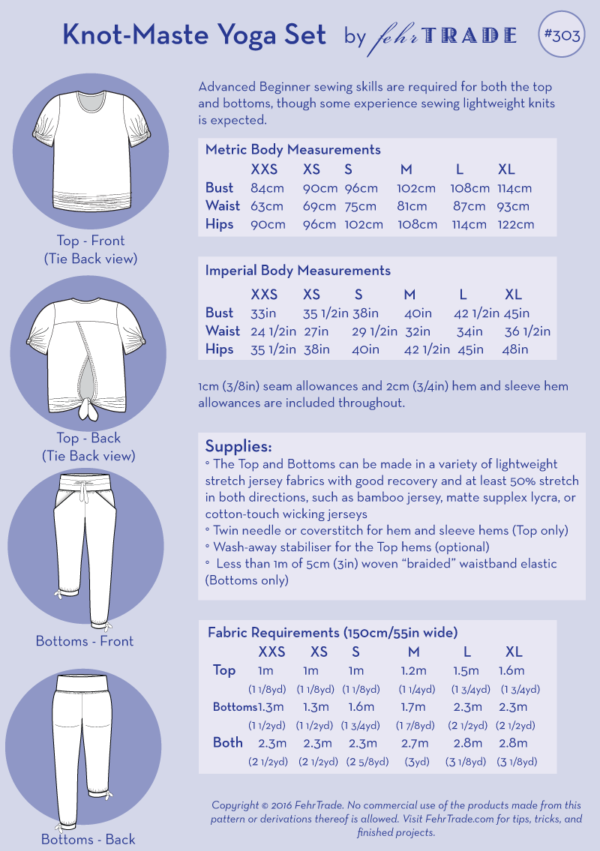 Make your own perfect yoga wardrobe with our Knot-Maste Yoga Set sewing pattern. Start with a loose fitting teeshirt with knot-detail sleeves, upper back yoke, and semi- open back, worn knotted in the back for a tighter fit during exercise or left loose for cooling down. Alternatively, a shorter option features a hem band with knotted side detail. Pair it with comfy bottoms featuring slouchy pockets, crotch gusset, waistband with hidden elastic and optional tie, and a banded or tied hem in capri or full length and you're ready to hit the mats in style!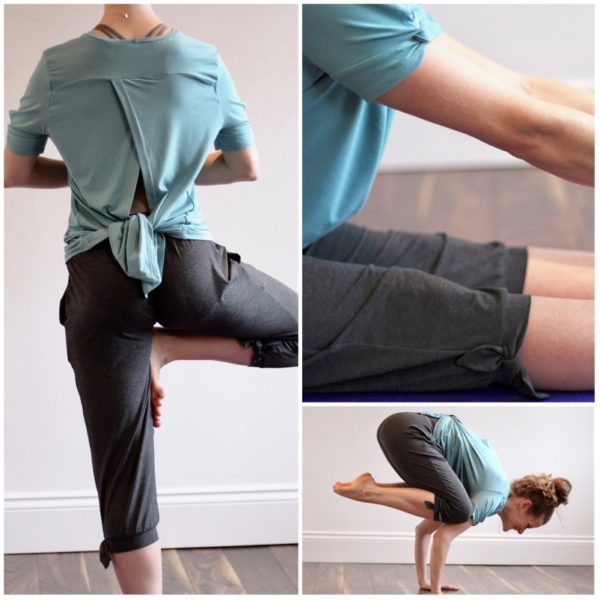 This pattern's in response those who've requested some looser workout clothes specifically for yoga and pilates, but the challenge here is to preserve a wide range of motion while keeping the openings close to the body so that you don't expose everything when you do the upside-down poses!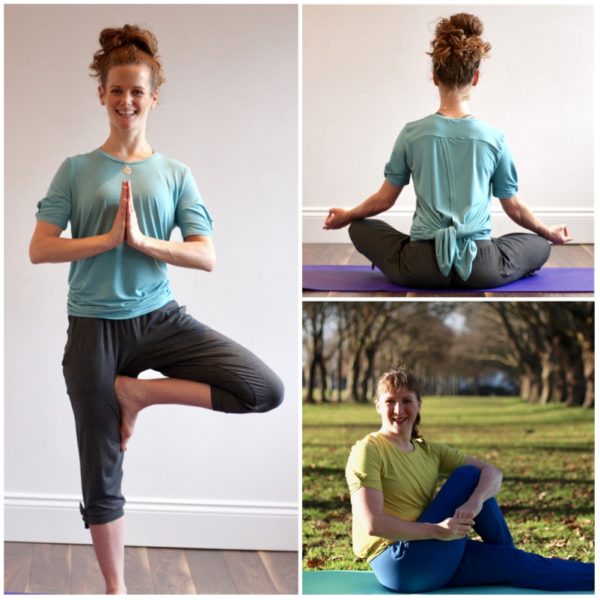 You can wear the Tied-Back view two ways – in the open position (modelled in turquoise by our newest athlete-model, Kate!), which is ideal for traveling to/from your workout, or for the exercise itself, it's intended to be worn with the back hems knotted to keep it close to the body (but it also provides some nice gathers/ruching visual interest in the front when knotted, too). Alternatively, make the Hem Band view (modelling in lime by Melissa) with its knotted side detail to get all the ventilation of an open back without having to do any tying yourself! The bottoms feature a crotch gusset for extended range of motion, fuss-free front pockets and a waistband which conceals wide elastic inside, with or without the decorative waist ties.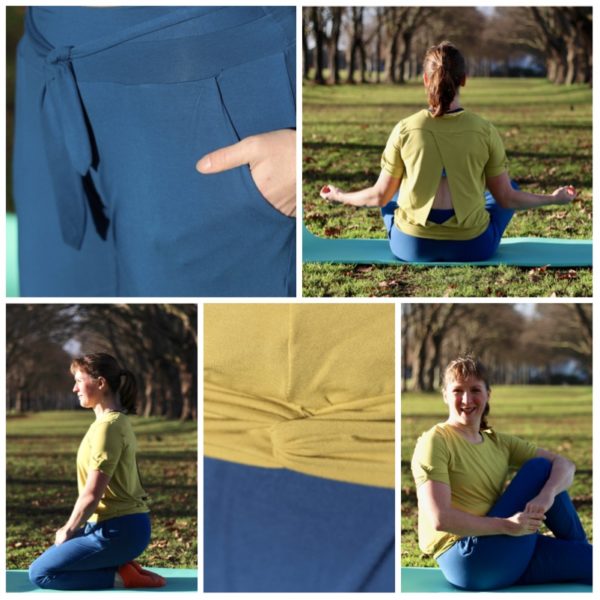 As with all my patterns, the Knot-Maste Yoga Set comes in a full XXS-XL size range, complete with fully illustrated instructions and a "Common Fit Alterations Section" to help you adjust the pattern pieces. It's available in both Print-at-Home (compatible with both US & A4 printers) and Copy Shop versions (sized for A0 and compatible with 36in wide printers found at reprographics shops), and all the pattern files are layered so that you can just print off the size (or sizes) you need. How cool is that?!
And to celebrate the release AND FehrTrade Patterns' third birthday, you can treat yourself to a hefty 20% off all our sewing patterns by using the code NAMASTE at shop.fehrtrade.com til 26 December. Paypal users, take note that you must go quite far through the checkout process before the discount box appears.
[shopify embed_type="product" shop="fehr-trade.myshopify.com" product_handle="knot-maste-yoga-set" show="all"]
I'll be introducing you to Kate later this week, plus I've got some great bamboo jerseys to share which are just perfect for this set!