Give yourself a big round of applause because… team, we made it through another week! I know, I once took this for granted, too, but it really does feel like an accomplishment these days, and this decidedly grey, damp, and cold February weather here in London certainly isn't helping. So I thought I'd talk today about a bunch of little things that have come up recently that make me happy, so that possibly they'll brighten your day a little bit, too.
First up is a bit of news from the world of press (did you see I've started compiling these sort of things over on a new and shiny Press page, btw?), where I'm featured in the latest issue of Women's Running (UK) magazine! Seriously – you can't miss me – as soon as you open the cover, there I am (with my mom!) on the contents page, plus a lovely two page spread inside, too.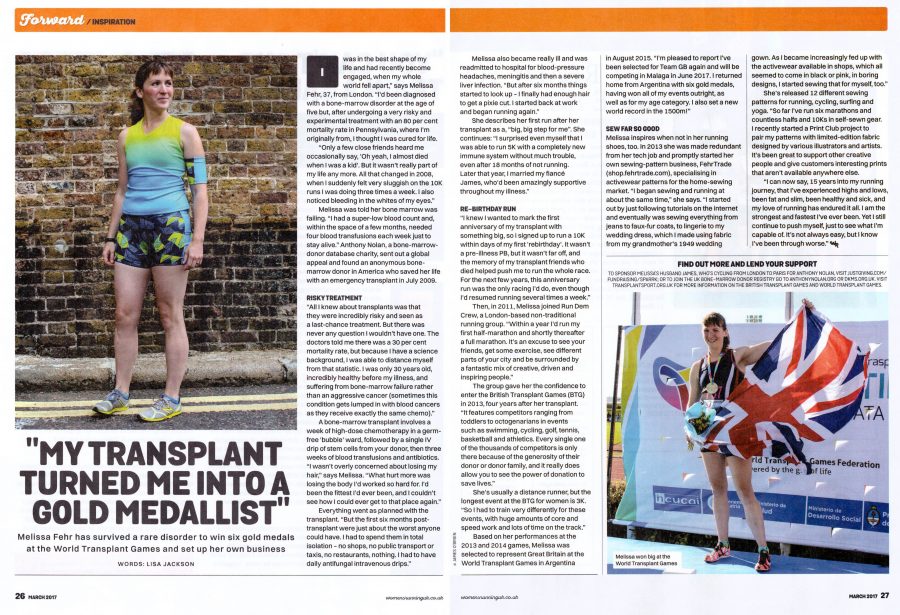 So a big welcome to all of you who've joined us off the back of the article!
The second bit of lovely press coverage of late is that our latest (and incredibly popular!) Knot-Maste Yoga Set pattern is featured in the current issue of Love Sewing magazine! I've got some excellent company there, too, what with Joost from Make My Pattern appearing on the opposite page…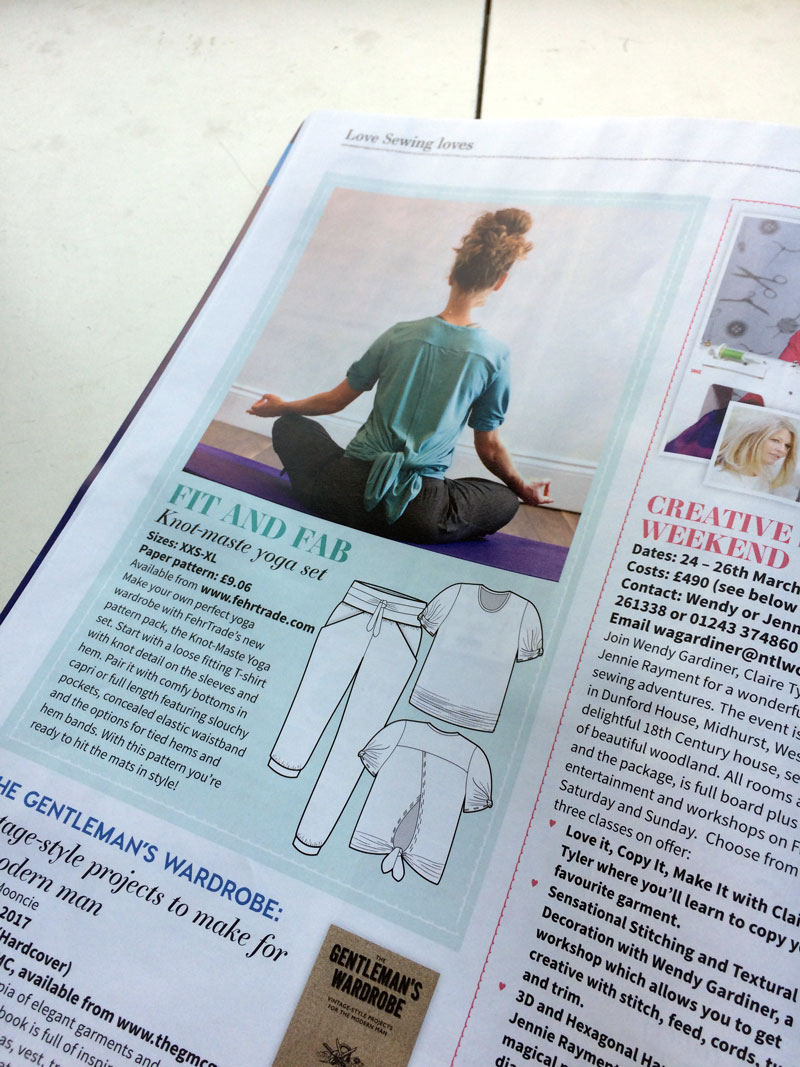 Remember when I visited Alvanon's fit studio at the start of the year? Well, it's all been part of a push I've been doing to improve the fit of my blocks so that future patterns will hopefully fit you guys with fewer alterations on your end. As wonderfully helpful as the scientifically accurate mannequins are (and they ARE! I'm back next week for a second fitting!), there does come a point in an activewear designer's life where she really just needs to test them on the road.
So I sewed up the top block in some red ex-UA Cold Gear fabric (a very appreciated gift from Cidell!), adding a double-height neckband and the hand mitts from my Surf to Summit Top pattern to make it really warm for winter running (as well as the original rationale to test how the fit changes move!).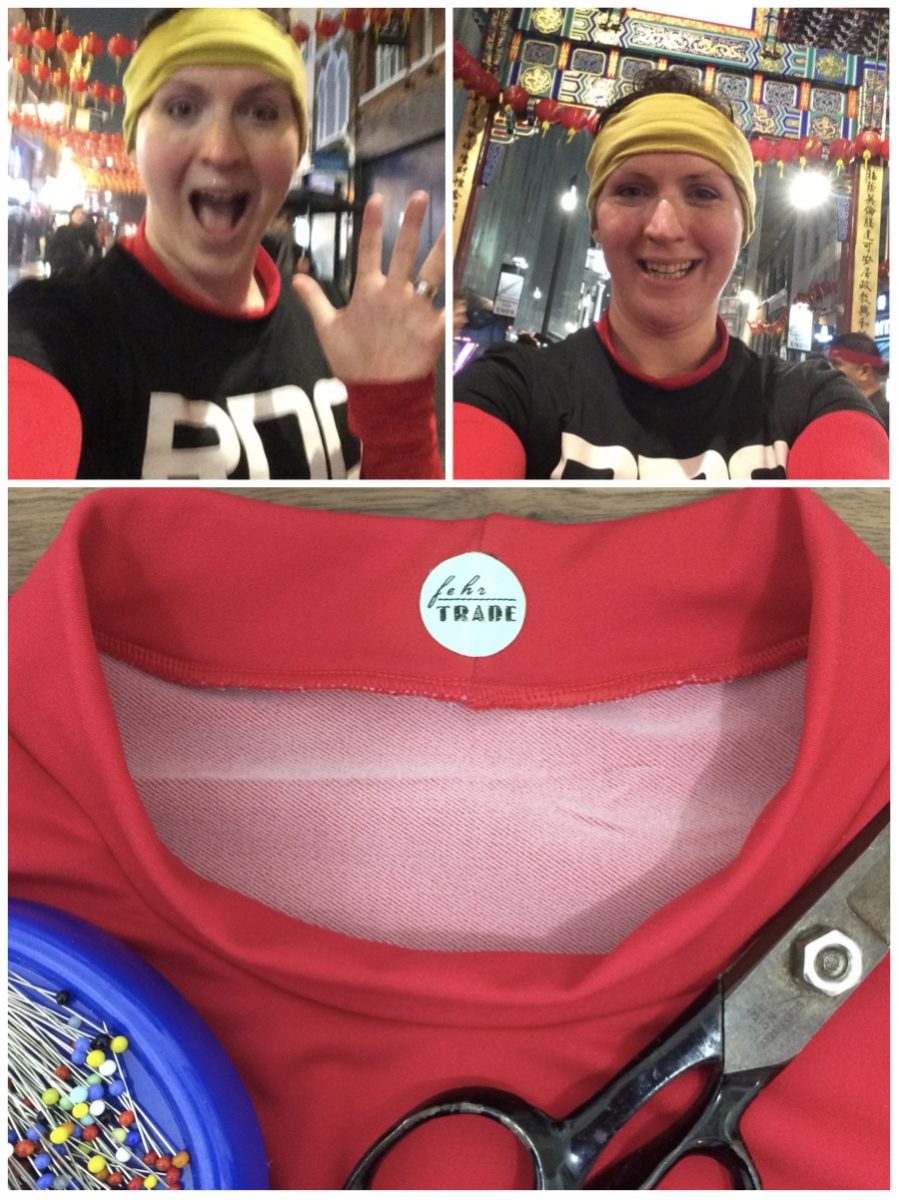 Little did I know that, by deciding to wear it to Run dem Crew the same day I sewed it up, that it was going to absolutely CHUCK it down. Think freezing cold monsoon! But it did give me an accurate test on our run out to Chinatown and back to celebrate Chinese New Year, even if I didn't get any decent photos of it!
I decided to test the improved leggings block a little differently, though, by cutting into some matte lycra from Tia Knight I'd bought last summer. The colour wasn't quite what I was expecting, but "Tarragon Glory" (pffff!) has grown on me since then, so I made these up for casualwear, and I like how it pairs with the muted blue of my Talvikki sweatshirt.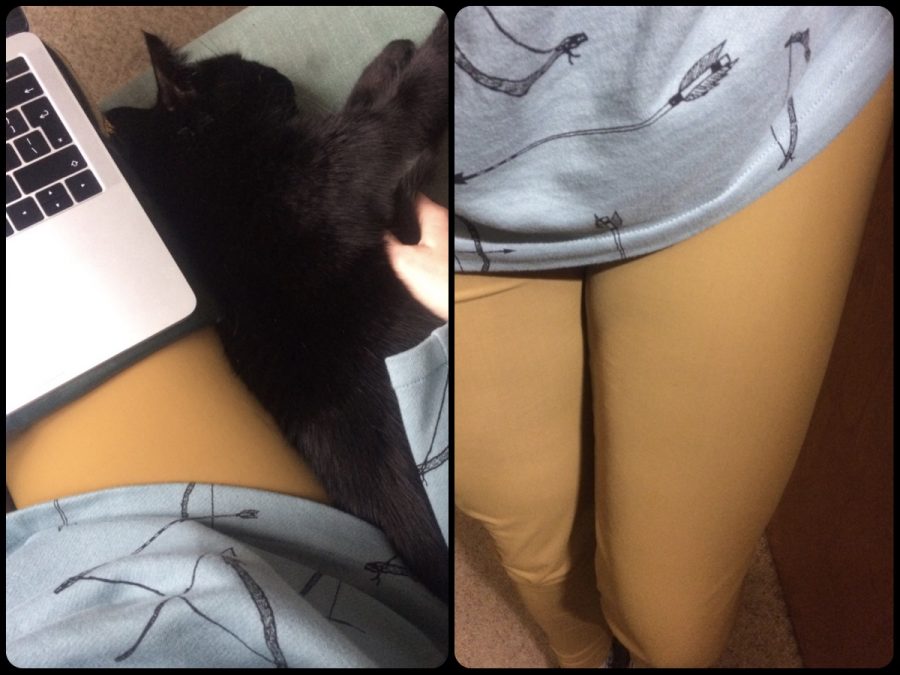 I'm glad I tested it in some "no pressure" fabric, too, because these are still a little loose around the knees and ankles for my liking, so I'll add that to the list of my own personal changes from my blocks. But they're a great, comfortable option for lounging/working round the boat with Nishi, and in a pinch I could take them out for a spin, too.
But onto the next goodie – I kinda feel like I'm behind the times a little bit here, but when did Contrado add so many freaking base fabrics to their offering?? I mean, seriously – 98 base fabrics?! When I last looked at them (back in 2014, according to the selvedge on my samples, when they were still selling under the "Bags of Love" name), they really only had one matte lycra and an air-tex (similar to Dr-fit but softer and a tad thicker) that were suitable for activewear…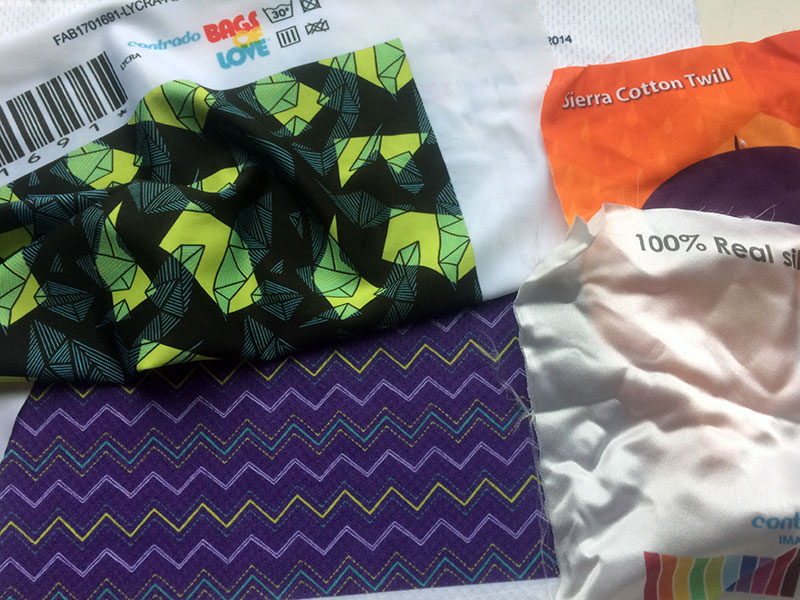 But when I look now, I see they've got not just the "Air Flow" Dri-Fit-a-like, but also "G-Mesh" (think basketball shorts), softshell jersey (for making jackets and outerwear), like four different types of matte lycra including a "Heavy lycra matte" I'm very keen to try, power mesh(!!), and even a breathable waterproof fabric! And that's not even counting all the french terry and sweatshirtings that may or may not be suitable for activewear (my only bugbear is that I can't see the fibre count listed on their site so can't tell if they've got cotton included…).
In any case, I've got a full sample pack on the way so I can assess the stretch and fibre properties, so watch this space!
And if you're not overstimulated enough by that last goodie, well then this one might send you over the edge – check out this amazing box of Prym goodies that turned up yesterday!!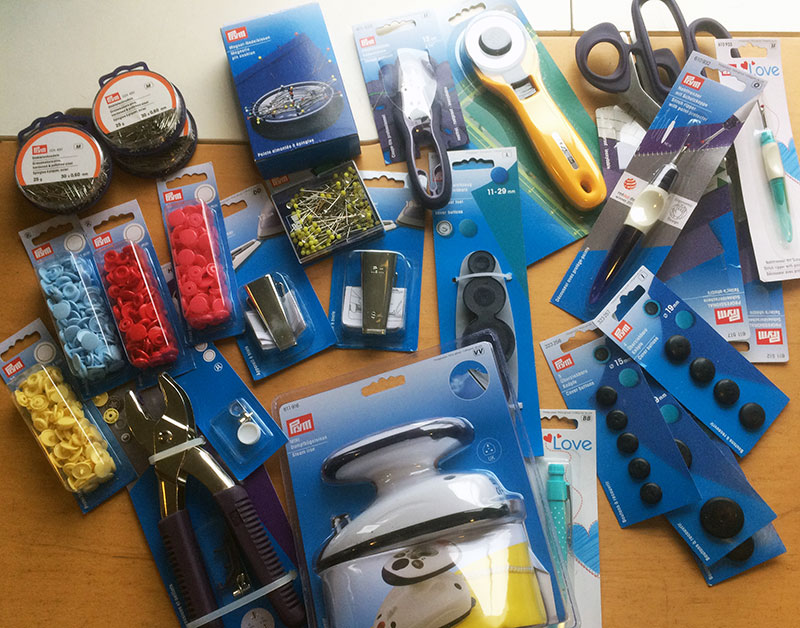 I'm so excited try to a bunch of these habby bits I've only seen in the shops before, like the multicoloured plastic snaps and the fabulous selection of ergonomic tools, but I think that tiny iron is going to be the real star here! Normally when I press, I pull my ironing board into my little sewing cave with me, which doesn't leave much room for anything else, if I'm honest. But the tiny iron means I can just do a small amount of pressing or fusing against a towel on my work bench without having to drag out the full ironing board, which is going to be so nice!
Not only that, but I've also got the opportunity to try some more products from Prym's ridiculously huge range, so if you've got a favourite, please let me know! I saw Claire posting about Wonder Tape recently – has anyone tried it for stabilising activewear seams for topstitching, for instance? Anything else I should try?
Speaking of activewear, I just wanted to share a shot of my latest batch of Running armband pockets! You can make one of your own with my free pattern, or if you're me, you could go utterly crazy in your lycra scraps drawer and make a ton for fundraising purposes (if you would like to make these for fundraising, please get permission from me first!).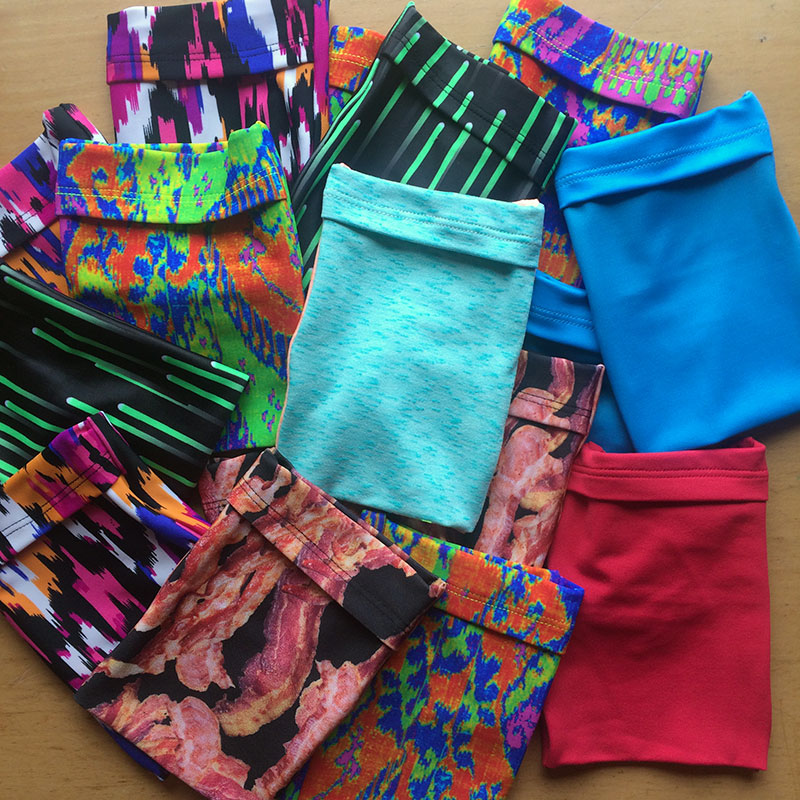 My running friends all go crazy for these, as they're super useful for holding your phone or keys while you run, and they're often asking me when I'm going to be making more! I don't expect this batch to stick around soon, and hopefully it'll help with my fundraising to get to the World Transplant Games in Malaga, Spain later this summer. I need all the help I can get, because the Team GB hotel ain't cheap, and then there's the flights, meals, competition insurance, kit, training days, etc etc. So if you'd like to help me out, you can donate here.
And finally, this one just made me laugh!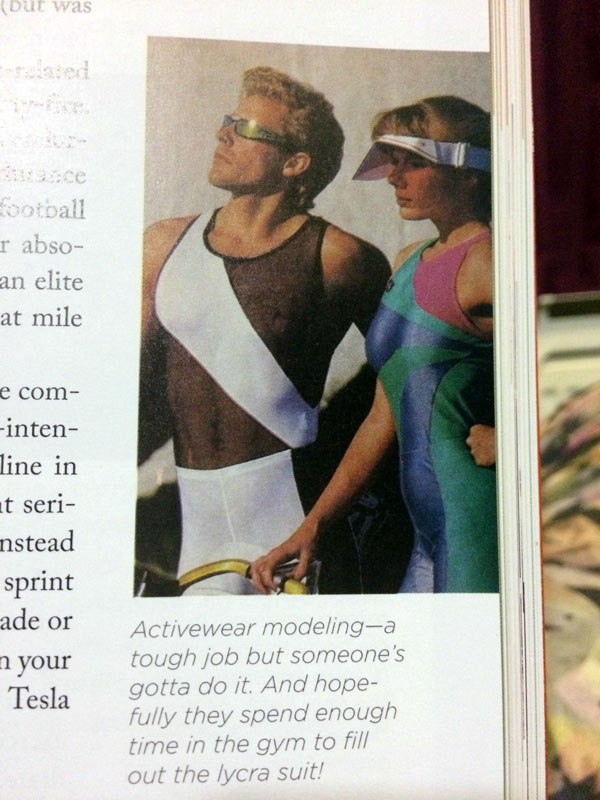 It's from the Primal Endurance book I'm reading at the moment. We've come a long way from shiny 80s lycra (though I do kinda like her seamlines!).