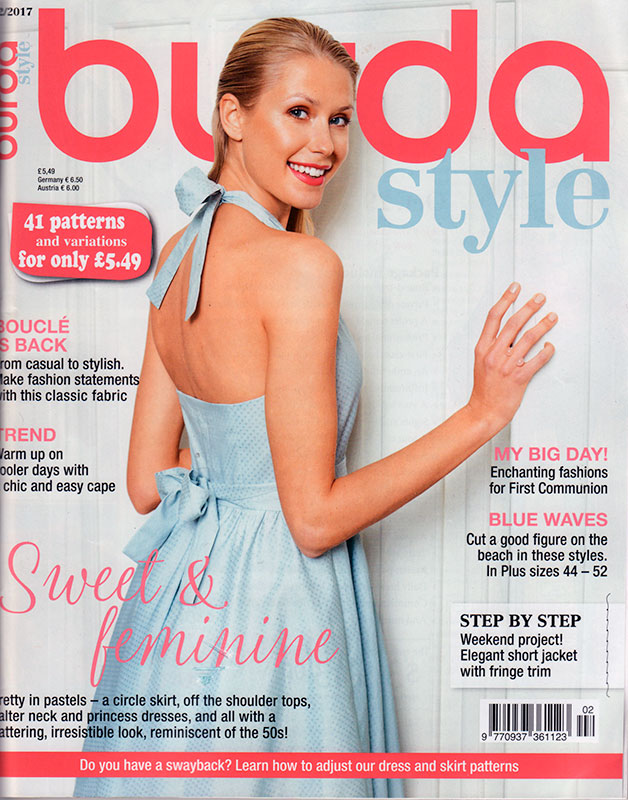 Don't believe what the cover says – there is no swayback adjustment information inside the English edition. 😣 This should've been a sign, really, as this issue is a big thumbs down for me, both in terms of patterns and content. There doesn't seem to be much cohesion in the styles (shorts and summer dresses one page and long sleeved dresses the next) and absolutely nothing that screams "Make me!" to me. But I did manage to pull out a few that may be of interest to others amongst the drab…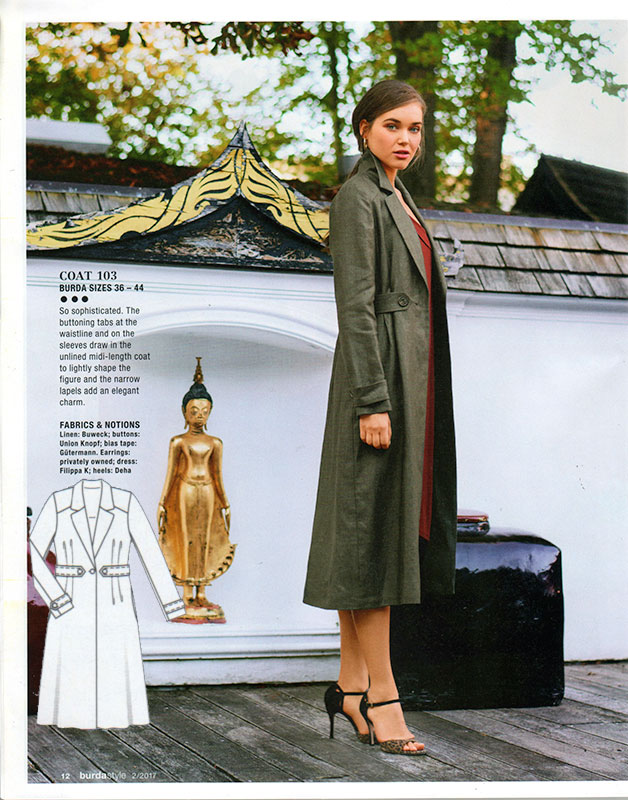 From the first feature, otherwise entirely full of unflattering hippie styles, shines forth this long coat. At first glance I thought it might be a trench coat but on closer inspection it looks a lot more versatile than that. The attached belt and darts bring nice waist definition, and it'd be easy to add a lining, too.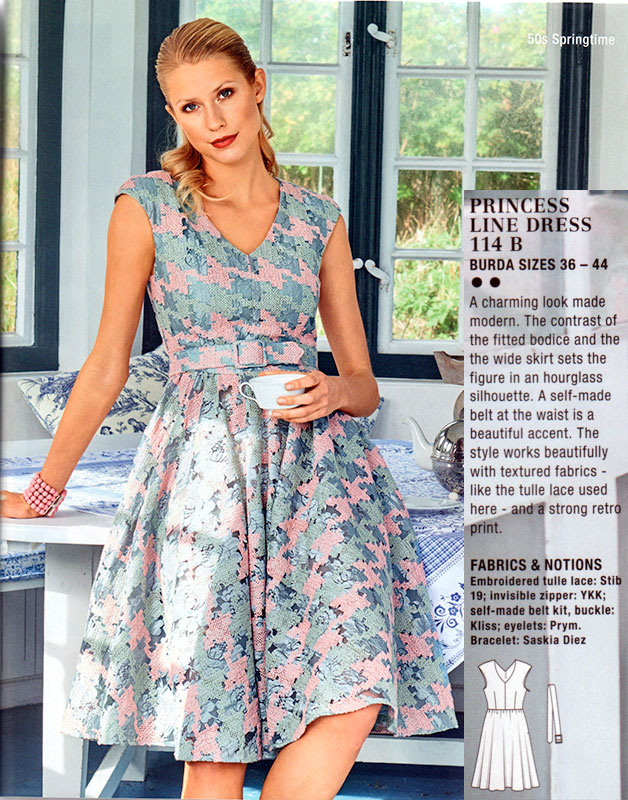 I think I was mostly drawn to the amazing embroidered lace fabric in this dress which is otherwise just a dirndl, let's be realistic here. And IMHO it was really lazy of Burda to not even include the skirt pieces – you've got to draft those yourself! So as far as the bodice goes (the only part we get a pattern for), it's quite a nice shape, but certainly not original, even for Burda.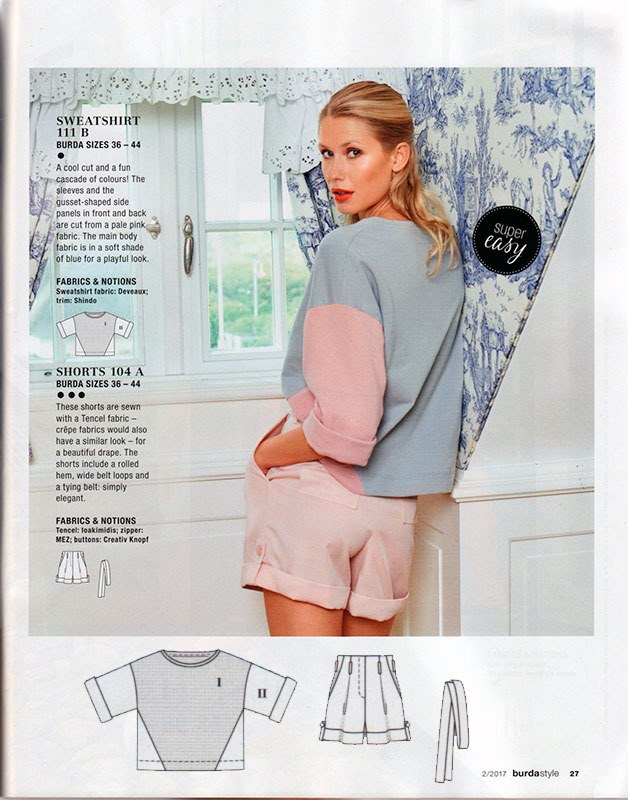 Again, I feel like we've seen all manner of boxy sweatshirts before, but I pulled this one out because at least they've eliminated the side seams when they've made the angled front and back seaming – there's a triangular side panel there instead. The shorts are just okay I guess – I'm not really much of a shorts person though I've warmed to them a bit more in recent years. But after living with nonstop freezing rain for the past month I'm not really in the right mindset to even think about shorts right now…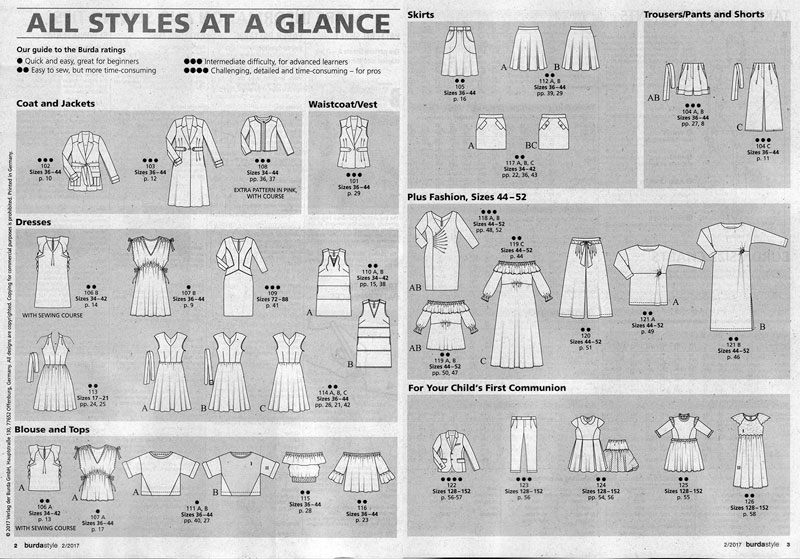 I know Burda have been steadily cutting back on the number of patterns they include over the past few months but they could've at least designed the At A Glance page so that the designs weren't spread so far apart! This just came as a shock, and made me feel quite sad, especially since quite a few of the designs don't even have all the pieces included, like the 1950s dress. I mean, skirt no112 doesn't even have a single pattern piece, just drafting instructions for a circle skirt and rectangular waistband! 😒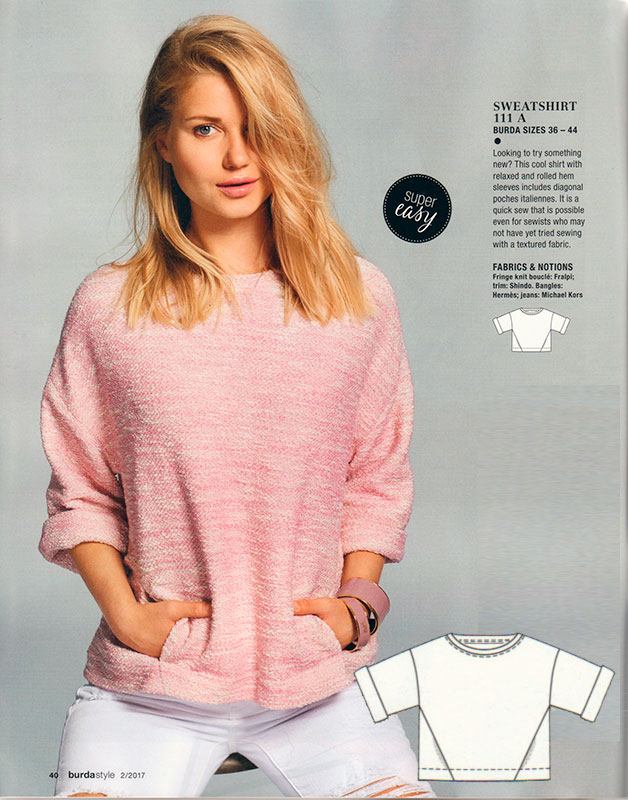 Here's the boxy sweatshirt again, sewn up in a bouclé as an alternative to "that designer jacket" (a clone of which is also included in this issue, but YAWN). But it was worth showing it again because this version has a kangaroo pocket included in those front seams! Which I think ups it's value immensely…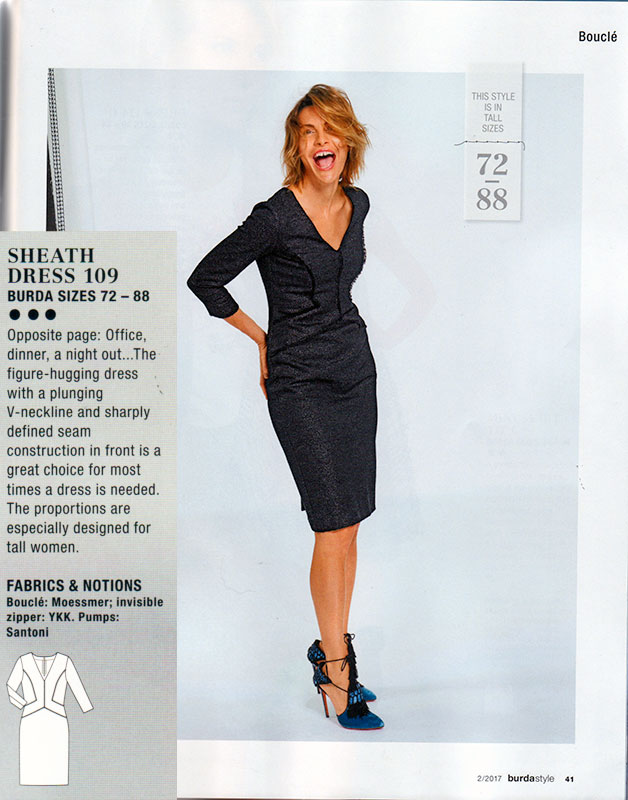 The Tall pattern this month is a long sleeved sheath dress with some great angled body seaming. The Petite pattern is the very summery halter dress seen on the cover, in case you were wondering!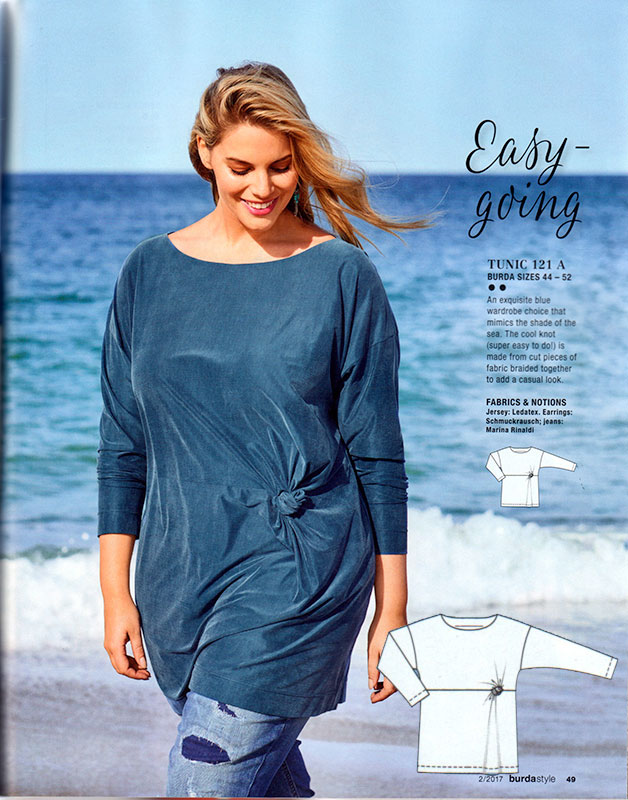 And finally, in the boring Plus section the only standout was this knotted top (and a dress version), which I swear I've seen in Pattern Magic at some point but at least is something different.
I've seen some sneak previews for the March edition and thankfully it's a lot less boring than February. I guess I'll just have to console myself with my boxes and boxes of archive Burda magazines until it hits my mailbox!