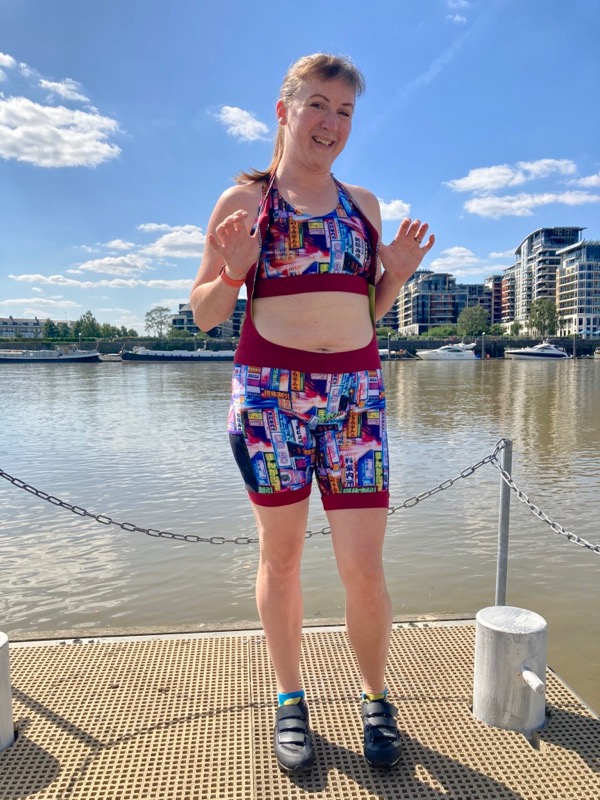 You heard all about my three-piece cycling set as a whole yesterday, but today I want to talk specifically about the bib shorts that I wore to ride up the virtual Mont Ventoux on Saturday.
For these I used our very own Rouleur Leggings pattern using the shorts option and the bib waist treatment (so essentially it's View B). I wanted the Tokyo-inspired print from Funkifabrics (on their Life Recycled base fabric) to be the star of the shorts here so I used that for most of the pattern pieces, but I used the Discovery Fabrics' Yoga Stretch in "Rust Berry" for the leg band and the bib for a nice bit of contrast.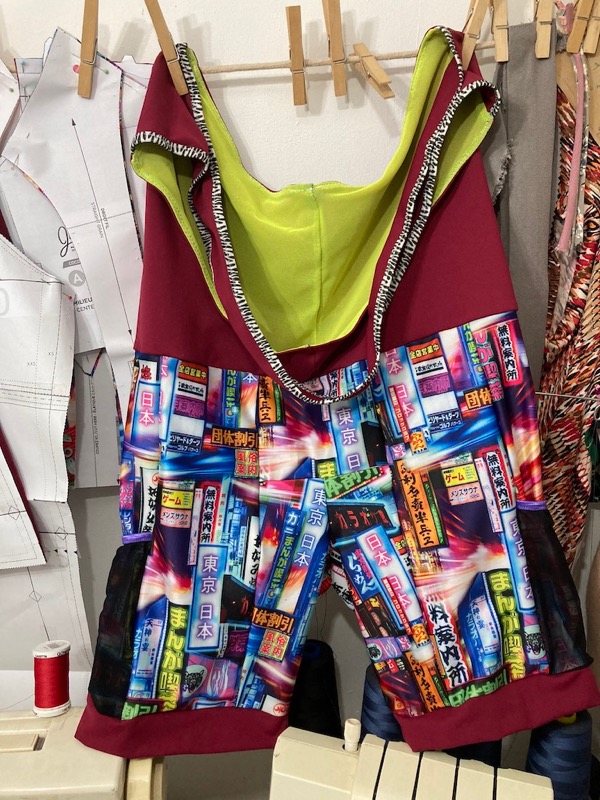 Of the three pieces in the set, I actually sewed up these shorts first, but they ended up being the last to be finished, as the chamois pad takes a bit of basting and trial and error (and then needed a trip through the washing machine after my test ride before I could zigzag it in permanently!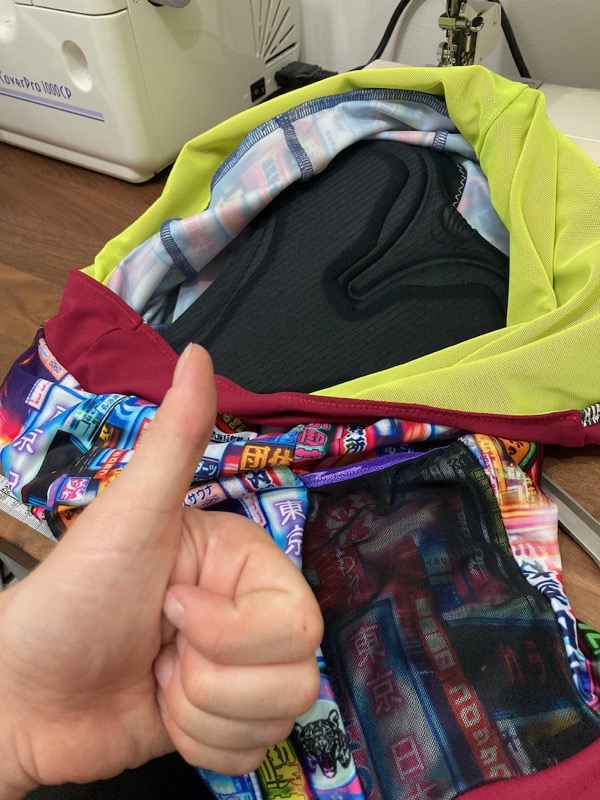 I thought I would use this opportunity to test the theory of women wearing men's chamois pads. I know that men cannot comfortably wear women's pads as their anatomy requires the channel down the centre, but no one could definitively tell me whether the reverse would work or not. So since I had a few men's pads on hand, I thought I'd try it out. I should've known from the start it was a bad idea because it was almost impossible to baste into the shorts! Basting a pad in is always a little tricky, but this was 100 times worse than the women's pads!
I actually still don't know whether it's comfortable or not to wear a men's pad as the one I tried was way too big and uncomfortable (which is why it was so difficult to baste in place). After trying it on and immediately thinking "NOPE!" I switched to the Century Endurance pad from Aerotech in my stash which was both way easier to baste in AND far more comfortable. Even so, I still took it for a test ride before zizagging it in permanently!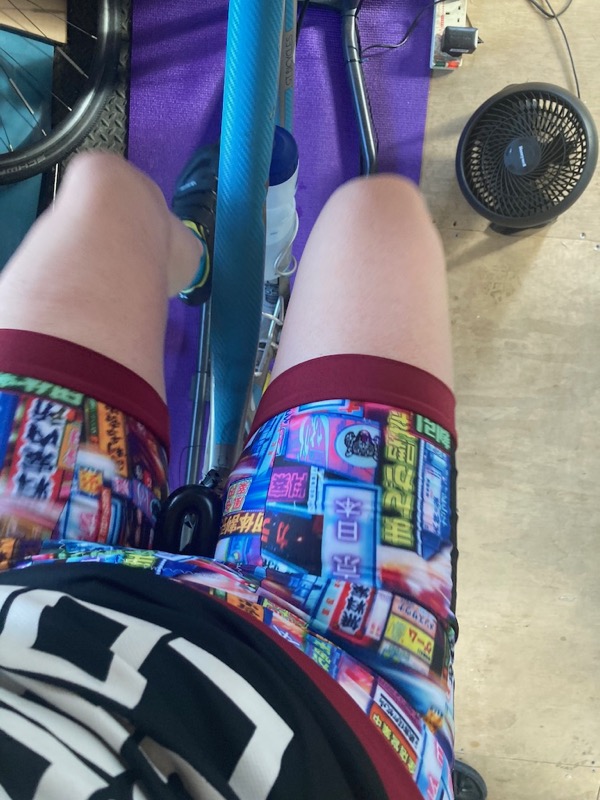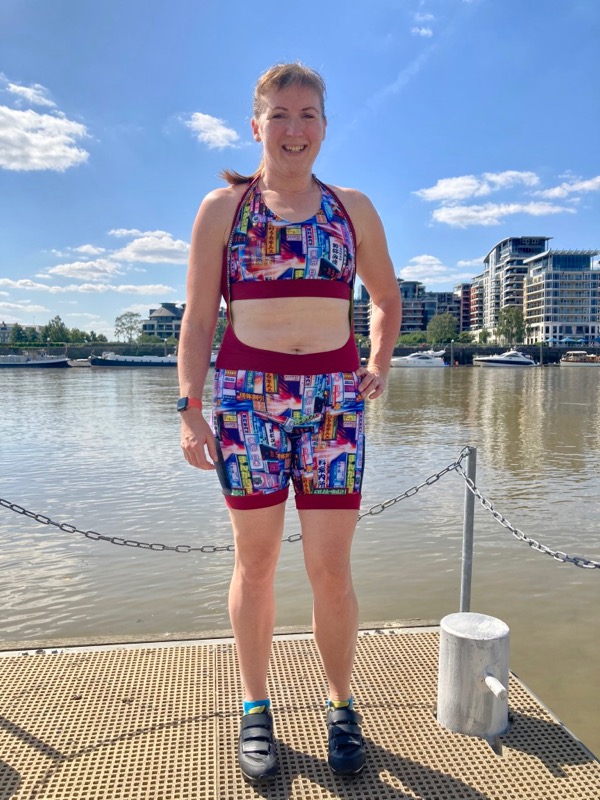 If you're unfamiliar with the Rouleur Leggings pattern, you might be confused as to why it features a halter-style bib rather than the more common-in-RTW Y-back bib – it really comes down to two words – toilet ease!
Honestly, the halter bib is a revelation – you can take it on and off underneath your jersey and/or jacket without having to take them off, so when you get to a grotty toilet stop (or heaven forbid, a bush!), you don't have to fully expose yourself or risk dropping things on the floor just to answer the call of nature.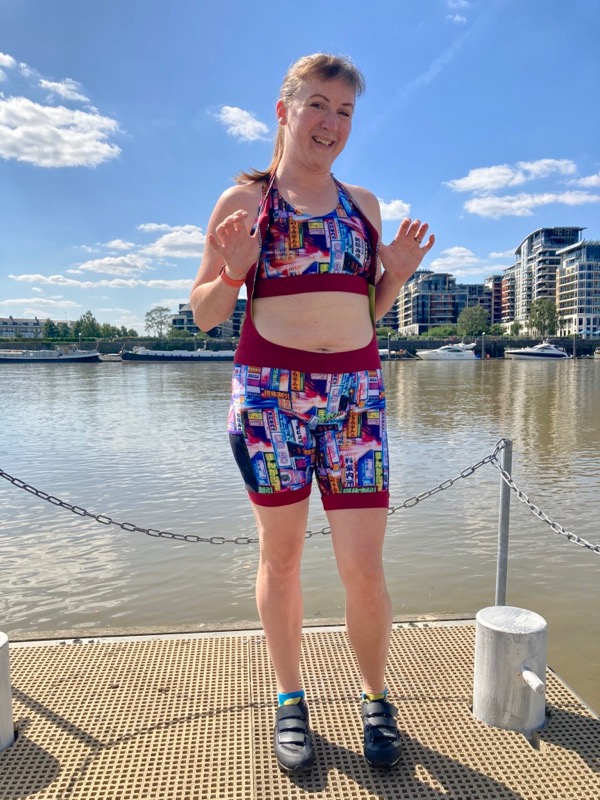 The upper bib is mostly hidden under jersey (apart from possbly a peek at the back neck!) so
I thought it'd be fun to use some of my zebra-print FOE here – as if these shorts weren't loud enough already!!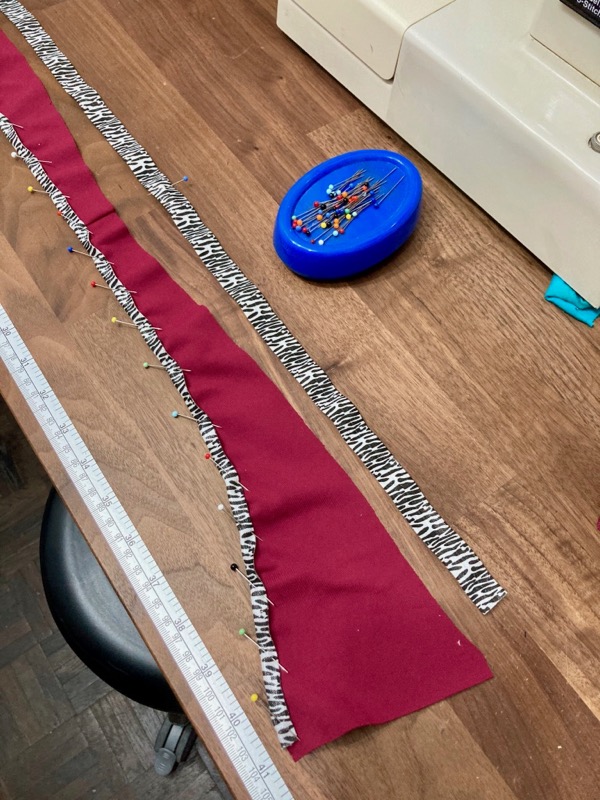 I love the high back on these – you will definitely not be showing any bum when you're in the saddle!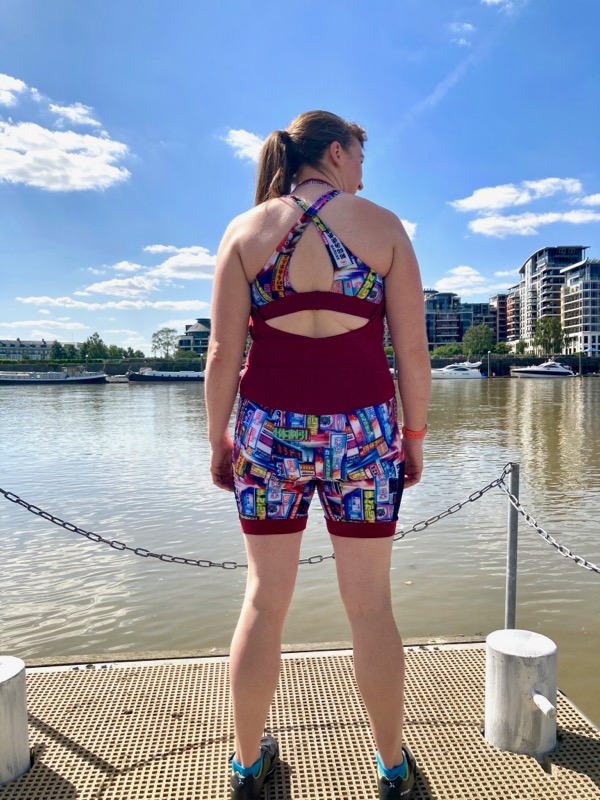 You can see I had fun with the bright mesh colours in my stash! Here the mesh is used as a lightweight lining on this pattern rather than for support so you can really play around. No one will ever see the gaudy fluorescent yellow here but me!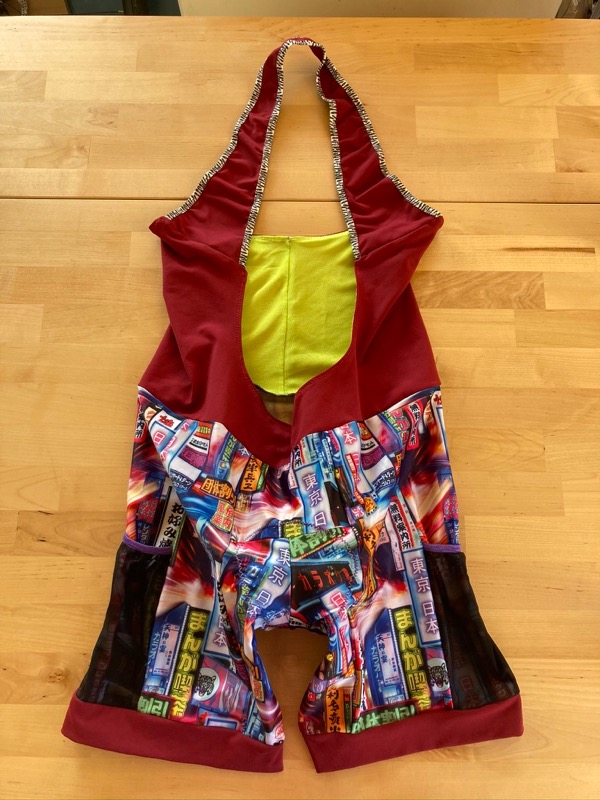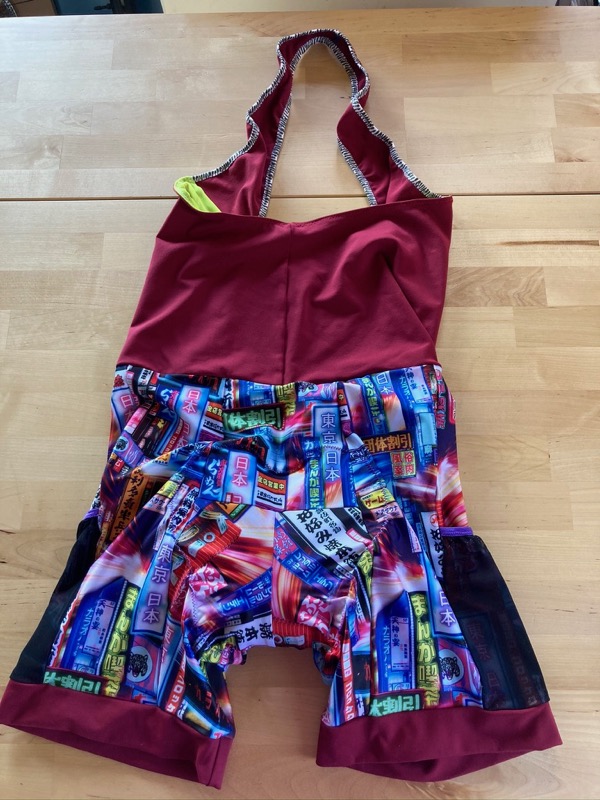 Here you can see the seaming on these Rouleur Shorts better – there's no inseam on these to rub against your saddle, either!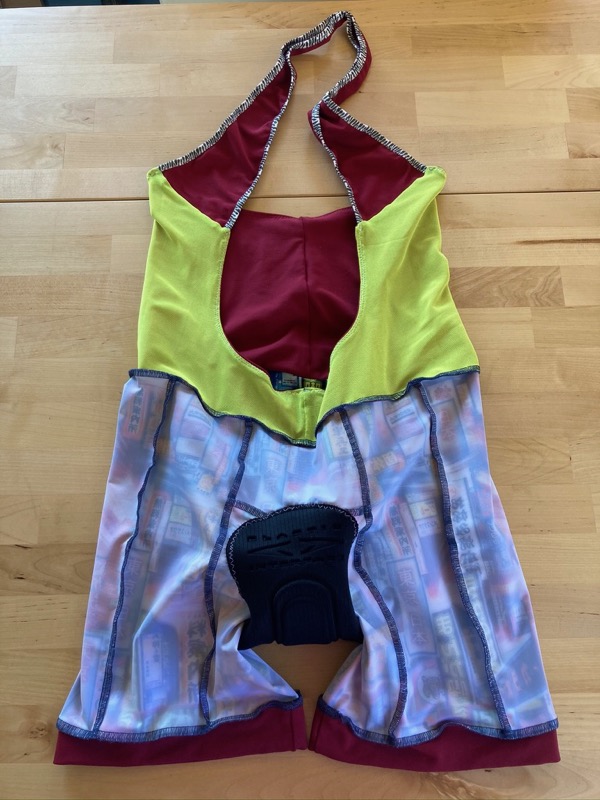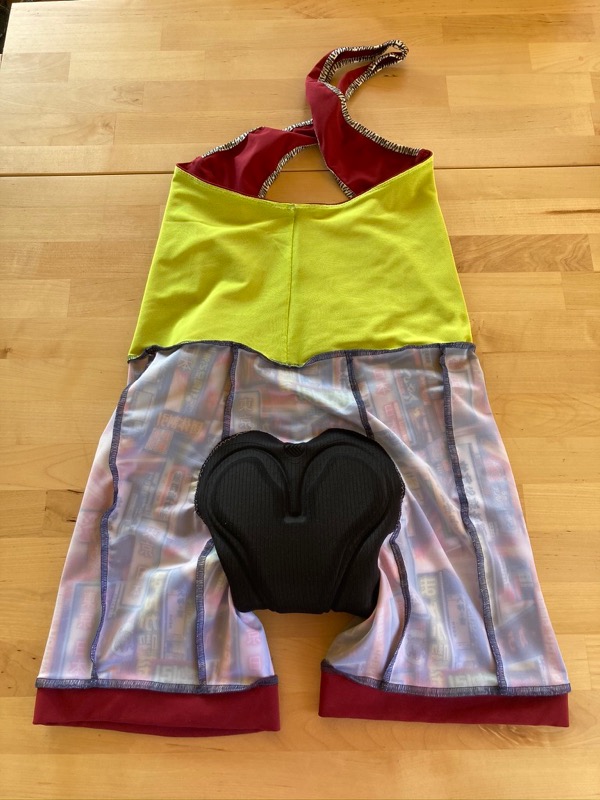 The cargo pocket can store a surprising amount of stuff as it stretches to expand, and again I used some black stretch mesh from Tia Knight and leftover purple FOE from my stash.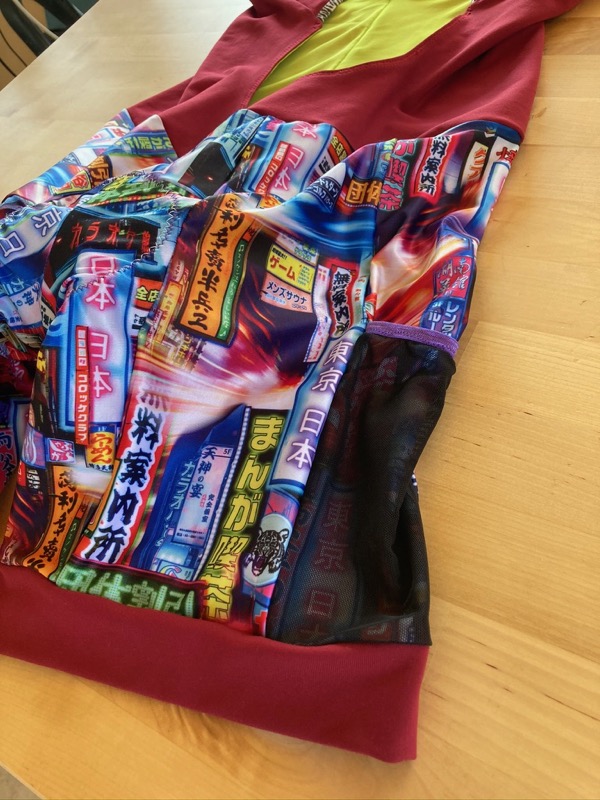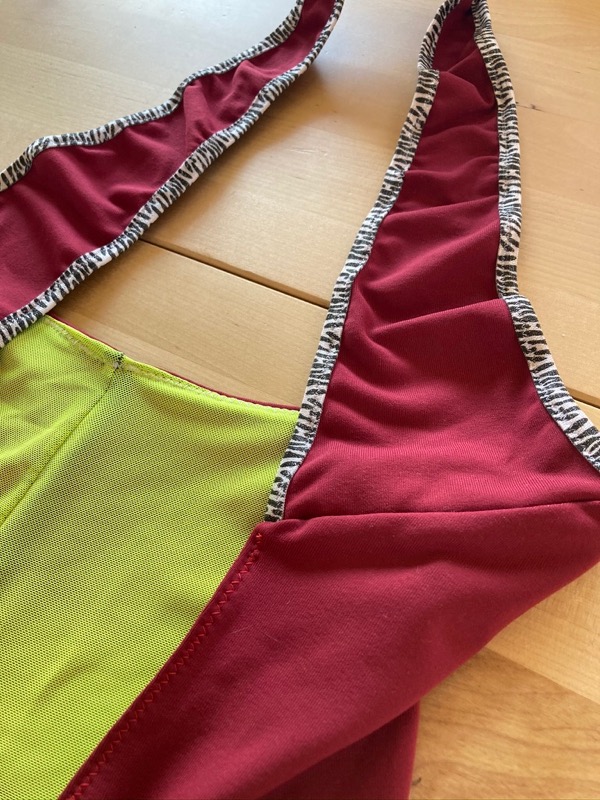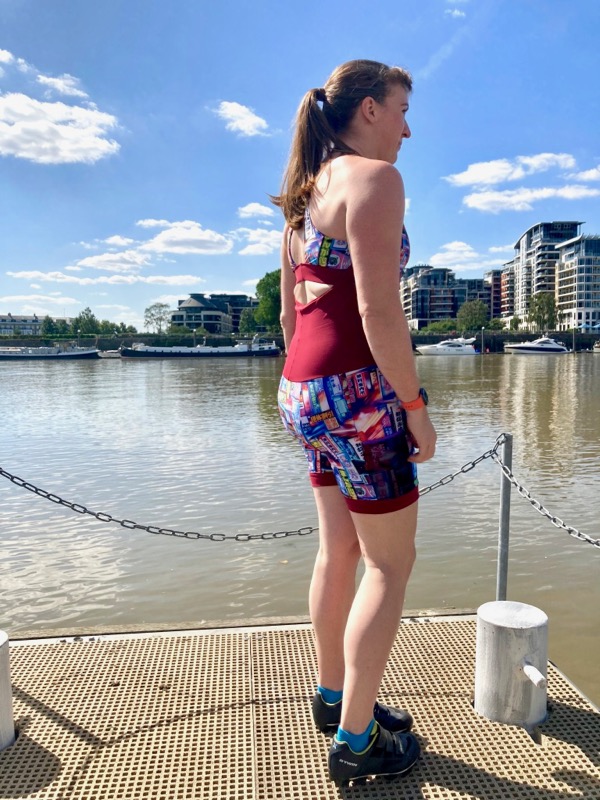 These were such a dream to wear on my big ride – really comfortable at the waist, no movement whatsoever on the leg bands as I rode, and it was easy to grab my phone from the leg pocket and jam it back in again without breaking my stride.
If you're not a cyclist, though, the Rouleur Leggings pattern also has options for a wide waistband instead of the halter bib, and different pocket options and leg lengths so they're super versatile for running or strength training days, too!
If you missed any of the other posts on this Tokyo-inspired cycling set, you can go back and read them here: