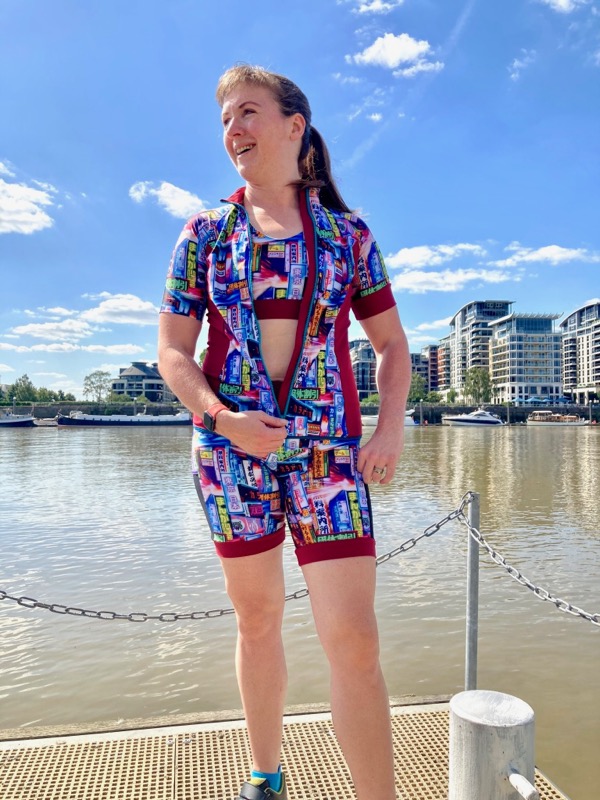 Strap in, because this is going to be one EPIC ride! No, seriously – not just what I did on the bike, but also in the sewing of this set, which will be spread over the course of five posts, because, well, I've got a lot to say and a lot of details to share and I want to give this all the space it deserves to breathe and inspire.
This all started life back in February, when Funkifabrics got in touch to see if I'd be interested in sewing something up from one of their fabric designs in their Japan collection with the intention of tying in with the Tokyo Olympics. Did I!? It's no secret that I love Funkifabrics, and I selected this Tokyo-inspired nightlife print which I chose to have printed on their Life Recycled base fabric (because I'm trying to buy sustainable or recycled fabrics as much as I can!). I didn't really have a project in mind when it arrived, but a lockdown took hold, the Olympics got postponed, and I started to have to do all my exercise at home on our new treadmill and turbo-trainer, so I found myself creating my own events.
My online cycling place, Zwift, announced plans to host the first ever virtual Tour de France, with recreations of famous parts of the course in-game, and with that I knew I would make myself another three-piece cycling set similar to the rainbow one I made to cycle RideLondon 100 last summer.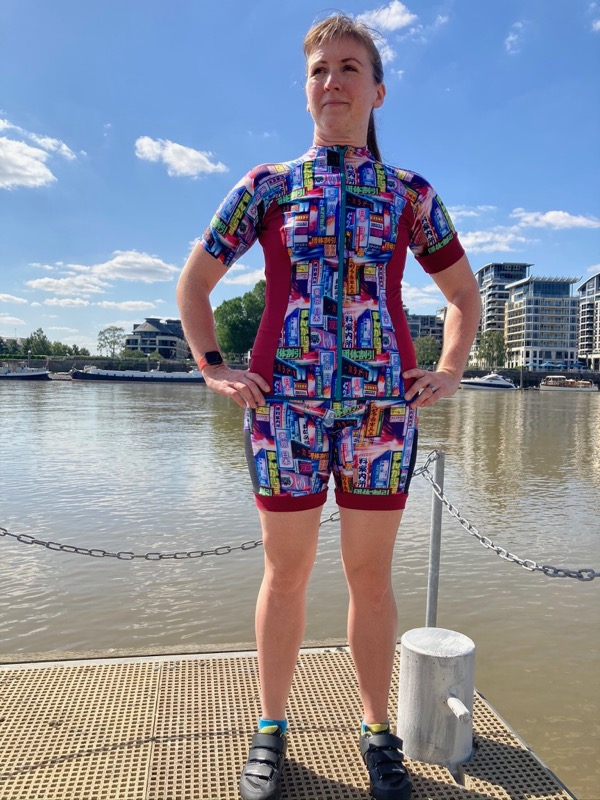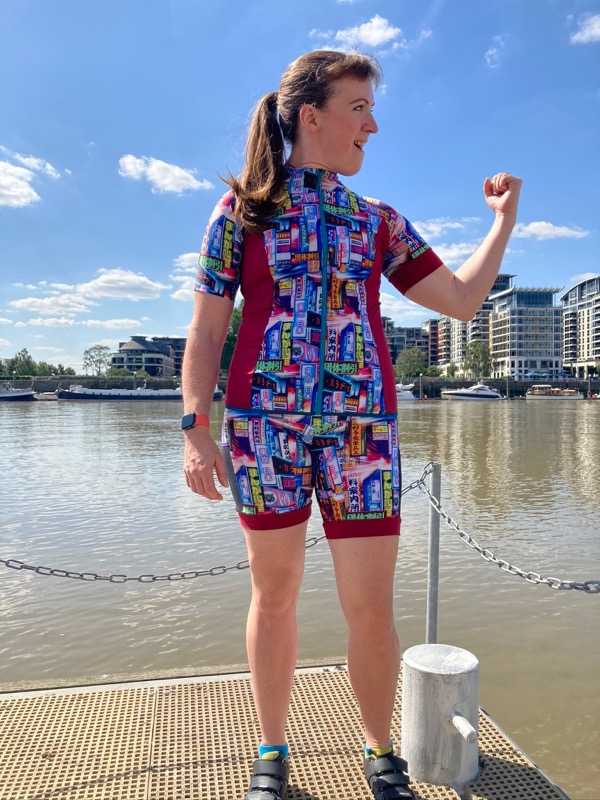 The patterns this time around are similar to my last set (if it ain't broke…) – a FehrTrade Surf to Summit Top (with a few changes, look out for a tutorial on the full front zip shortly!), FehrTrade Rouleur Leggings and Jalie Coco sports bra, in View A this time. I've got a lot to say about each of these, and they'll get their own post, too.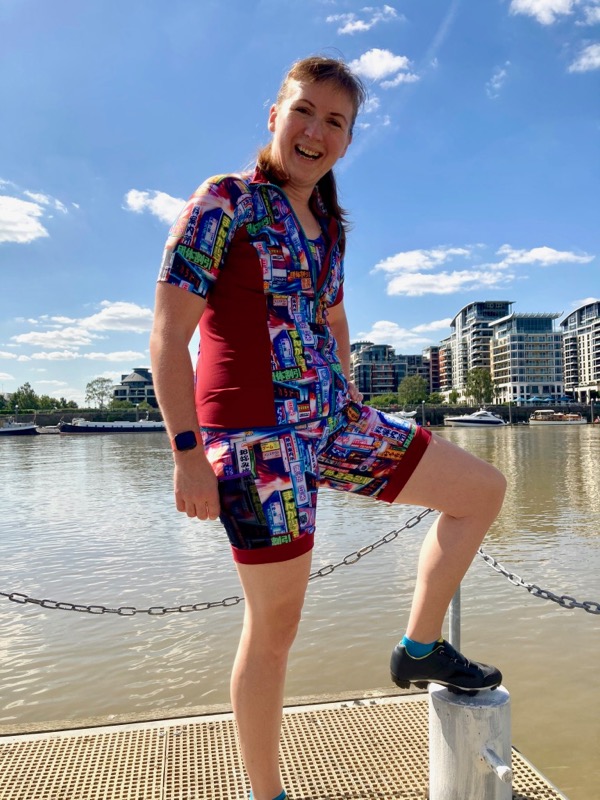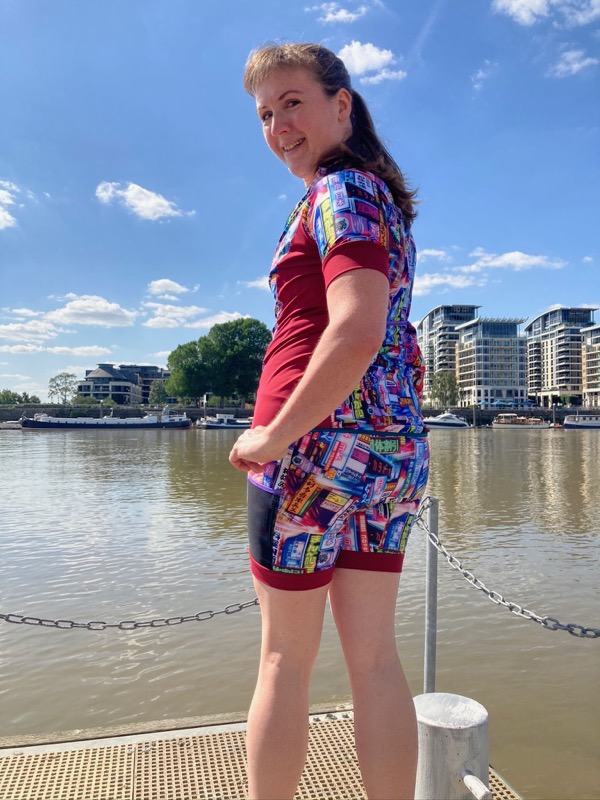 I paired the nightlife fabric with Discovery Fabrics' Yoga Stretch in "Rust Berry" and various bits of stretch mesh from Tia Knight and leftover FOE from my stash to complete the set, and the chamois pad is the Century Endurance from Aerotech which I'd had the foresight to buy when I was over in the States in February.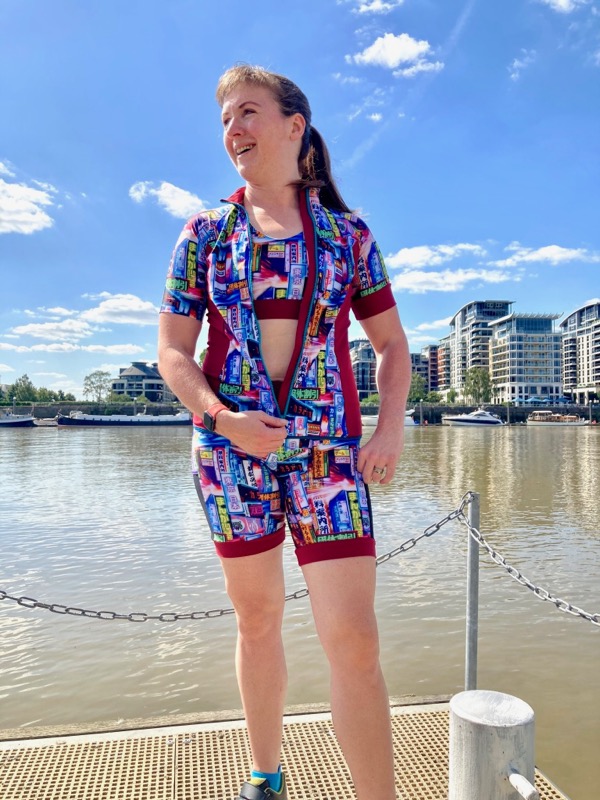 I had a friend who is learning Japanese vet the fabric design before I bought it just in case it was something offensive, and he said it was mostly just "Tokyo" and "Japan" but then recently I had someone on Instagram tell me the neon signs were all based in the red-light district, saying stuff like "Open all hours" "Billiards AND darts", etc, which I find hilarious! Just the thing to be wearing while you work up a sweat! And here I was just happy that I noticed it was a directional print before I started cutting everything out!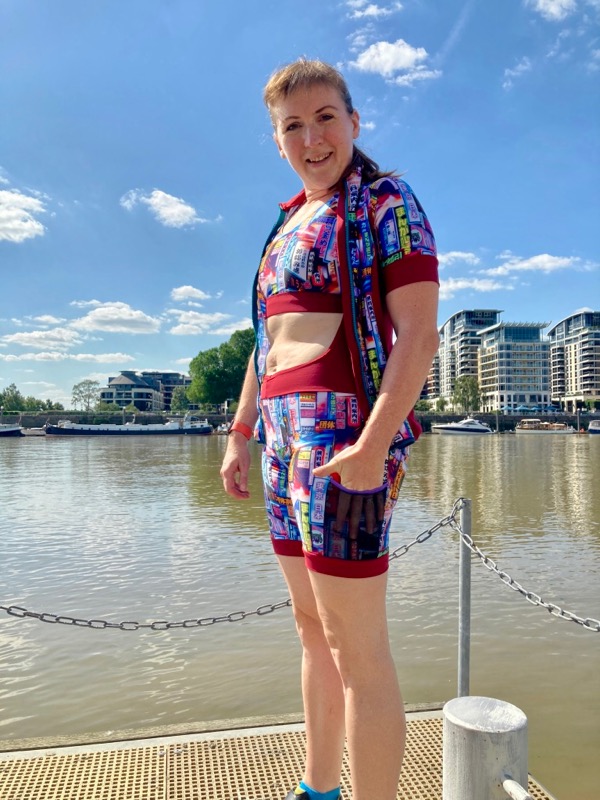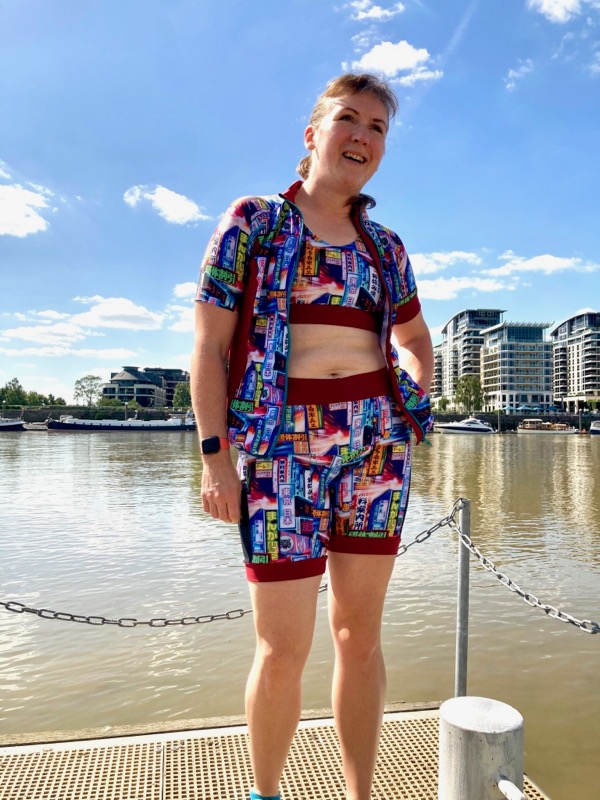 I wouldn't normally wear this without a jersey on top (except maybe just at home on the turbo if it was really hot!) but I knew you'd want to see how the bib shorts work. But again – loads more about the shorts and why a halter-style bib is brilliant in another post!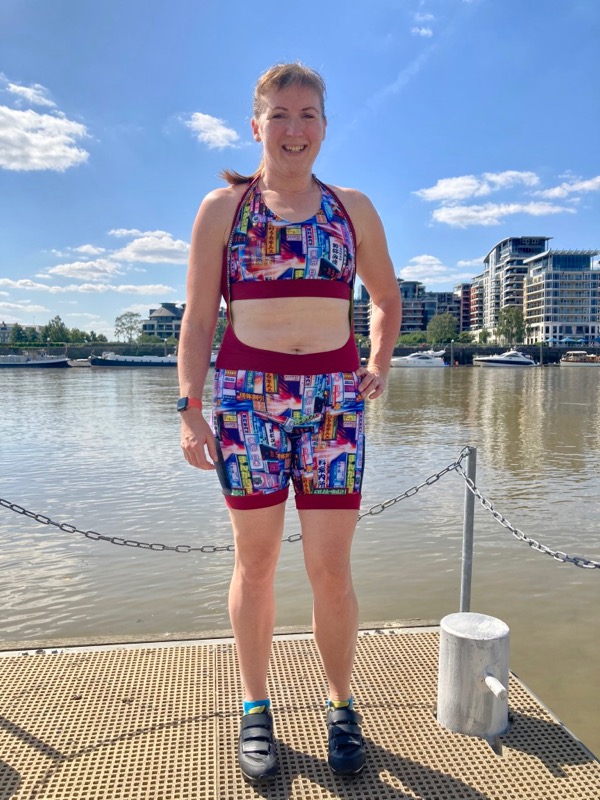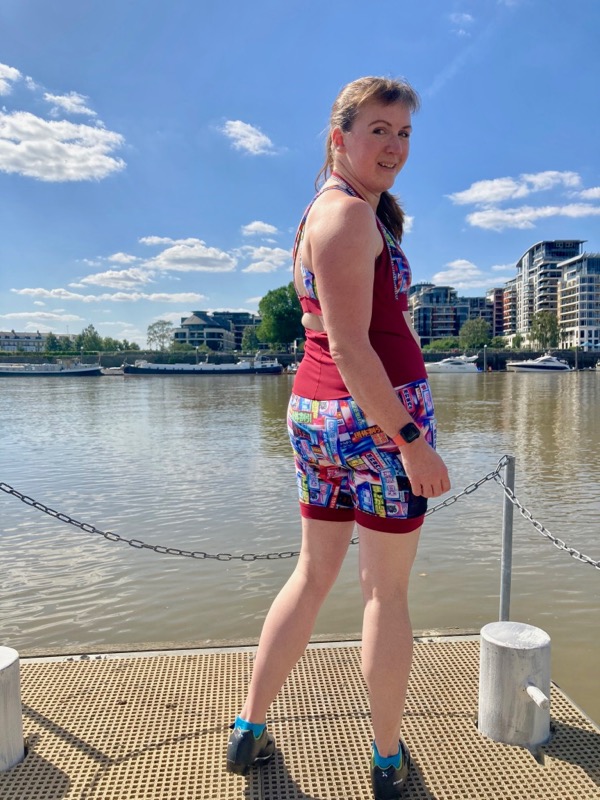 And since we have the turbo trainer set up in our (still-a-building-site) saloon, you can see how nicely it fits while I'm in the cycling stance, too!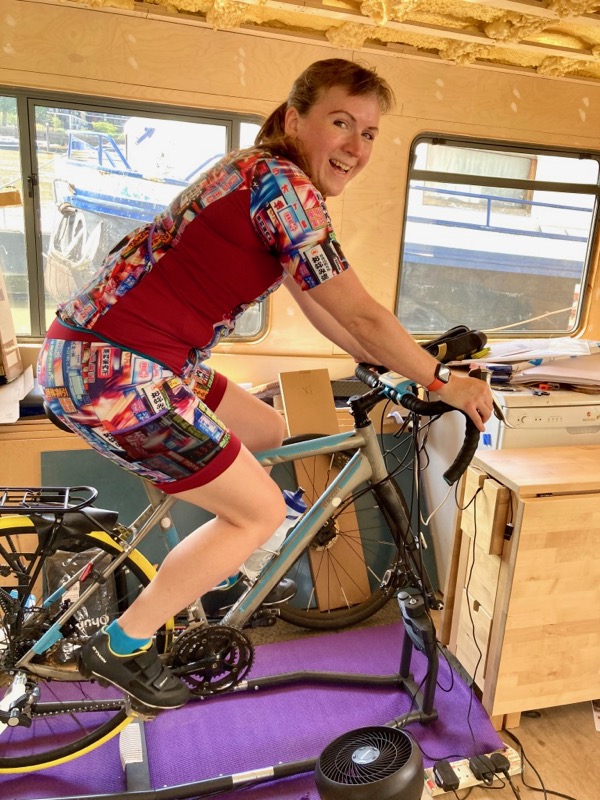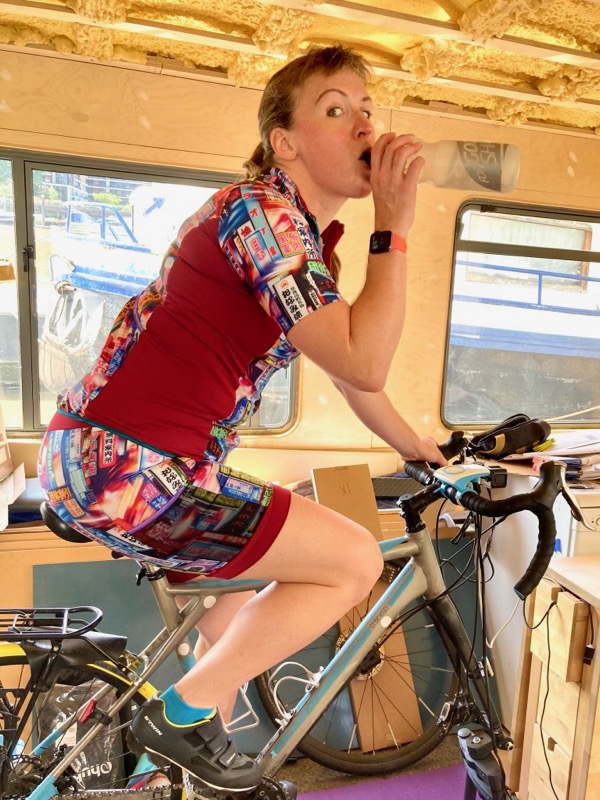 And you can even see it in action while I'm on the turbo trainer (though it's not connected to my computer here).
I set my sights on the overall challenge to ride all six of the virtual Tour de France rides, but my challenge-within-a-challenge was really the 5th stage – a faithful recreation of the famous Mont Ventoux, which Zwift called "Mont Ven-Top". Now, it's a fairly short ride at only 21km (13.5mi), but it's got over 1500m (5300ft) of climb, and the profile is just brutal – it just goes up and up and up with no respite! It's a serious climb and one that will break even the most seasoned cyclist (which I am not).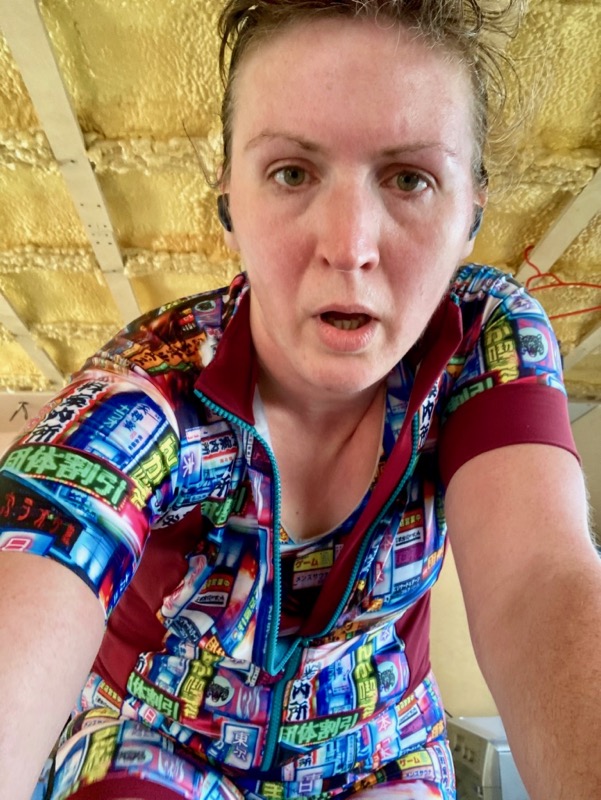 If you're unfamiliar with how turbo-trainers work (and you're not alone!), it's essentially a stationary stand in which you place your bike. It has a roller under the back wheel and various sensors, and some sort of controller unit. The real fun comes when you connect it to your computer (or smart tv) and use an app like Zwift, where you get a map and an avatar so it feels like you're riding around places, with other real-life people also riding with you and sending messages and encouragement and stuff. But crucially, when you go uphill in the virtual world, your trainer adjusts the resistance so it becomes harder to cycle, too, and you've got to switch gears to keep pedalling.
So even though I stayed put on the boat, it really felt like I was cycling up a mountain in France. Technology is freaking wonderful!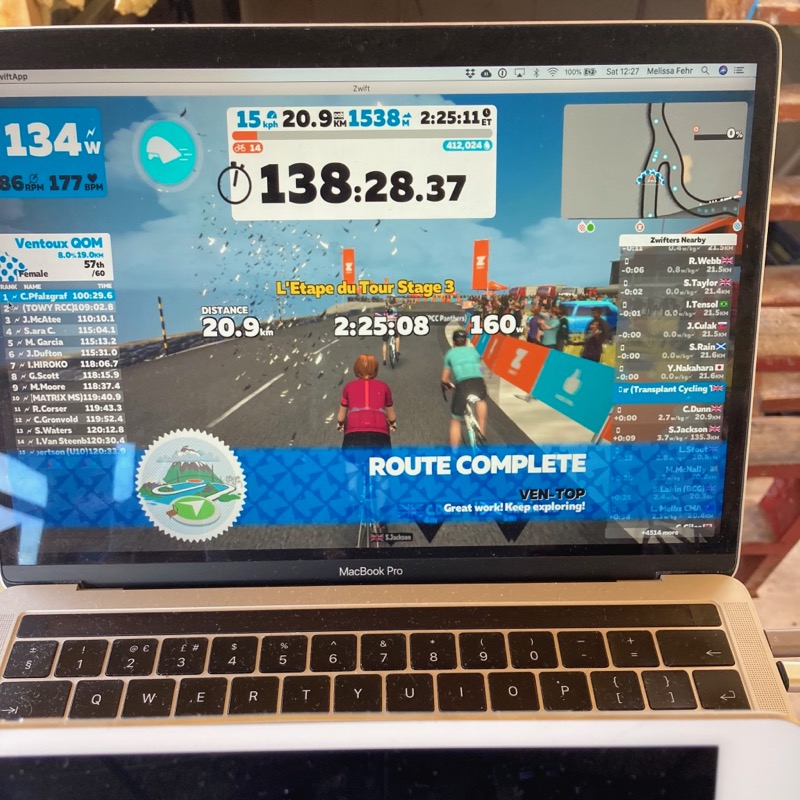 I'm glad I prepared for this ride, because Mont Ventoux was NO JOKE. Every inch of my newly-sewn cycling set was utterly soaked after the first half hour (even with a fan blowing on me and it being a cool morning), I went through two sweat towels and two water bottles, and I even ate a gel and a bar, too (which I never do on a bike!). I finished in 2 hours 25 minutes, which I'm really proud of!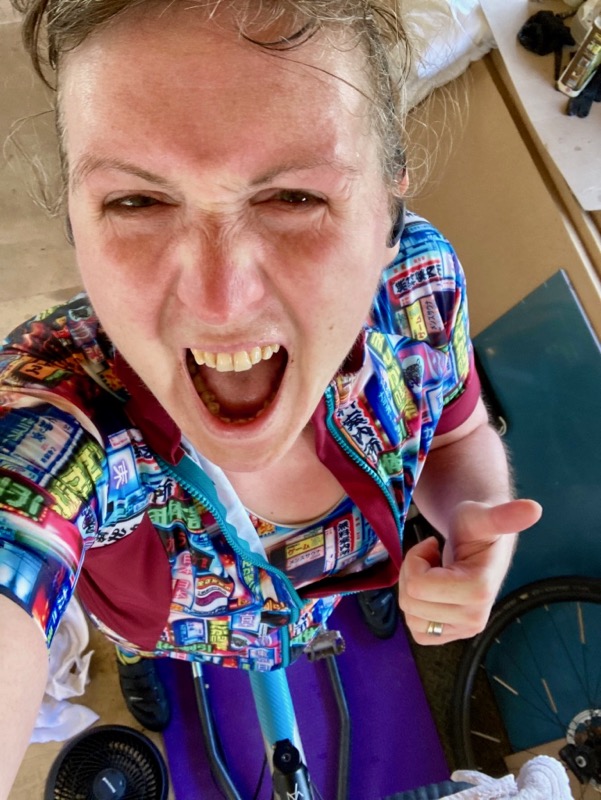 This was my celebration at the top of the mountain! There's no medal in it, but it actually felt like a real event because I made it feel that way – I picked the date, I picked the route, I worked towards it, and I sewed myself some new kit to celebrate. And that's something we all can take lessons from this year!
PS: If you're also on Zwift, please search (there aren't many Fehrs) and follow me on there, and if there's enough of us I may arrange a sewing meetup ride in the future!
If you missed any of the other posts on this Tokyo-inspired cycling set, you can go back and read them here: