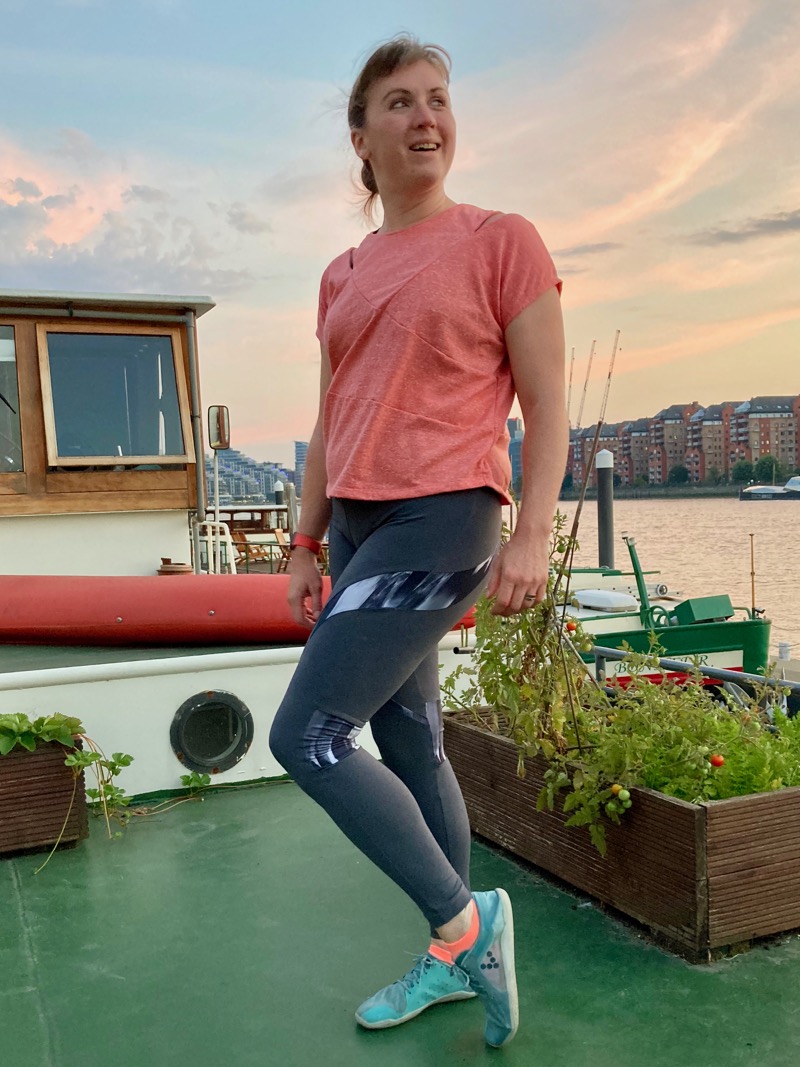 Thanks so much for all your support (and patience!) with the relaunch of our PB Jam Leggings pattern! I've had a lot of requests for the updated files for those of you who bought via my Etsy Shop but I should be up to date now. There's no time limit for requesting the new versions, though, so if you haven't gotten yours yet, please fill out the form in this post.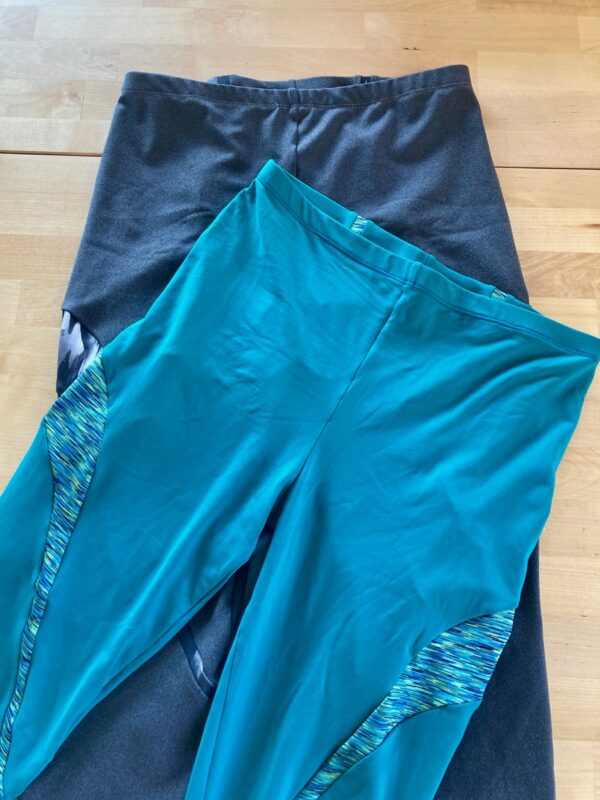 Today I want to talk more about two pairs of PB Jam Leggings I made myself during the QA and testing process. Because this was a total redraft of the pattern, I wanted to make extra sure that the fit was right and all the notches lined up perfectly, so I ended up sewing two samples.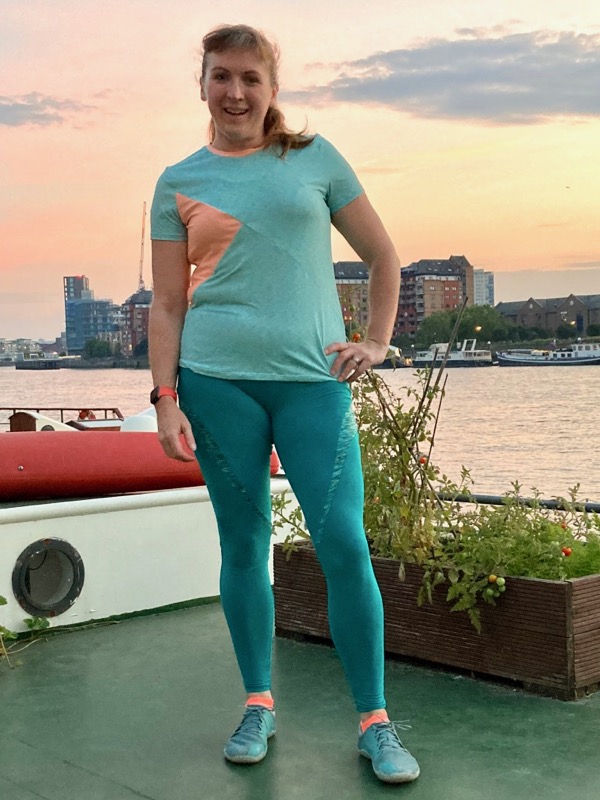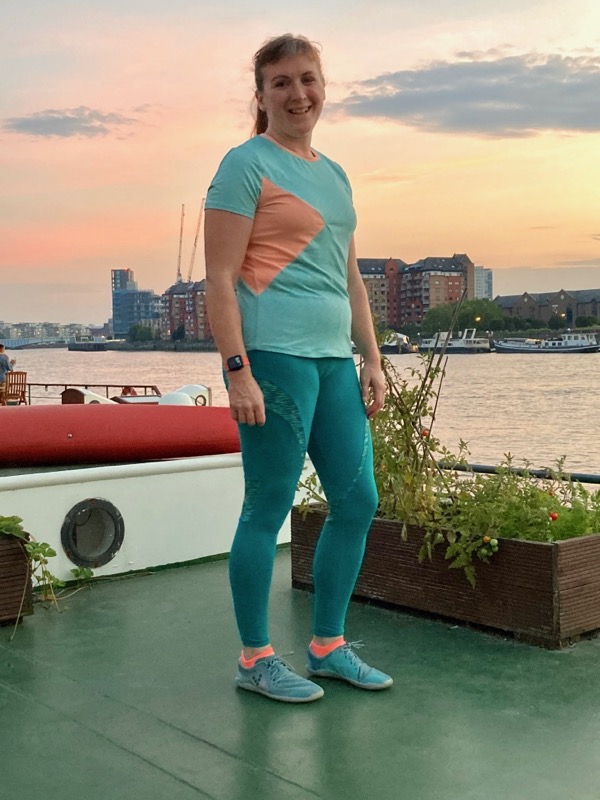 I sewed this turquoise pair first to test the overall fit of the pattern back before I added seam allowances onto it and I was still working out the perfect number of notches by just lining up the pieces and drawing them on myself!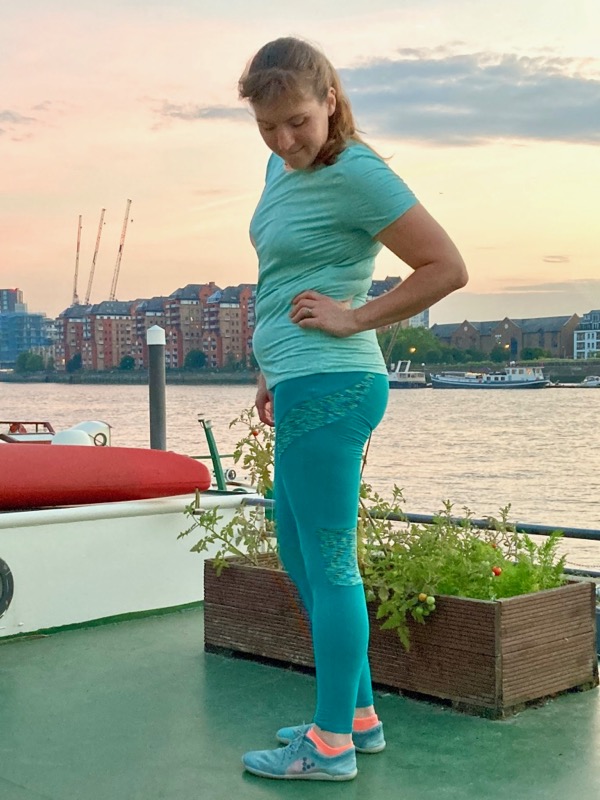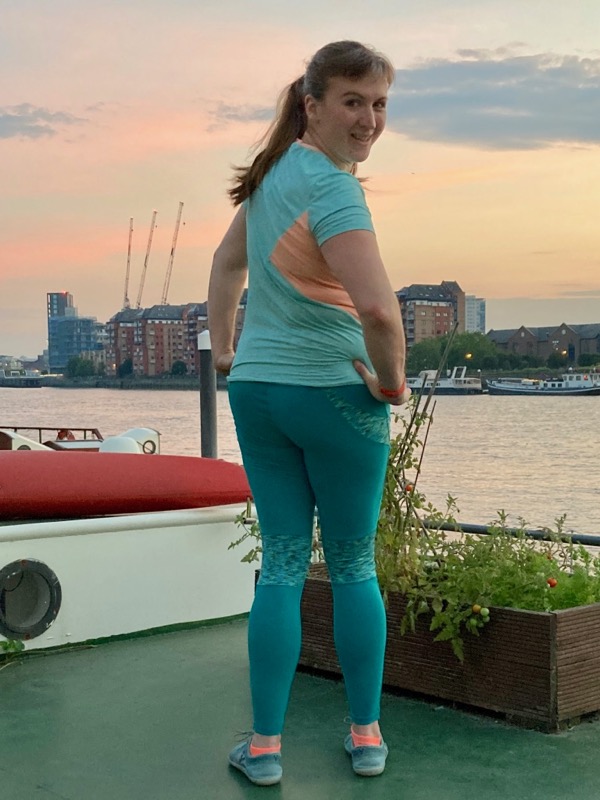 For the main body of the leggings I used Yoga Stretch from Discovery Fabrics in the "Night Jade" colourway, paired with some space-dyed supplex leftover from these Steeplechase Leggings (originally from Fabrics Galore) in my scraps stash.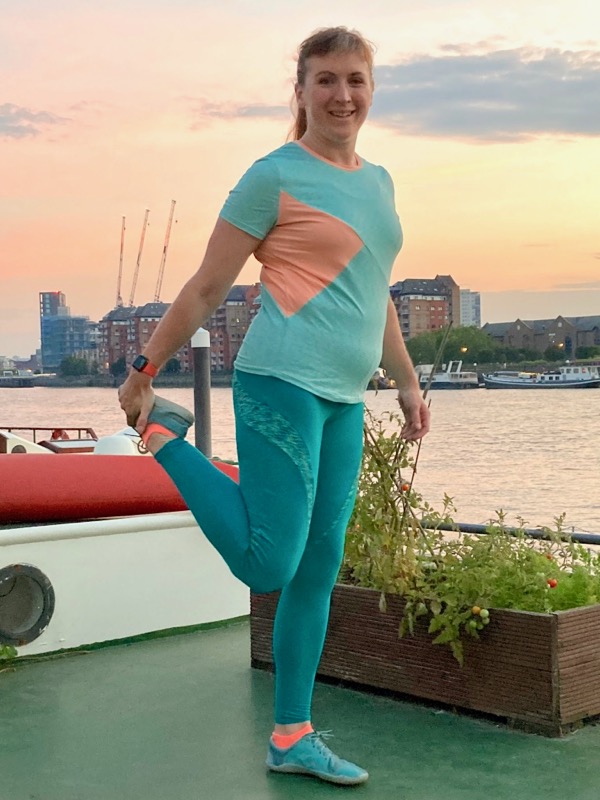 I've paired it here with my pastel neon Tessellate Tee pattern, which you can get for 50% off when you buy the PB Jam Leggings pattern (details in this post). I was hesitant to post these photos because I hate the way my stomach looks in them but let's be real here about lockdown weight gain, okay? I'm working my butt off on the treadmill and turbo, but my overall activity levels are still way down on my pre-Covid life, so I'm rather heavier than I am normally. If I was making a Tessellate Tee for myself, right now, I'd go up a size, but for now you'll just have to live with my stomach rolls! 😂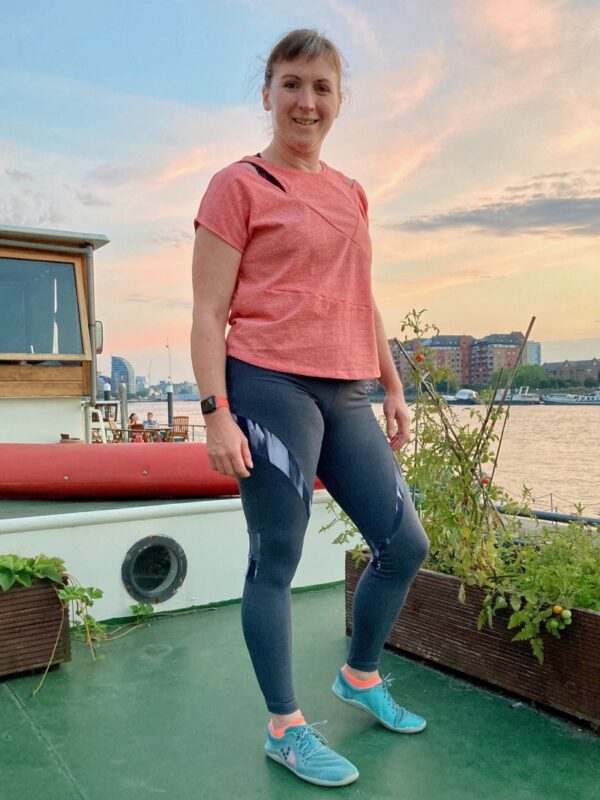 The grey version of the PB Jam Leggings pattern was made using the version of the pattern sent out to my testers, with all the seam allowances and notches added, printed and pieced onto A4 paper and very nearly the version that's in the finished pattern now.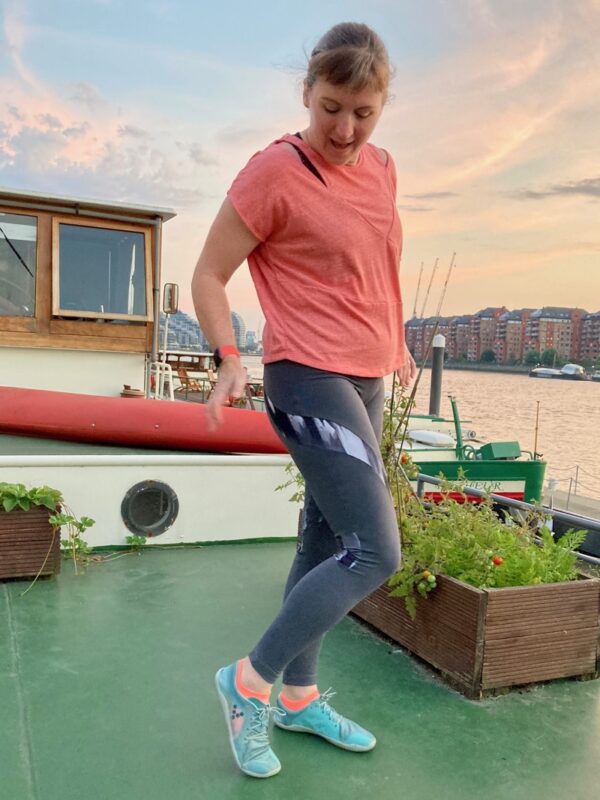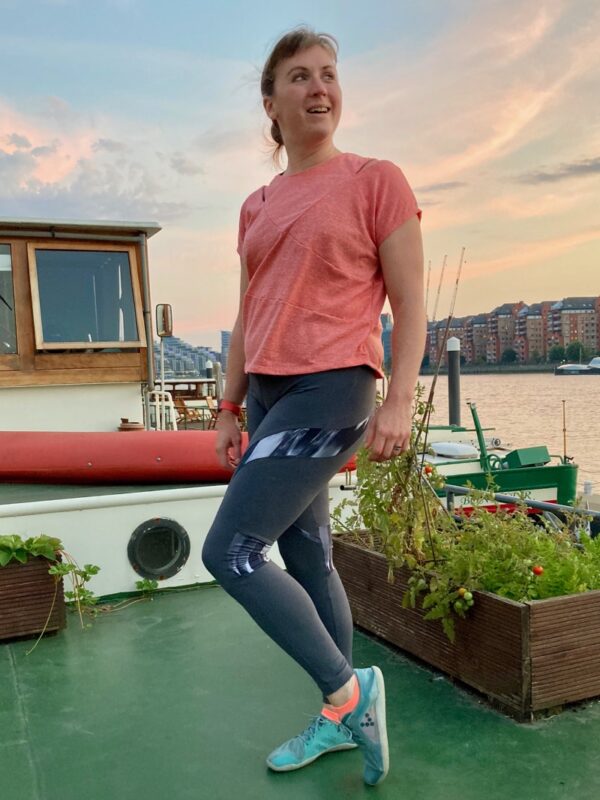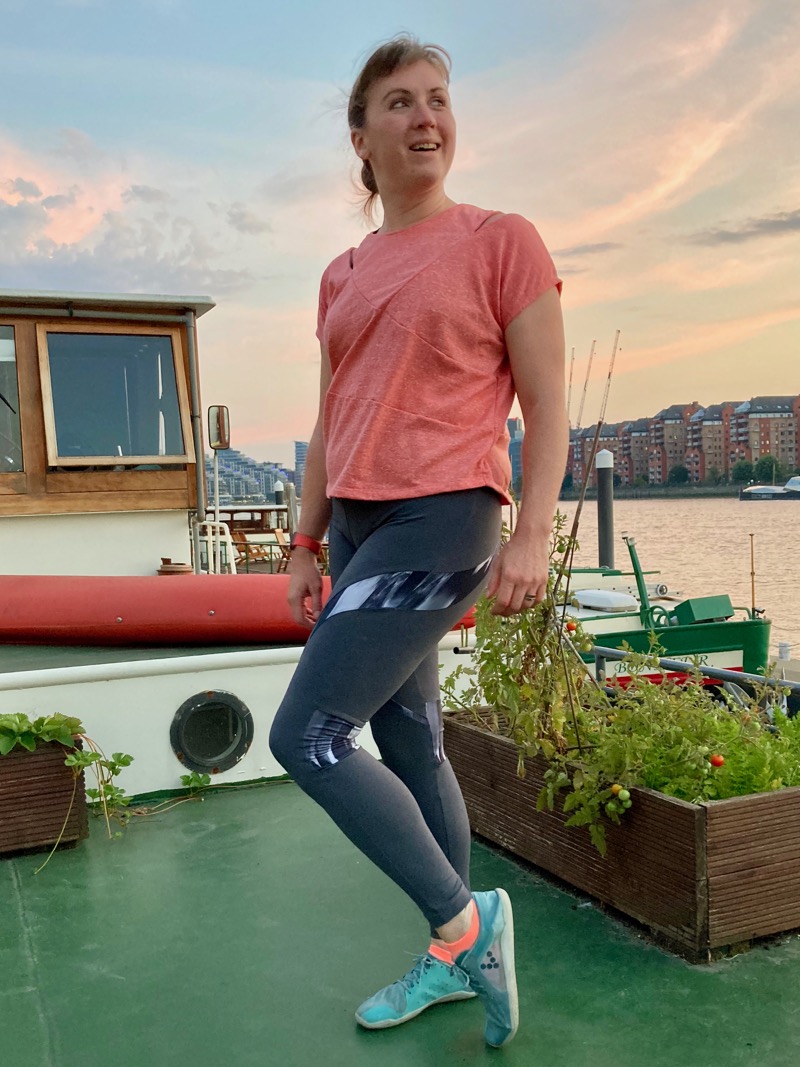 For this one I also used Yoga Stretch from Discovery Fabrics, this time in the "Heather Slate" colourway, which is a little thicker than the jade (having asked Discovery Fabrics about this, they said that most of the Yoga Stretch is closer to this grey in weight, and it's made in the same mill as Lululemon's fabrics!).
For the accent swirls and knees I used some monochrome activewear fabric scraps leftover from the cycling set in my "Sew Your Own Activewear" book (originally from Stoff & Stil). I loved that cycling set but the samples were all sized for my athlete models so I'm glad I got to reclaim a bit of the fabric for me here!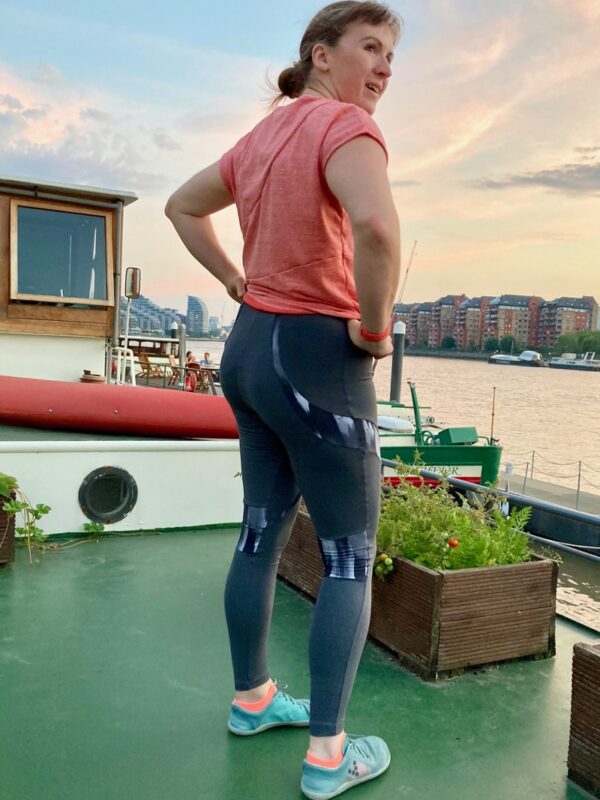 I've paired it here with a casual, orange marl version of our Kinetic Tee pattern, which you can also get for 50% off when you buy the PB Jam Leggings pattern (again, details in this post). This pattern was designed to be looser fitting, which is suiting me just fine right now!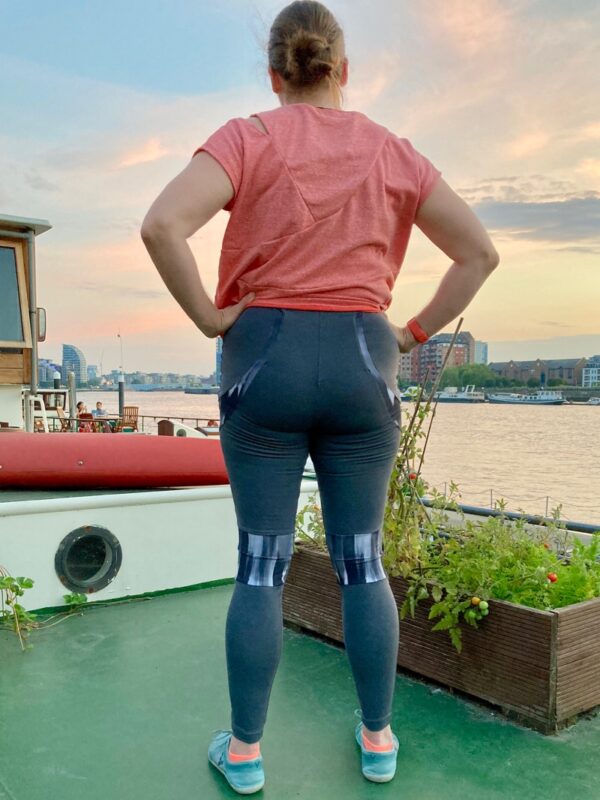 One thing I love about the original pattern that stayed unchanged was the big secure back pocket! From the outside you only see one line of stitching, but inside there's tons of room for even the biggest of phones.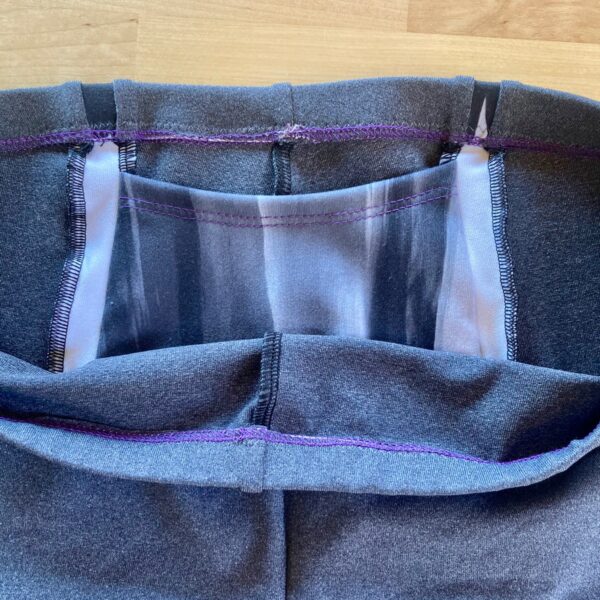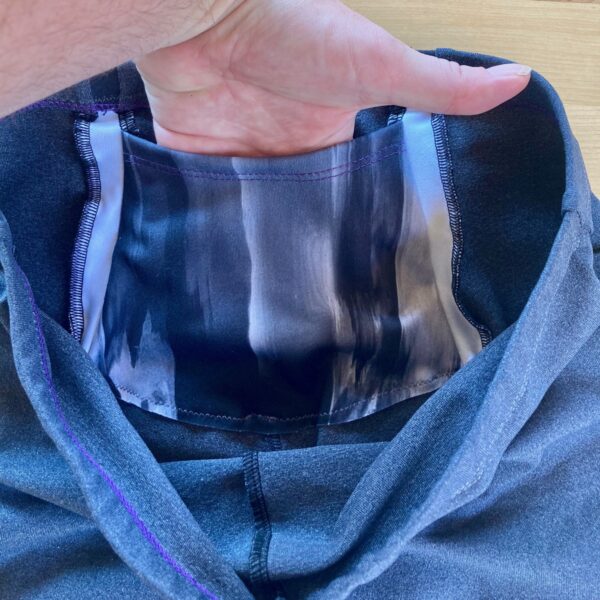 It's still too hot here to wear these for indoor treadmill or turbo workouts, so I'm looking forward to pulling these out whether the weather cools down in a month or so. A few of my testers made these as shorts, though, which is a super easy adjustment to make since the knee is marked so prominently on all the lower leg pieces!