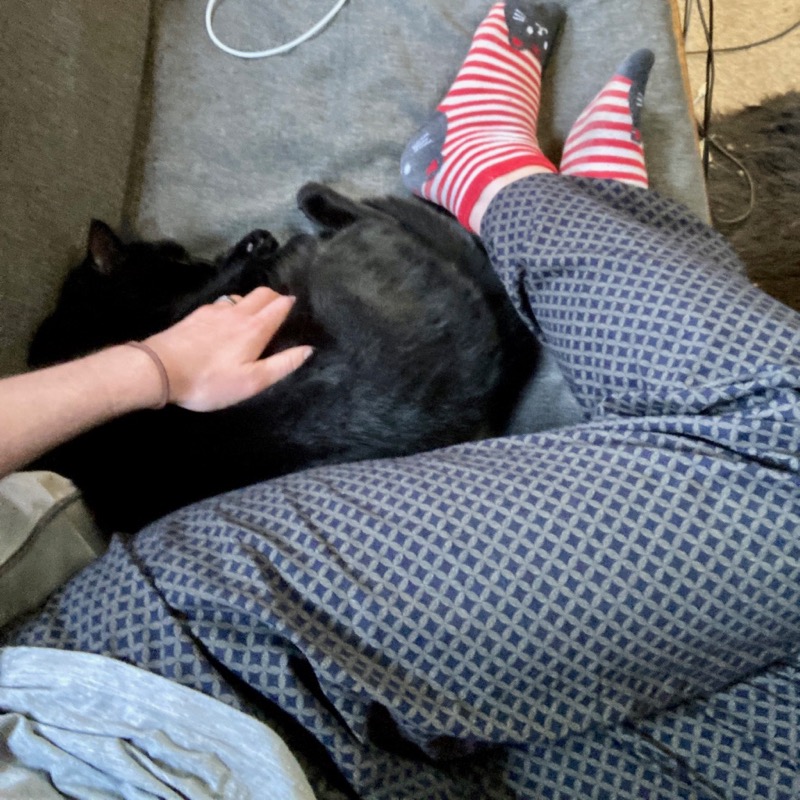 As I mentioned before, I lost my sewing mojo at the end of summer and start of fall. Usually around this time I'd be buzzing with ideas for new, colder weather sewing projects – coats! sweaters! warm running and cycling gear! party dresses! But with shielding continuing long throughout the winter, I literally have no need of any of those things, and my wardrobe is already bursting with clothes (I literally don't need any more clothes).
So I didn't sew for quite a while, because I've learned in the past that it's useless to try and force it. So I worked on my loom knit sweater (I'm on the second sleeve, nearly done!), bought some air dry clay and played with that for the first time in 20+ years, and made a few practical things, which I'll detail here.
Lounging bottoms
I lied – I did need one particular piece of clothing – a pair of lounging trousers that I could throw on for lazy weekend mornings, or after I've changed out of my sweaty exercise gear at night. Something comfortable enough to lounge in (or occasionally sleep in), and that wouldn't show too many spills or cat hair!
So I pulled out a one-seam PJ pattern, which is from this Thriftystitcher online course (now 50% off if you know anyone who wants to learn to sew!). I used some Japanese cotton leftover from the accents on this robe, and they are exactly what I needed them to be.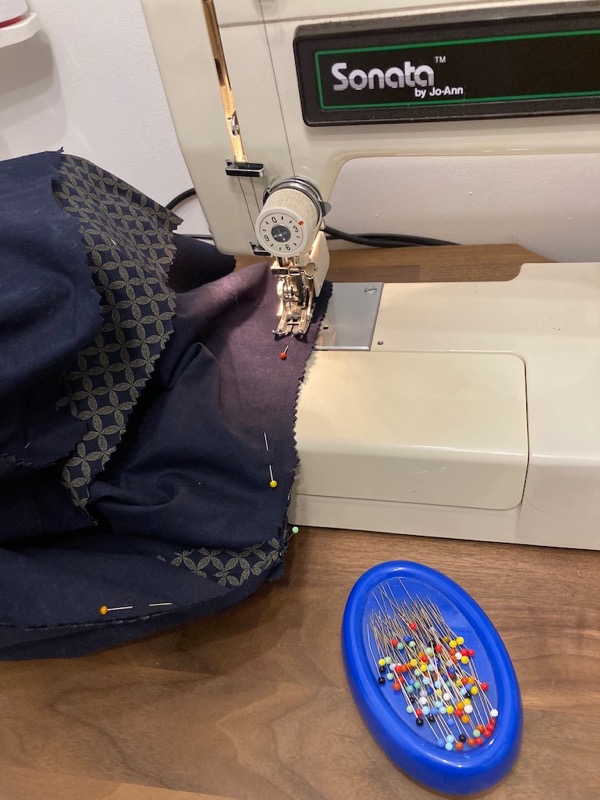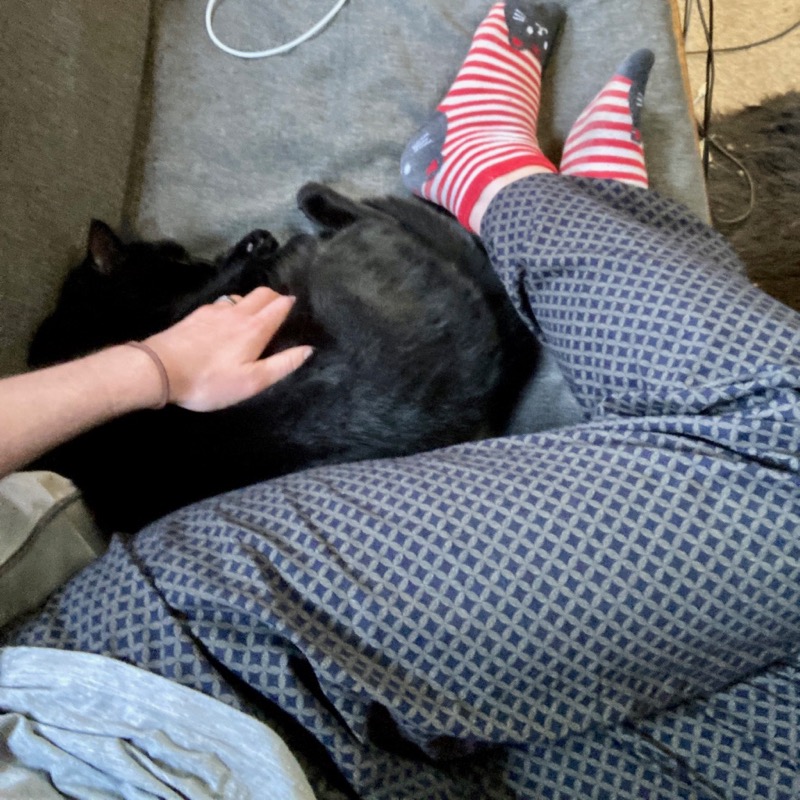 (Nishi approves)
New sewing room lighting
Around this same time, the light fixture in my sewing cave was giving up the ghost. I don't know how screwed up things have to be to actually blow out LED bulbs, but mine was doing it! Also, the smell of electrons told me I needed to fit a replacement, fast.
So I waded through the sea of ugly light fixtures online (oh god, so much ugly!!) to find a set on Wayfair that has little cages instead of directional hoods so on top of looking nicer, it's a million percent brighter in there now, too!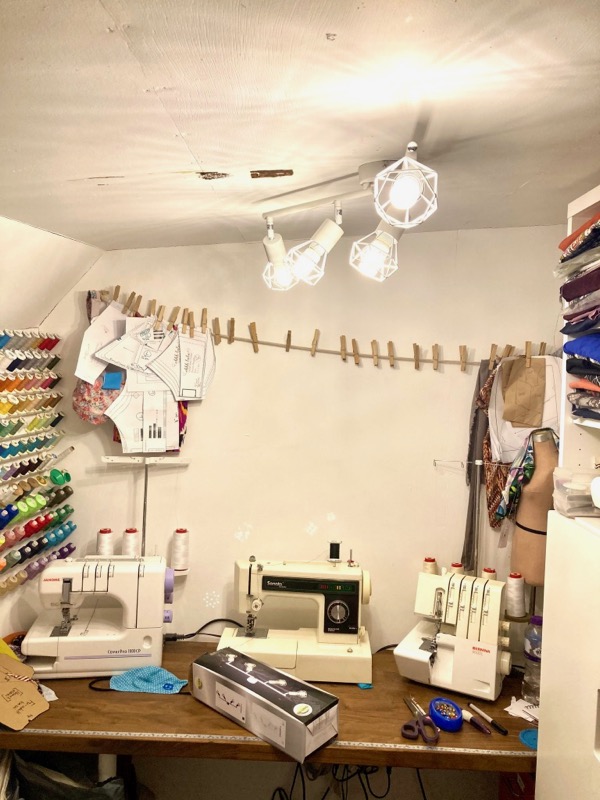 (Don't worry, I painted and filled the ceiling after this photo was taken!)
A headband for the shower
Seamwork released a holiday gift collection full of little projects you could sew with scraps and send as gifts, and I was drawn to the twisted Drew headband.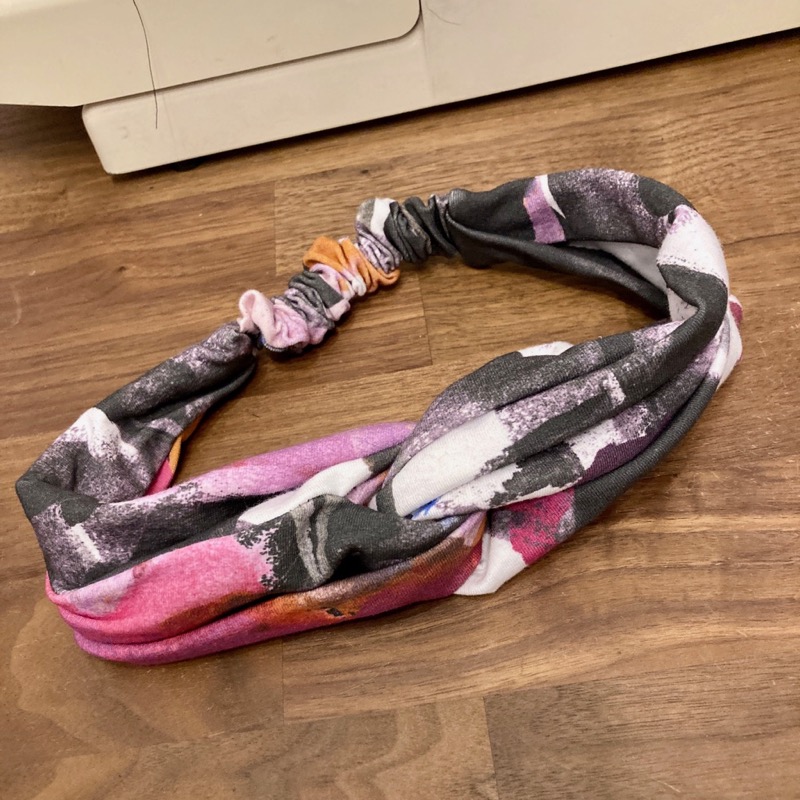 It only required a few scraps of jersey (leftover from my recent lingerie set), a few inches of elastic, and about 15 minutes.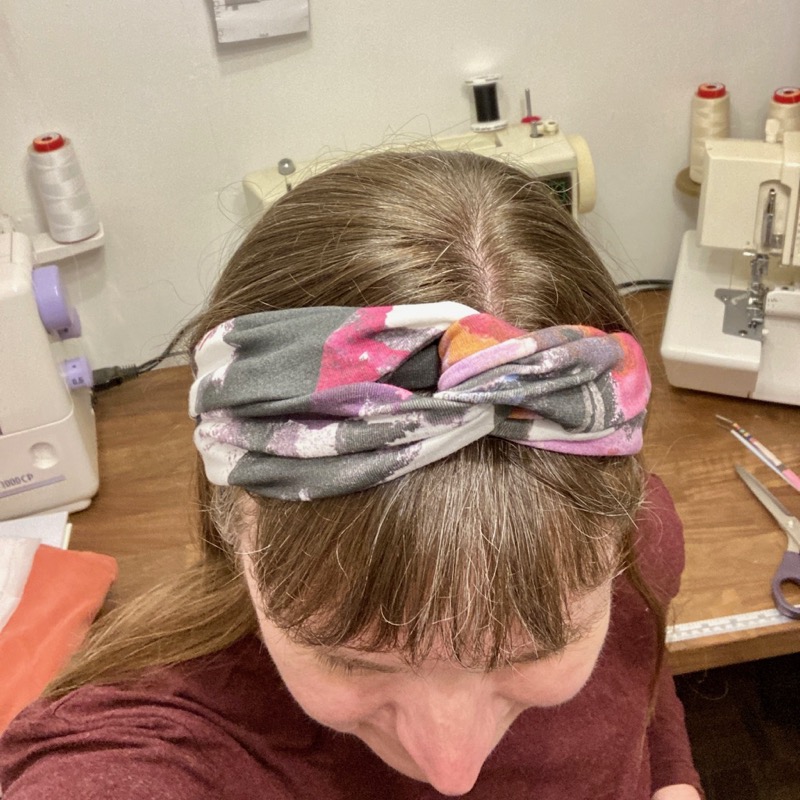 I tend to wash my hair every other day, so the days I'm not washing it I use a headband to keep my fringe (bangs) out of my face while I'm in the shower. My previous headband I'd made at least 10 years ago and was starting to lose its stretch so this one fills a need and looks nice, too!
My clay plant pot
I'd had pottery classes in high school where we learned slab, coil, and wheel techniques, but I haven't really touched clay since then, even though I used to be really good at it! For some reason over lockdown I felt the urge to play with clay again but knew I didn't want anything that required a kiln, or that was the plastic stuff.
I found this Sio-2 Plus air dry clay on Amazon, and it's wonderful! It handles and feels just like "real" clay, it takes a really long time to dry (4 days for mine) so you've got plenty of time to work with it, and you can paint it afterwards, too.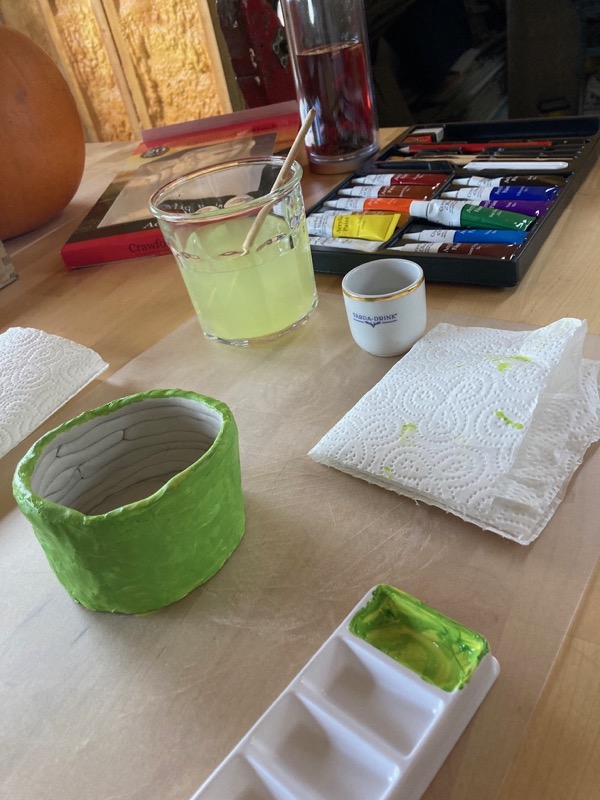 I just wanted to get started with a little coil plant pot, though it's taking me ages between all the steps (it's painted now but needs sealing before I can transfer a plant baby into it).
My second sleeve!
I started loom knitting my self-drafted sweater last October (yes really), but the end is finally in sight! I finished the body of the sweater this spring, the first sleeve this summer, and I'm making great progress on the second sleeve. After this I need to seam it all together, which I've never done before, and then add a loose collar!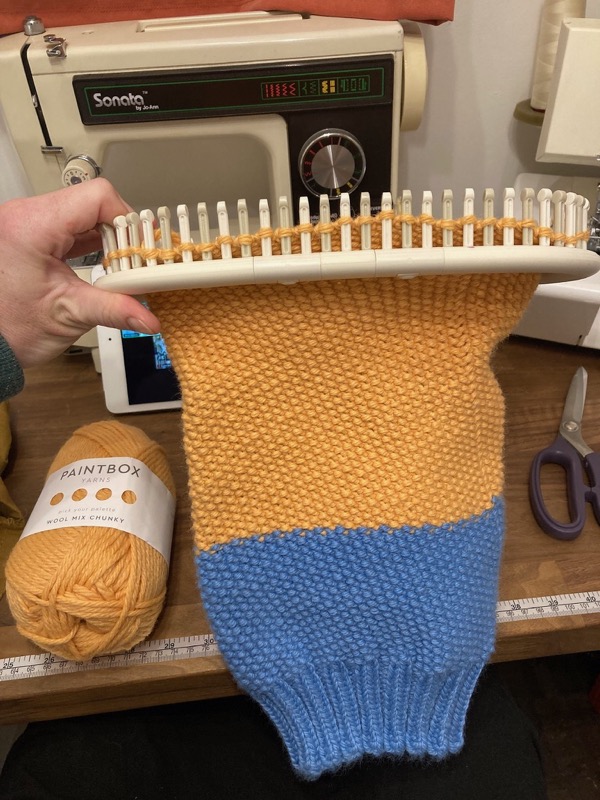 A Turbo trainer bag
And finally, a project that's equally niche and practical – a bag to hold our Atomic Pi onto the turbo trainer bike. This is a long, long story but the short version is that Garmin bought out our turbo trainer's company, End of Lifed all but the newest models, and still let shops sell the old ones even though they couldn't even be calibrated (fuck Garmin so hard). So J did some excellent internet research, found an open source project that would support our turbo, and installed it on a little Atomic Pi computer so I can Zwift (my new lockdown obsession). And boy do I use it!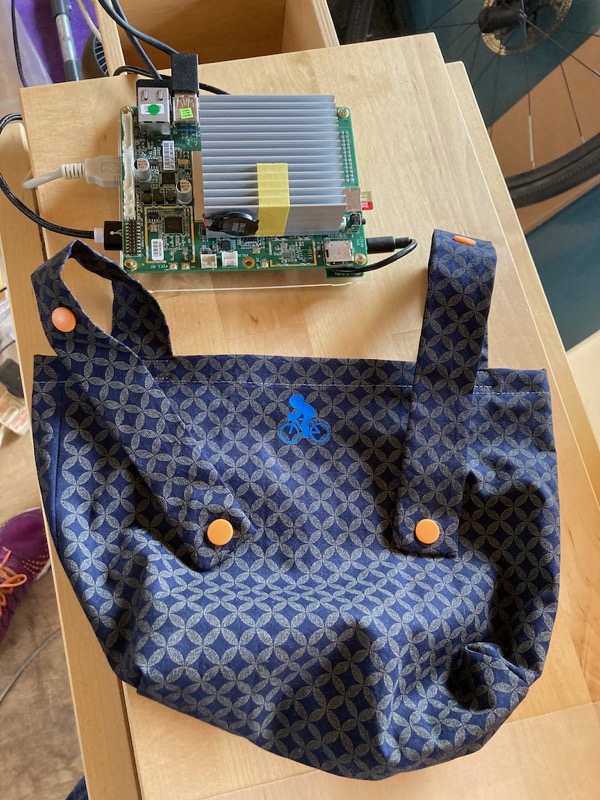 The Atomic Pi must be connected to the turbo trainer with a bunch of cables and we had been storing it in a drawer nearby, but with builders coming onto the boat, we needed to shift things round so the bike would be on its own and need somehow to keep the Atomic Pi nearby and free of dust.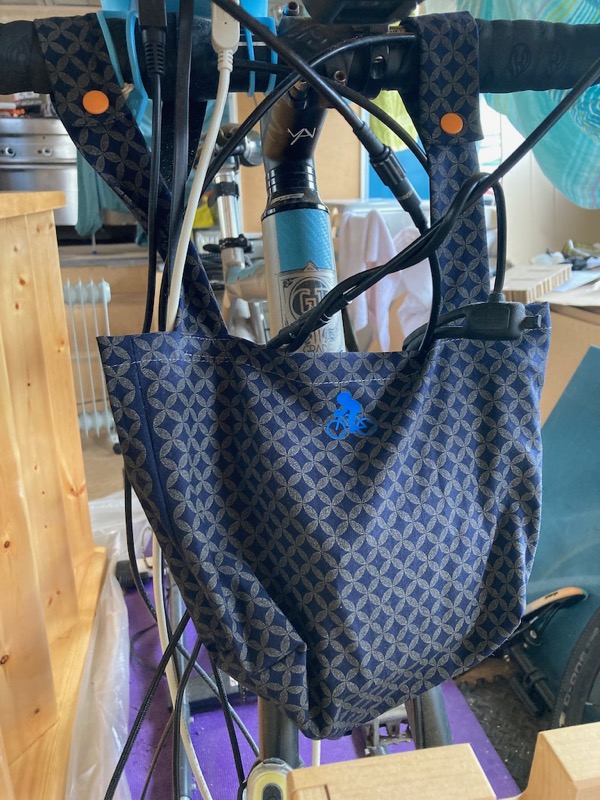 So this is just a little bag I self drafted from cotton leftover from my aforementioned lounging bottoms that holds the little computer to the handlebars. It felt very weird to sew something for the bike that didn't need to be weather-proof!
Sewing for others
Usually for me, if I'm in a funk, a nice "quick knit top" will bust me out of my rut, but this time it just wasn't the ticket. For me, this time, the only thing that really worked was to focus on sewing for other people. With the holidays coming up, it's a good excuse to sew for others, but even if it wasn't, who wouldn't like a nice sewn surprise in the post?
But I'll show you what I sewed for others in their own posts, since they're rather more involved…