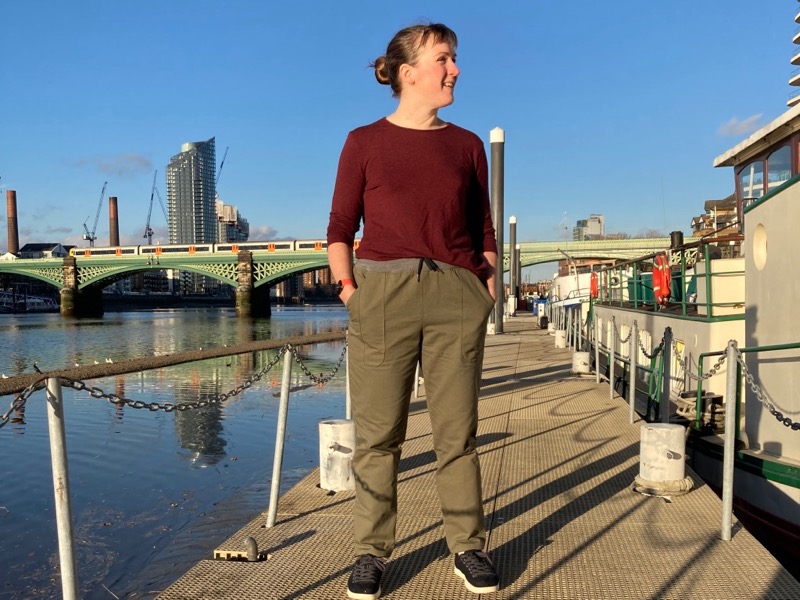 After the success of James's pandemic trousers (he's barely taken them off since I gave them to him!), I decided that I needed some elastic-waisted joys of my own to wear while working from home (and relaxing from home, and eating from home, and socialising from home, and everything else from home!). And then I realised that I actually already had a casual woven trouser pattern (complete with separate drawstring waistband!) that I had printed onto A0 a few years back and never sewn – Seamwork Moji!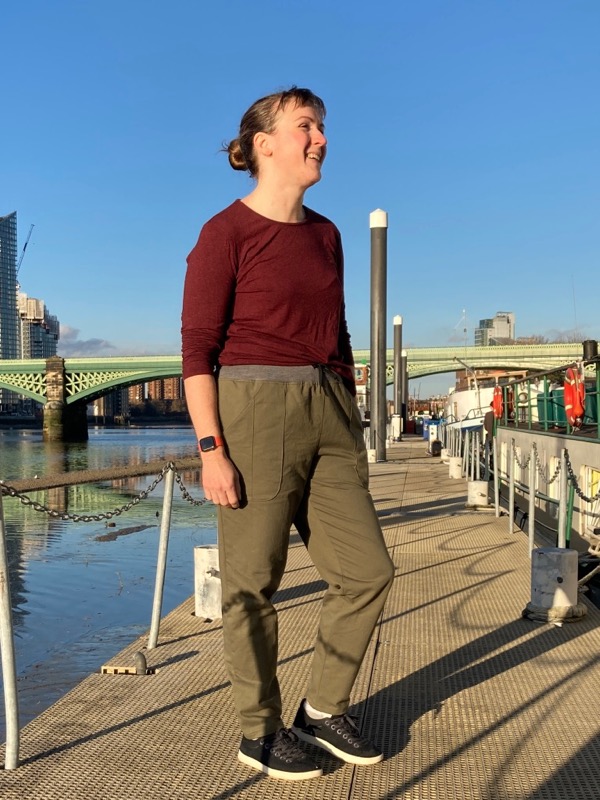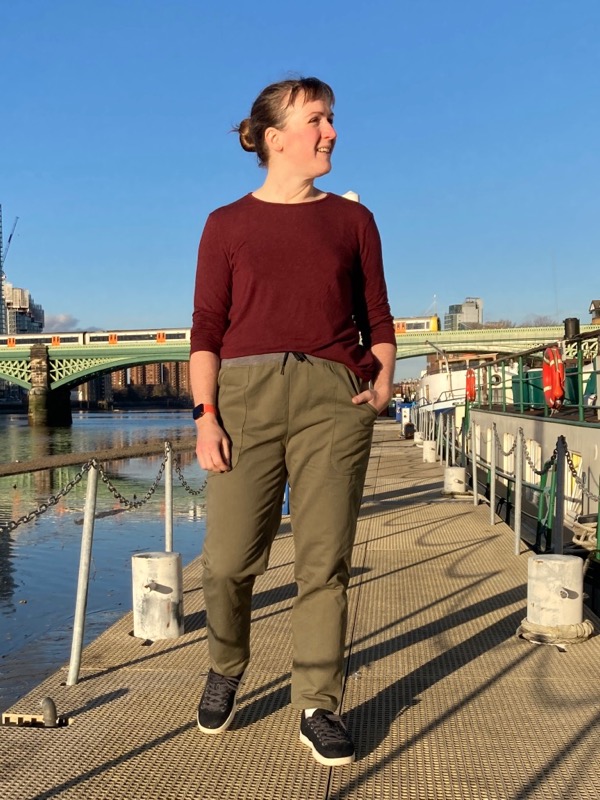 Moji has been a popular pattern as far as I can tell, but Seamwork recently released a near-identical pattern in the form of Witt, which is frankly really shady as far as I can tell since they're basically admitting there were fit errors in Moji but without allowing folks who purchased it to get the fix for free… Since I have a membership I could download both anyway, and I will say that Witt has far better instructions, and I heard they're higher rise, too. So if I didn't already have Moji printed off I probably would've just sewn Witt.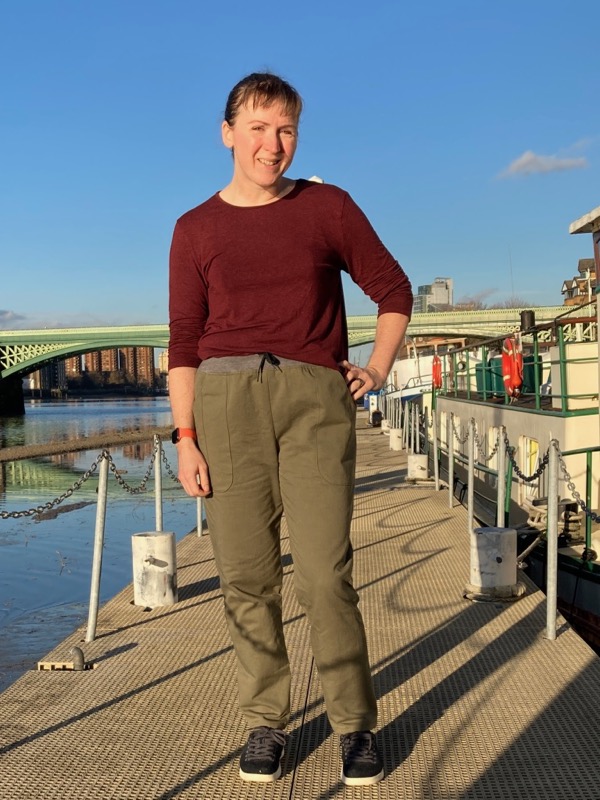 (Seen modelled here with a Loose Fitting Top Block from my book made in a John Kaldor wool-mix jersey, which I don't think I ever properly blogged)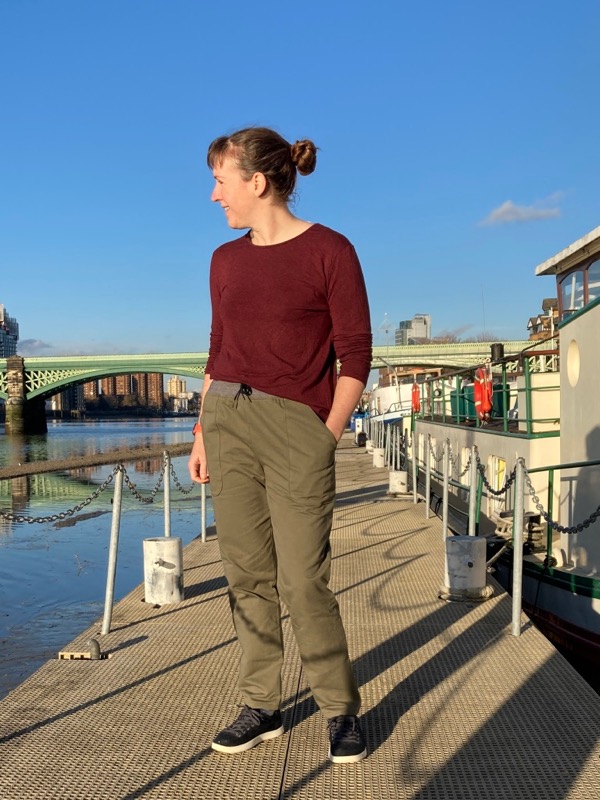 But since I decided to make Moji, I figured I may as well adjust the pattern to be as close as possible as the Closet Core Patterns Pietra, which I absolutely love (I wear my black linen version constantly and have almost worn through the fabric in the inner thighs already!). So I did a ton of hacking to the Moji pattern – changed the crotch curve front and back, adjusted the ease to match Pietra, increased the rise by quite a bit (though the CB could've done with another inch, in retrospect), and lengthened the legs by a good 6 inches so they're actually full length. I also narrowed the waistband and made it to be one long piece folded at the top edge to make it a bit nicer in the ribbing I had planned.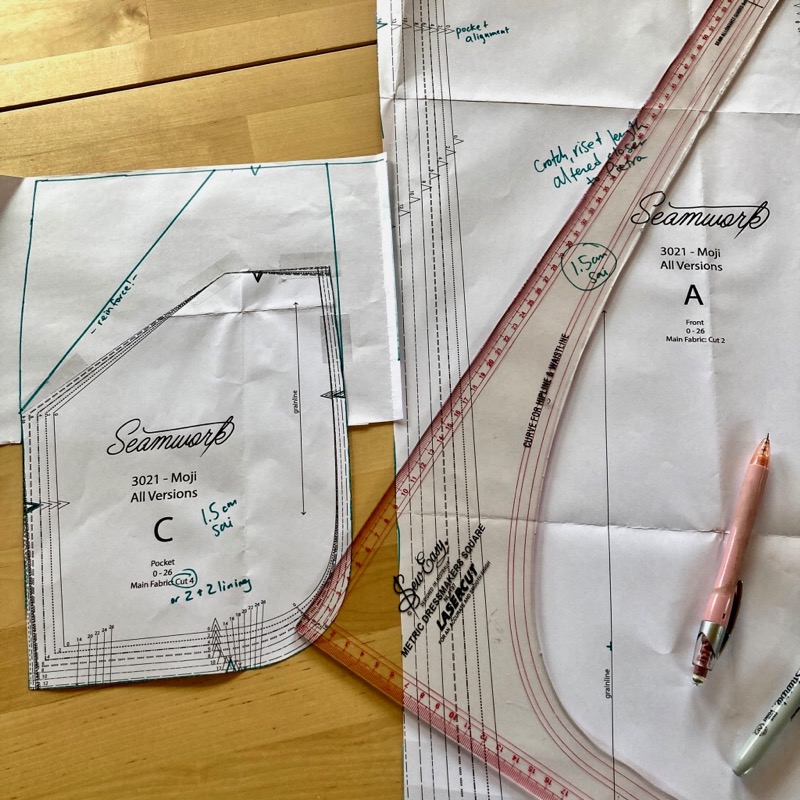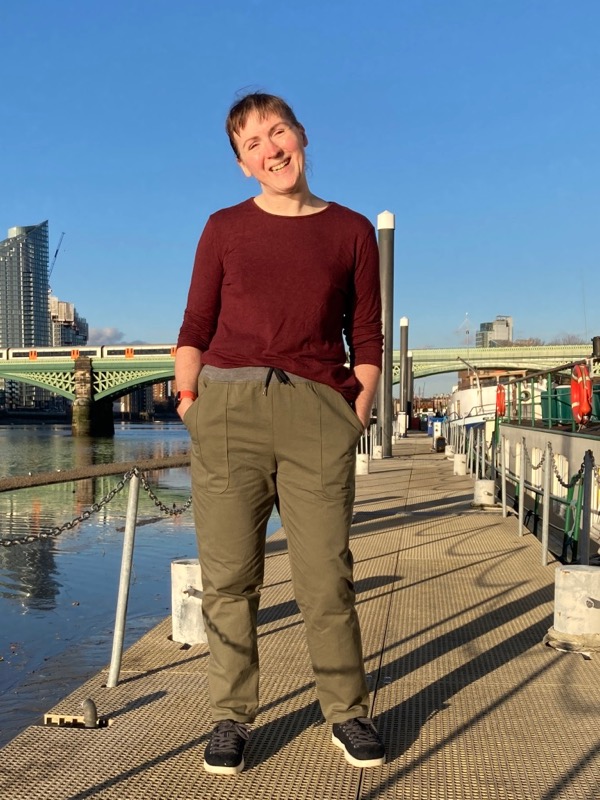 Then I went to buy some fabric to make these since there wasn't anything in my stash, and I found the perfect olive cotton drill at New Craft House and clicked Buy. Only when it turned up, it was only 1m instead of the 2m I swear I ordered – turns out they sell in half metre increments which I missed cos I was tired (really – shop owners who sell fabric in anything OTHER than metres/yards, you really need to put this in bold, all caps, everywhere!!). I was having a bad day already, and I was so disappointed I actually cried.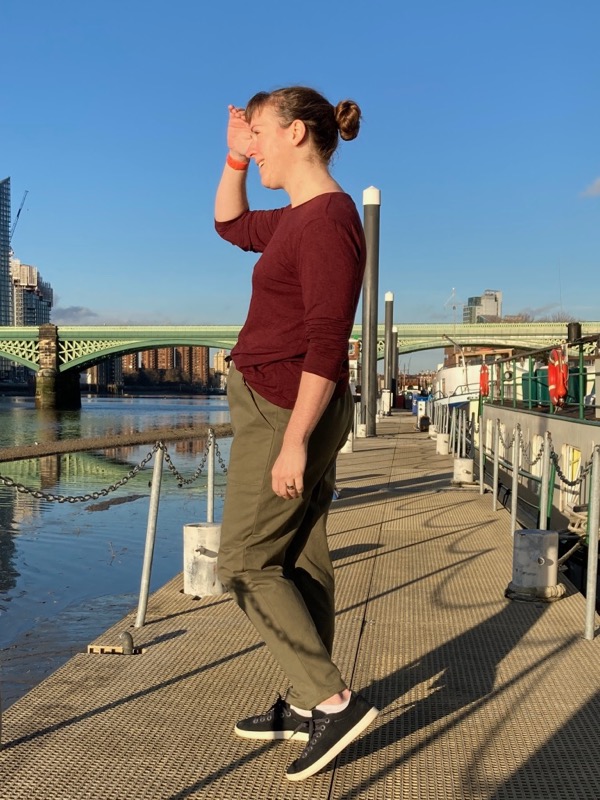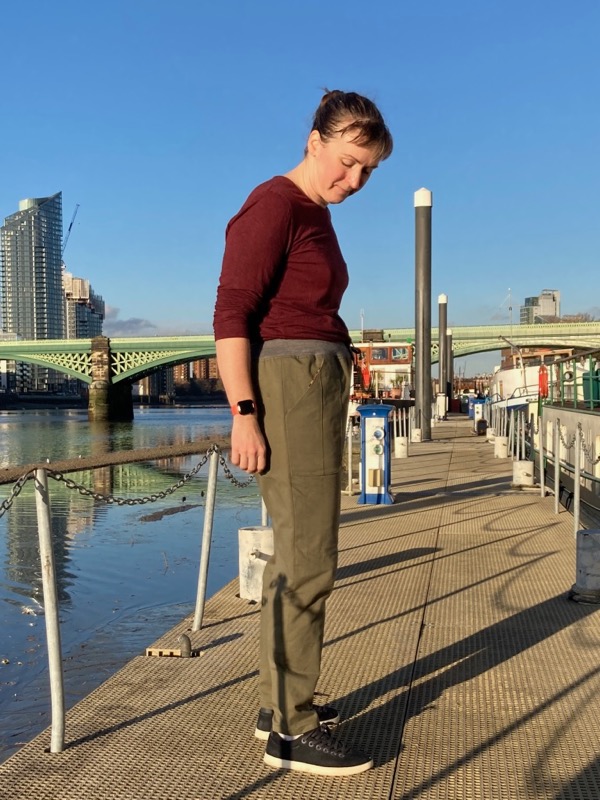 A week or two later, I pulled the fabric out again with the thought that I'd piece some black drill with it and make it a feature, but a bona fide Sewing Miracle occurred – even with my lengthening, I could fit the trousers into 1m!! It was super tight, and I had to piece one of the patch pockets, but I did it, and I actually prefer the seamed pocket now anyhow!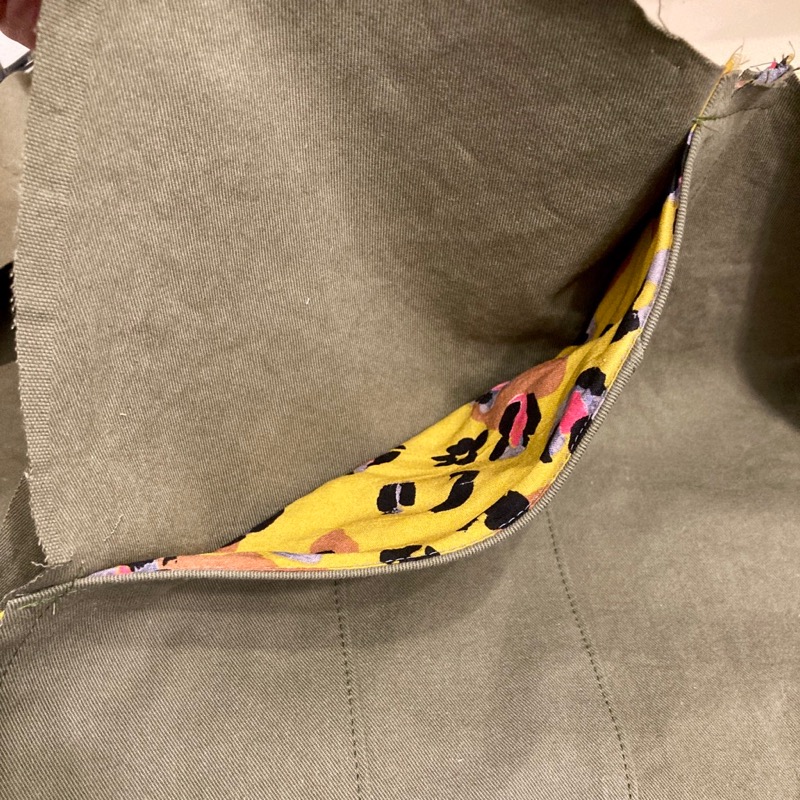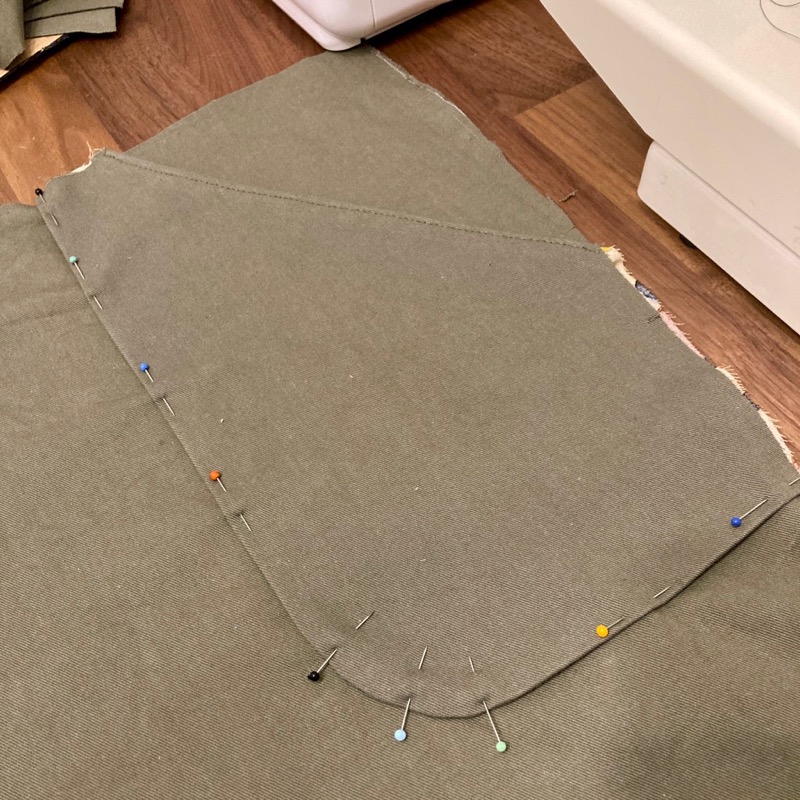 Instead of cutting both pocket layers from self fabric (ugh, how bulky would that be?!), I lined my pockets with mustard leopard viscose scraps leftover from this top. I always think a fun lining elevates a make, and it makes me happy to have a jolt of colour in what might've been some drab-coloured trousers.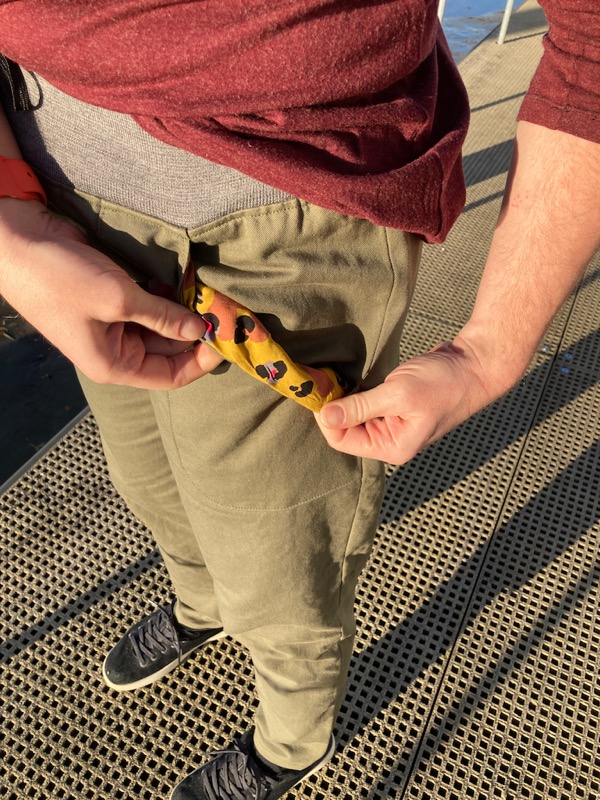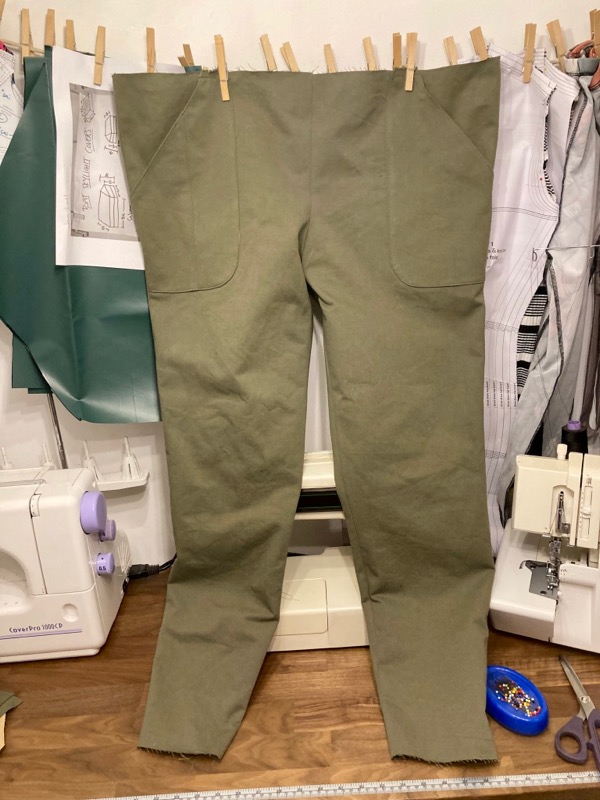 Another thing that helped with my fabric scarcity was that I'd always planned to cut the waistband from ribbing instead of self fabric, and I thought this grey wool(?) ribbing leftover from the teal tech sweatshirt I made for my Craftsy class was a perfect pairing, and I had just barely enough left. Score! Just like with James's trousers, I inserted elastic in the waistband, though for mine I used my preferred 2cm width instead of the wider 4cm, and sewed it to the inside of the waistband at four points to keep it from twisting. I interfaced the waistband behind the eyelets, added eyelets, and threaded a long shoelace through for a drawstring, too. The drawstring isn't necessary as the elastic holds everything up just fine, but I like the look!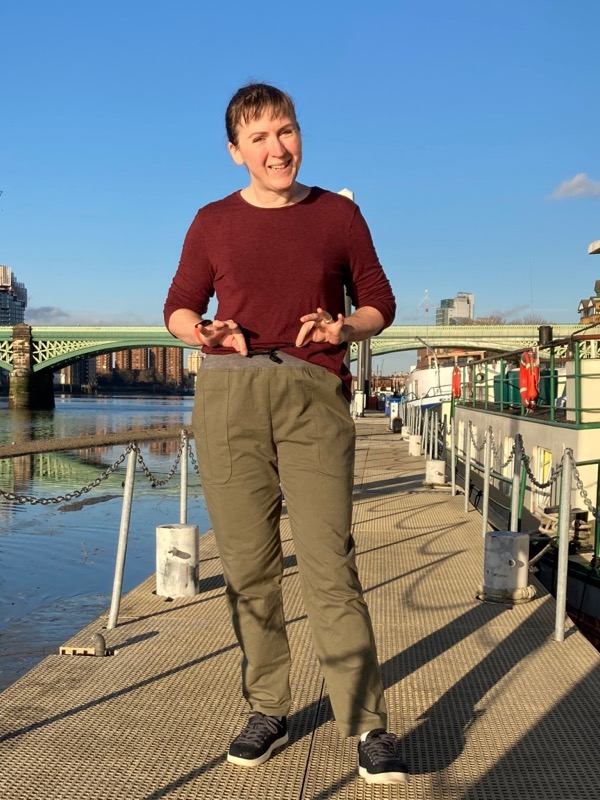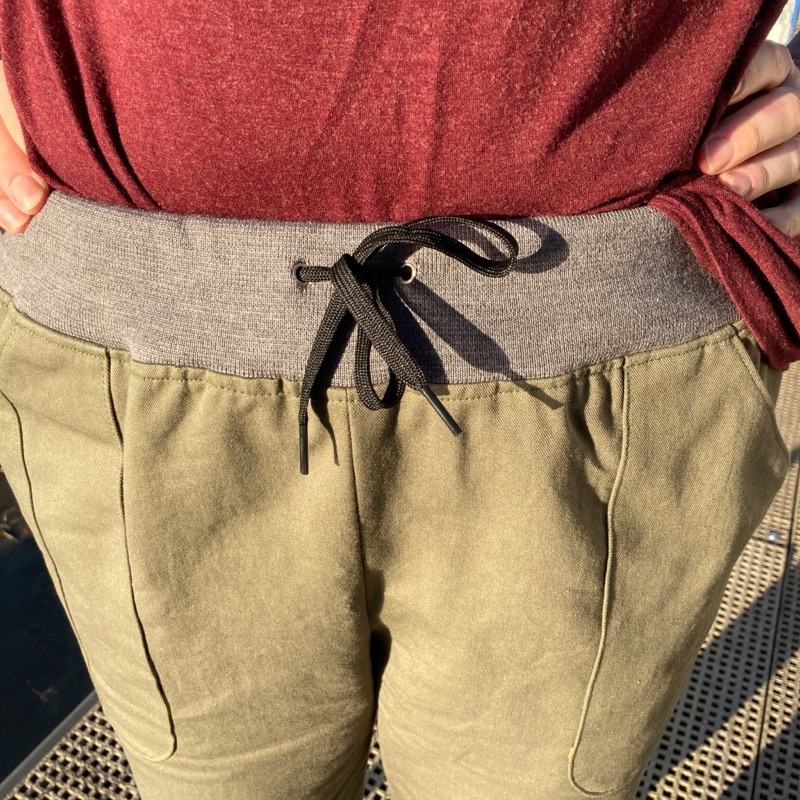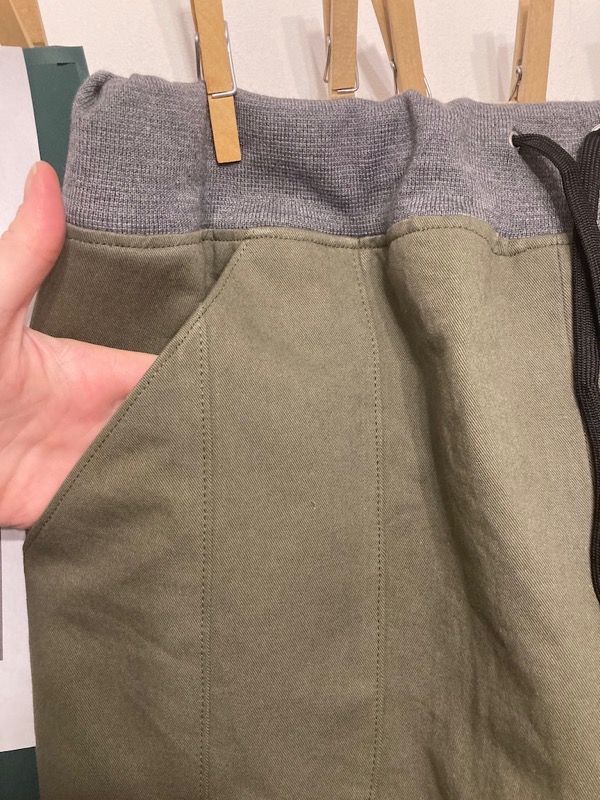 And since I could, I added an iron-on transfer that says "Handmade". I cut out a bunch of emojis and small designs whenever I've got my Silhouette cutting machine in action, so I can just put them from my drawer and iron them on with no effort!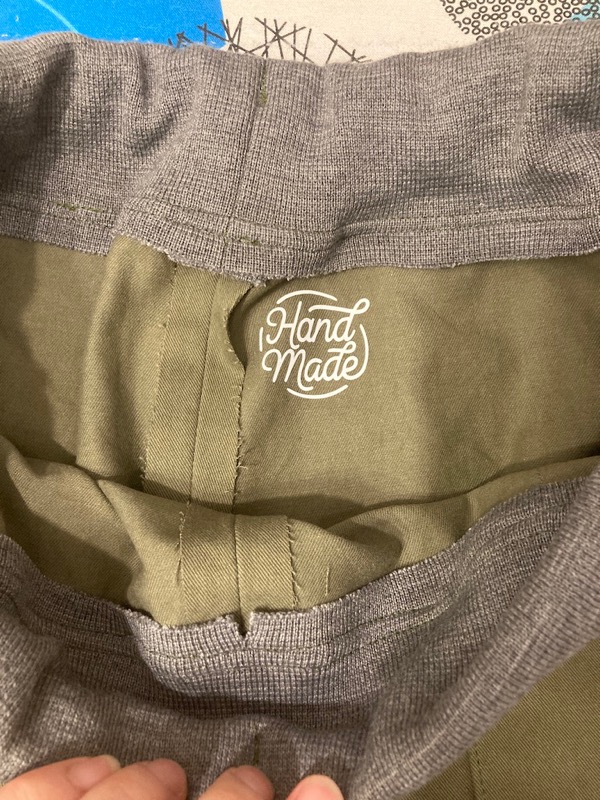 These are so seriously comfy trousers – the elastic waistband and ribbing comes them an extra layer of comfort, the big pockets make them super practical, but the olive twill makes them feel like "normal" trousers! I think I might be onto a winner concept here, and I doubt this is the last you'll see me making something similar!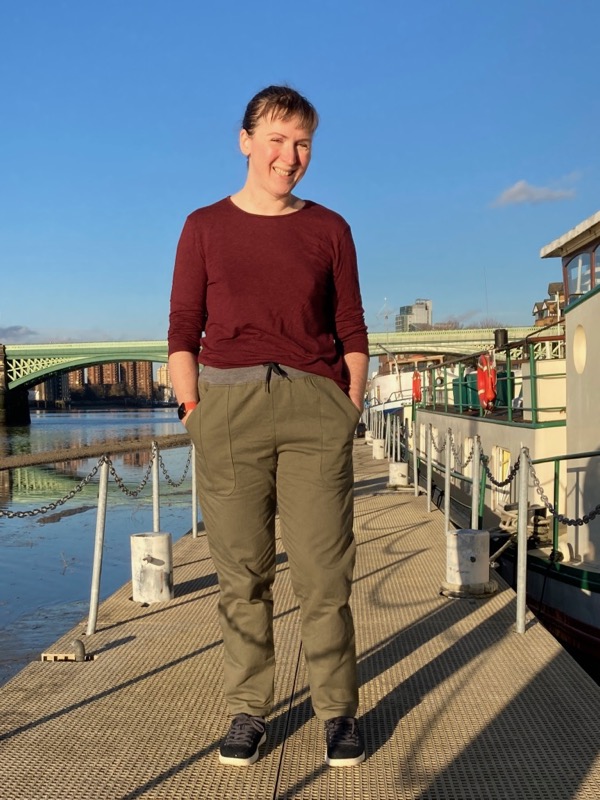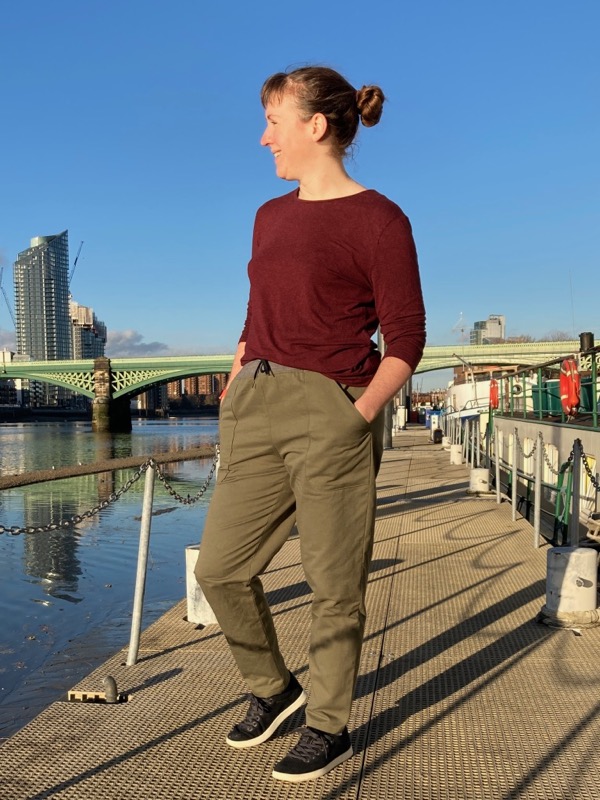 If you'd like to join Seamwork and make your own version, if you use my referrer link you'll save $3 off your first month!