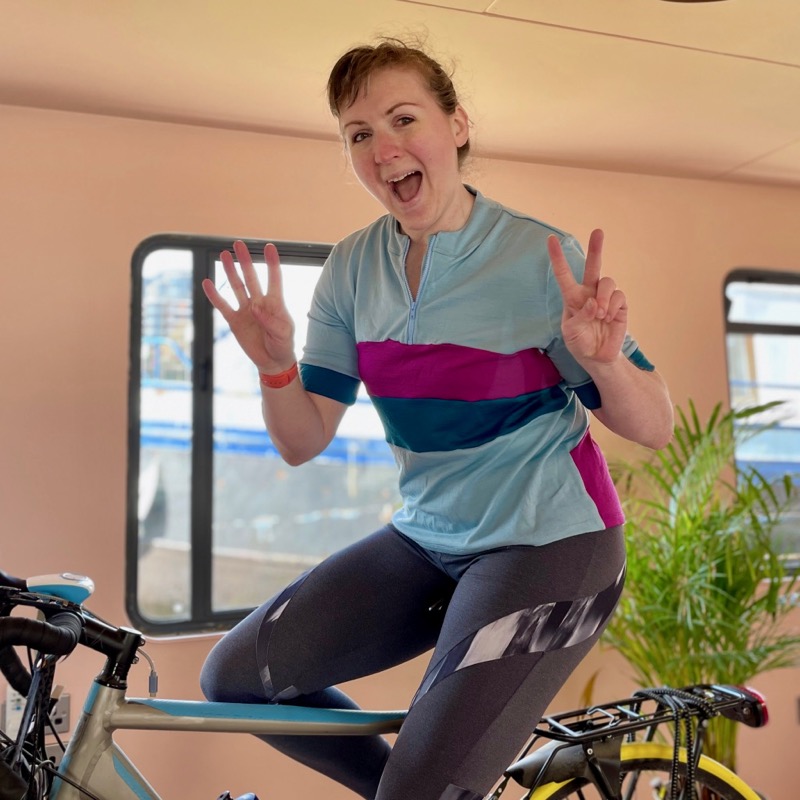 Happy "over a week late but still my" birthday to me!! If you aren't following me on social media (I mean, why not??) then you may have missed the absolute frenzy of renovation/building work that's been taking place over the last few months. In November and December, the builders made us a new kitchen, bathroom, and utility room, and then after a short break, have spent all of February and May creating our Saloon (bright living/dining area, where these photos were taken!) and Snug (dark living room) and corridor. Considering these didn't even have finished walls or subfloors (or lighting!) when they started, the transformation has been incredible.
But it does mean that for infection control reasons, I couldn't be anywhere near them while they're here working (we have a very small but self-contained back cabin we stay in). We're grateful to be in this position, but it severely limits my sewing time before you even consider the sheer amount of dust, lack of cutting table, fact that large sheets of plywood and doors would randomly block access to my sewing room and omg did I mention the dust?!? So my planned birthday make was not finished for my actual birthday this year, which just happens some years! And it doesn't diminish it in the slightest.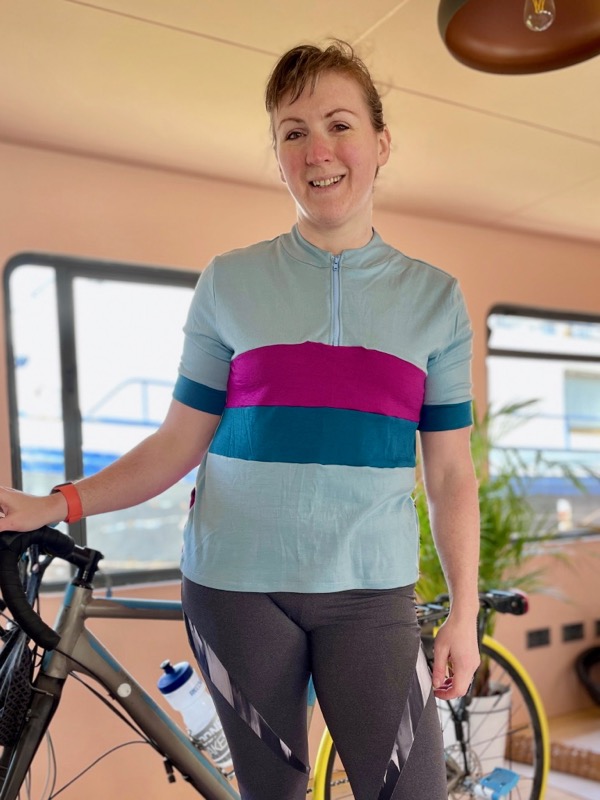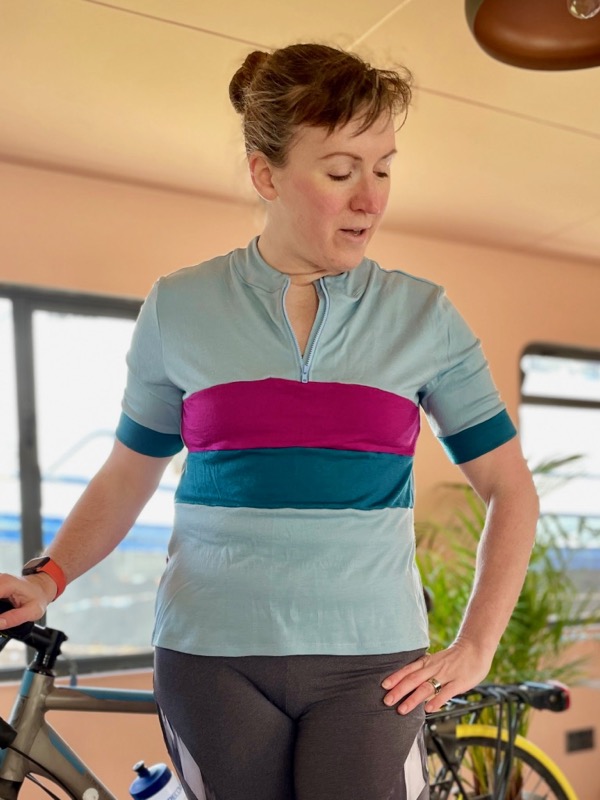 This year (for my SECOND lockdown birthday) I decided I wanted to celebrate the huge gains I've made in cycling on my turbo trainer using Zwift, and thought it'd be nice to use some of my precious merino wool jersey stash to make a vintage-inspired cycling jersey. I looked at a lot of vintage jersey designs online, and the common theme seemed to be a wide stripe of colour across the chest, albeit usually with some long-defunct sponsor's name across it.
I used the Cycling Top design from my "Sew Your Own Activewear" book for most of this, but I started with the Loose Fitting Top Block to account for the lack of elastane in the merino jersey and that the vintage styles were generally looser than those worn today. I added two stripes of colour across the chest to give me some more colours to play with, then elongated the sleeves to be about 10cm in length in total (including the wide sleeve bands) and narrowed them a bit to fit more like cycling sleeves instead of teeshirt sleeves.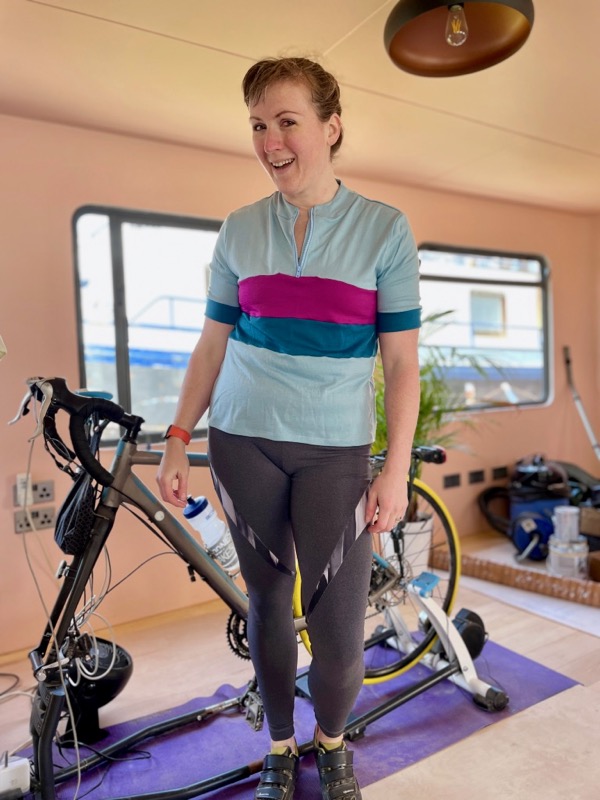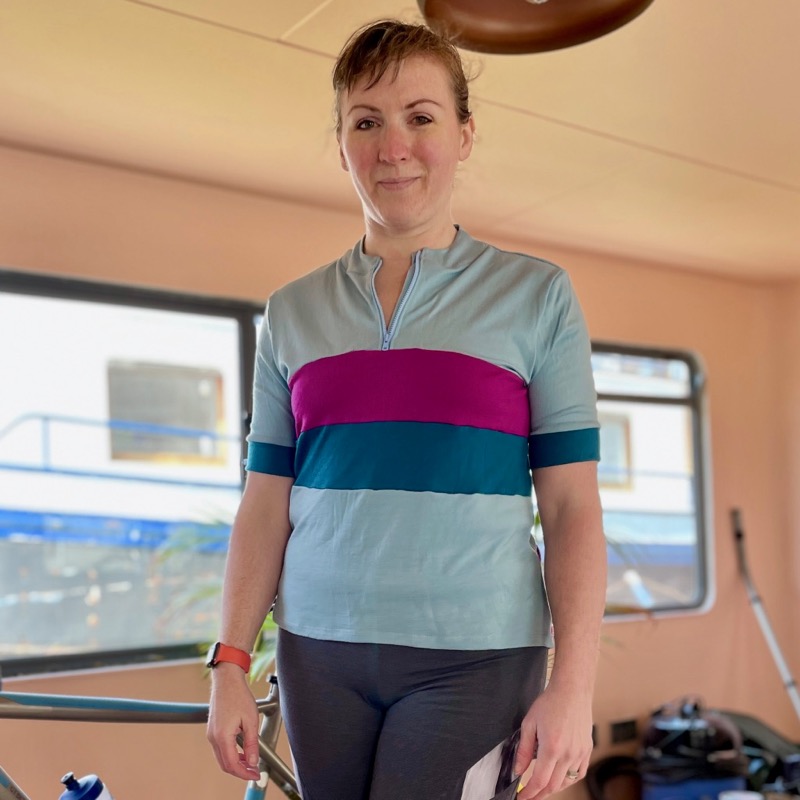 Then I started playing with the merino jerseys in my stash – most of which were leftover from sewing samples for the book (The Fabric Store were amaaaazing and sent me way more than I'd asked for!) but I had also bought a few lengths on a previous trip to America because the import duties from NZ->USA are so much cheaper than the duties from NZ->UK (seriously, the cost of importing anything into the UK is stupidly high, even before Brexit). I knew I wanted to use the pale blue for the body, but I also had a bunch of small pieces of other colours, and I finally settled on a purply-fuchsia for one chest stripe and the back pocket, and a dark teal for the other chest stripe and the sleeve bands.
I even managed to find a short, chunky zipper in the exact shade of blue I needed already in my stash! What are the chances?!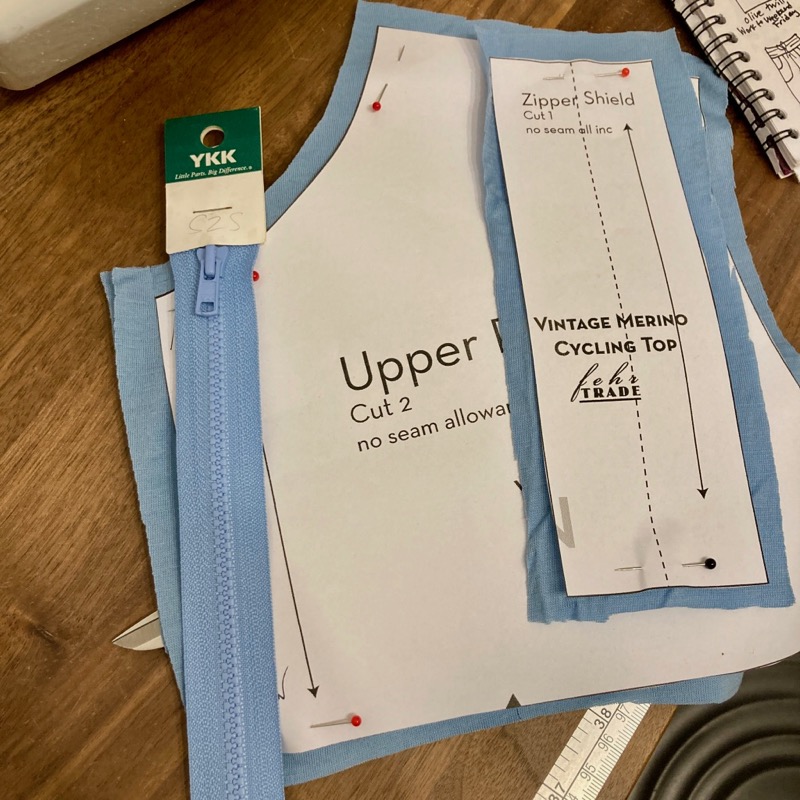 For the back pockets, I wanted to keep to the vintage aesthetic and FOE didn't really seem like the right finish here when all the inspiration photos were hemmed with button closures (because, err, FOE didn't exist then!). So I went with a fold-over-and-topstitch hem for the pocket edge, and debated with using buttons as well, then ultimately decided they'd be too big of a faff to get opened while riding, so left them off.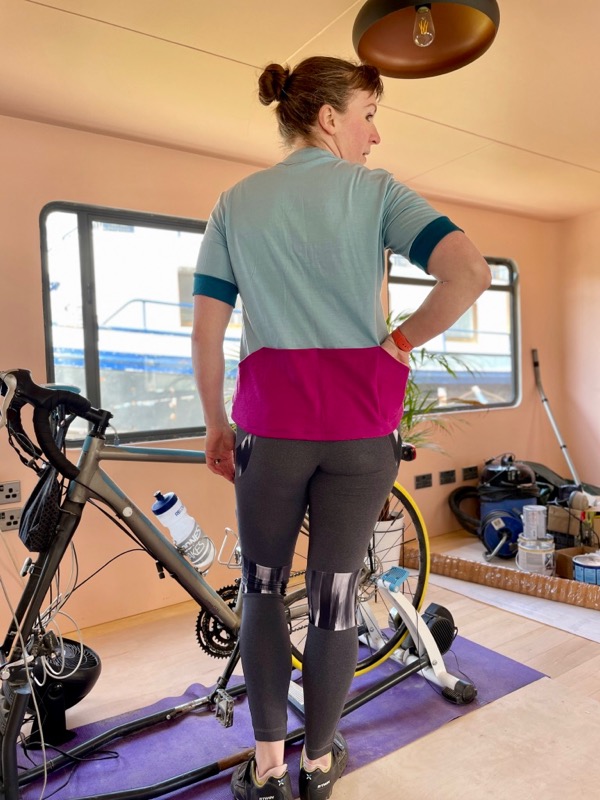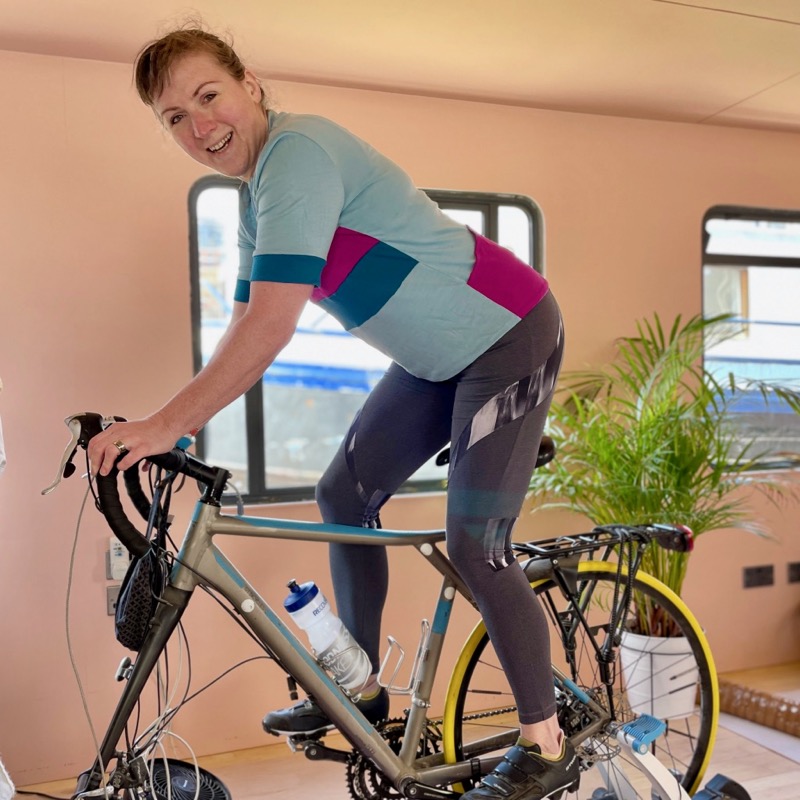 Likewise, the hem of most cycling jerseys would normally also be bound in FOE to keep it close to the body, but I also eliminated it here in favour of a standard topstitched hem.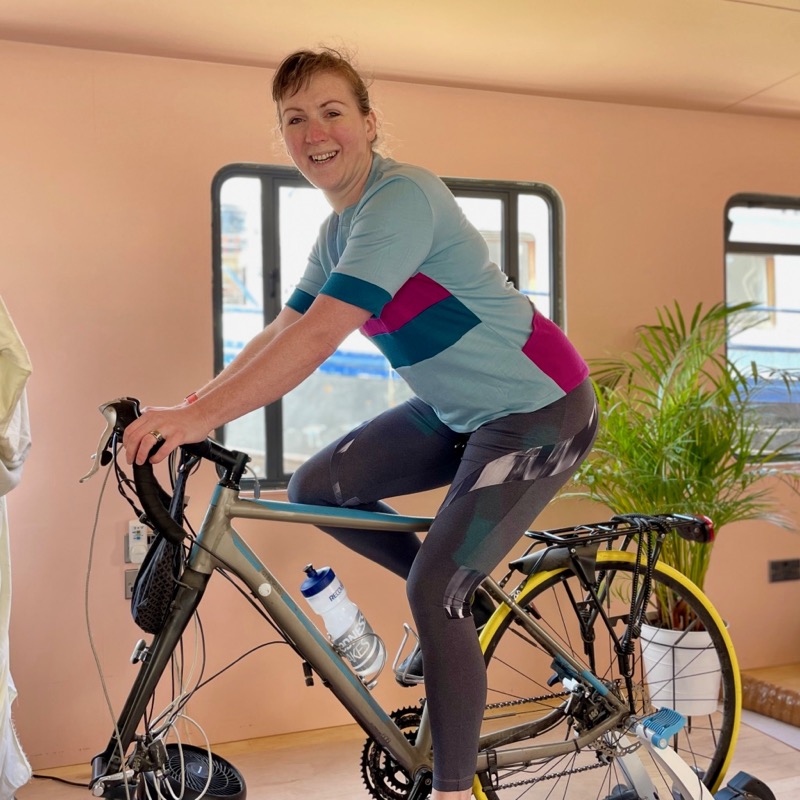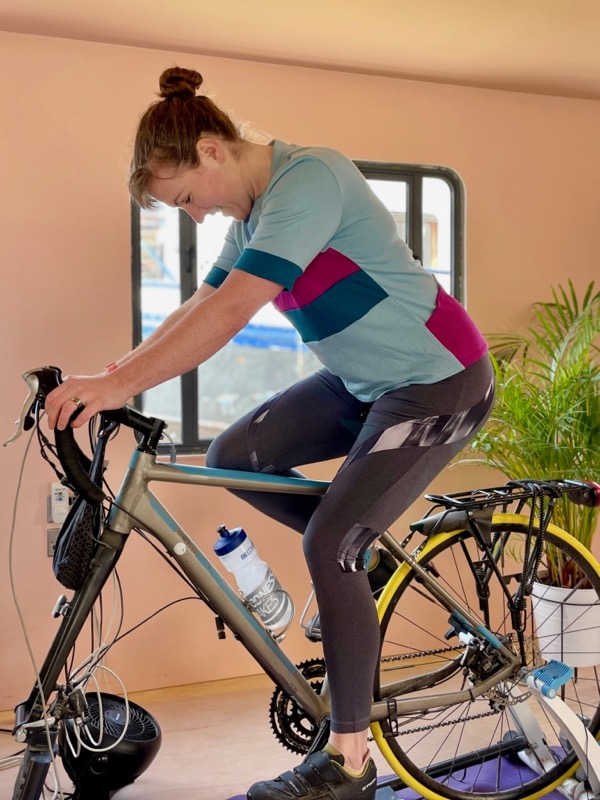 I love this top, but it really does highlight how few solid-colour cycling shorts I own – I pulled out my grey PB Jam Leggings for these photos since they were the best stylistic fit. Looks like that's the next thing I need to fill in my activewear wardrobe!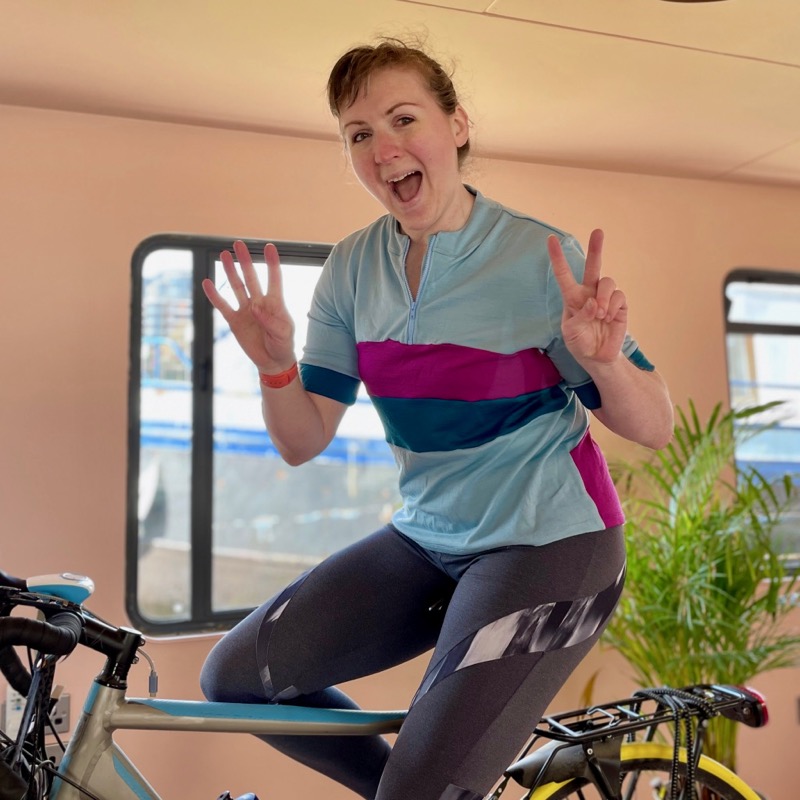 —
If you recall, I always make myself something nice and special for my birthday each year…
Past Birthdays
41st – For my first birthday at the very start of the Covid pandemic lockdown, I made a comfy Ruska knot dress in the most gorgeous shade of muted rust orange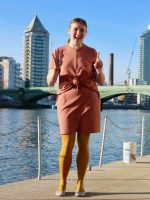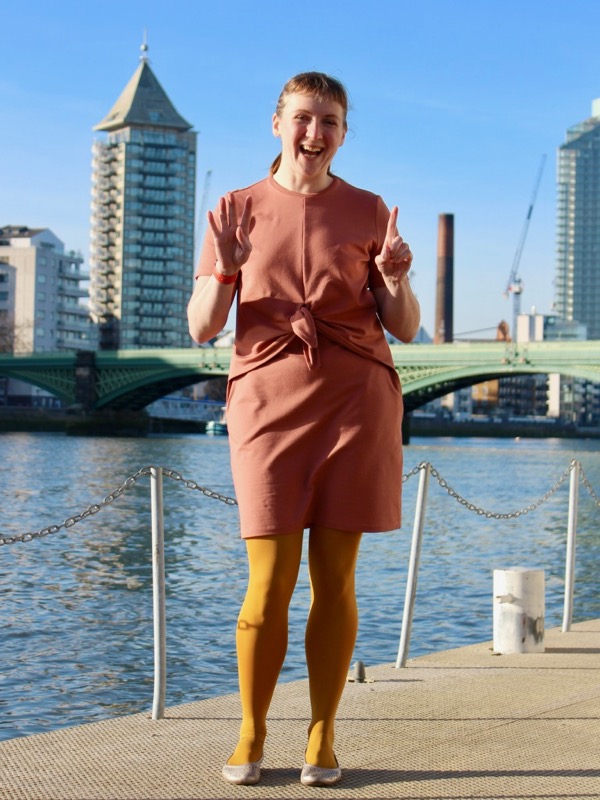 40th – For my big 4-0 I sewed a bias-cut silk satin evening gown with cowl neck and plunging back for a big cocktail party!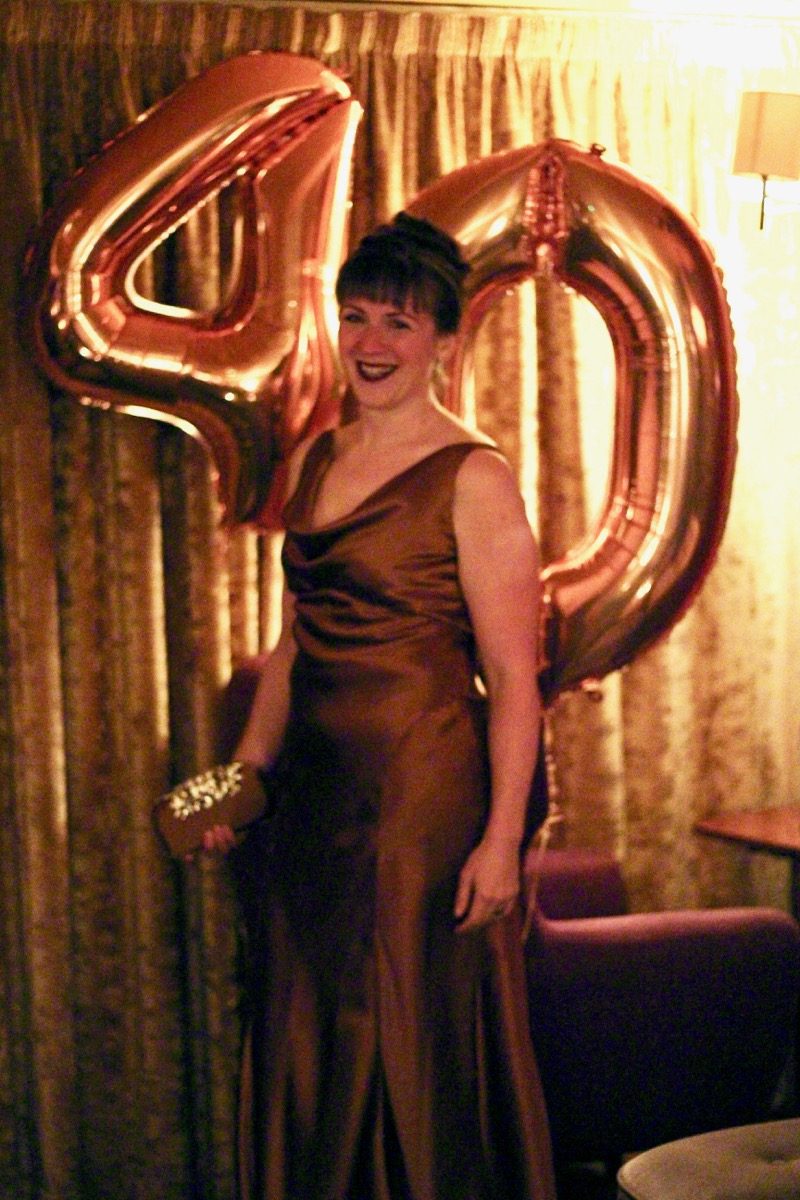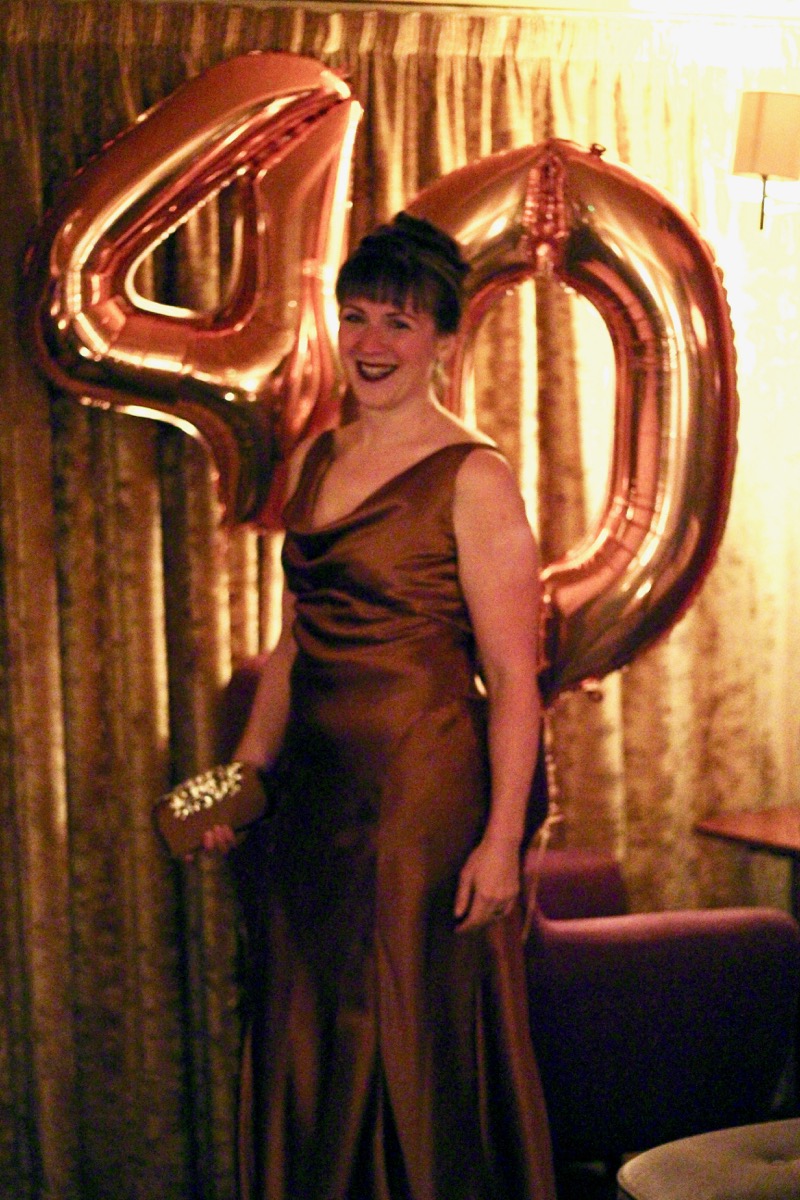 39th – I sewed myself a long sleeved cycling top though really I spent the day moving into our temporary flat while the boat was being renovated.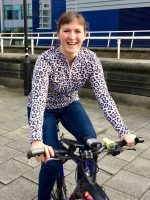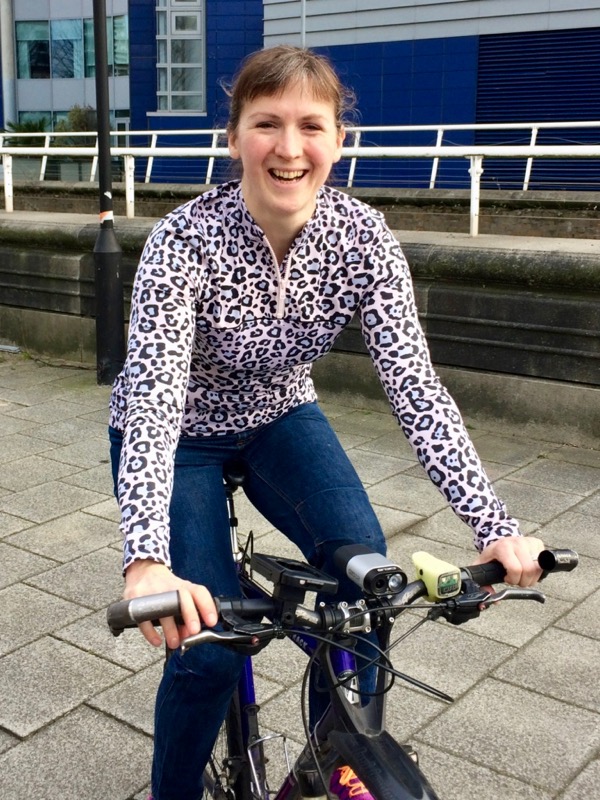 38th – I made a Gimlet dress out of some incredible, embroidered ombre denim with flashes of the red satin lining.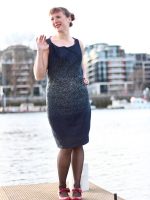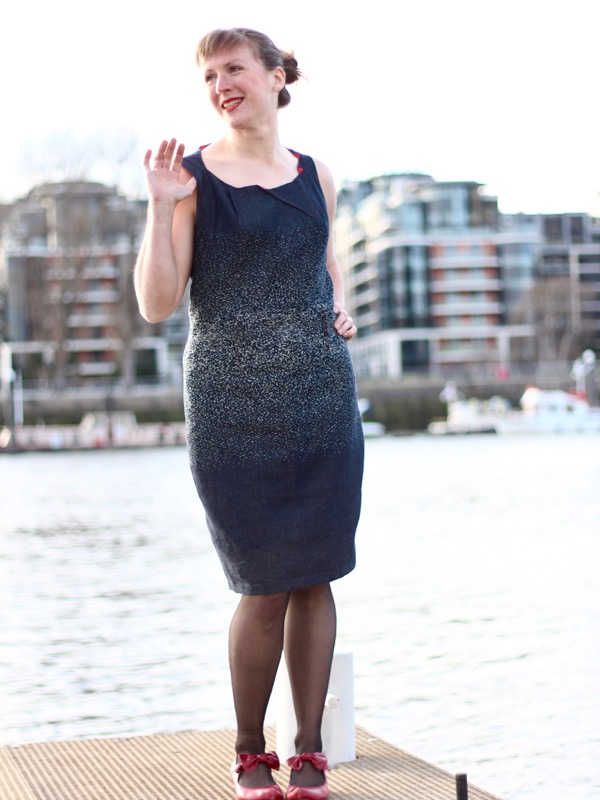 37th – This birthday sucked. I'd been continuously ill for three months, we spent six hours stuck in traffic and got turned away from the restaurant (no bookings). I couldn't even summon the enthusiasm to post about it, let alone make anything.
36th – A pair of jeans to take along for a week's trip to NYC, where they saw active duty in our intensive, immersive theater schedule

35th – A galaxy-print sheath dress, using a Manequim pattern and a purple exposed zipper.
34th – A satin Matthew Williamson designer dress, made with his pattern from BurdaStyle magazine and a rich, plum duchesse satin.

33rd – A leather iPad case, protecting a new gift against the rigours of a transatlantic work trip the following day.

32nd – Manequim silk blouse: still being worn and loved many years later!

31st – LMB draped birthday dress in teal silk jersey:

30th – Green silk birthday dress using a Burda magazine pattern a emerald green silk satin:

29th – A bolero and jeans, on which I put the outline of the Thames on the back pockets, and lined the bolero with some vintage apron fabric from my Granny:

28th – I was homeless and living out of a suitcase in my boyfriend's parents' house, watching the Shipping Forecast every single day, hoping for good weather to sail our boat across the North Sea. My sewing machine was in storage, so I couldn't make a new outfit, and frankly, ALL I wanted was for our boat to arrive. And it did, on the evening of my birthday.
27th – New Look 6429 in a fun sparkly knit from Walthamstow Market (and then about three days later decided to lose all that excess weight for good!).

26th – (probably the first year I was really into sewing) my favourite vest pattern with a red vinyl square neckband: