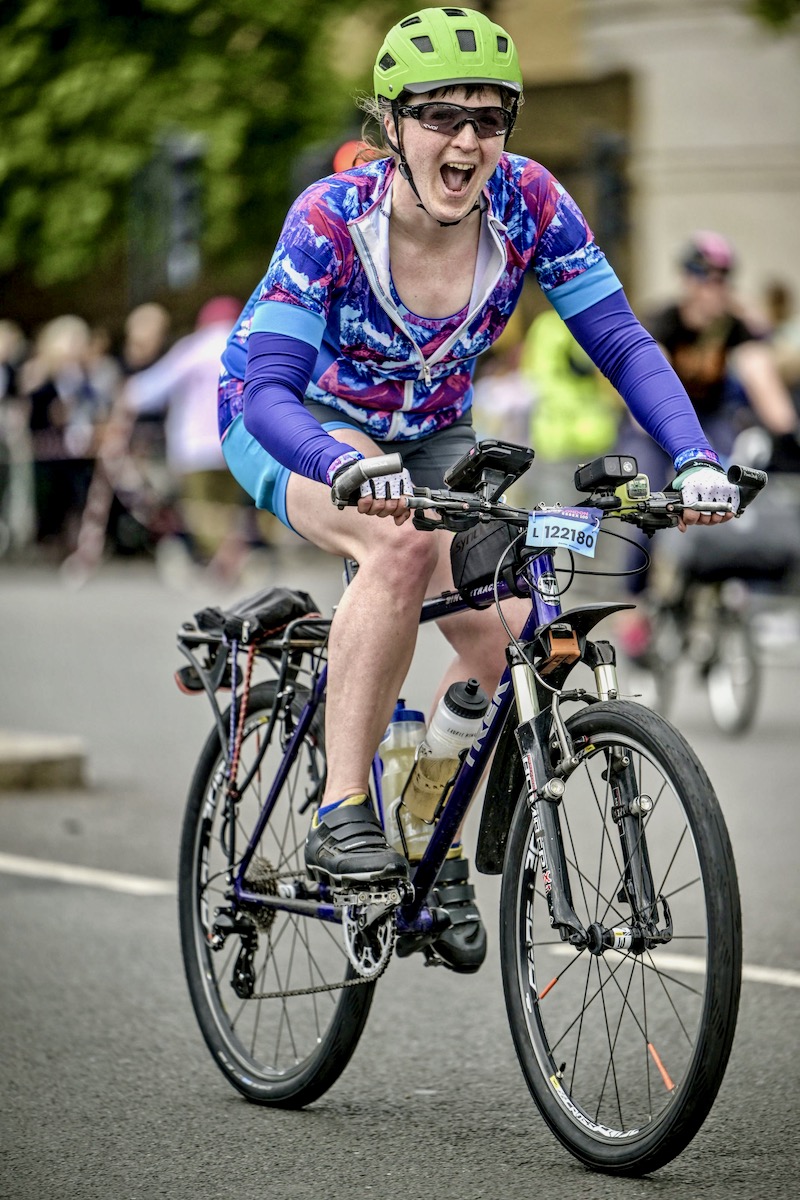 When I sewed myself the Alpine cycling kit last summer, I didn't make a sports bra to go along with the Surf to Summit Top jersey and the Rouleur Leggings bib shorts, even though I'd done so for my previous two cycling sets (rainbow in 2019 and Tokyo-inspired in 2020). This was because I didn't really think I'd have enough fabric left as I knew I wanted to make Tenacity Shorts and a Versatili-Tank with it too, but also because I figured I had enough sports bras and it didn't really matter.
But apparently I do care, because in the months of cycling in the kit since then (99% of which was on Zwift!), it kinda bugged me that I didn't have a matching bra – petty, I know, but easily fixable! So once I decided that I'd be cycling RideLondon's 100 miler in this kit, I pulled out the leftover scraps to see if I could piece together a sports bras from the bits of fabric and upcycled race tees. And the answer was "just barely"!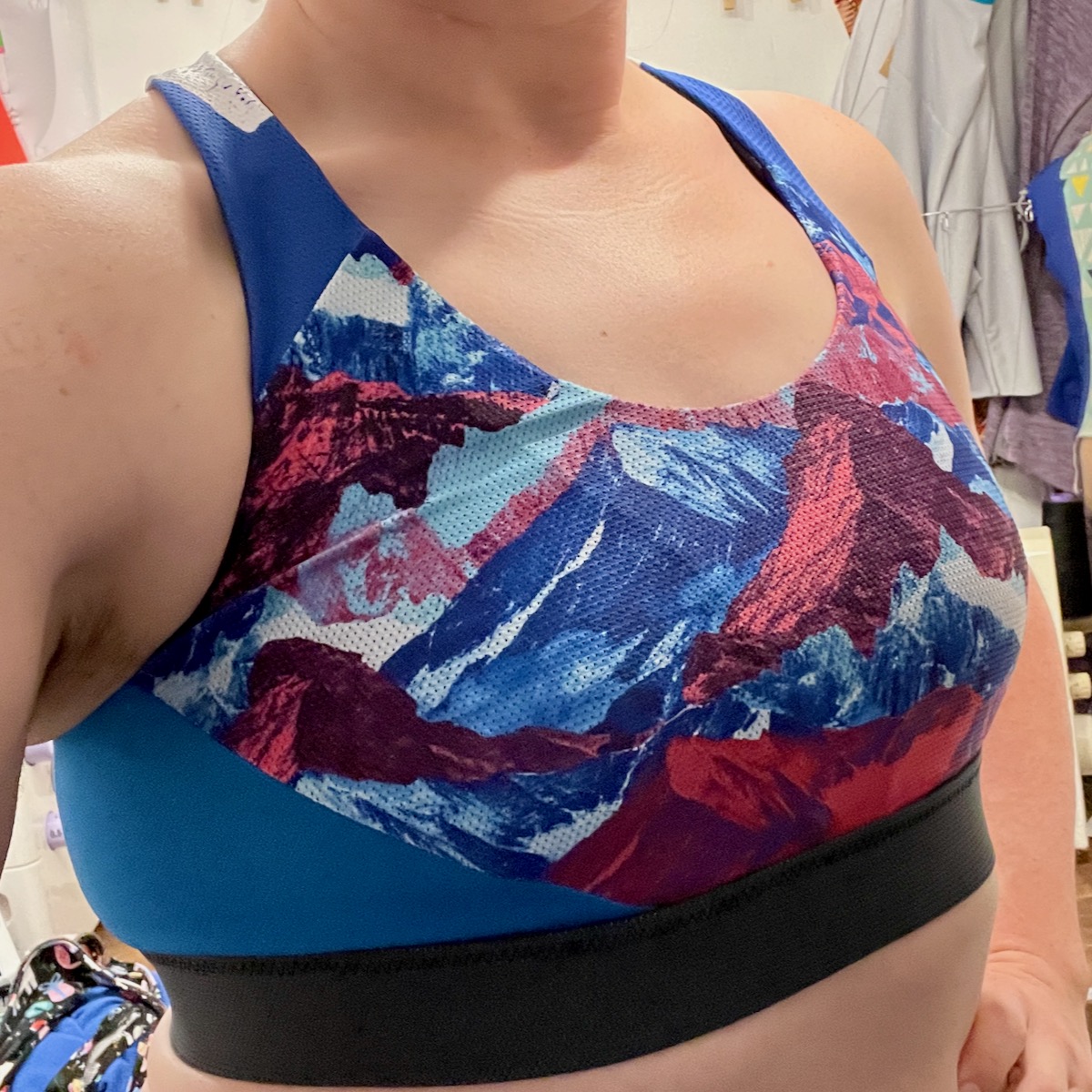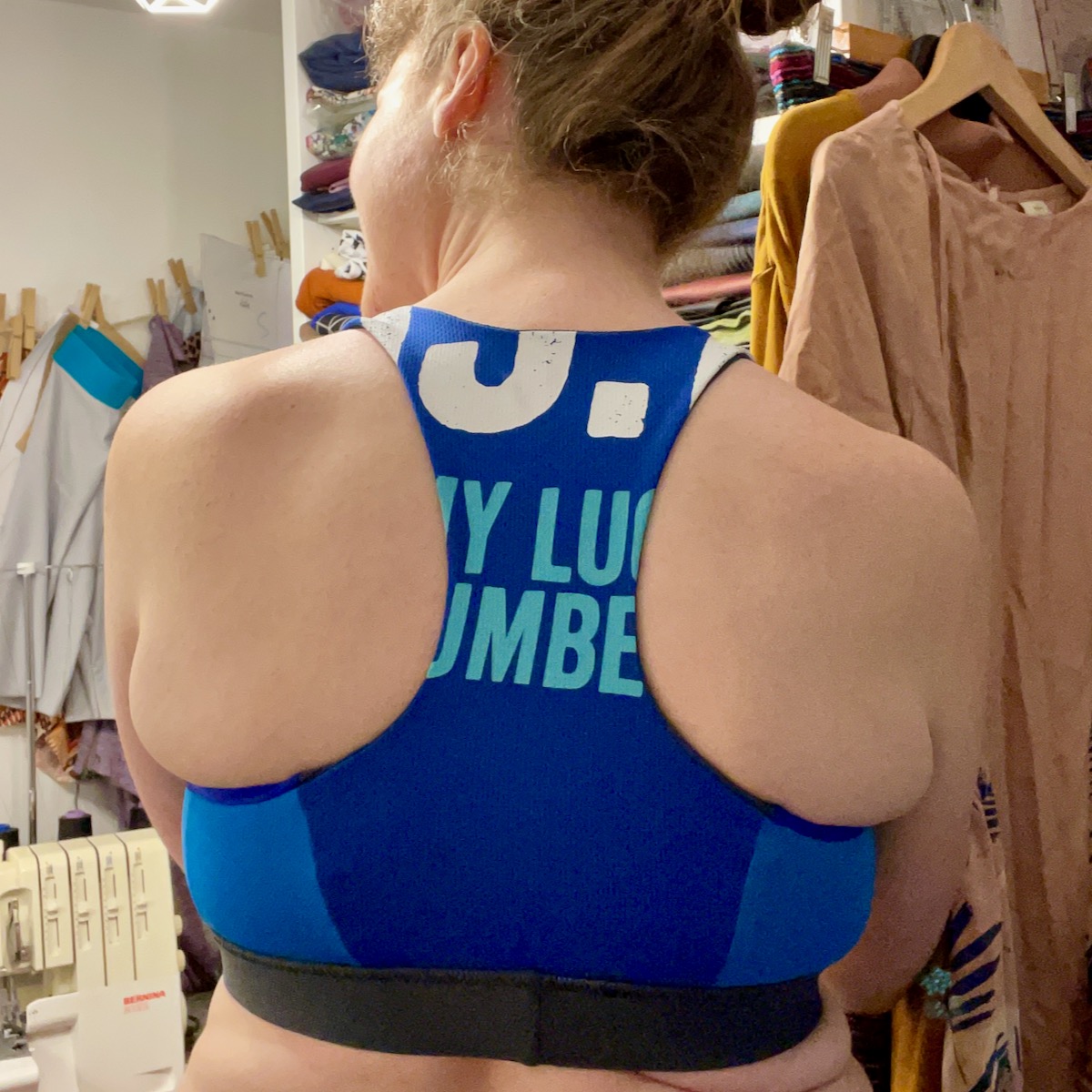 (The original race shirt said "13.1 is my lucky number")
I made the Jalie Coco sports bra again (my 5th? or 6th? one), purely because the pieces were easier to find than the Crop Top design from my book, which was my first intension. I won't go into too many details here since it's been said a bunch of times in all the previous posts, but this is the only sports bra pattern I've found that's actually supportive enough to run in -IF- you use two layers of stretch mesh running in opposite directions as the lining, you choose the Y back version and the wider underbust elastic.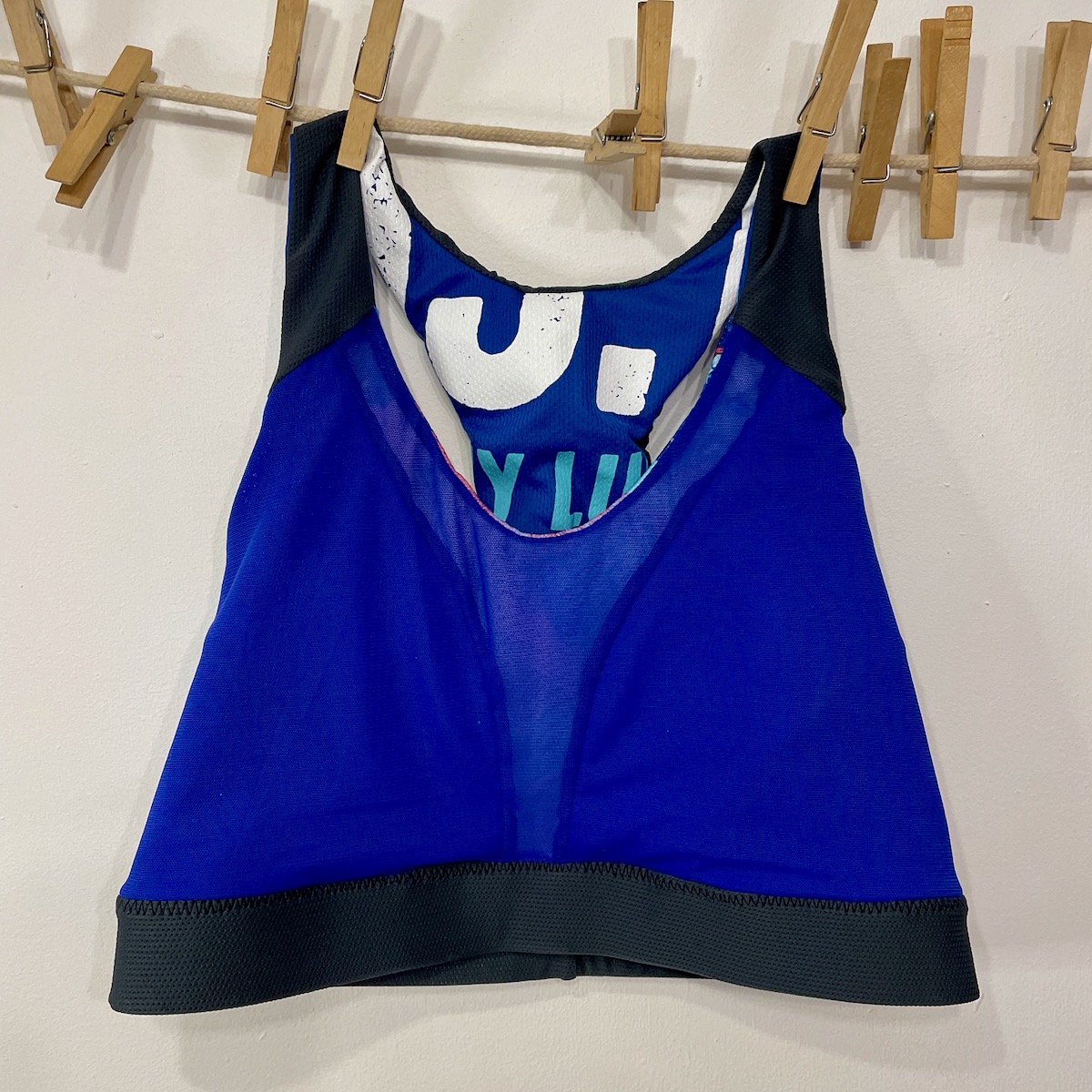 I had recently purchased a grab bag of stretch mesh offcuts from Tia Knight for an absolutely bargain, and the royal blue from that was a great match for the rest of the fabrics.
So I sewed this together during the Sewing Weekender while I watched some videos and chatted with friends, and it was finished in time to wear it for a short ride during my taper week leading up to the event. But then I saw that the forecast was going to be chilly (especially for the early start!) so I got it into my head that I should make some matching Arm Sleeves rather than wear one of the many sets I already have (of course!).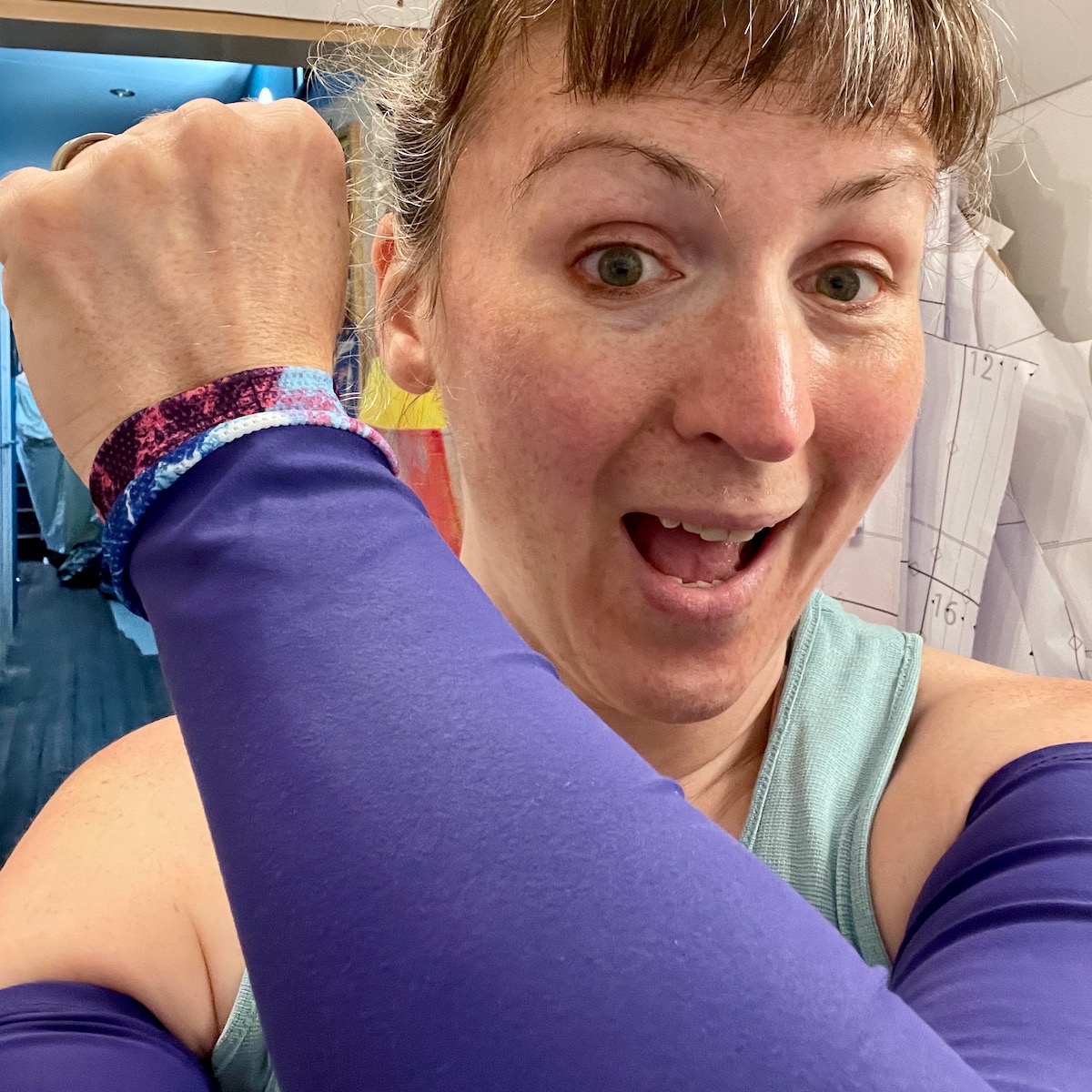 So I pulled out the remains of the Tia Knight "ink blue" supplex I'd used in the Alpine Tenacity Shorts since I knew it was a good colour match, but the piece I had left was only long enough if I cut it on the cross-grain so I'm glad this had plenty of stretch in both directions! Rather than hemming it at the wrist, I added a little cuff of the Alpine fabric to tie it all together.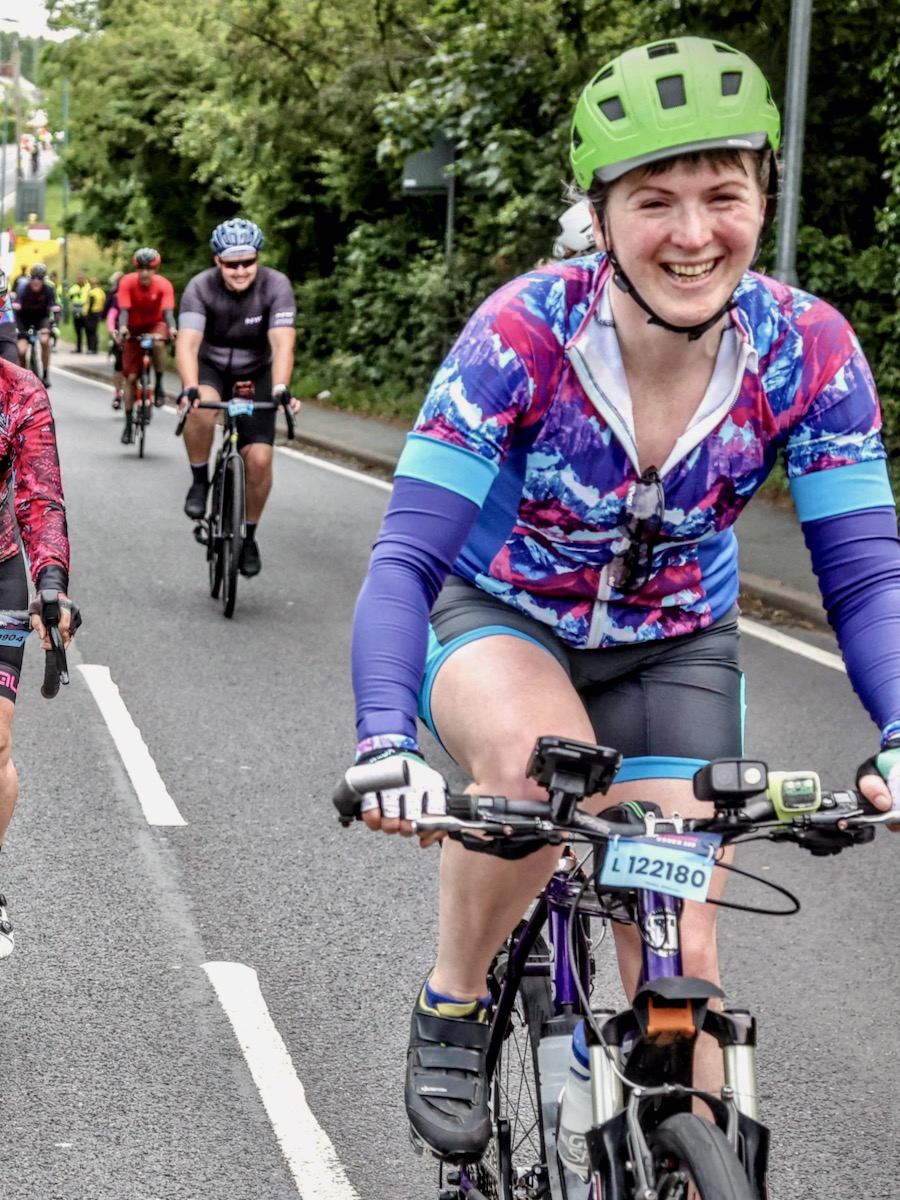 And since Ride London was on Sunday, I can share some official race photos! Short version – I had a BLAST. This event has been running for a decade but all the previous years (including when I cycled it in 2019) have been through Surrey (south of London) and this was the first year it moved to a totally new route to go through Essex (north east of London) instead. The previous course was mostly flat apart from 3 killer hills, but the new course was a lot more rolling ups and downs, which I loved – I barely moved out of the big chain ring!
It was super friendly, incredibly diverse (big up the organisers for doing the hard work!), and Essex absolutely shined with support. I was hoping to finish in about 8 hours since that's what I did 2019's in (with the caveat that I was stationary, stood next to my bike for 90min of that waiting for two crashes to clear) but I ended up finishing in under 6.5 hours all told! And that's with only a ten minute wait for a crash to clear, and riding on a super heavy, steel-framed mountain bike.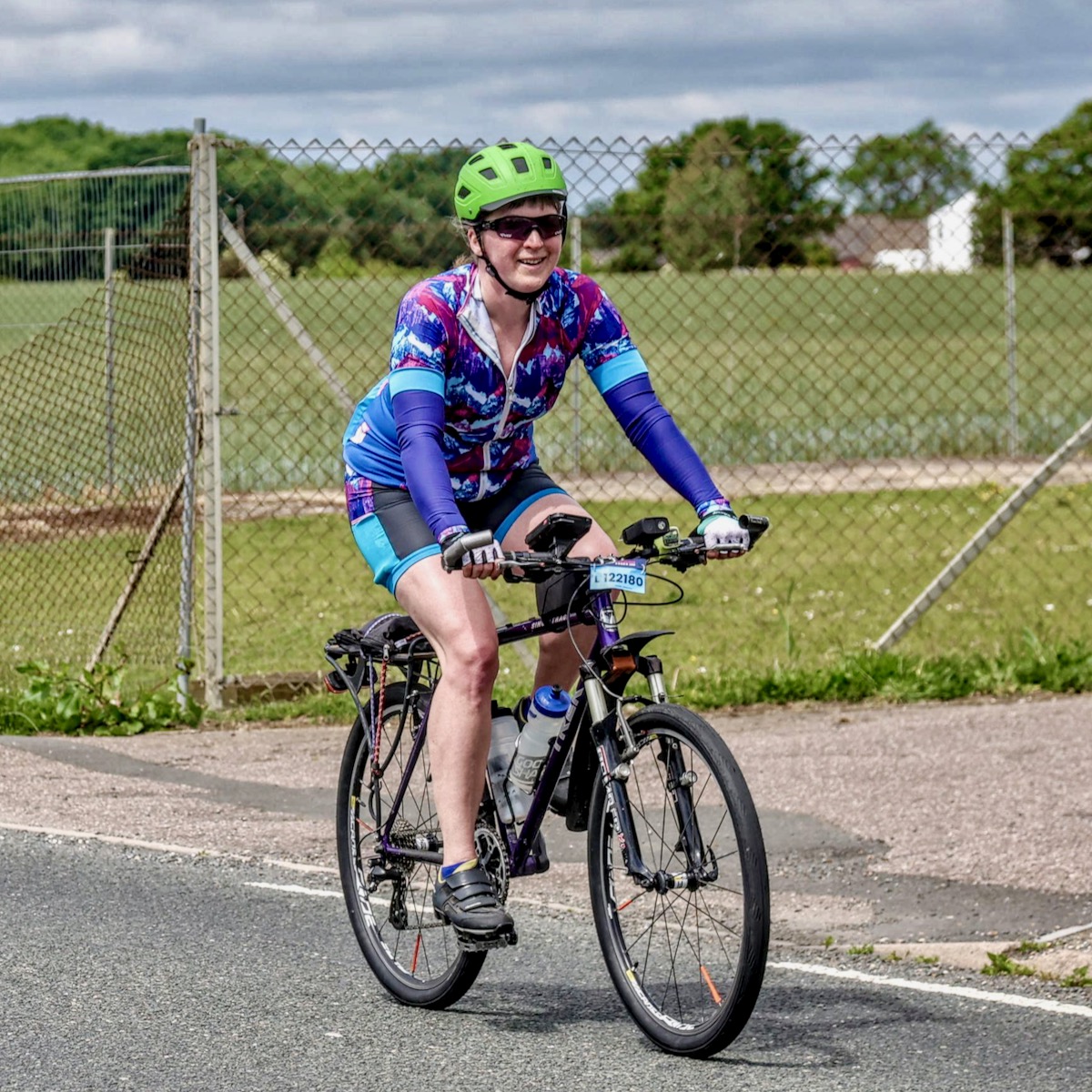 But the best part is that I felt absolutely fine afterwards – a little tightness in my hips, but frankly the mild sunburn I got on my thighs was worse! I thought I'd only need my Arm Sleeves for the start but I ended up wearing them all day because it was fairly chilly so they acted as warmth, then sun protection, then warmth (it rained and got so cold midway through!) and then sun protection again.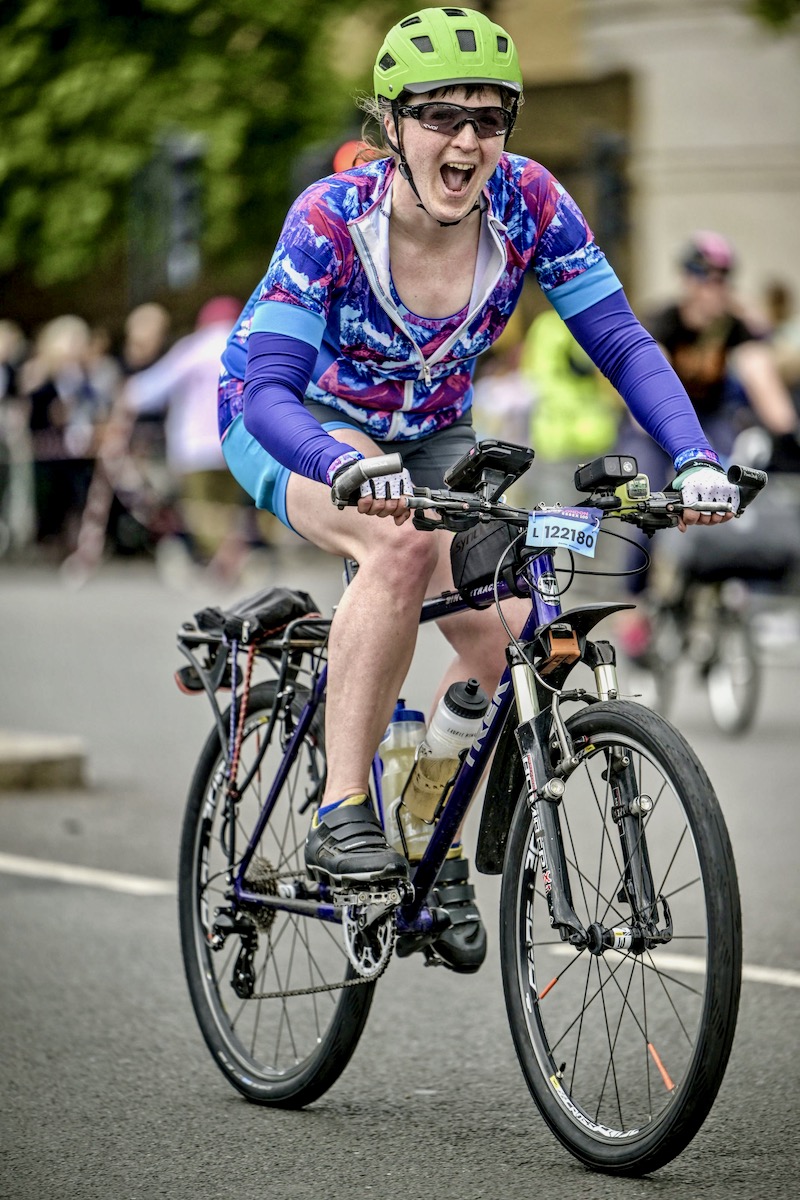 So if you were in any doubt that your own-sewn activewear can hold up to serious exercise, let me show you again that I practice what I preach!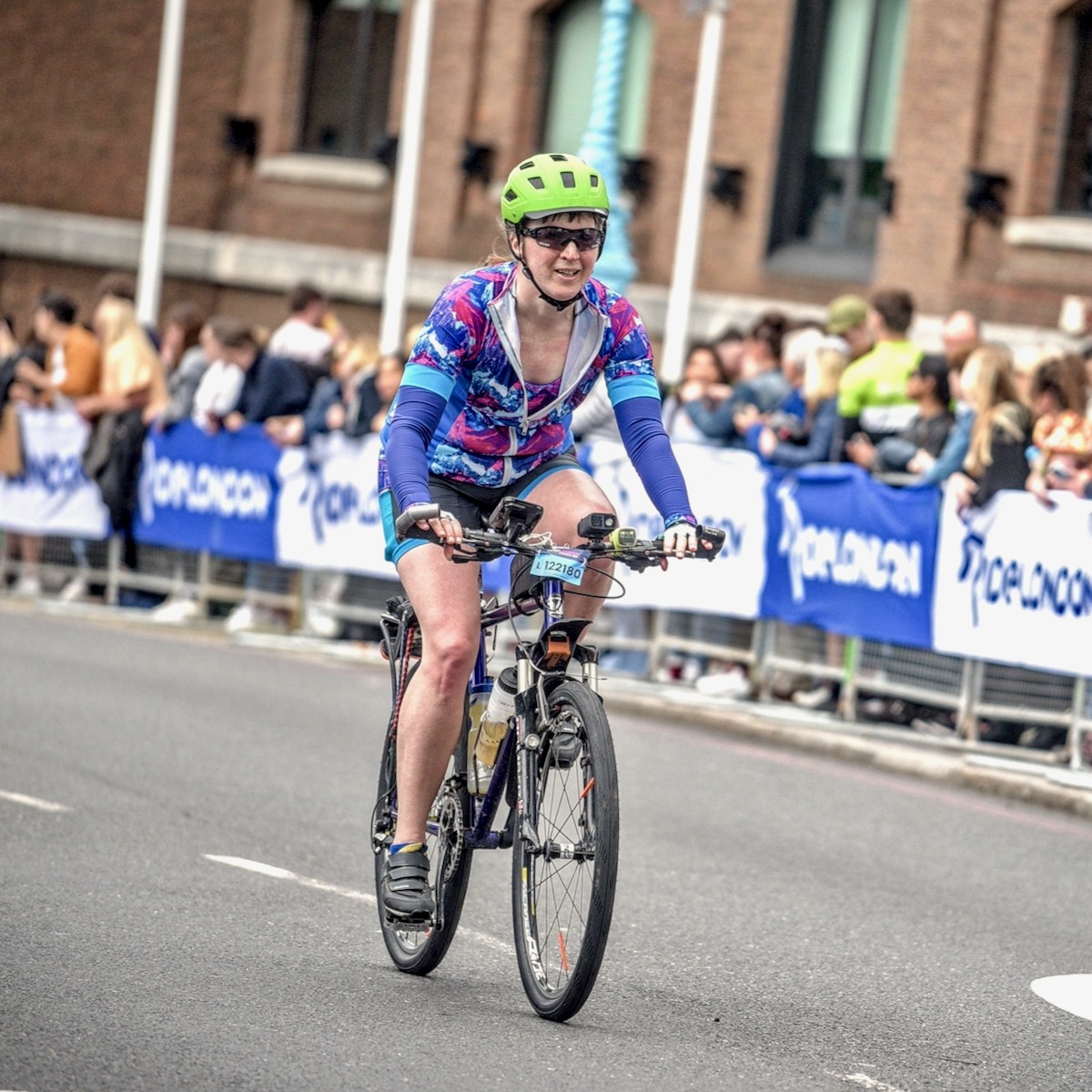 The finishing straight over Tower Bridge!