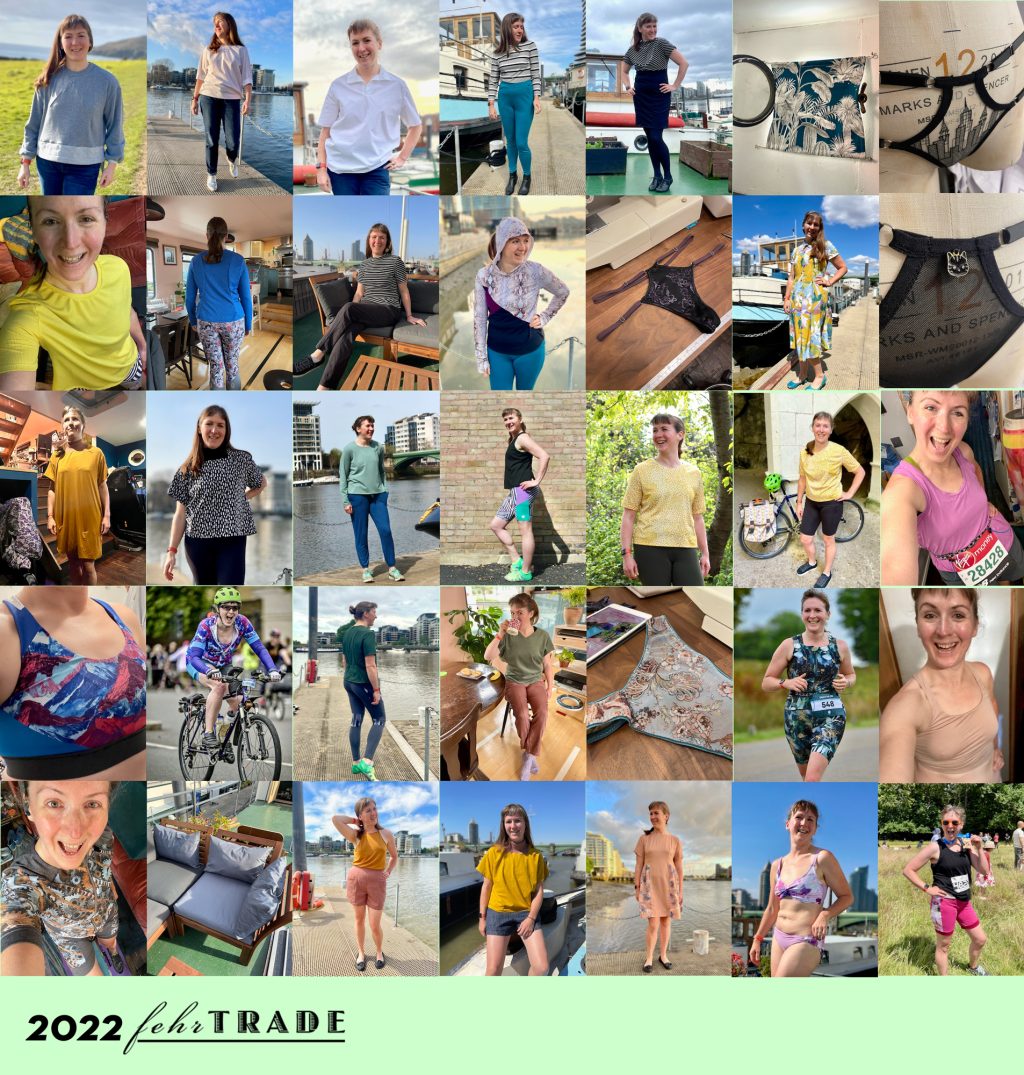 For the past 15(!) years I've posted my year in review on 1 January, but not this year. I lost my sewjo around the end of September so I didn't really have much to blog about. I waited for it to reappear (as I learned a long time ago there's no point in trying to force it) and prepped a few projects, tidied a bit, planned a bit, and then fell into a massive "Interview with the Vampire" fandom hole (more on that later), and generally was happier in October and November than I've been in a long time (completely unrelated to the sewing) but that's not the reason this post is late.
This post is late because, despite my best efforts (cycling to/from, FFP3 masking indoors with my CO2 monitor and otherwise staying outdoors) I caught a virus of some sort at the office christmas party which left me practically bed-bound with post viral fatigue for 4+ full weeks (no, not Covid, not flu, not RSV, not anything they swabbed for at haematology, but thankfully not EBV either). Like, 21+ hours a day in bed, and if I sat up for more than 15min to eat or drink, I'd have to lie flat for another hour. So sitting up to type was impossible, and I wrote this in pieces on my phone when I could, not being able to put it all together until I started improving a little bit in the past few days.
So apologies that it's late, and for the blog silence for the past few months, but hey, 2023 can only get better from this dismal start, right?? Without further ado, let's have a look back at 2022…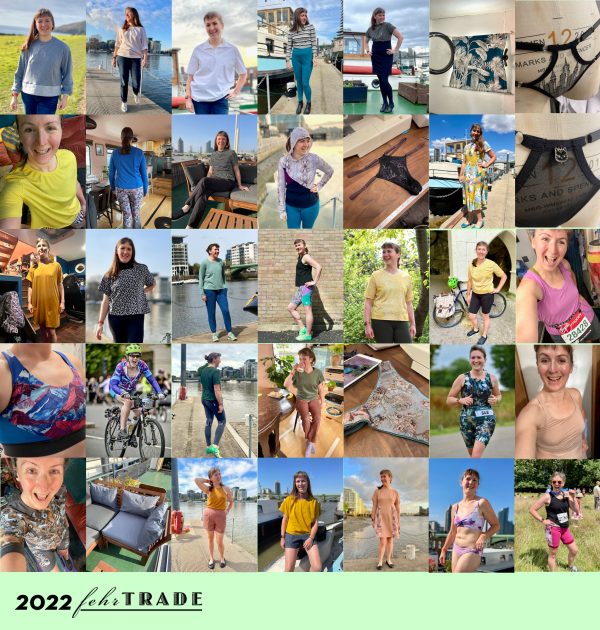 (Click here to see a full-sized version)
The Year in Stats
Garment types:
15 Tops
8 Bras or panties
5 Bottoms (trousers, leggings, or shorts)
3 Accessories (arm sleeves & 2 tri-belts!)
3 Dresses
2 Trisuits
2 Home Dec projects (slipcovers & curtains)
Plus 5 pairs of loom knitted socks throughout the year, too!
Pattern company breakdown:
12 FehrTrade
5 Self-drafted (or yet-to-be-released FehrTrade)
5 Named
5 Evie La Luve
2 Paprika Patterns
2 Cos "Made By You"
2 Gertie/Charm Patterns
2 Closet Core Patterns
1 each of: Jalie, Burda magazine, Sophie Hines, Seamwork and dP Studios
Big Business Things
Versatili-Tops pattern – In April we released our second beginner pattern, a loose fitting tee and tank pattern that pairs perfectly with the Tenacity Leggings and the "Activewear Sewing For Beginners" eBook. I've made so many samples of this one that it's dangerously close to becoming my TNT teeshirt pattern!
Tri-belt tutorial – This one wasn't a pattern merely because it didn't require any fabric pieces but it doesn't make it any less useful! I needed one for my first multi-sport race and I found it so much more fun to make myself (and my coach!) ones in pretty, patterned elastics instead.
Threads luxe loungewear challenge – When Threads approached me to see if I would like to take part in their luxe loungewear challenge, I jumped at the chance! I was able to make my outfit from sustainable fabrics sourced from small businesses and really take my time elevating our Sweat Luxe pattern and my favourite Pietra Pants patterns with lots of little couture details. Projects like this take extra time, but the care that goes into them is felt every time they're worn.
Favourite Makes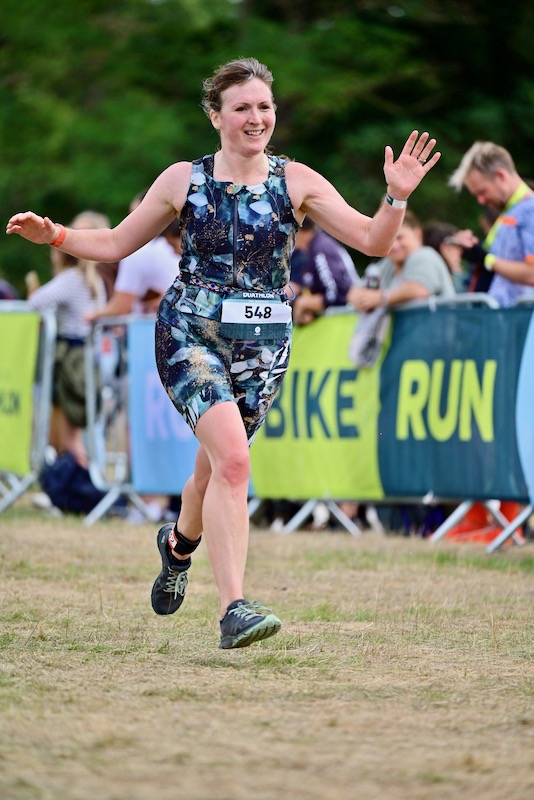 London Duathlon trisuit – I don't like announcing future patterns before they're available to buy but sometimes my racing schedule makes that difficult, like when I did my first ever multi-sport race in August, and did it in a tri-suit sample I'm hoping to release in the spring before tri season. Loved the print, loved the fit, and got a chance to improve the pockets, too.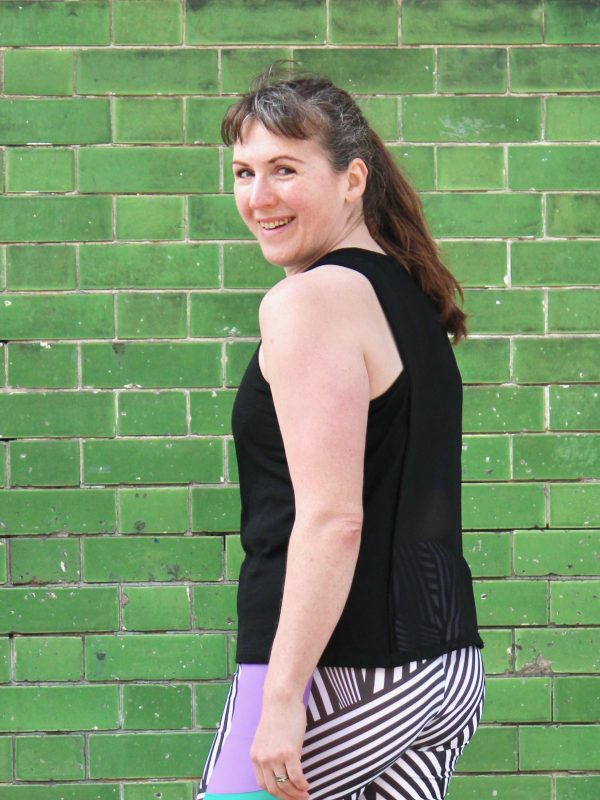 Black mesh Versatili-Tank – I absolutely love incorporating sheer panels into my activewear, and the narrow back piece on the Versatili-Tops pattern is perfect for this without showing off too much! I was able to use nearly all of a small scrap of black merino jersey for the front piece and bands, so it was an economical make, too!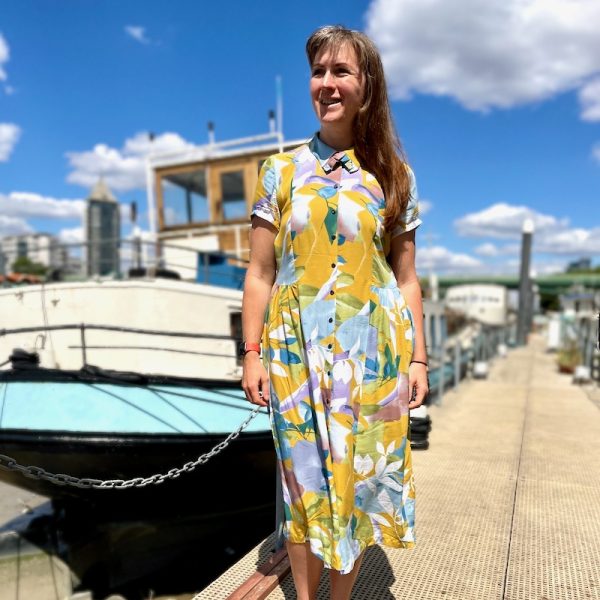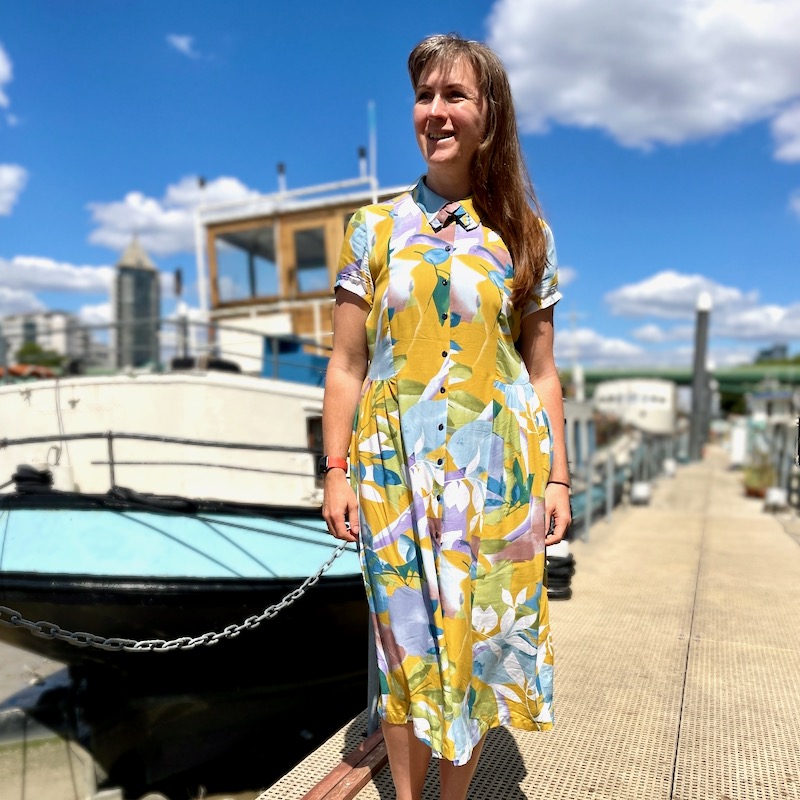 Another Golden Saraste shirtdress – I loved the version I'd made in the Atelier Brunette fabric I bought in Paris so much that I actually felt the need to have a similar one in my wardrobe. This was an example of pairing the perfect fabric with the perfect pattern and I love wearing it so much. It's one of those rare dresses that works for just about any occasion.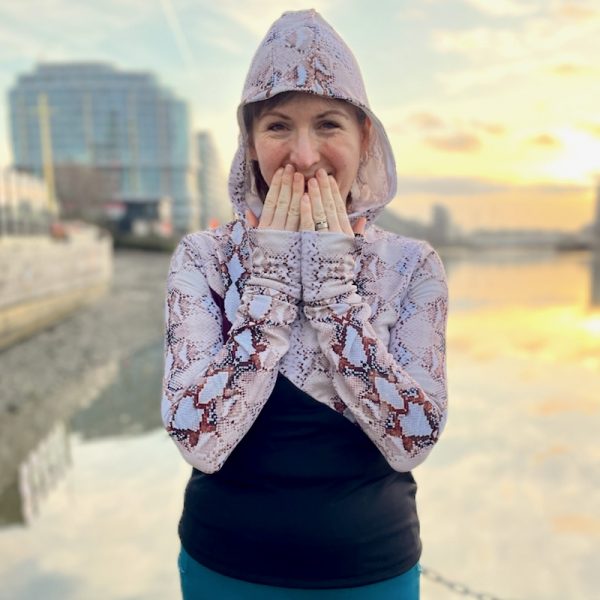 Snake-print Thermo Tessellate hoodie – I started off the year strong with this fleece-lined lycra version of our Tessellate Tee pattern and I just cannot get enough of it for winter running. I surprised myself by how much I love the snake print, and that the rest of it was made from scraps was another bonus!
Duds!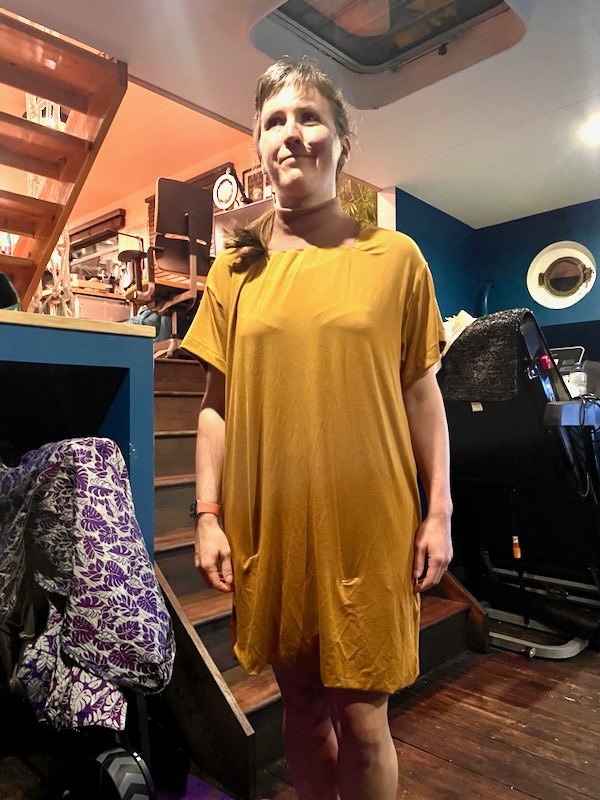 I loved the Named Rauha pattern as soon as I saw it and I bought fabric and ribbing especially to turn it into a dress for my birthday, but this was a lesson in remembering that shapeless dresses really do not look good on me, no matter how good they look on the model. Luckily, I was able to pivot and ended up refashioning both parts of this into other projects – the ribbed collar into a much more successful top version of the same pattern, and the fabric from the dress became a summer tank top.
My sewjo went MIA in Oct-Nov-Dec! As I already mentioned, it's never worth forcing it, and I had plenty of other delights in my life during that time, so it just is what it is!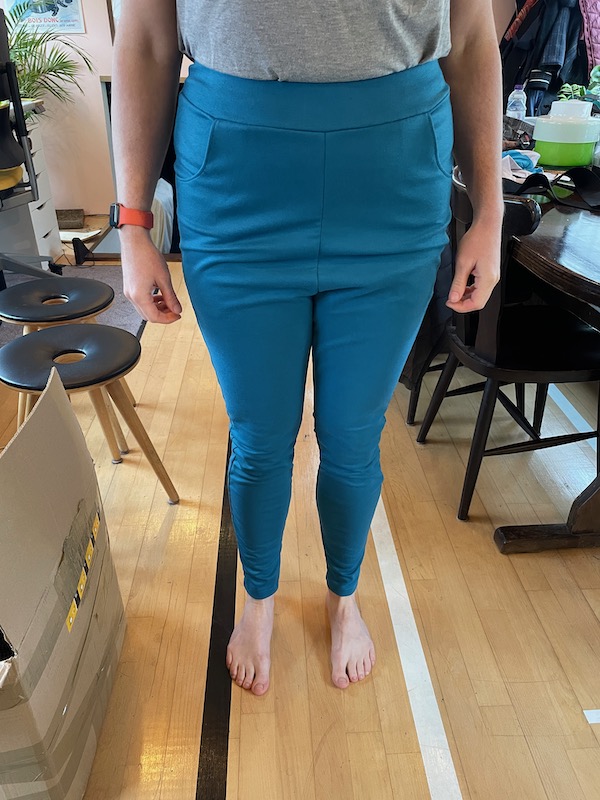 Charm Audrey cigarette trousers – This was my first ever Charm Pattern and to say that the body they're drafting for is different from mine would be an understatement. I thought a pair of knit trousers would be an easy sew, but oh-my-god the amount of fit revisions I did on these was utter insanity. I pulled inches and inches from the legs, raised the crotch/waist by crazy amounts to try and get something wearable, but even though I finished them, I never really wore them and they're already off at some charity shop. (This photo is pre-fit changes, btw but look at that horrific crotch fit!)
In addition to the above, I managed to fix two duds from last year that are now happily in active rotation in my wardrobe!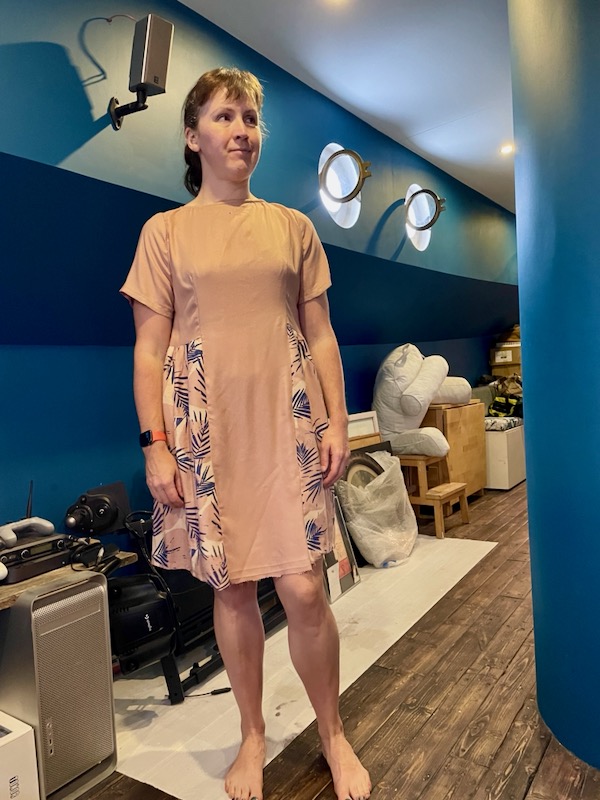 Last year I said: The first is a pale pink Burda dress using Atelier Brunette fabric and a pattern from the July(?) issue. As drafted, it looked really matronly and a sewing friend suggested I narrow the central panel to improve the visual balance. Having done this, I'm now happy with that aspect, but the neckline is still way too high and feels constrictive, so it's waiting to be unpicked, staystitched, and lowered with a bias facing.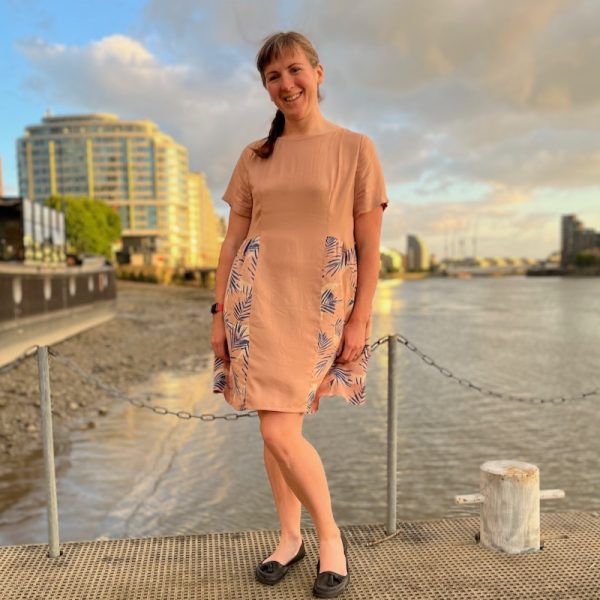 The finished, unpicked, and re-necklined dress was one I wore a lot during the very hot summer we had in 2022, and it felt good to rescue such nice fabric from oblivion!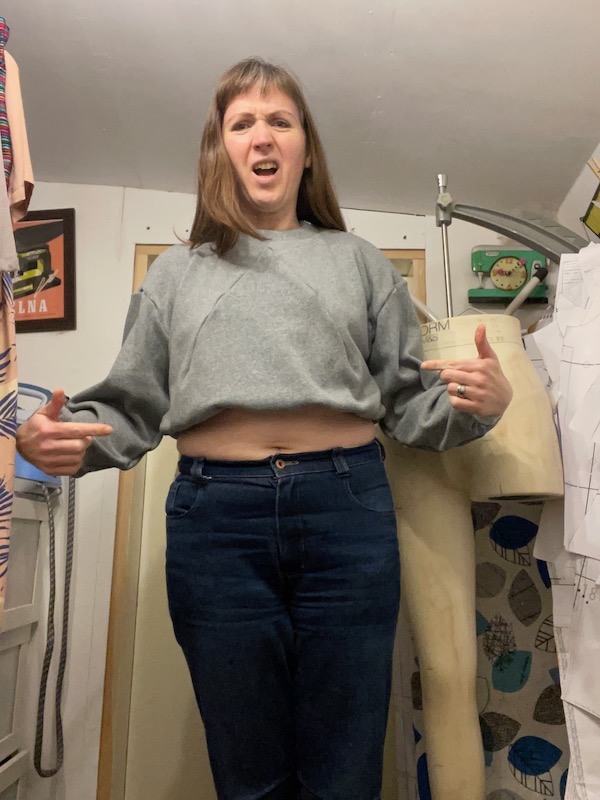 Last year I said: The dP Studio "Le 518" cropped sweatshirt which is my third make from their book. But unlike the first two, this one came up REALLY cropped in length, and meant that the hem raised up all the way to my bra band when I raise my arms. I have no more fabric to extend it, so I'm unsure of what to do next, short of turning it into a dress with entirely new fabric? I'm still torn though because I love the asymmetric design and unusual neck treatment (with an invisible zip in the shoulder seam)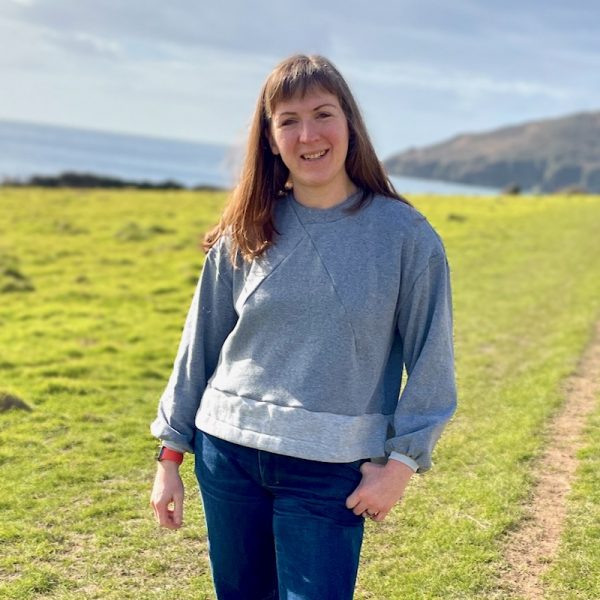 I took the waistband off the original sweatshirt, added a contrasting panel to the bottom and now it's one that I love wearing, even though it ended up looking different to the line drawing. This was a lesson in "Who cares what the line drawing looked like anyway??"
Athletic Achievements
Ride100 in Essex in May – This was my second time cycling a century, and the first on the brand-new course in Essex (rather than in Surrey, which I rode in 2019) and I loved it. I swear I had a stupid grin on my face the whole way through (yes, even through the unexpected hail storm!)
Richmond Park Half Marathon in June – This ended up being my longest running race of the year but I had a great time, running it with a guy I didn't know very well at the start (but did by the end!) on a wonderful, mixed terrain route nearby. I enjoyed it so much that I signed up to run it again a few months later, but the extreme heat meant I had to pull out after the first lap, making it my first ever DNF. I have zero shame about this whatsoever, because it was an Adult Choice that I may have stubbornly not done in years past.
London Duathlon in August – This was my first ever multi-sport race so the first time I ever had to pack for transition or obey the pedantic British Triathlon rules, and I was aiming to complete the "10km run – 44km cycle – 5 km run" in about 3 1/2 hours. I ended up finishing in 3:05, breaking my targets for all three segments and really finding my strength in the final run when everyone else was flagging. I literally flew over the finish line with a grin on my face and a compliment on my self-sewn tri-suit over the tannoy!
Finally(!!) getting my speed back to pre-2018 – Even though I technically recovered from the nasty bout of EBV in 2018, I never truly got my speed back, and it's been a big struggle to not compare myself to my old speeds or old PBs (it's so humbling when your old "marathon pace" is now your "tempo pace"!). But everything seemed to finally click in November, and those old paces felt easy again, both in shorter time trials, and longer, 2hr+ training runs, making me feel excited for my marathon potential again in 2023.
Other Major Events
Finally finishing the last of the boat renovations – It may have taken 15 years, but in 2022 we finally renovated the last two rooms (the guest bedroom and urinal) with the help of the best builders EVER. There's obviously still little bits to be done, but it feels so good to finally enjoy the whole space for the first time ever, exactly as we imagined it!
First holiday abroad in 3 years – flying is still extremely dangerous for me so we were limited to where we could drive, but luckily that includes France! So we drove to France, stayed in our own gites, cycled around everywhere, and went when it was warm enough to eat exclusively outside. And it was bliss.
Interview with the Vampire & Anne Rice fandom – I was an Anne Rice superfan in my teens, but hadn't really engaged much in the fandom space over the past 25 years, apart from reading most of the newer books as they came out and talking with a few IRL friends occasionally. But I'm old enough to still feel betrayed at how awful the Queen of the Damned film was in 2002, so I truly wasn't expecting much from the new tv show adaptation. OMG I WAS SO WRONG. Honestly, this show is the best tv of the past decade, and I'm not even exaggerating – it had no right being this good. For a show about about gay vampires, it explores intergenerational trauma, unreliable narrators and the fallibility of memory, domestic violence, racial injustice, homophobia, and of course, moral questions of whether you can truly root for three mass murderers. At the root of it, it's a puzzle story with hugely unreliable narrators and something like 4 levels of narration going on at once that you have to piece through. Massively complex, and incredibly acted, plus you get 30 years' worth of vintage costumes. It's so good it actually prompted me to read the final two books (yes, even Realms of Atlantis!), join a fan Discord server, and start a Tumblr blog. It has completed consumed my brain since October and I'm amazed that people are STILL discovering new things about it months after the season finale. We have a loooong wait for season 2.
Reconnecting with an old friend over IWTV – Apart from connecting with the fandom, this show prompted a friend from high school and I to reconnect after about a decade of losing touch. She was my vampire BFF as a teen and being able to send her little messages and stupid gifs now as 40-somethings despite living an ocean away has been one of the single best things to come out of 2022.
We bought a hottub! – Well, if you can't fly to the sun, you might as well enjoy yourselves at home, right? Especially when you get a really cheap deal and have the added bonus of everyone on shore being extremely jealous of you…
Nishi's 10th birthday – Our tiny baby runt kitty turned ten this year, and she's still the sweetest little girl. Only some stiff hips even mark her age, so here's hoping we've got lots of time left to come with her.
20 years since I moved permanently to the UK – Last February marked a whopping 20 years since I moved here with a 6 month post-study visa and a hope to get a job in the music industry, and here I am still! Even cooler is that in a few years' time I'll pass the mark where I'll have lived longer here than I did in the States.
Top 5 media
And new for this year, I'm including my Top 5 songs, albums, and tv shows. I'd include films, but to be honest, we didn't watch very many new films, spending our viewing time on the bounty of incredible tv this year instead.
Top 5 Albums:
Top 5 Songs:
Top 5 TV:
Interview with the Vampire (s1) (AMC/Amazon Prime UK)
Severance (s1) (Apple+)
Better Call Saul (s6) (Netflix)
Bad Sisters (s1) (Apple+)
The White Lotus (s2) (HBO/Now TV) -TIE- Andor (s1) (Disney+)
The Year Of…
I like to pick a theme for each year, and this year I really feel was the Year of Renewal. It really felt like I'm in my butterfly larval cocoon stage, ready to emerge.
Previous Roundups
If you're curious to see how 2021 stacked up to previous years, you can have a look at previous roundups here: 2021, 2020, 2019, 2018, 2017, 2016, 2015, 2014, 2013, 2012, 2011, 2010, 2009, 2008, and 2007.